This Starbuck's Copycat Peppermint Mocha Frappuccino is sugar-free, low carb and keto with just 3 net carbs! You can enjoy this iced or hot, see how to make it hot below!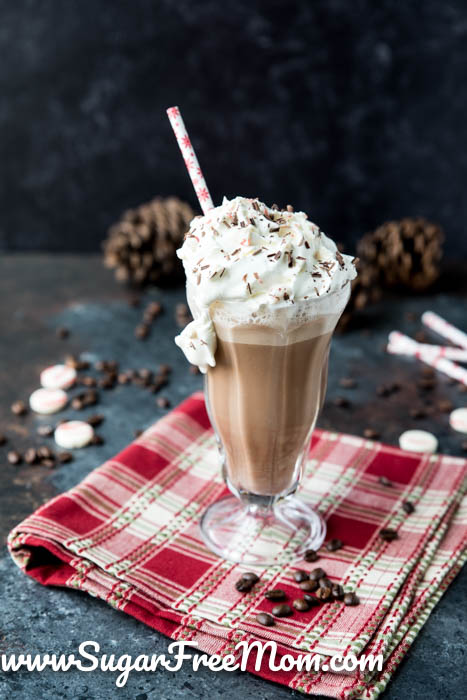 Peppermint Mocha Frappuccino
If you've ever been to Starbuck's during the month of December and tried their Peppermint Mocha Frappuccino then you know how delicious it is. But of course, when you're following a keto diet or sugar free low carb diet, then getting this delicious treat is not an option anymore. No worries at all! I've got you covered with a tasty, keto friendly peppermint mocha frappuccino that is easy to make at home!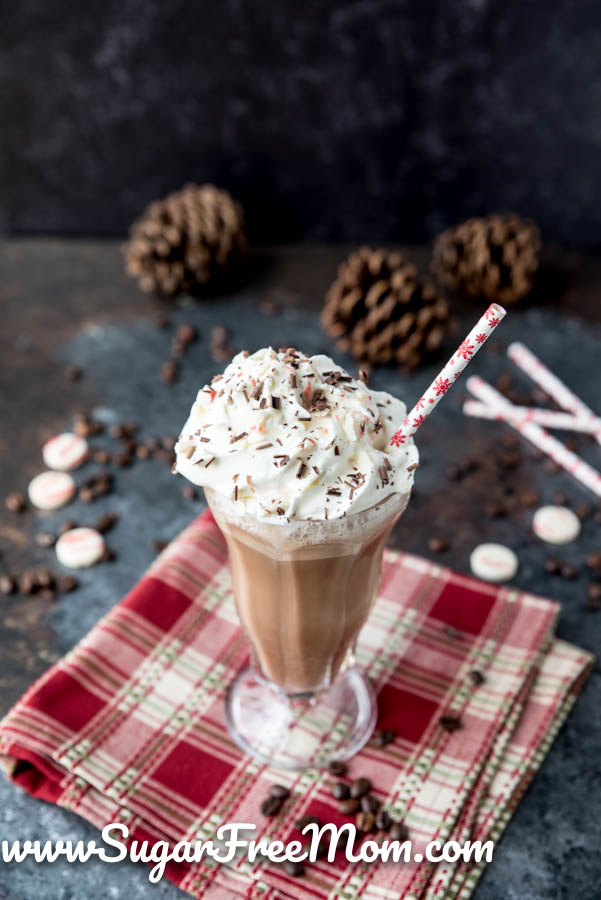 Carbs in Starbuck's Peppermint Mocha Frappuccino
Did you know that one 16 ounce serving has a whopping 430 calories and 68 total carbohydrates!!! Not only that, but the amount of sugar is high as well with 64 grams! That is shocking to me! When you're on a keto diet, your total carbs for the day to get into ketosis is just 20 so making this keto peppermint mocha frappuccino at home is a wise choice!
Keto Peppermint Frappuccino
My keto peppermint mocha frappuccino has just 129 calories and 5 total carbs and 2 grams dietary fiber so your net carbs are just 3 grams. This is a much better option and it won't spike your blood sugar! Plus it is mighty easy and tasty!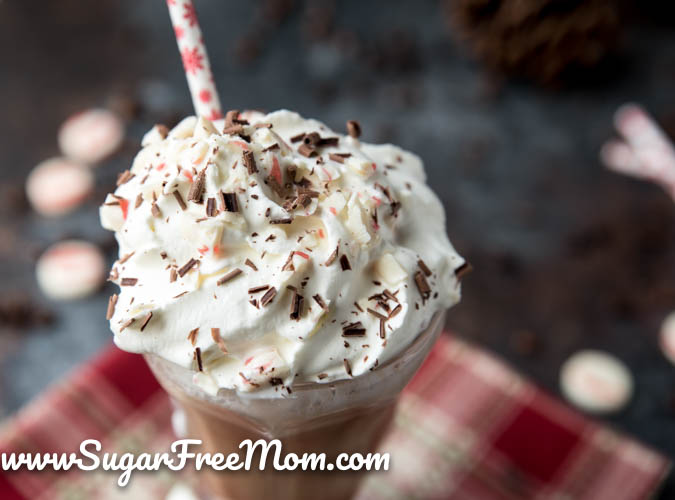 Sugar Free Starbuck's Copycat Recipes: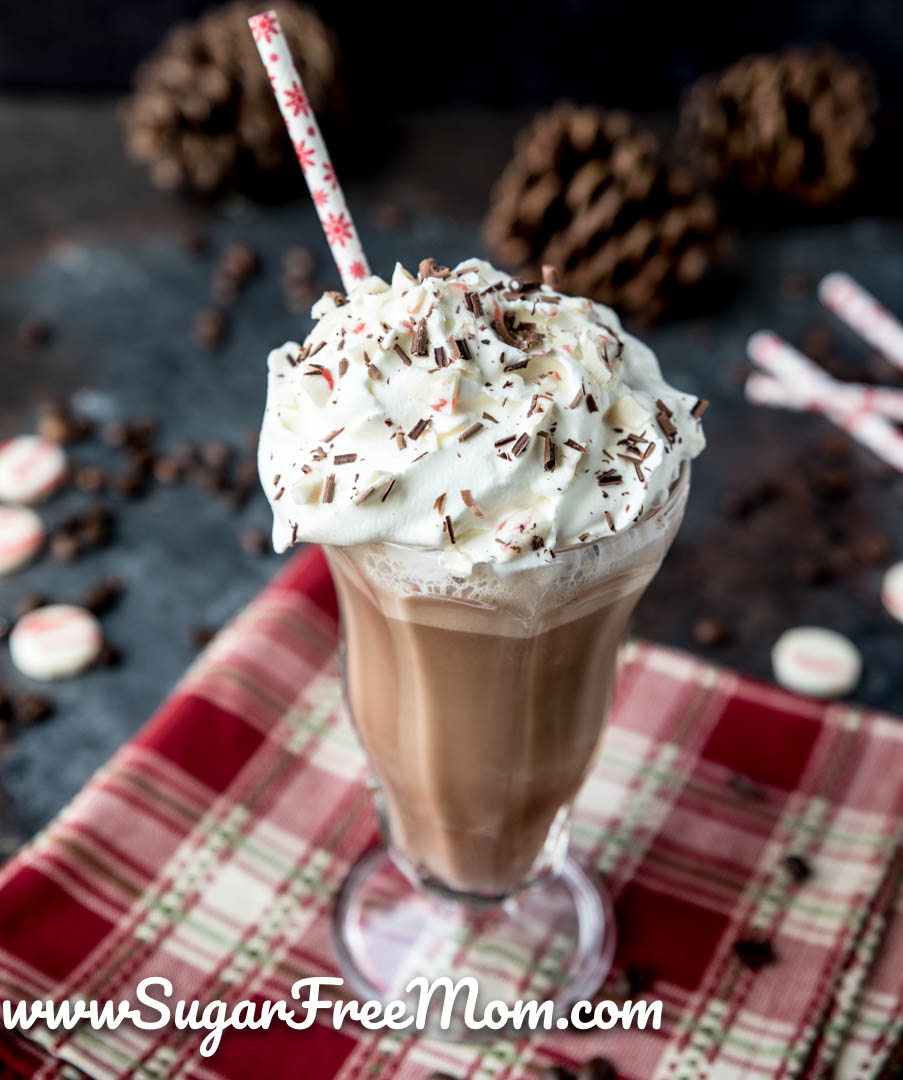 How to Make Hot Keto Peppermint Mocha
To make this sugar free keto peppermint mocha frappuccino into a hot beverage, follow these steps:
Place the 2 shots of espresso or 1 cup strong brewed coffee into a medium sized sauce pan on medium heat.
Pour in the almond milk and heavy cream. Bring to a low simmer, then whisk in cocoa powder. Whisk until all cocoa powder is combined well.
Once warmed through, remove from heat and stir in remaining ingredients.
Taste and adjust sweetener if needed. Enjoy with sugar free peppermint whipped cream, sugar free shaved chocolate and sugar free peppermints.

Sugar Free Keto Peppermint Mocha Frappuccino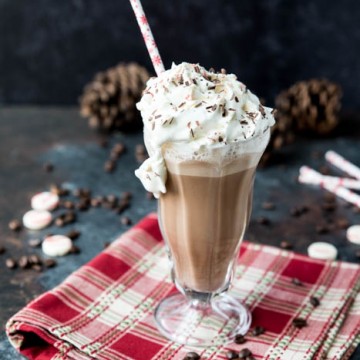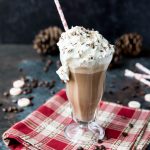 Sugar Free Keto Peppermint Mocha Frappuccino
Instructions
Place all ingredients into a high powered blender and blend until combined. Taste and adjust sweetener. Add ½ cup to 1 cup ice and blend until smooth.
Recipe Notes
Net Carbs: 3g
Nutrition Facts
Sugar Free Keto Peppermint Mocha Frappuccino
Amount Per Serving (1 serving)
Calories 129
Calories from Fat 108
% Daily Value*
Fat 12g18%
Sodium 4mg0%
Potassium 35mg1%
Carbohydrates 5g2%
Protein 1g2%
* Percent Daily Values are based on a 2000 calorie diet.