These Keto Classic thumbprint cookies are made gluten free, low carb, nut free and sugar free and taste just like traditional thumbprint cookies!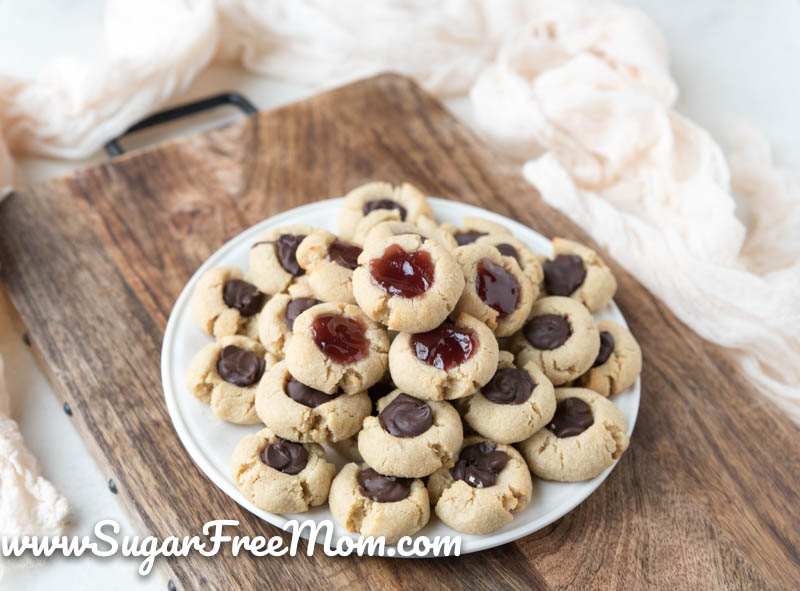 SUGAR FREE THUMBPRINT COOKIES
The classic thumbprint cookies are made with a simple keto sugar cookie dough and are filled with either sugar free jam or sugar free chocolate chips. The name thumbprint comes from the classic method of using your thumb to make a "well" in the center of each cookie for the filling. Alternately you can also use a rounded half teaspoon to make that small well in each cookie, but it's of course more fun to use your thumb! They taste like a soft, pillowy cloud of buttery sugar cookie dough! I adapted this recipe from my Sugar Free Sugar Cookies!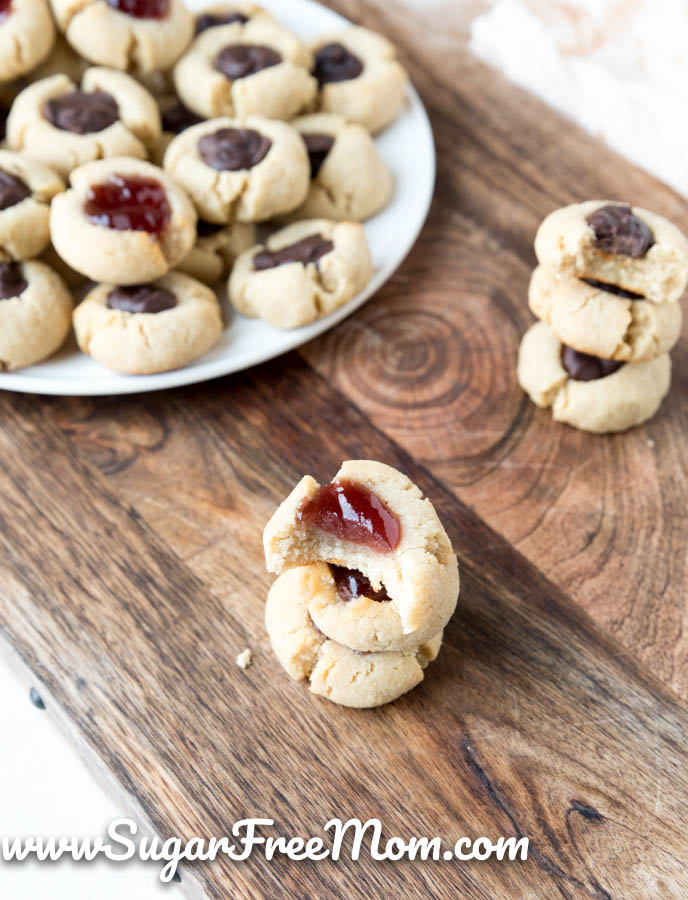 KETO NUT FREE FLOURS
Making keto friendly recipes without nut flours can be very challenging. My goal has always been to make recipes my whole family can enjoy, but since my youngest son has a tree nut allergy, I've had to work really hard on adapting with nut free keto flour replacements. Each of these nut free keto flours below can be difficult to work with, but I have perfected them in my recipes. While each of these is not an easy one to one swap with something like almond flour or even with each other, there are ways to work around their absorbency.
Coconut Flour- Coconut flour is the most absorbent of all nut free keto flours. It is not a tree nut, it is a drupe, like a peach with a pit. While some people do have allergies to coconut and tree nuts, there are some like my son that can easily use coconut flour without issue. It is not a tree nut. Only about one third or even one fourth of a cup is equal to about 1 cup of almond flour, sesame flour and sunflower seed flour. Doubling the eggs and liquids in a recipe swap with coconut flour is important so your end baked good isn't dry.
Sesame Flour- Sesame flour can be used, almost evenly when replacing almond flour in a recipe. The difficult part is that in some recipes you may need less almond flour as opposed to sesame, it's all in the look and texture of the batter. If a recipe calls for 1 cup of almond flour, I'd suggest using just ½ cup of sesame flour, mix the batter and if it looks too wet, add just ¼ cup more until it looks combined but not wet and sticky.
Sunflower Seed Flour- Sunflower seeds can be ground in your own blender or food processor if you prefer as it is less expensive than buying it already ground. If you process too much, you will end up with sunflower seed butter. When using sunflower seeds, the natural chlorophyl will turn baked goods green when the recipe has baking soda or baking powder in it. Often you can equally swap sunflower seed flour with the same amount of almond flour in most recipes.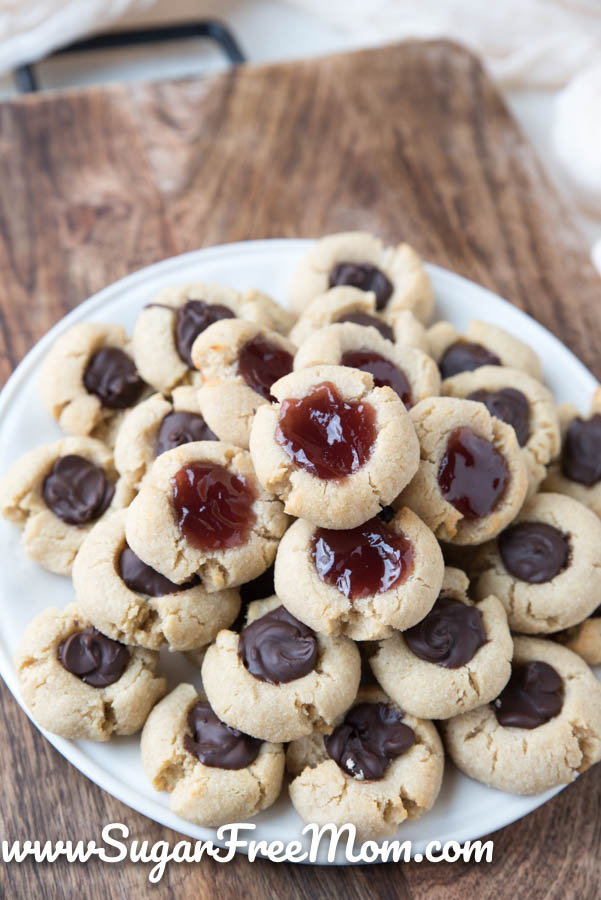 KETO CONFECTIONER SWEETENERS
There are quite a few low carb powdered or confectioners sweeteners out on the market, but there are only a couple I would recommend. The most popular one that many low carb keto bloggers use and myself included, is from Swerve. There is nice and fine and works well in so many recipes. It is only 70% as sweet as sugar so keep that in mind.
The next confectioners low carb sweetener I have been using more recently is from Sweetleaf, called Better than Sugar. The powdered combines erythritol and stevia and has just as much sweetness as sugar. It is just as fine as the Swerve brand.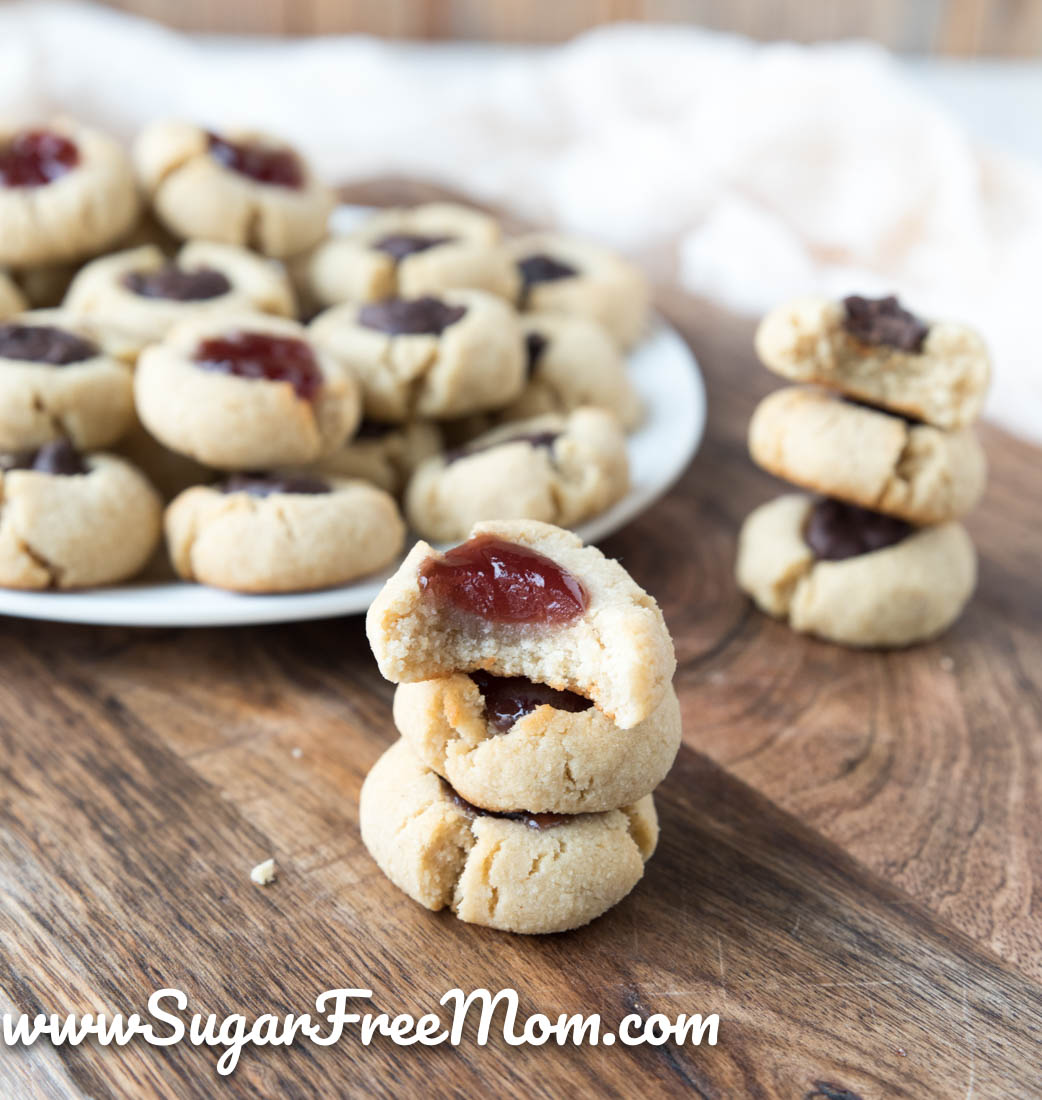 HOW TO STORE THUMBPRINT COOKIES
These keto thumbprint cookies will stay fresh and moist if kept in the refrigerator for up to 5 days. If left out on the counter, they will be good for 2 days before drying out. You can also freeze these smaller portions, in an airtight container for up to a month.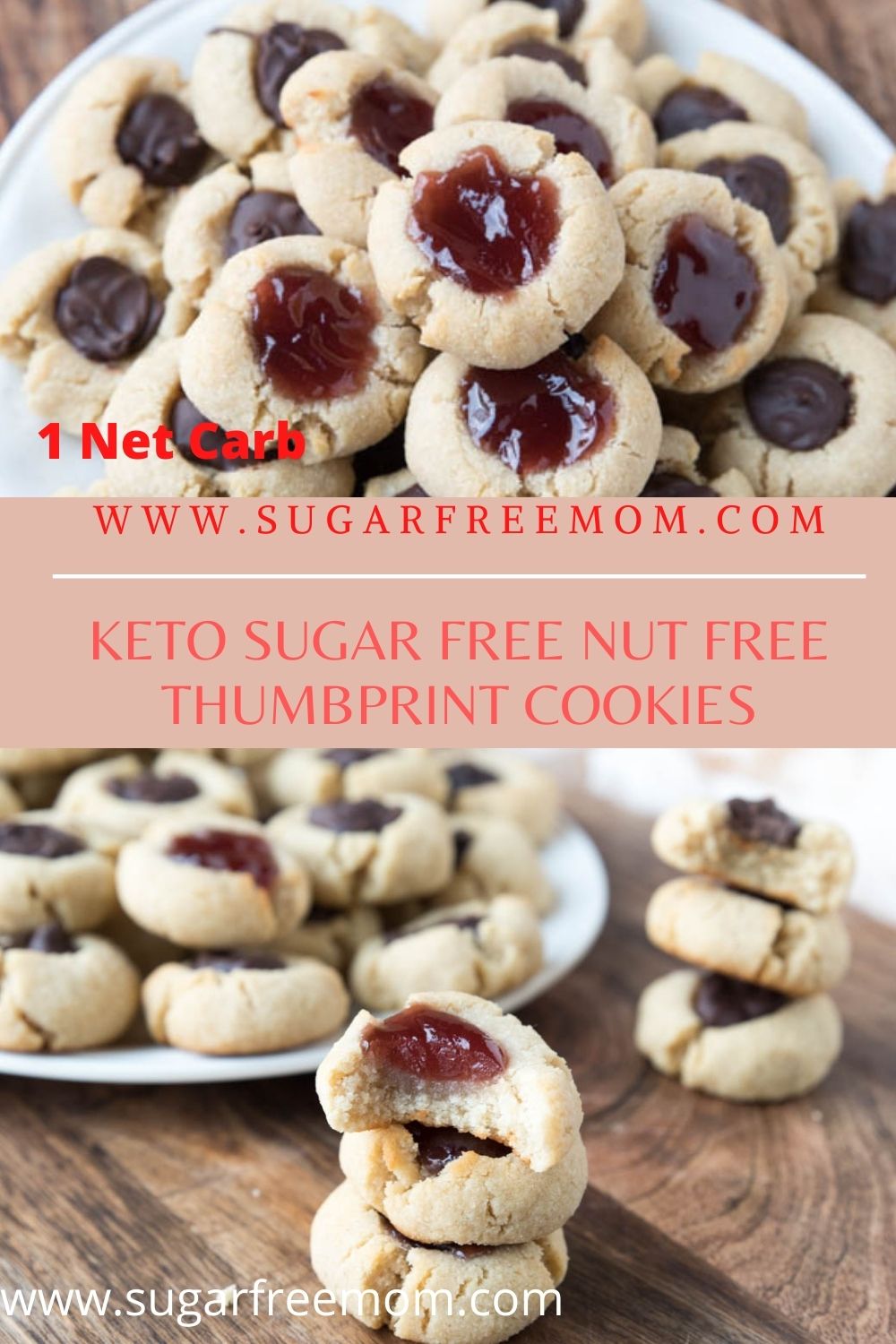 SUGAR FREE KETO THUMBPRINTS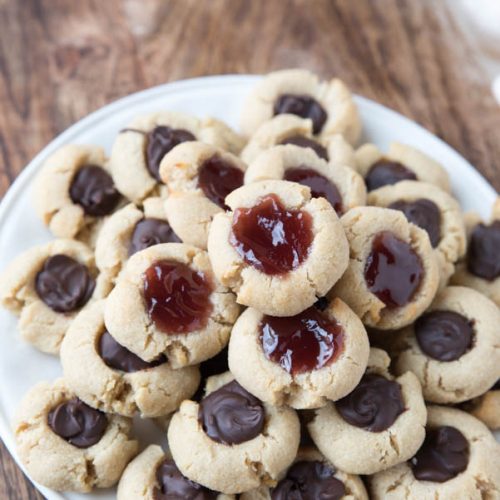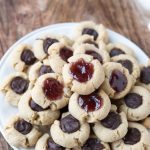 Print
Sugar Free Keto Thumbprint Cookies (Nut Free, Gluten Free)
Ingredients
Center Filling
3

tablespoon

sugar free jam

or sugar free chocolate chips
Instructions
Place your butter, sweetener, vanilla extract and egg in a stand mixer or large bowl and use an electric hand mixer to combine well.

In another bowl, whisk all the dry ingredients together. Pour half of the dry ingredients into the wet ingredients and blend until combined. Add remaining dry to wet and combine.

Line a large baking sheet pan with parchment paper.

Use a tablespoon or measure out 18 grams or .5 ounce of dough and roll into a ball. Place balls about 2 inches apart on sheet pan. Once all balls are made, use your thumb or a rounded ½ teaspoon and make an indent into the center of each cookie. Freeze for 1 hour.

Preheat oven to 350 degrees F. Remove cookies form freezer and bake for 7-8 minutes. Remove from oven and indent the centers of the cookies again. Add ½ teaspoon of your filling of choice. Place bake into the oven for 1-2 minutes more. Remove from oven but do not touch until they are completely cool. Please note; if using sugar free chocolate chips, if they don't melt together enough, simply use a toothpick to swirl the chips together.
Storage
Once cooled, you can keep them on the counter for 2-3 days, but they will stay fresher and soft and moist, if you keep them stored in an airtight container in the refrigerator for up to 7 days. You can also freeze for up to a month.
Notes
The nutrition info above does not include any jam or chocolate in the center. Each thumbprint needs only ½ teaspoon of any filling of choice. You will need 3 tablespoons of any filling of choice to fill 18 thumbprint cookies.
Net Carbs with sugar free strawberry jam= 2g
Net Carbs with Lily's sugar free chocolate=2g
Net Carbs for 1 cookie, no filling: 1g
Nutrition
Serving:
1
cookie
|
Calories:
72
kcal
|
Carbohydrates:
2
g
|
Protein:
3
g
|
Fat:
6
g
|
Saturated Fat:
3
g
|
Cholesterol:
23
mg
|
Sodium:
44
mg
|
Potassium:
10
mg
|
Fiber:
1
g
|
Sugar:
1
g
|
Vitamin A:
171
IU
|
Calcium:
6
mg
|
Iron:
1
mg