These Amazing Sugar Free, Nut Free, Keto Sugar Cookies are the Best Low Carb Sugar Cookie Recipe you will ever need or want again! Only 1 carb per cookie!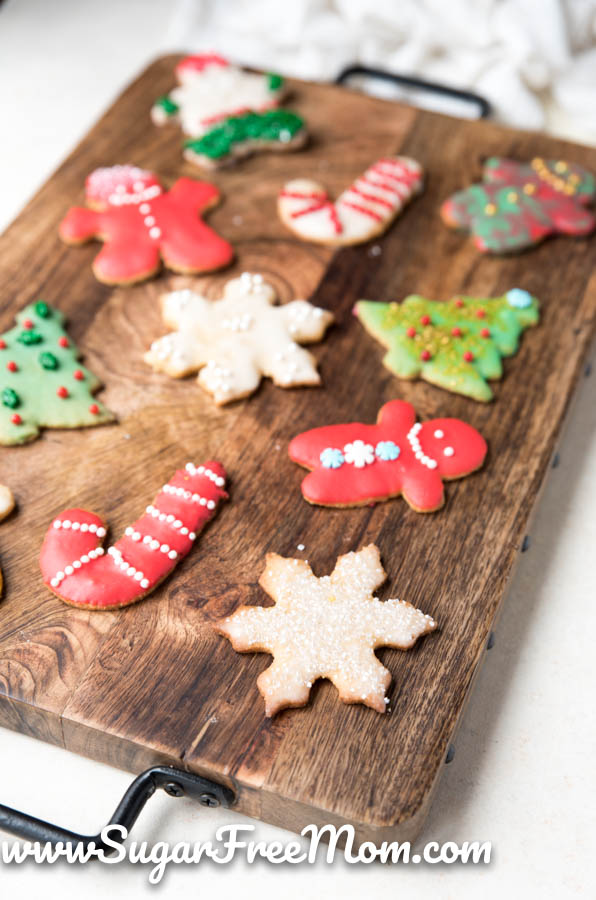 Best Low Carb Keto Sugar Cookies
Sugar Free Sugar Cookies is an oxymoron, I know! But it is possible and they are just as good when you want the traditional holiday cookies without cheating on your low carb or keto diet!
For those of us who have been doing with lifestyle for a long time, the ultimate best sugar cookie can in fact be made without sugar and still be just as tasty as traditional sugar cookies! And it is even possible to make these keto sugar cookies, nut free!! I've done it for my tree nut allergic son and he loves them as do the rest of the family!
Don't believe me? You must give these cookies a go and then tell me what you think!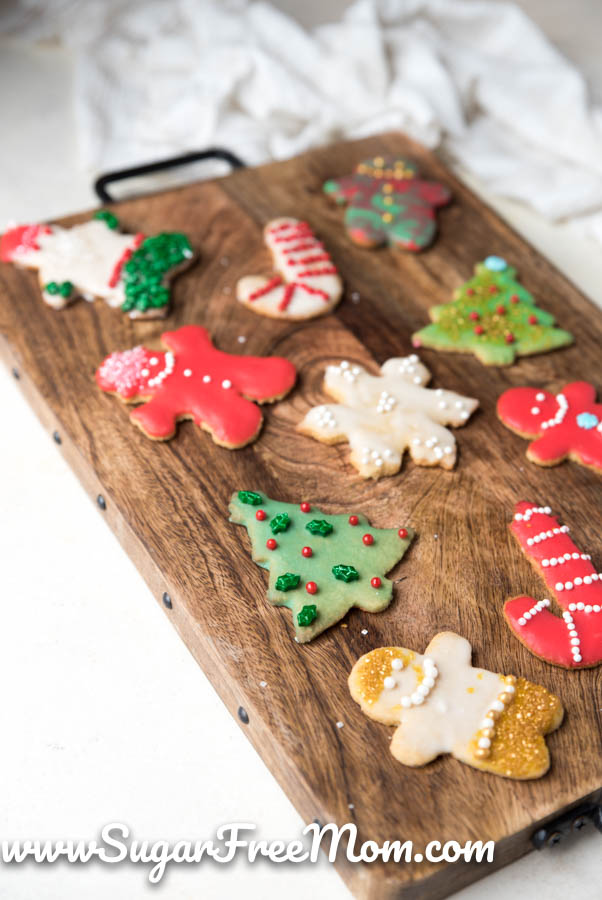 Back in 2011 when I started my blog I was still eating whole wheat, so I did in fact make a Sugarless Sugar Cookie using whole wheat. Then I found out I was very gluten intolerant, while not celiac, very very sensitive to gluten, so I made Gluten Free Sugar Cookies. But finally I've got this keto sugar cookie recipe I've had plans for about 2 years to make and finally got around to adapting my orginial recipe.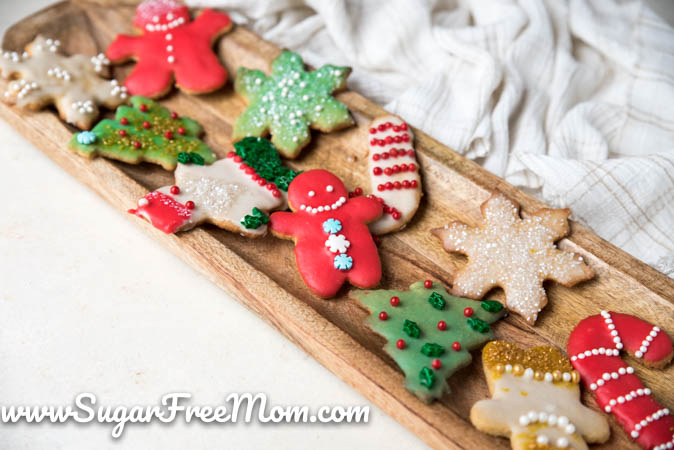 If you'd like a more sugar free buttercream frosting to spread on these cookies that's fine too and works equally as well. I felt it was easier to make a thin icing to simply the process and dipping was easier to me than spreading.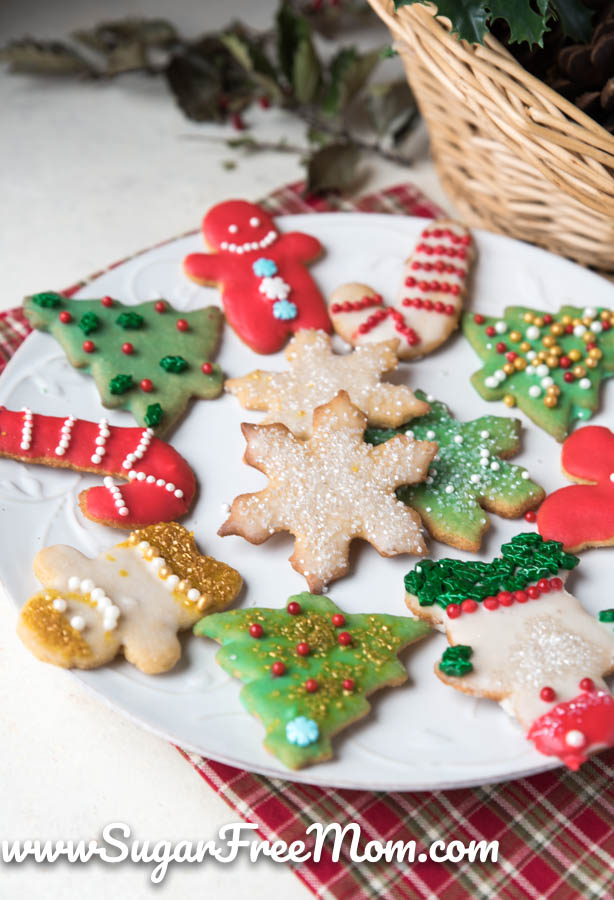 Sugar Free Sprinkles
The cookie and the icing is keto friendly and completely sugar free. The festive little decorations on top of the icing in my photos are not keto friendly unfortunately. But since these are for my kids to make I couldn't forgo letting them decorate to their hearts content.
Recently I've found two companies that sell sugar free sprinkles! The first company is Good Dee's and the second is from Stoka Nutrition.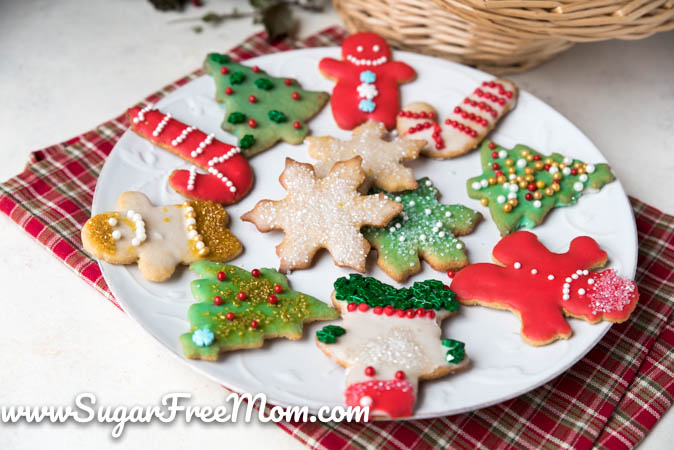 Hope you enjoy having fun with your family making the best sugar free sugar cookies for the holidays!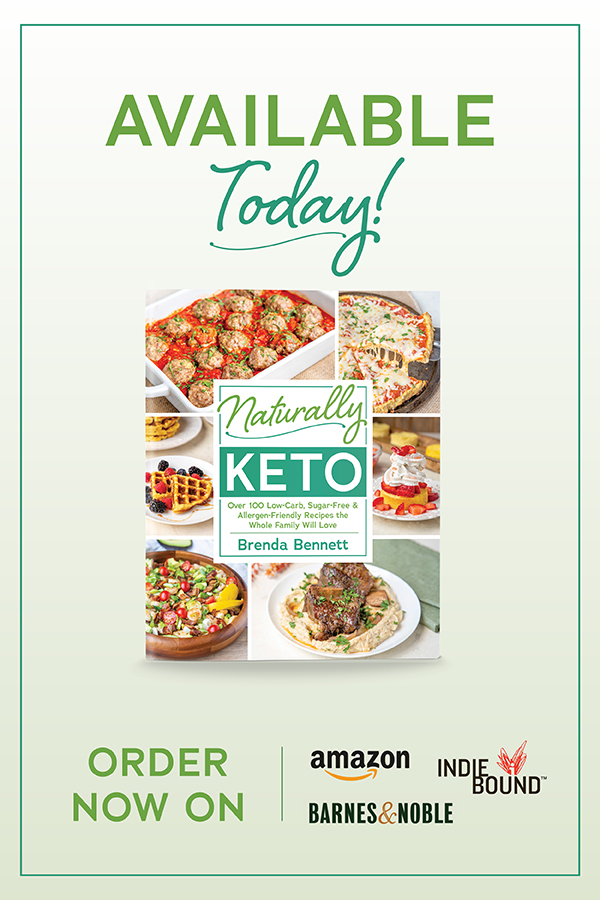 Right now my cookbook is 35% OFF on Amazon!
Other fabulous Christmas Recipes you might enjoy:
Best Sugar Free Sugar Cookies (Low Carb Keto, Nut Free, Gluten Free)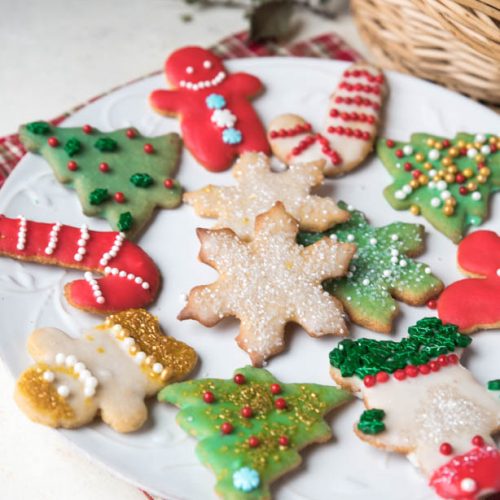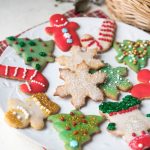 Print
Sugar Free Sugar Cookies
Instructions
Preheat oven to 350 degrees F. Line 4 cookie sheets with parchment paper.

Place the butter, Swerve and vanilla extract in a stand mixer until combined.

Turn the mixer on low and add 1 egg at a time until incorporated. 

In a large bowl, whisk together flours, beef gelatin, baking soda, baking powder and salt. 

Add half the dry ingredients to wet in mixer and blend until well combined. Repeat with the remaining dry ingredients.

Spread half the dough out between two pieces of parchment and roll out to ¼ inch thickness. Cover the bowl with the rest of the dough and place in the fridge. Use cookie cutters to shape and place on two lined cookie sheets. Gather up the scraps, re-roll the dough, and cut out more shapes. You should have 24 cookies on two pans.  If you are concerned about spreading, please freeze the sheet pans for 15 minutes prior to baking or you could also place just 12 cookies at a time on a baking sheet pan and then bake.

Place the two pans and bake cookies for 10 minutes or until slightly browned around the edges. Allow to cool completely before moving to a wire rack.

While the first batch of cookies is in the oven, repeat this process with the remaining dough.
Icing
Separate the Confectioner sweetener by placing ¼ cup each into 3 different bowls. Add 1 tablespoon of water to each bowl and mix until smooth. Add food coloring to desired color. You can then dip the top of each cookie into the icing and let excess drip off, then place back onto baking sheet. Add decorations if desired. Let them set before storing.

Store in an airtight container. You can also store and freeze these.
Notes
The brands I like for sesame flour are Kevala and Sukrin which both show fiber. You can also just use hulled sesame seeds and grind them in a blender to be finer for this recipe.
I do mention above you can swap out the sesame flour for almond though I have not tested it in this recipe. I have tested swapping sesame for almond in other recipes without issue. If the dough looks a little too wet using almond flour you may need to increase by adding ¼ cup at a time.
This recipe was first published in November 2018 and updated with video in December 2019. 
Nutrition
Serving:
1
cookie
|
Calories:
53
kcal
|
Carbohydrates:
1
g
|
Protein:
2
g
|
Fat:
4
g
|
Saturated Fat:
2
g
|
Cholesterol:
16
mg
|
Sodium:
66
mg
|
Potassium:
8
mg
|
Vitamin A:
130
IU
|
Calcium:
4
mg