Lemon Thyme Iced Tea is the perfect beverage for a hot summer day and making it naturally sugar-free is easy and still just as delicious as traditional iced tea with regular sugar!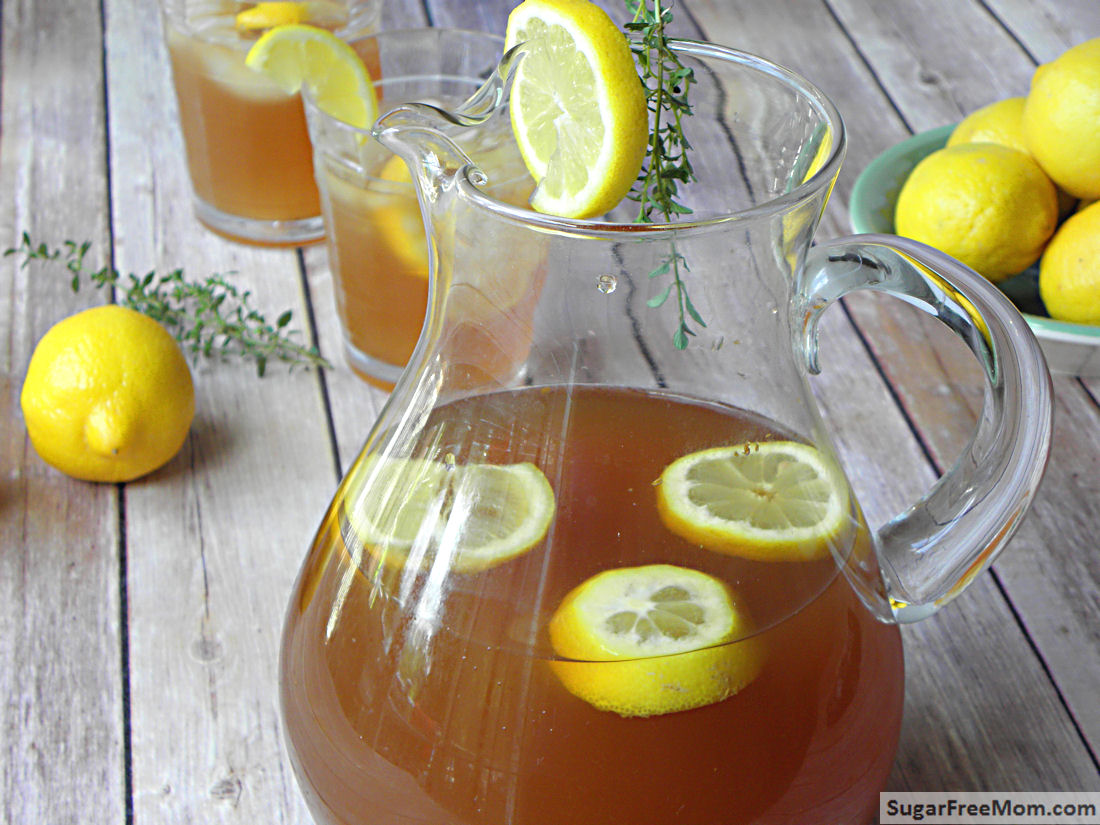 Sure you can easily buy prepared iced tea pretty much anywhere, but have you ever made your own at home?? It's the easiest and takes little time to do. If you're a tea lover you will love this thirst quenching recipe!
I've actually been growing some lemon thyme herb in my garden and if you don't have any you can certainly find thyme in any supermarket. Even if you'd rather make this without the thyme you can just eliminate it of course. But don't eliminate the fresh lemons, that is a must!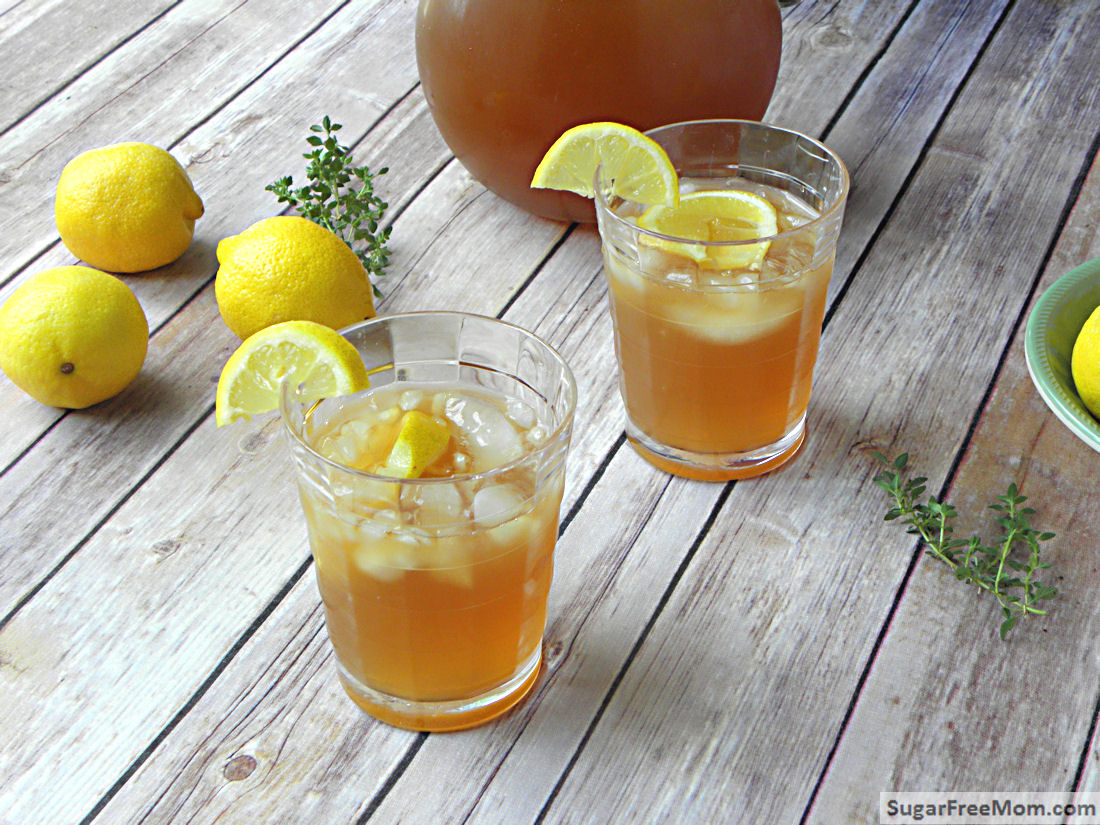 Add some ice and enjoy or chill in the fridge until ready to serve! My hubby is a tea fanatic and actually drinks tea without any sweetener at all. I thought for sure he's said he doesn't like sweet tea but I was wrong! To my surprise he really loved this!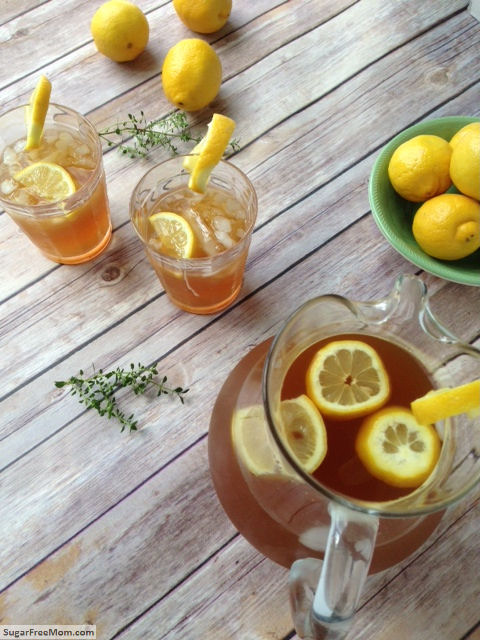 No need for nutrition info as it's no calories, no carbs, no junk!!!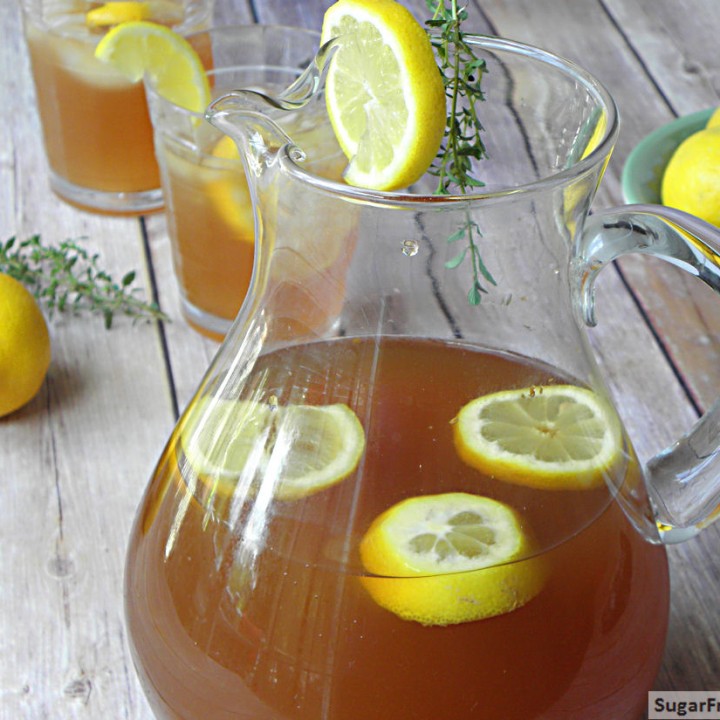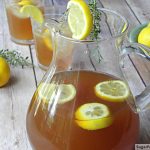 Print
Sugar-Free Lemon Thyme Iced Tea
Ingredients
5

sprigs fresh thyme

I used lemon thyme

1

cinnamon stick

juice and zest of 2 lemons

3

black tea bags

I used Irish Breakfast tea

6

cups

water

1

teaspoon

lemon stevia

or use lemon extract and plain stevia

1

lemon to garnish
Instructions
Bring 6 cups of water, thyme, cinnamon, lemon juice and zest to a boil in a large sauce pan over medium high heat.

Remove from heat after it starts boiling and add tea bags and lemon stevia.

Set aside for 15 minutes to steep.

Remove tea bags and allow to cool to room temperature, about an hour.

Strain mixture in a fine mesh strainer and add to a pitcher.

Refrigerate until ready to serve.

Garnish with lemon slices.