This amazing low carb, sugar free kahlua chocolate layer cake with kahlua coffee buttercream is a fancy showstopper for a birthday or special occasion!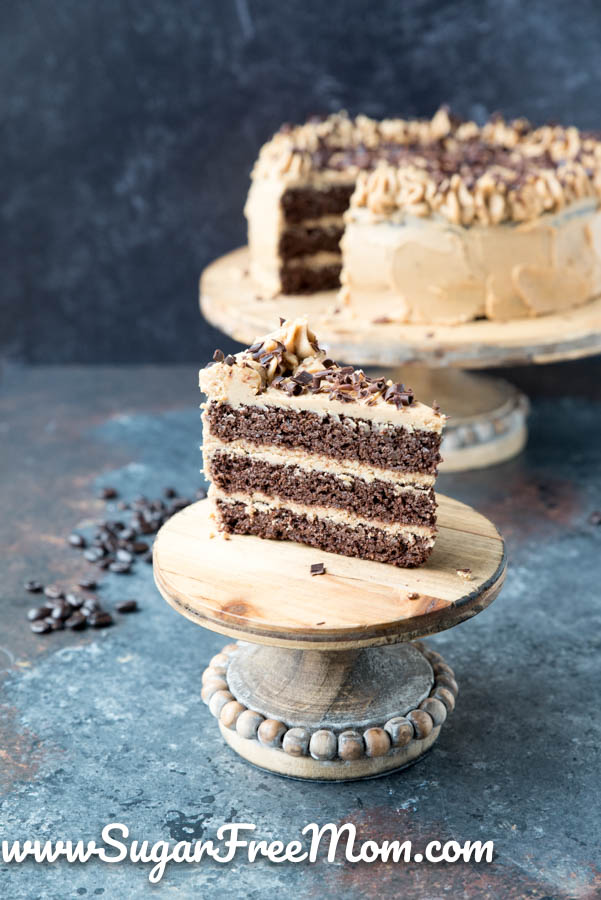 Triple-Layer Chocolate cake
This gorgeous three layer chocolate cake is an incredible, sugar-free, and low carb cake with a decadent, creamy kahlua coffee buttercream frosting! This cake will definitely wow your non-low carb friends! The chocolate cake is super moist with a small hint of kahlua flavoring and a very special ingredient that makes it have a light and fluffy texture!
I'm not one to make a 3 layer cake like this often and definitely not a great cake decorator, but for special occasions like birthdays, this is a win! My dad's just turned 74, and my hubby's 52nd birthday was this month as well so I wanted a special cake for both of them. I adapted the triple-layer chocolate cake from my cookbook, Naturally Keto which is one year old this October as well! My husband said, "This is my FAVORITE of all the cakes you've ever made!" My dad was also equally impressed with the kahlua coffee flavored buttercream frosting. You only need a small piece as it is so satisfying and that is why I've made it into 18 servings. Directions are below if you just want one layer instead.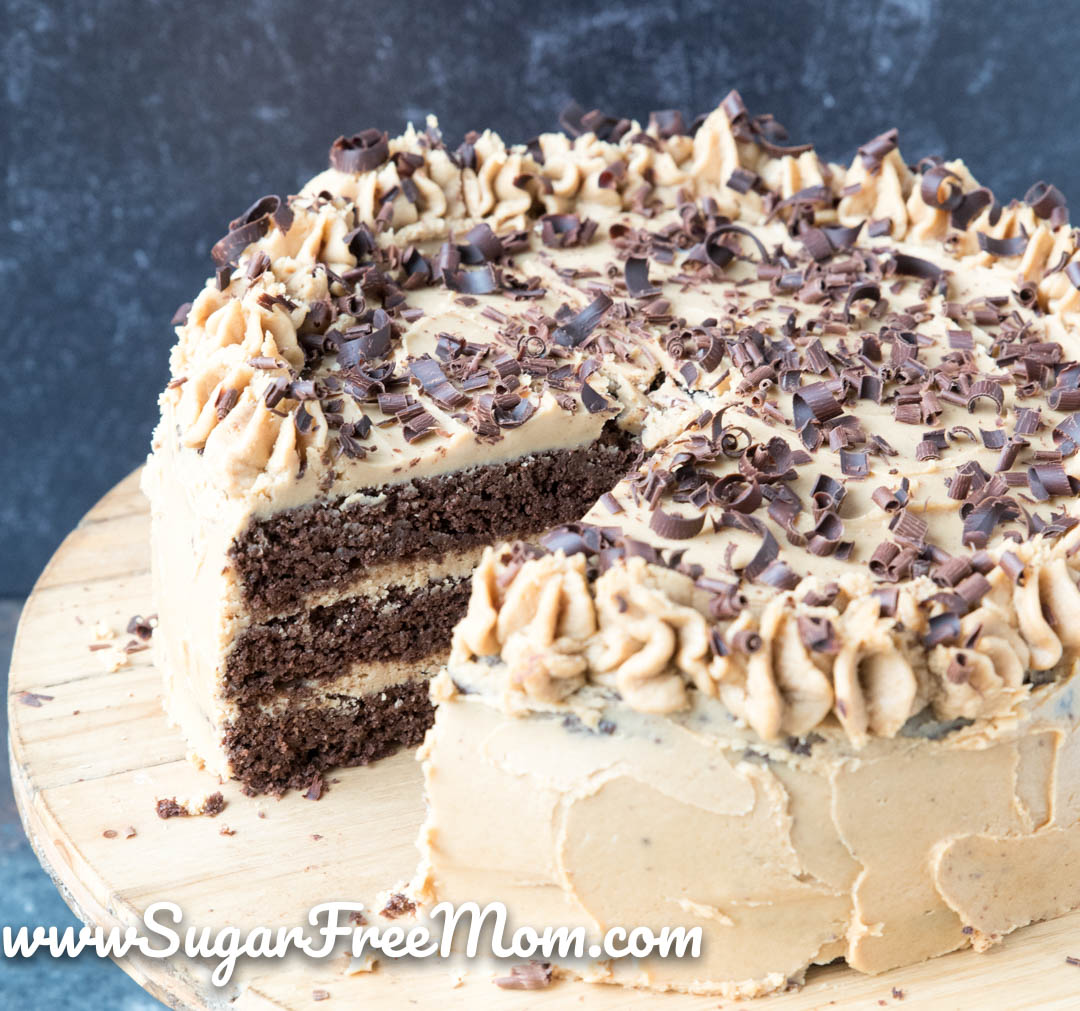 Why Mayonnaise in Chocolate Cake?
Why add mayo to a chocolate cake you ask? Mayo is essentially oil, eggs and vinegar. Vinegar reacts with baking soda to aerate the cake, making this one of the moistest cakes you'll ever eat. The espresso powder elevates the flavor of the chocolate.
How to Store Low Carb Kahlua Chocolate Cake?
Store covered on the counter for up to 3 days or the the refrigerator for up to a week. You can also wrap individual slices in plastic wrap, then seal in a zip-top freezer bag and freeze for up to 4 months. Reheat pieces in the microwave for 30 seconds to a minutes and you've got a fudgy cake to enjoy!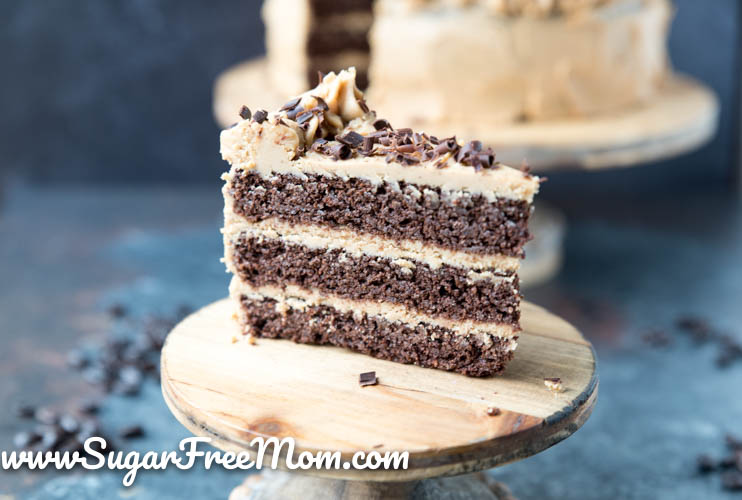 Want a single layer cake?
If you don't want to make a three-layer cake use just 2 eggs and divide the rest of the ingredients by three to make a single round cake.
Don't like Kahlua?
Swap the kahlua with vanilla extract.
Don't like Kahlua Coffee Buttercream?
Swap it with my Easy 2 Ingredient Chocolate Frosting.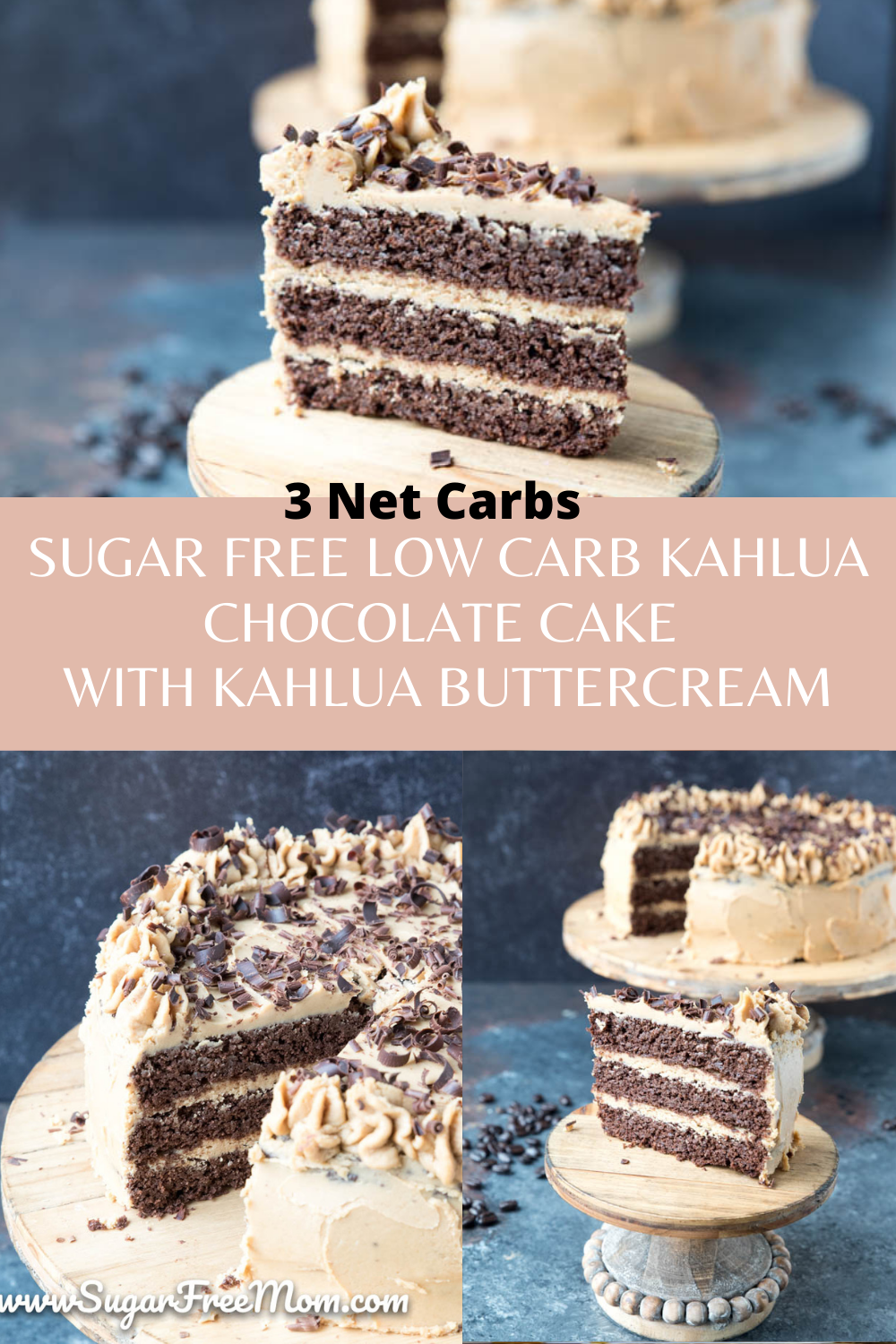 Sugar Free Low Carb Kahlua Chocolate Cake with Kahlua Coffee Buttercream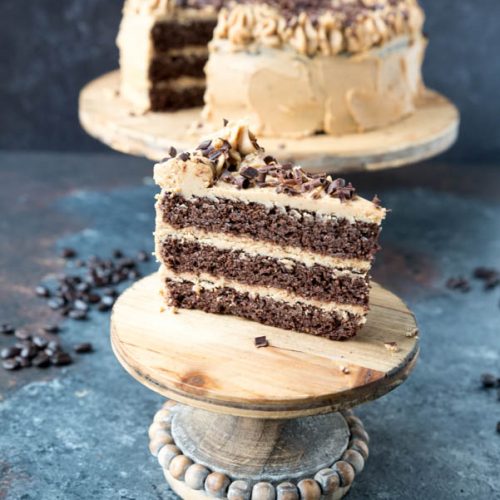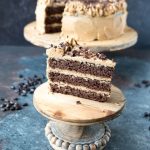 Print
Sugar Free Low Carb Kahlua Chocolate Cake with Kahlua Coffee Buttercream
Ingredients
Kahlua Coffee Buttercream
Instructions
Kahlua Chocolate Cake
In a large bowl, whisk together the sesame flour, sweetener, cocoa powder, ground flaxseed, baking powder, baking soda, espresso powder, and xanthan gum.

Place the mayonnaise, eggs, and kahlua in the bowl of the stand mixer or a large bowl if using an electric hand mixer and mix until combined. Pour half of the dry ingredients and mix until fully incorporated. Add the water and mix until combined. Add the remaining dry ingredients and mix until fully incorporated.

Evenly spread the batter (it will be thick) in the prepared pans. Bake for 25 minutes or until a toothpick inserted in the center of a cake comes out clean. Allow to cool completely before frosting.
Kahlua Coffee Buttercream Frosting
Place the butter and sweetener into a stand mixer and blend until combined. Set aside.

In a small bowl, whisk the remaining ingredients together. If you have a frother, use that instead as it will help the coffee granules absorb better into the cream. With the mixer on low speed, slowly pour in the coffee mixture and blend until fully incorporated.

Once the cakes are cool, remove one from the pan and place it on a serving plate. Spread one quarter of the frosting on the top of the cake. Place a second cake layer on top of that and repeat with another one quarter of the frosting over the top. Add the final cake layer and spread another one quarter of the frosting over the top. Split remaining frosting to decorate the sides and add to a cake decorating tool using the star tip if desired. Optional: shaved dark chocolate over the top.
Nutrition
Serving:
1
slice
|
Calories:
406
kcal
|
Carbohydrates:
8
g
|
Protein:
7
g
|
Fat:
42
g
|
Saturated Fat:
16
g
|
Cholesterol:
120
mg
|
Sodium:
354
mg
|
Potassium:
115
mg
|
Fiber:
5
g
|
Sugar:
1
g
|
Vitamin A:
739
IU
|
Calcium:
45
mg
|
Iron:
1
mg