Sugar Free Orange Creamsicle Ice Cream made without sugar, low carb, and gluten free!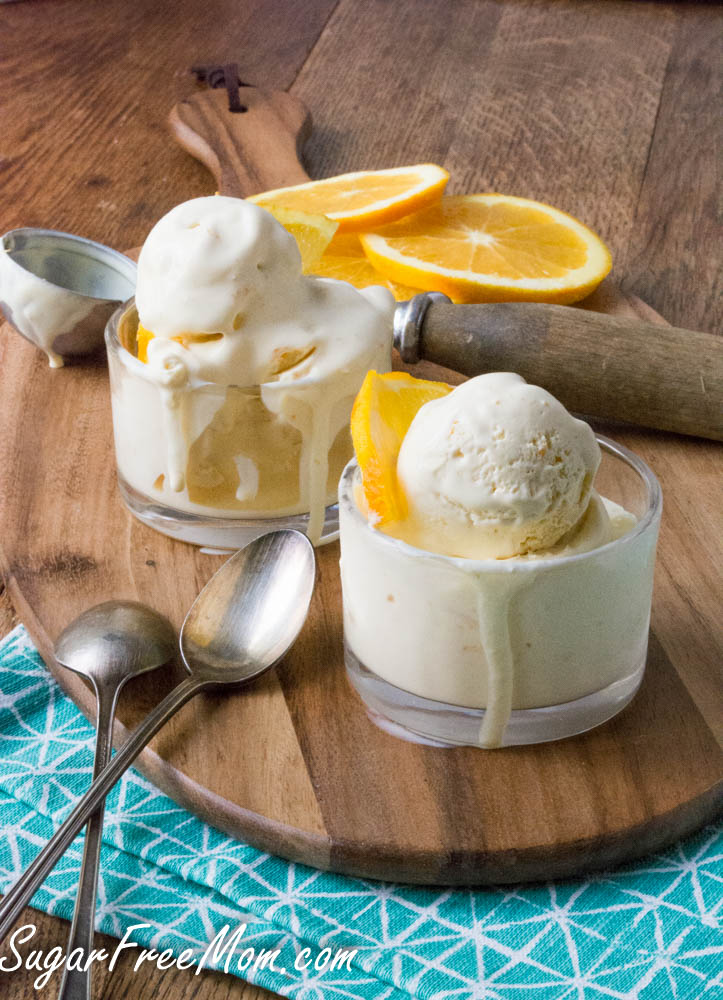 Scotties.
That was the name of the ice cream truck that would visit me on my cul-de- sac every summer, of every day of my childhood.
Every time the infamous bells would ring, you knew he was coming and coming fast. You'd run into mom to beg for a $1.00, huffing and puffing back outside to make sure he hadn't left yet.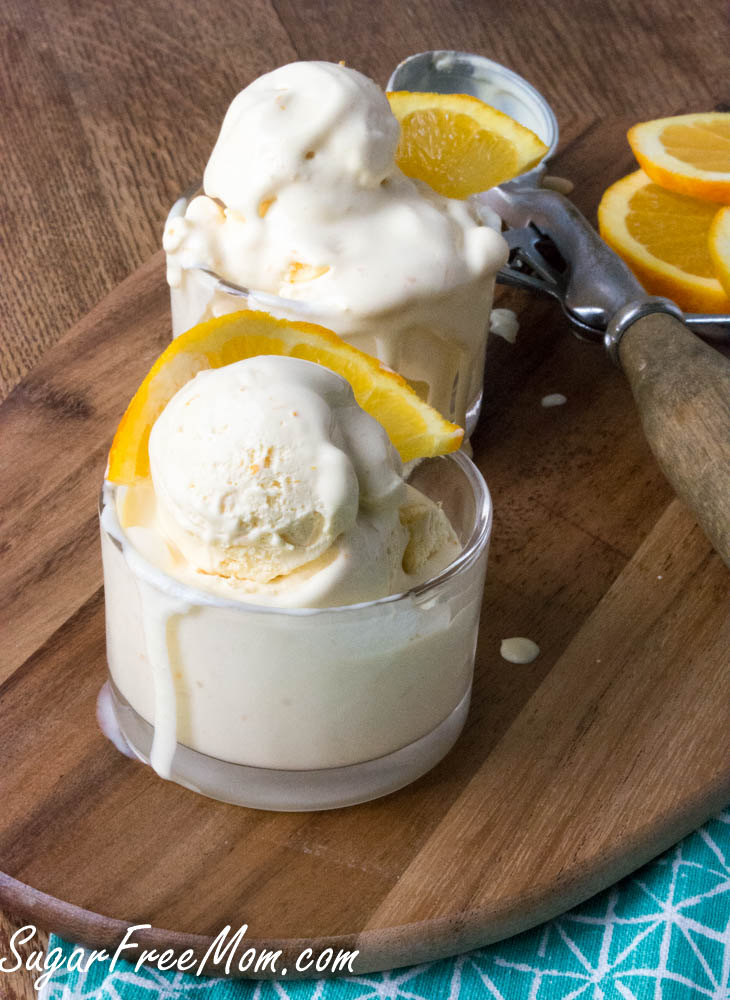 My favorite, above and beyond anything else was the orange creamsicle on a popsicle stick.
Fake orange color and all with a creamy white center that was undeniably sugar filled through and through.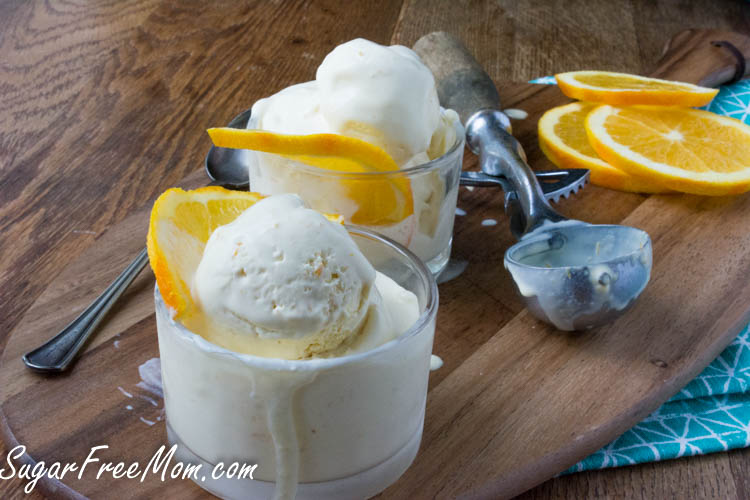 I can't go back to my younger days of indulging in these sugar filled treats. But I can get pretty close with the flavors that remind me of those long, hot summer days where time stood still with not a care in the world.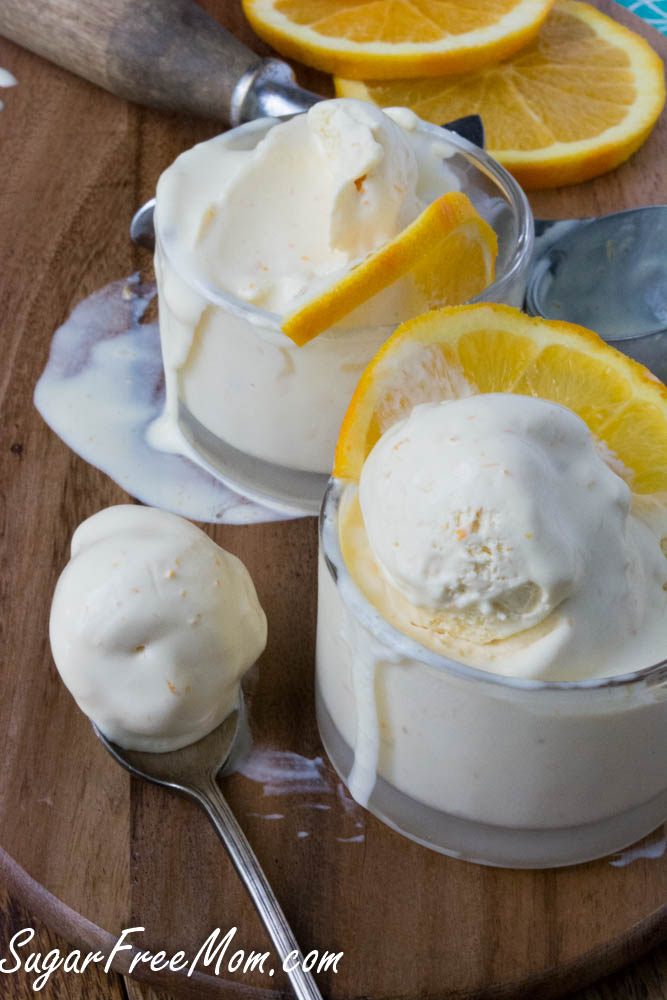 How can it be that it's August and summer is almost but over?
How can it be that time flies so fast with children than I would have ever dreamed, especially during summer?
I guess it's all the more reason to cherish each day and make memories my kids will remember of their childhood summers.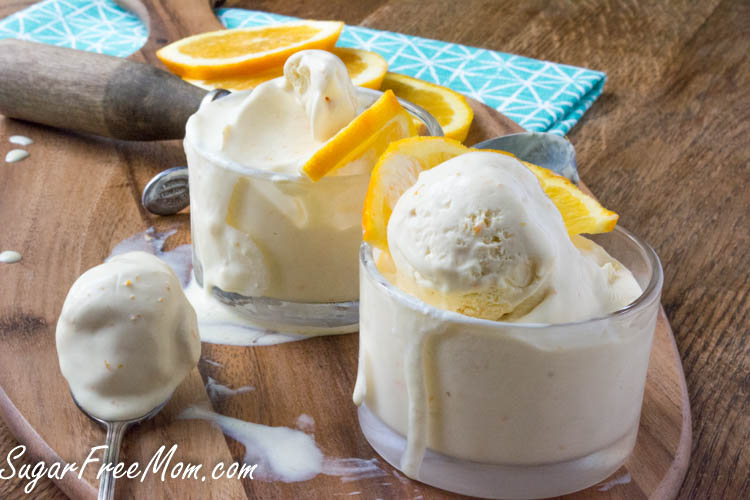 I don't know how to make time stand still but I do know I'm enjoying every day of my summers with my children because I know one day they will be off on their own. I hope you enjoy this recipe as much as we did!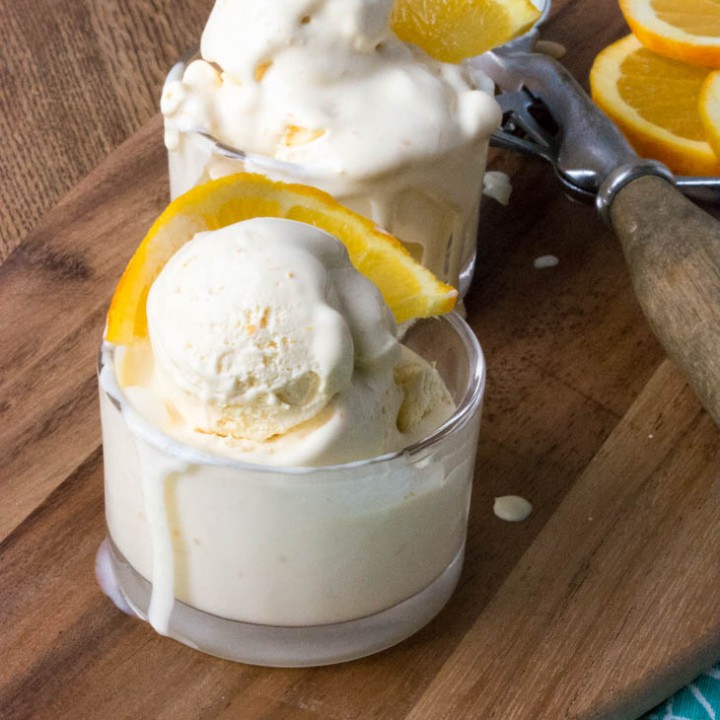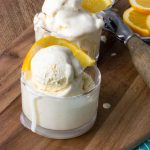 Print
Sugar Free Orange Creamsicle Ice Cream
Ingredients
1

cup

heavy whipping cream

2

teaspoon

SweetLeaf® Liquid Stevia Valencia Orange Sweet Drops™

2.5

cups

half and half

or light cream

4

egg yolks

zest of 1 orange

1

teaspoon

vanilla extract

few drops of natural orange food coloring
Instructions
In a saucepan, over medium heat, bring the heavy cream and half-and-half to a simmer, stir and remove from heat. In a bowl, whisk the egg yolks until light in color. Temper cream mixture into eggs by gradually adding small amounts of cream to eggs until all incorporated. Bring mixture back to stove top and heat on low, stirring frequently until mixture thickens slightly and coats the back of a spoon, 170-175 degrees F. Pour this mixture into a container and allow to sit at room temperature for 30 minutes. Stir in the rest of the remaining ingredients. Taste and adjust stevia, if needed. Cover and refrigerate for 2-3 hours.

Pour mixture into an ice cream machine and follow your manufacturer's instructions. Should be consistency of soft serve within 20 minutes. You can enjoy as soft serve, or freeze and let harden.

Nutrition
Calories:
462
kcal
|
Carbohydrates:
8
g
|
Protein:
8
g
|
Fat:
44
g
|
Saturated Fat:
26
g
|
Cholesterol:
332
mg
|
Sodium:
93
mg
|
Potassium:
260
mg
|
Vitamin A:
1670
IU
|
Vitamin C:
1.7
mg
|
Calcium:
221
mg
|
Iron:
0.6
mg
Disclaimer: This post has been sponsored by Sweetleaf Stevia however all opnions are 100% my own and always will be. Thank you for supporting the brands I enjoy working with.