This post and photos may contain Amazon or other affiliate links. As an Amazon Associate I earn from qualifying purchases. If you purchase something through any link, I may receive a small commission at no extra charge to you. All opinions are my own.
These Easy Sugar- Free, Low – Carb Pumpkin Spice Waffles are gluten free and grain free and perfect for a make ahead breakfast!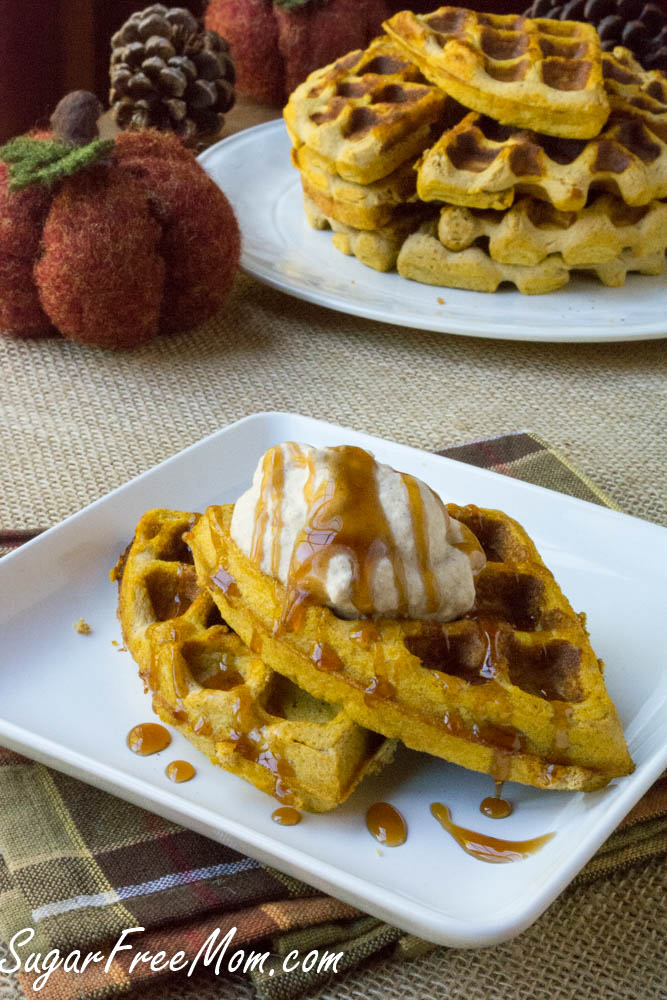 I'm not sure what's a comfort meal to you, but to me it's something (or anything) that resembles traditional carbs. Waffles with plenty of butter, syrup and whipped cream was more dessert than breakfast, but for special occasions that's what I loved.
Maybe waffles aren't a comfort food to you, but if you're a mom and need a make ahead breakfast idea these waffles are the perfect fit for a busy family.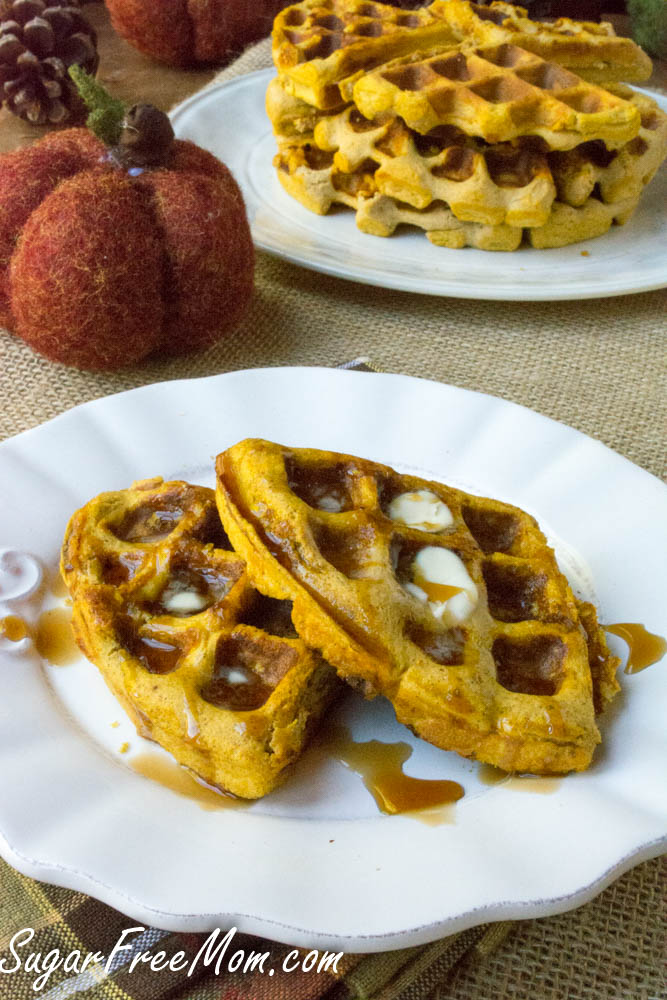 Make them ahead and refrigerate or even freeze, then the kids can help themselves simply by warming them up in the microwave. You could even let them make a breakfast sandwich with a little nut butter if you like!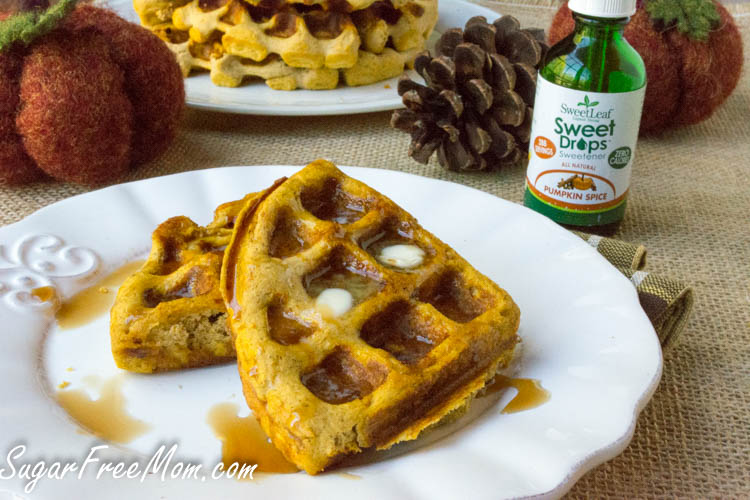 These are Pumpkin Spice and everything nice as it's the season of all things pumpkin. But certainly what makes these perfectly spiced is using my favorite sugar free sweetener by Sweetleaf!
I always do share how to sub your favorite sweetener in my recipes, but to really enjoy the true flavor of the season, Pumpkin Spice liquid Sweetleaf Stevia is the way to go, especially for this recipe.
And in coffee, it's super delicious in coffee too!
Other Sweetleaf liquid stevia that would work would be to use Coconut stevia or even Cinnamon stevia!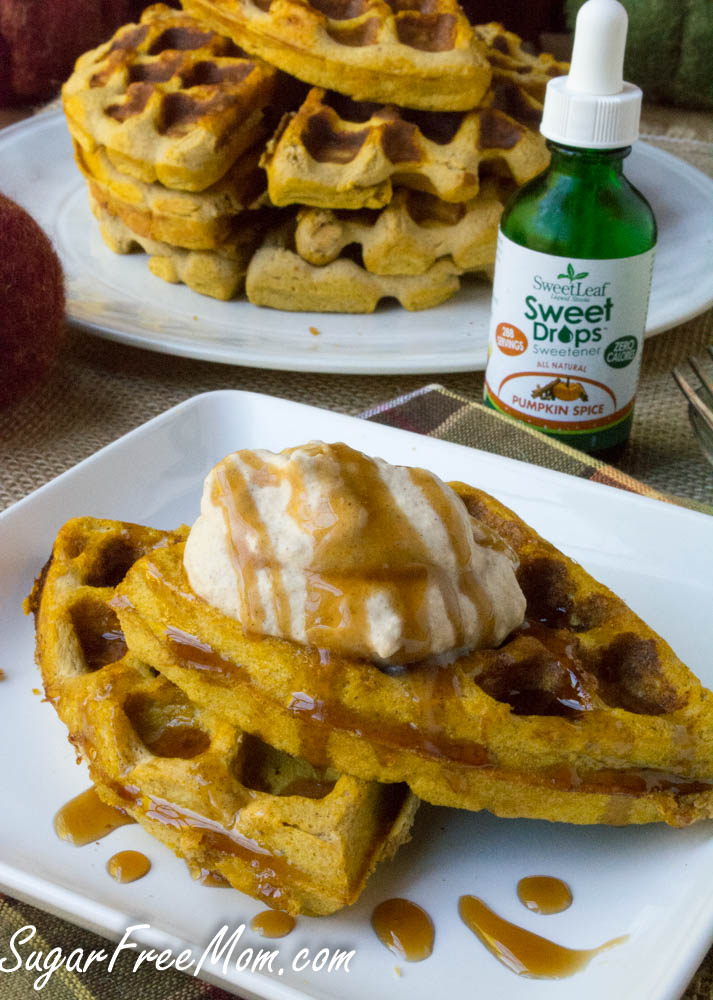 Just butter on top would be enough for anyone but adding some Sugar-Free Pumpkin Whipped Cream as well and it's even more decadent and special. I also love using Sukrin Fiber syrup which is sugar-free, but tastes like maple syrup!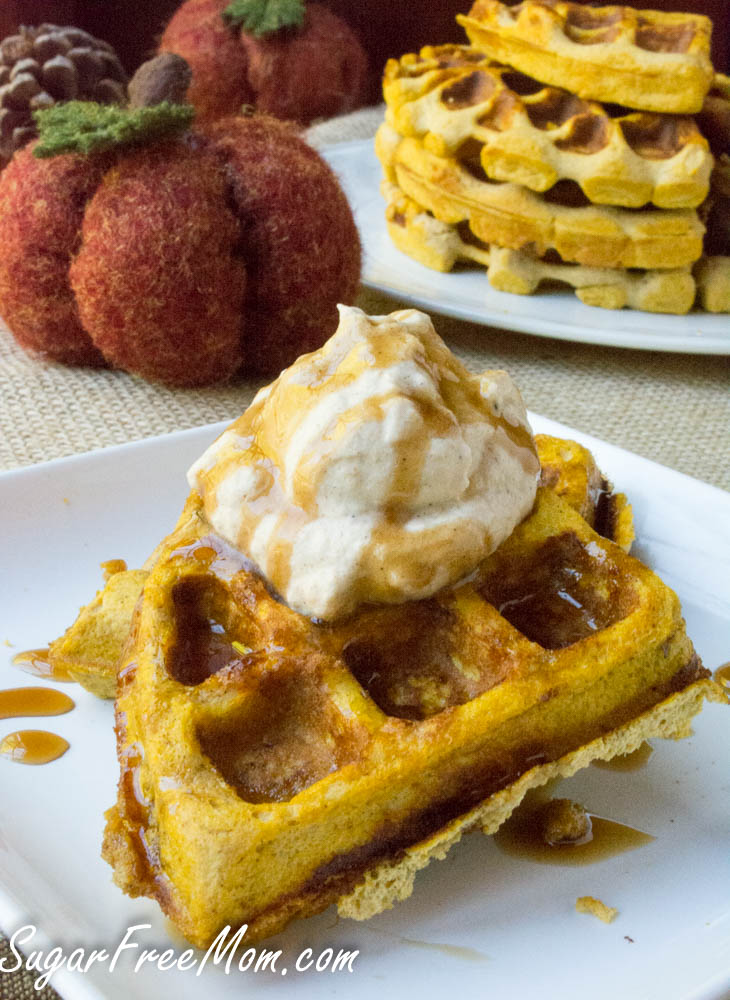 I've made this recipe several times using just coconut flour and using just protein powder, but the combination of the two provides the best texture for these waffles. My kids gave these thumbs up! The youngest has a tree nut allergy and using almond flour is not an option, but he truly is not a fan of anything that has the taste of coconut either. Good news is that no trace of coconut can be detected, it's all about the flavor of pumpkin here.
They are grain free, gluten free, low carb and a fabulous allergy friendly waffle!
CHECK OUT MY VIDEO HERE:
Disclaimer: This post is sponsored by Sweetleaf Stevia with whom I am honored to be in partnership with. All opinions are 100% my own and always will be. Thank you for supporting the brands that keep this website running!