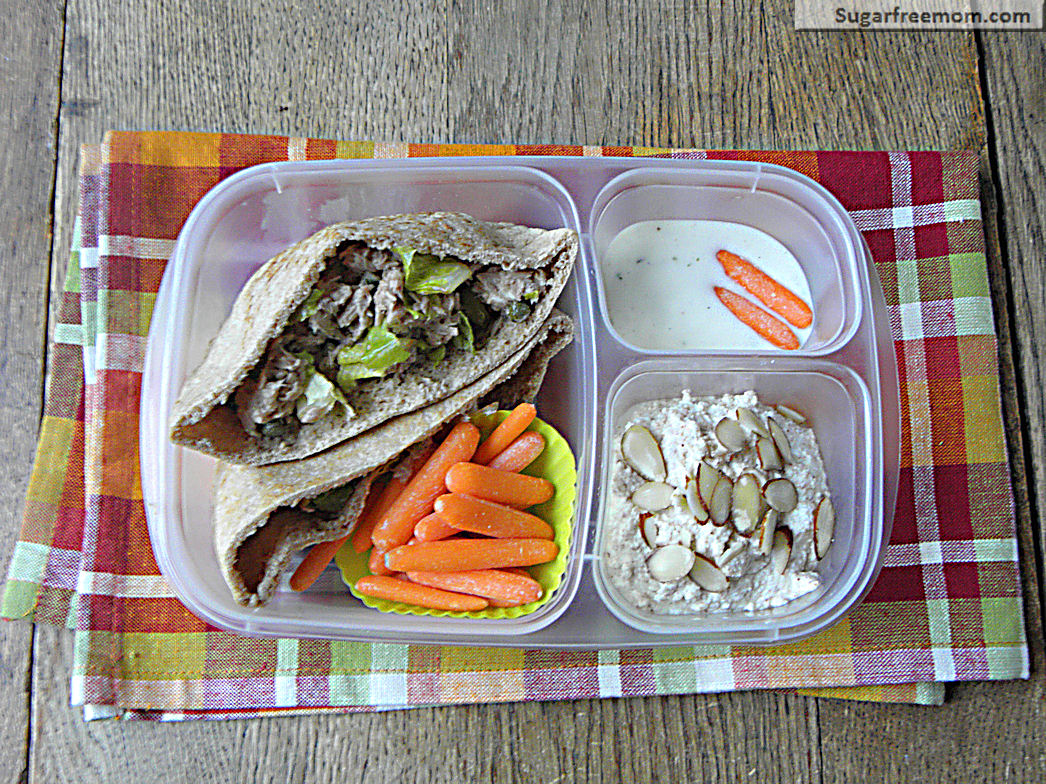 A simple but delicious way to enjoy tuna fish, without the fattening mayo. Don't get me wrong, I'm not a mayo hater by any stretch of the imagination, but every so often it's really good to change up your same old lunches and try something new on your plate or in a lunchbox!
But to be completely honest with you, I needed to go food shopping. 🙂 I was out of a lot of my favorite fresh produce to make a salad so I worked with what I had in my pantry and fridge. Hence, I created an Italian style tuna fish with spices, extra virgin olive oil and a tiny bit of romaine I had left. The almond mousse was created with ricotta cheese because I was shockingly OUT of my Greek plain yogurt, go figure! So you can make it with either but with the ricotta it is much heavier and a nice change from smooth yogurt. What you see here is throwing it altogether for my lunch to homeschooling co-op last week. 😉
Satisfying and healthy, mine kind of lunch, how about you?
Mayo Free Tuna Salad & Almond Mousse Meal -To-Go
Mayo Free Tuna Salad
[sc:Ziplist]
Ingredients
1 can tuna
1 scallion, chopped
¼ teaspoon salt
¼ teaspoon pepper
1 teaspoon capers
2 teaspoons extra virgin olive oil
½ teaspoon minced garlic
1 tablespoon fresh parsley, chopped
1 cup chopped romaine lettuce
1 whole wheat pita, sliced in half
optional: 1 ounce feta cheese, light
Sides
½ cup carrots
2 tablespoon ranch dressing, light
1 tablespoon almond butter
¼ cup ricotta cheese, part skim or use plain Greek yogurt
2 droppers liquid vanilla stevia
sprinkle sliced almonds
Directions
Tuna Salad: In a small bowl break up the tuna fish with a fork. Combine the seasonings, capers, oil and parsley together and toss with the tuna fish. Once combined add the romaine and the feta and mix gently. Spoon into each pita half. Refrigerate until ready to serve.
Almond Mousse: In a small bowl blend your almond butter, ricotta cheese and stevia together. Sprinkle with sliced almonds. Refrigerate.
Nutrition Info
Servings: 1* Calories: 494* Fat: 24g* Cholesterol: 49mg* Sodium: 1216mg* Carbs: 34g* Fiber: 7g* Sugars: 8g* Protein: 25g* Points+: 10*
Other Meal to Go recipes you might like: