This chocolate pumpkin fudge requires just a few minutes in the blender and short time in the freezer. It's sugar-free, low carb, gluten free and FUDGEY!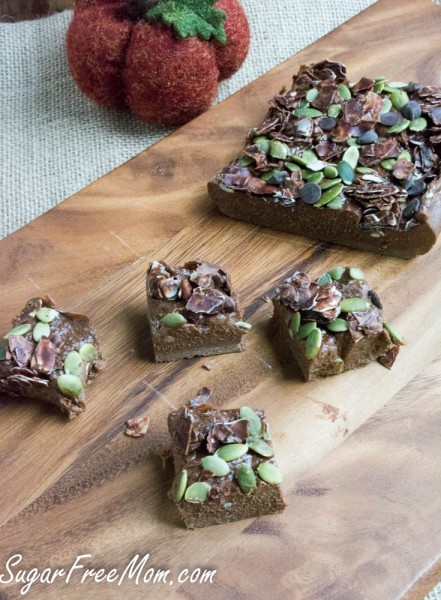 I can't lie and tell you I'm a fan of fudge. I'm really just not that into it, never have been. What I am a fan of though is CHOCOLATE and Snacks that provide double duty. This fudge was created out of my need for chocolate but desire for a low carb protein filled snack.
Pumpkin fell into it simply because it's the season of all things pumpkin, is it not? Everywhere you turn is a pumpkin flavored recipe, not that I'm complaining, I love the stuff. But the star isn't the pumpkin here, it's really the chocolate. The first bite of this soft, smooth chocolaty fudge will be heavenly but the hint of pumpkin will linger on your tongue shortly after, which is nice subtle surprise.
So even if you're not a fan of pumpkin this recipe will indulge your chocolate sweet tooth without pumping your veins with sugar and causing you to crash thereafter.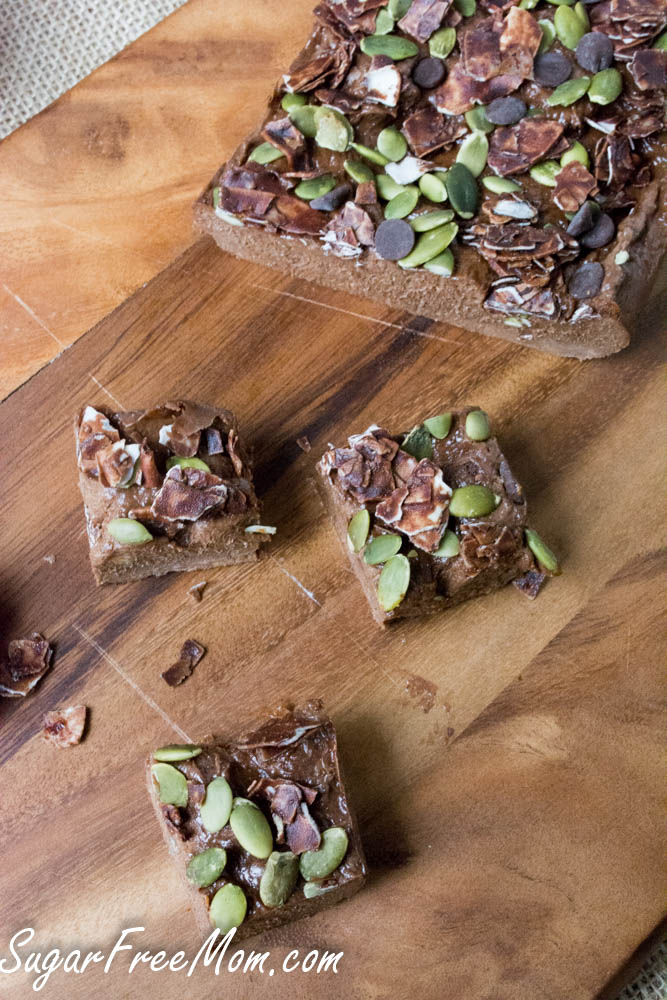 Complete satiation will come after just one or two pieces due to the full fat in the coconut oil. Contrary to what many believe, coconut oil is actually a really good fat to enjoy.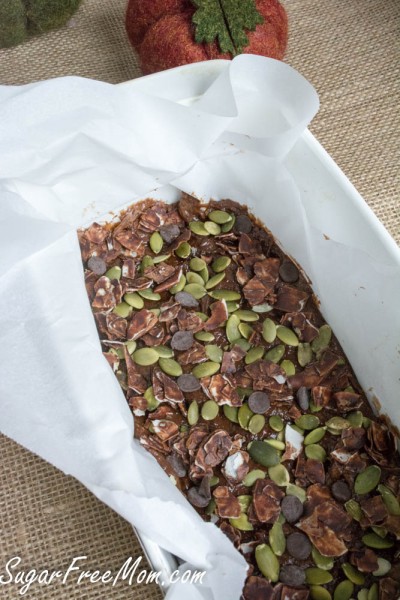 What could be better than easily mixing up the ingredients in a blender and pouring in a pan to harden? Nothing friends! No bake recipes rock, am I right?
And I can't say this recipe was easy to make either. I worked this out about 3 times before getting the right combo that would work for a no bake recipe that wasn't too mushy or too wet or too dry. Just right is what I was working for and by golly I finally got it!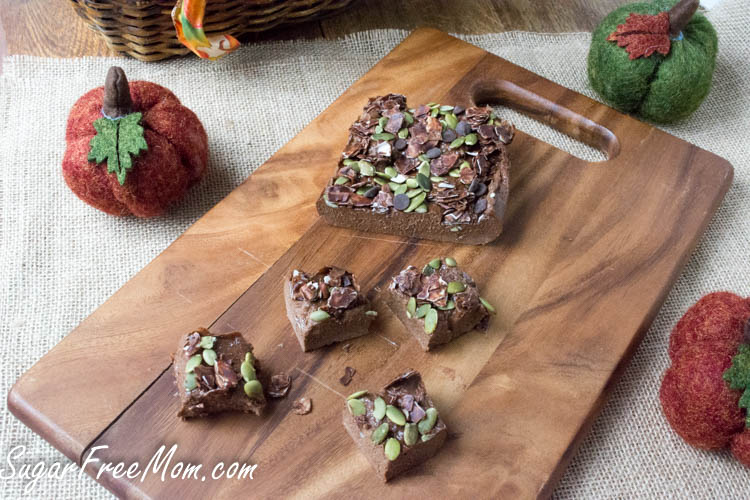 I can't say it won't get a little soft though if you leave it on the counter. It could and I would suggest just leaving it in the fridge for whenever you want to sneak a piece.
Or HIDE in the fridge, I should say, if you happen to have a boy teenager in the house as I do.
I told him it was there, so it's certainly my own fault. I also told him he could enjoy SOME as it's a great healthy protein filled snack. I left the house for an errand for literally 30 minutes and came back to put groceries in the fridge to find ¾ of my fudge was GONE! Guess you could say he loved it. He also ate the batch that was too mushy the time before my final batch was perfect. In fact he said he didn't care because it tasted so good mushy and all!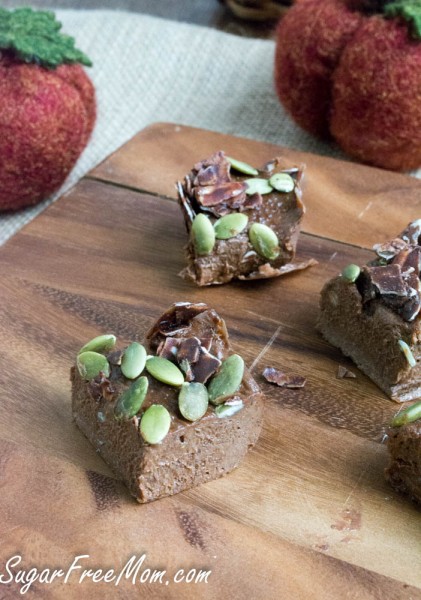 Brenda's Notes:
1 scoop of the protein powder I used is about ⅓ cup worth. The Lean Body for Her is the one I use.
If you don't have liquid cinnamon stevia you could use chocolate, vanilla or plain even. I buy all my liquid flavors of stevia through iherb.com and my discount code is YAJ035.
If you're not a fan of stevia, choose another sweetener of choice. Simply add a small amount equal to about ½ cup sugar and taste and adjust before placing in pan to harden.
If you don't have pumpkin spice use a combination of cinnamon, nutmeg, cloves, or all spice.
You can sub another milk for the almond milk also.
Recipe adapted from my No Bake Chocolate Peanut Butter Protein Fudge.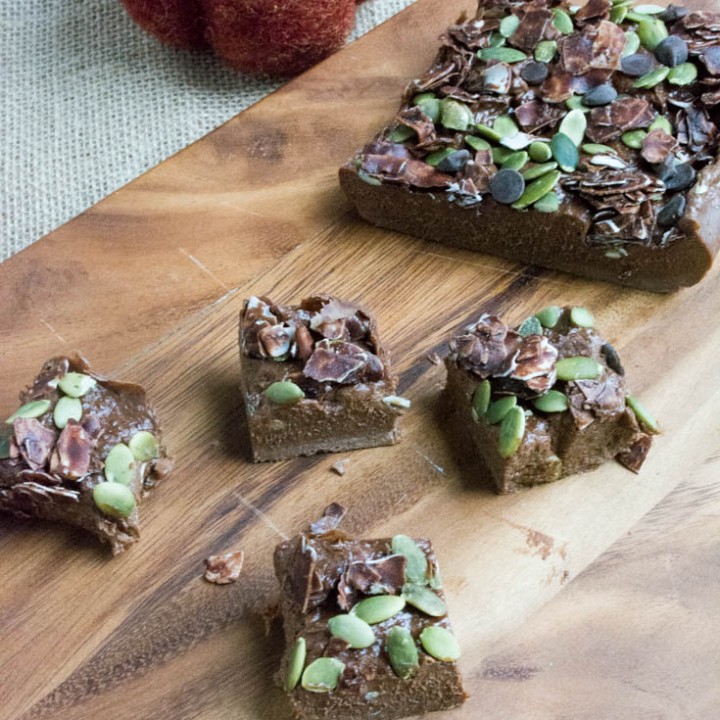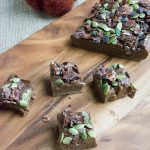 Print
No Bake Sugar-Free Chocolate Pumpkin Protein Fudge
Instructions
Line a loaf pan with parchment paper.

Place all ingredients (except toppings) into a high powdered blender or food processor.

Blend until incorporated well.

Spread batter into the loaf pan and press optional toppings onto the top of the batter.

Freeze 30 minutes or refrigerate 1 hour until hardened.

Best if kept refrigerated until serving.
Nutrition
Serving:
1
g
|
Calories:
106
kcal
|
Carbohydrates:
2.8
g
|
Protein:
6.5
g
|
Fat:
8.2
g
|
Saturated Fat:
5.3
g
|
Sodium:
6
mg
|
Fiber:
2
g
|
Sugar:
0.8
g