Soft Pumpkin Cookies made without added sugar, gluten free, nut free, grain free and low carb!
Do you ever just have some weeks that you feel like you just can't catch up no matter how much time you invest and complete that To Do list? I've been feeling like I have not been really able to catch up since we left for Disney and that was over a month ago! All the planning that went into that week was amazing and I was happy I pulled it off, but now it seems I'm just one day away from a complete mess in all areas!
Although I had dreaded trying to plan ahead for a week away to really enjoy the time with my family, I had worked a little each day on scheduling and planning so it wasn't overwhelming and it all got done. I'm wondering why I can't seem to catch a breath and just do what I had done to plan that week so I'm not so frazzled and last minute with everything lately.
Stress and deadlines do not mix well and these last few days this week have been crazy. Just a few extra appointments for the kids and boom..... I'm behind on laundry, cleaning the house, even making dinner, I am ashamed to say.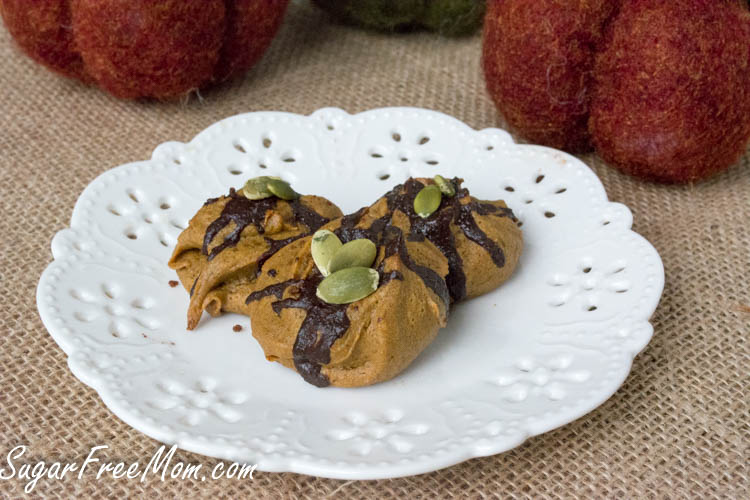 The other night I was so busy with a deadline that I thought was going to be a piece a cake and was anything but, I actually........ bought prepared food for dinner at Whole Foods.
I never do that.
My family was excited, but seriously I came home with only 2 bags of groceries for about $130 and not much to show for it.
I've got a plan to some how play catch up, but I need just one day without........obligations. A day to just be home and have no where to go. Is that day even possible, does one even exist?
I'm not sure.
This weekend is a birthday party, soccer game, scouting for food, play practice, Halloween party, church and Trunk or Treat. I think making the most of the "in between the schedule" times is all I've got and I better just run with it.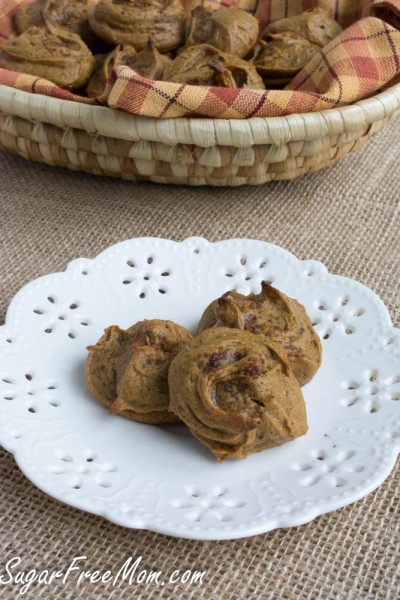 These cookies are an example of me running with it.
I just had this idea to replicate all those flour-less peanut butter cookies that just use a cup of sugar and a cup of peanut butter and an egg. I knew it would be an easy cookie to turn into a pumpkin cookie. I love the idea of no flour, grains, nothing much but 4 ingredients plus sweetener and spices. I also love the fact that you dump all ingredients into the food processor and bake for 15 minutes and you got a cookie! So one afternoon this crazy week and these cookies were born.
My boys are tree nut and peanut allergic so sun butter was my first choice, but unfortunately the pumpkin couldn't be tasted as much and they were not interested. The second time I made them I reduced the sunbutter and tried coconut butter. Much better, less dense, and pumpkin flavor prevailed! And my boys gave them a thumbs up as did the picky hubby!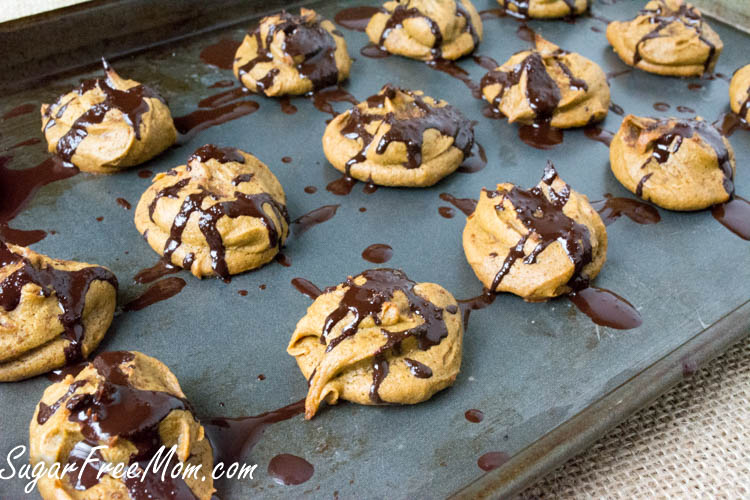 I decided to add some chocolate drizzle cause I am a chocoholic.
Of course you could certainly make these without the chocolate drizzle, but why would you want to do that?
I say drizzle it on baby! But either way they are equally as delicious!
I spooned these out free form style but you could certainly flatten them like typical cookies if you like.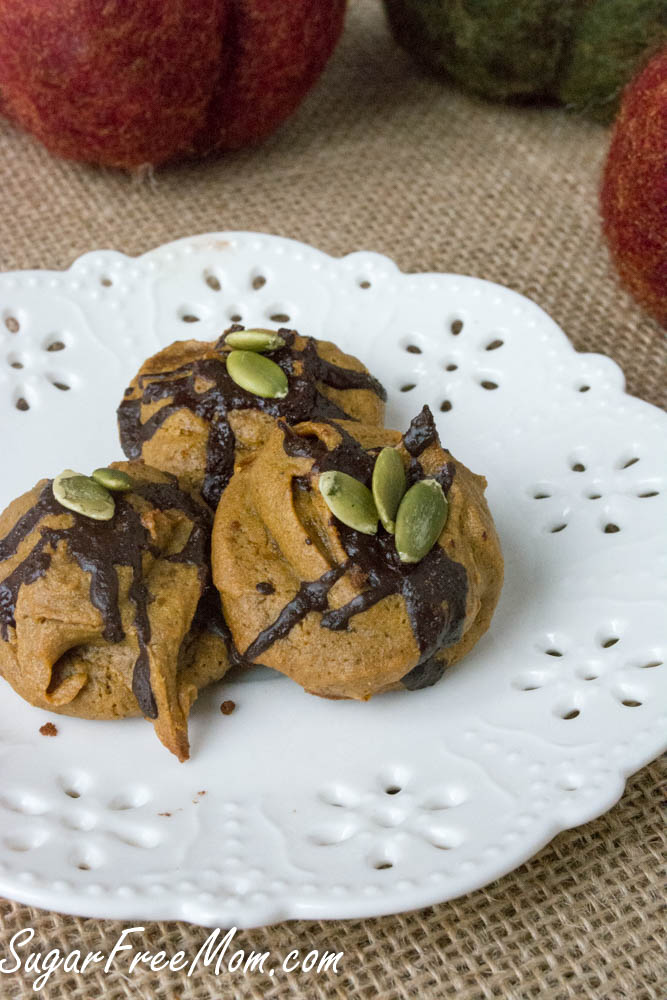 Brenda's Notes:
Nutritional information does not include optional toppings.
Pyure is USDA certified organic, non GMO blend of erythritol and organic stevia. If you don't have this you could replace with Swerve which is erythritol without stevia so I would increase liquid stevia by ¼ teaspoon as Swerve is not as sweet as Pyure.
If you don't have liquid vanilla stevia you could use plain or leave it out and increase Pyure by ½ cup.
Sunbutter is made from sunflower seeds. If you and family are not allergic to nuts, feel free to use any other nut butter of choice. I have tried this with all sunbutter in place of the coconut butter in the recipe but it yielded a more nutty taste then we liked, they were also denser and the pumpkin flavor wasn't as prevalent.
Disclaimer: I was not compensated to try or use Pyure. I found it, bought it and decided to try it in these cookies. Loved the result!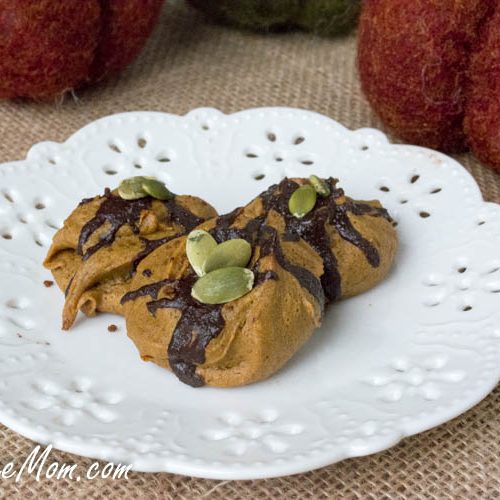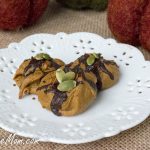 Print
Flourless Low Carb Pumpkin Cookies
Instructions
Preheat oven to 350 degrees F.

Line a baking sheet with silpat or parchment paper.

Place all ingredients into a food processor and process until incorporated.

Measure out a heaping tablespoon of batter and place onto baking sheet about an inch apart. Makes between 18-20 cookies.

Bake 13-15 minutes or until cracks form in cookie.

Let cool slightly and add melted chocolate drizzle and pumpkin seeds onto chocolate if desired.
Notes
Weight Watchers Points Plus: 5* per serving
Nutrition
Serving:
2
g
|
Calories:
181
kcal
|
Carbohydrates:
7.7
g
|
Protein:
4.9
g
|
Fat:
15.6
g
|
Saturated Fat:
8.1
g
|
Cholesterol:
20
mg
|
Sodium:
61
mg
|
Fiber:
5
g
|
Sugar:
2.7
g