Sugar-Free White Chocolate is a simple recipe that's low carb, gluten free and needs just a few ingredients to prepare in under 10 minutes.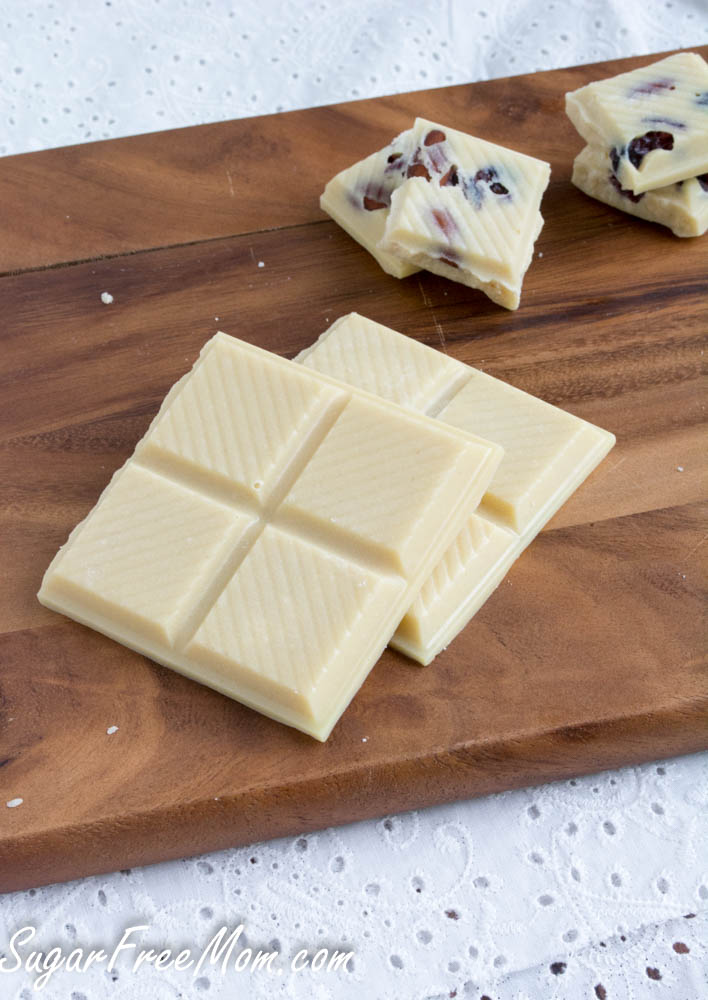 When all you have to do to prepare a recipe is melt something, whisk something then pour it into molds to make it look beautiful, I'm all in. When a recipe makes me look like a star, especially when I am anything but the candy expert, I will repeat this idea as much as possible.
I've made sugar-free chocolate bars as well as dairy free chocolate bars  you will find at the same link and this recipe is only slightly different in the fact I'm using cacao butter to make this creamy white color you see here.
To be completely honest with you I'm not really a fan of white chocolate, never have been even before I went sugar free 10 years ago. BUT tackling white chocolate was a foodie goal I've had for a long time simply because you can do more with a white color then a chocolate brown color. In the very near future you will see this white chocolate recipe being used to coat and cover and make some fabulous recipes even more spectacular!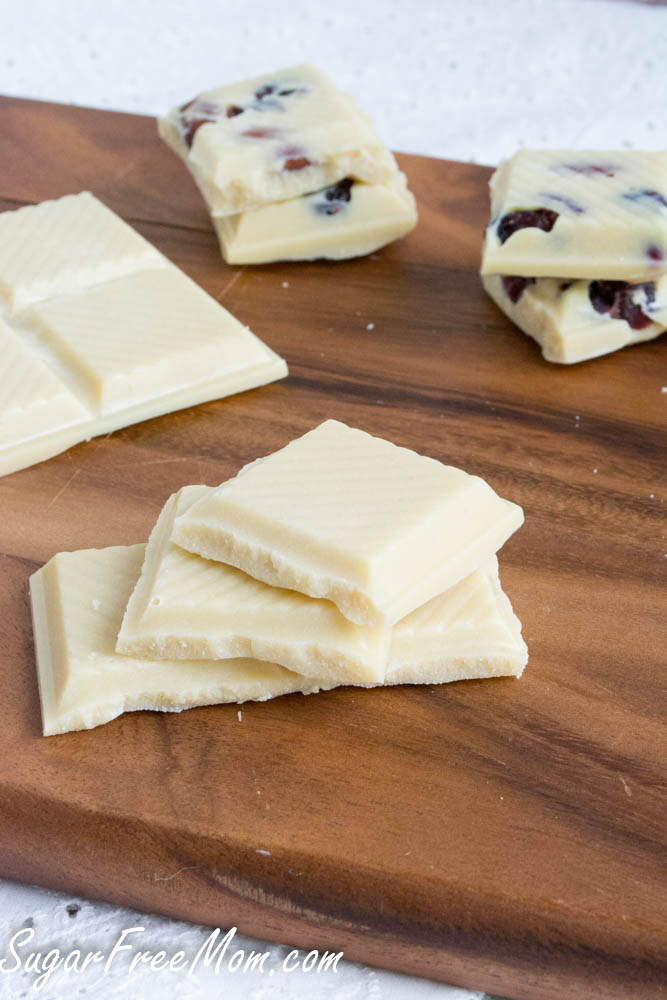 Now certainly if you've been eating a sugar-free lifestyle for a period of time, you have come to enjoy it and understand the fact that baked goodies and products made without refined white sugar will have some differences. The differences are often in texture, but that doesn't mean it tastes any less delicious, it's just something to get used to.  If you are completely new to the sugar-free way of life, this fact may take some time to accept. This white chocolate is a fabulous sugar-free candy, but it will not be the same as typical white chocolate you may be comparing it to.
And since I'm not a connoisseur of white chocolate and my hubby is and also 45 year old man who loves typical white chocolate, he made sure to let me know it's not quite the same, but good of course, for sugar-free. 🙂
My kids on the other hand think it's fantastic because quite frankly, they have nothing to COMPARE it to, and they are also not set in their ways as my picky husband is.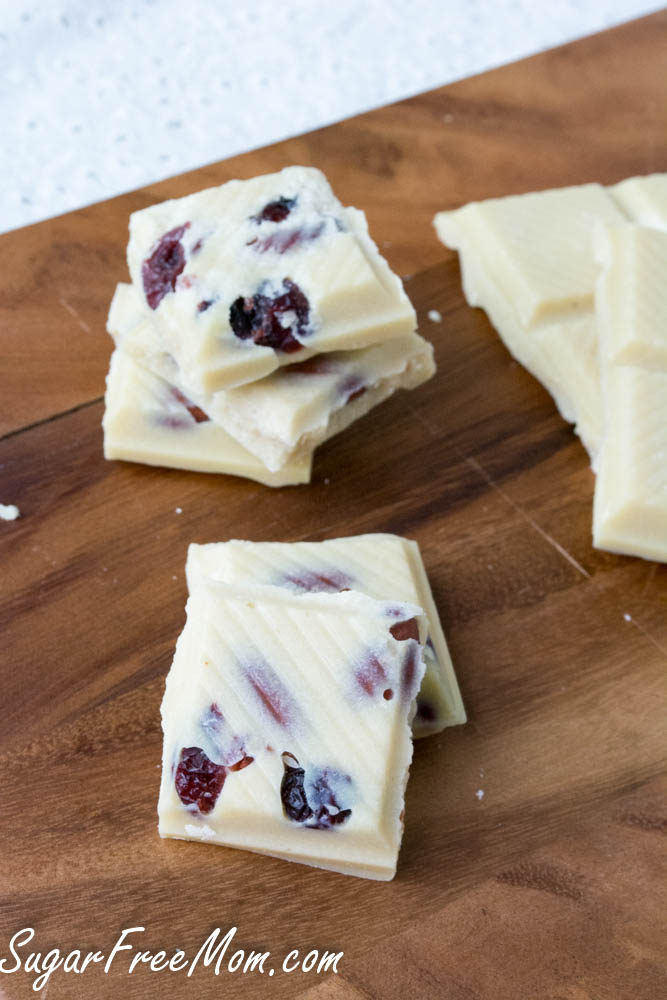 Moral of the story, even if you have a man or partner in your life that is not fully on board with a healthier way of life and removing sugar, YOU can still make a difference in your own life as I have. YOU can change the taste buds of your children before they get used to white sugar and fall prey to it. You may not win the hubby over all the time or make him stop eating sugar, but you can certainly make a change in the way you cook and bake in the home. And that is good enough for me.
Brenda's Notes:
The link for the cacao butter will send you directly to iherb.com where I purchased mine. My discount code is YAJ035 if you're a first time customer. You can also find it online through Amazon.
 Nutrition information does not include optional ingredients.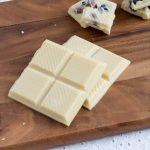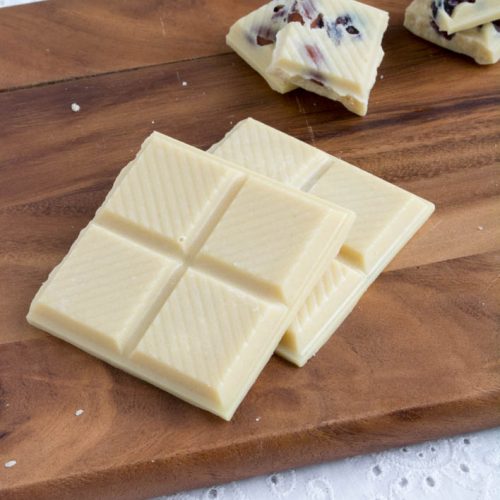 Sugar-Free White Chocolate Bars
Ingredients
8

ounces

raw cacao butter

1/2

cup

Swerve or powdered erythritol

1/4

cup

vanilla protein powder

use Jay Robb which is sweetened with stevia

2

teaspoons

vanilla extract

1/4

teaspoon

salt

1 1/2

teaspoon

vanilla liquid stevia

Optional: dried cranberries

chopped nuts
Instructions
Melt the cacao butter over low heat in a saucepan until completed melted.

Remove from heat and whisk in swerve until combined.

Let cool about 15 minutes then add mixture into a blender.

Add in the rest of the ingredients and blend until smooth.

Pour into chocolate bar molds and add optional ingredients if desired.

Refrigerate until hardened.
Nutrition Facts
Sugar-Free White Chocolate Bars
Amount Per Serving (2 g)
Calories 180
Calories from Fat 170
% Daily Value*
Total Fat 18.9g 29%
Cholesterol 1mg 0%
Sodium 61mg 3%
Total Carbohydrates 0.5g 0%
Protein 2.1g 4%
* Percent Daily Values are based on a 2000 calorie diet.