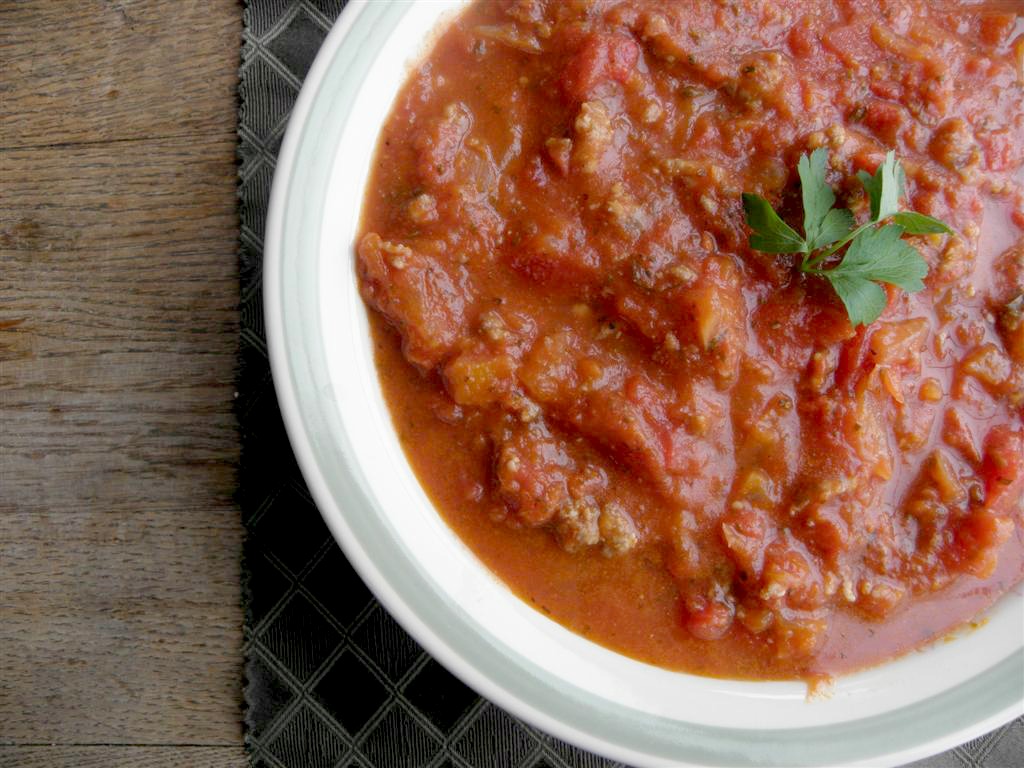 I thought my momma's RED tomato bolognese sauce would be an appropriate recipe to kick off our "Share the Love Healthy Recipes Week"!
All week long you will be seeing some fabulous recipes shared from some lovely talented bloggers.
Enjoy and don't forget to store all your favorites on a pin board. Pinterest is a great place to keep your recipes you want to eventually make in an easy to find, organized place. You just add a pin to the picture you like and name your board to store it on. I keep the ones I want to try on a board called "Recipes I want to make". Then when you want to try the recipe you go to that board on pinterest and click the pic and it brings you directly to the recipe! Super easy, super quick, totally addictive!
My Mom has made homemade Italian tomato sauce every single Sunday of my entire life. I grew up never eating any sauce in restaurants...... they just couldn't compare. Many store bought sauces were always so...so...so....unbearably sweet I just never liked them. I love my mom's sauce and it will always be the best I've ever had! So of course I had to I ASK if I could use her recipe and thankfully she was kind enough to agree, which means yeah for us!
I share this recipe of LOVE, this sauce that has been passed down from my grandmother to my mother and to me, serious love her folks!
I share it with you, my readers of SFM, because I know you will cherish it as I have. I know you will adore this sauce and never want to purchase store bought sauce again learning how easy it is to make such a mouthwatering, delicious sauce.
You can make this completely vegetarian and exclude the sausage if you like. I can't vouch for the taste as I always make it with the sausage. If you don't like traditionally chunky type of sauces or need to hide the onions from your kiddies I would recommend just making the sauce and then put it in a food processor to smooth out the chunkiness. The kids will never know there is onion in there, but the flavor it adds I just wouldn't tell you to leave it out...nope, I just can't. I wouldn't substitute or change this sauce in anyway. Trust me, why mess with perfect right?!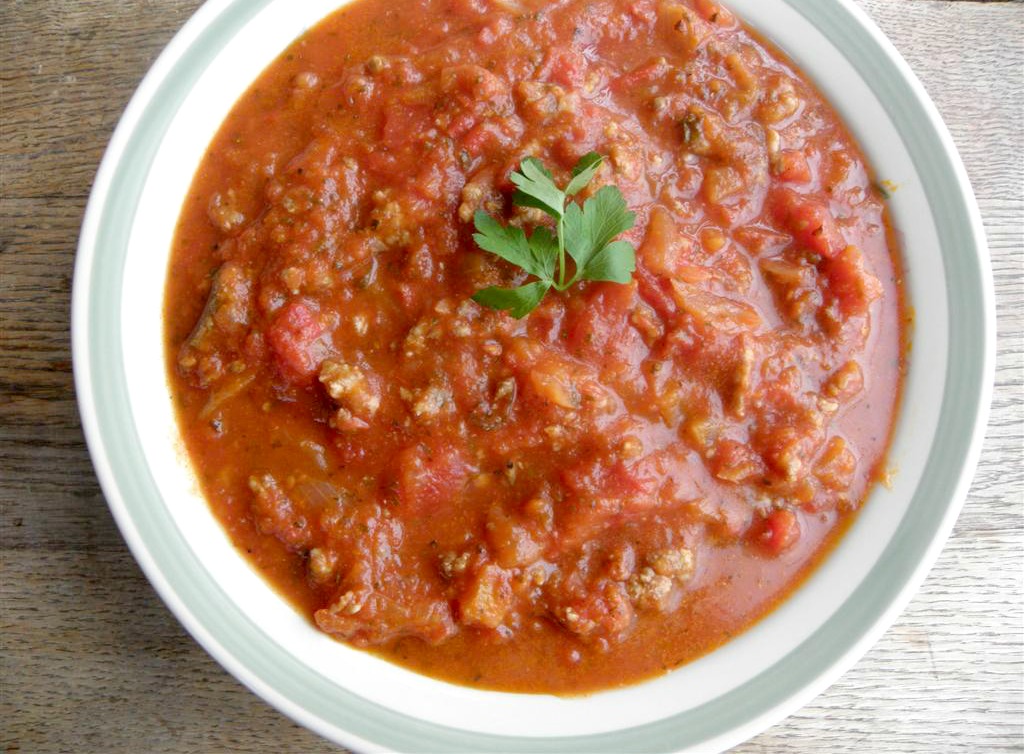 You could also spice this sauce up by adding red pepper flakes as my mom does, but with my kiddies they just won't have it. But either way its the most perfect chunky sauce you will ever have!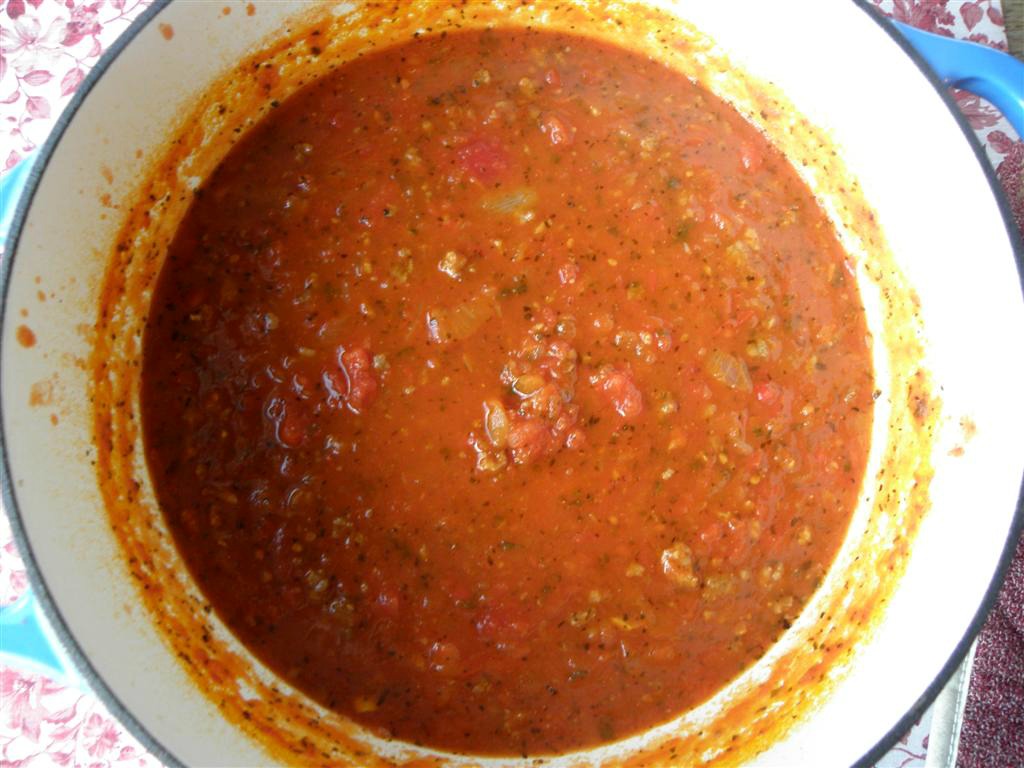 Interested in a meatless version? Check out my Quick Italian Marinara Sauce!
Traditional Italian Bolognese Sauce
Author:
Ingredients
6 oz. pork sausage
1 tablespoon extra virgin olive oil
1 c. onion, chopped
3 cloves garlic, minced
1 c. water
2-28 oz. cans of crushed tomatoes ( I used Tuttorosso, but I also like Pastene)
2 tsp. dried fennel seed
2 tsp. dried basil
2 tsp. salt
2 tsp. pepper
2 tsp. dried parsley
Instructions
In a dutch oven or large pot, heat oil on medium heat and add pork sausage.
Cook sausage until golden brown then add onion and garlic. Saute onion until translucent.
Add crushed tomato, water and seasonings and bring to a boil. Reduce heat, cover and simmer for one hour.
If the sauce is too thick add more water. If its too thin for your liking add some tomato paste.
Keep refrigerated or freeze in an airtight container.
Serving size:
½cup
Calories:
60
Fat:
3g
Carbohydrates:
6g
Fiber:
2g
Protein:
3g
Notes
Weight Watchers PointsPlus: 2*