Print Friendly
Garlic Parmesan Roasted Chickpeas are a favorite with my boy who have nut allergies and can't have crunchy snacks until now!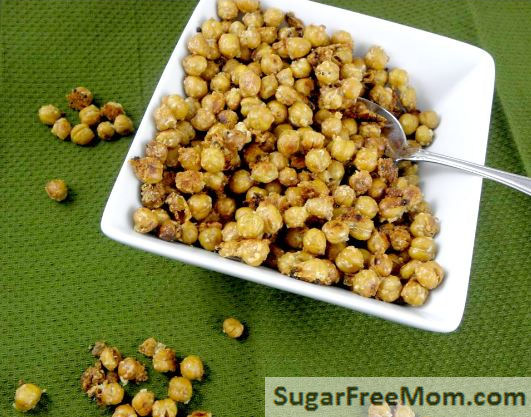 Garbanzo beans are my favorite and my family just loves them. They are super healthy and this is a quick easy recipe to make everyone will love.
My original recipe, Crispy & Sweet Garbanzo Beans, were a big hit, but I never made them much because of the fact I would always forget to soak my beans overnight. I wanted to experiment with canned because I had been asked if they would come out as crunchy as the original recipe.
Honestly I was skeptical……
and hesitant…..but I decided to try anyway and bought two cans.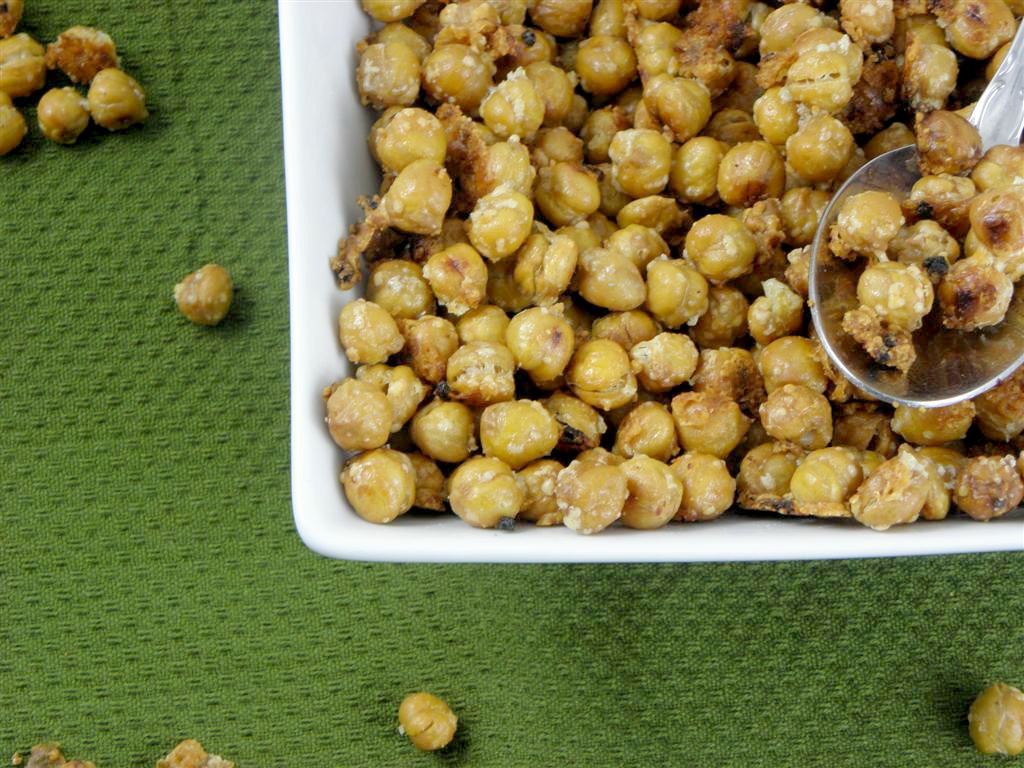 I thoroughly rinsed them and laid them on a paper towel to dry for about half an hour. Mixed up the ingredients to coat them in a bowl, which literally took 5 minutes and popped them in the oven for 45 minutes.
They were perfect! Just as crunchy as using uncooked, overnight soaked beans. Actually I couldn't believe it was true, so I kept having to try them, over and over and over again….you get the point.
WARNING: Do not make these prior to dinner or you will be munching on them the whole time and we were! They are sooooo good, really! You could add Cajun seasoning and make them spicy if you wish, but I will stick to this. In fact, my family actually prefers these now over the sweet ones, go figure!
Garlic Parmesan Roasted Chickpea Snack Recipe
Nutrition Information
Serving size:

¼ cup

Calories:

105
Fat:

3g

Carbohydrates:

14g

Fiber:

3g

Protein:

5g
Prep time:
Cook time:
Total time: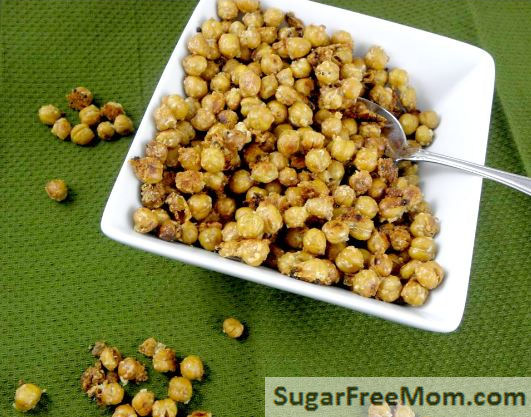 Ingredients
2 cans (15.5oz each) garbanzo beans, rinsed and drained
½c. Parmesan cheese, grated
1 tsp. minced garlic or more if you like
1 tbsp. extra virgin olive oil
½ tsp. salt
pepper to taste
Instructions
Drain the beans and rinse them well. Lay them on paper towels to dry for about 30 minutes.
Preheat oven to 400 degrees.
In a bowl, mix together oil, garlic, salt and cheese until crumbly and oil is absorbed.
Add beans to bowl mixture and toss to coat.
Lay beans on a baking sheet and bake for 45-60 minutes until golden and crispy. Mine were perfect at 45.
Notes
Weight Watchers Points+: 3*
Other recipe you might like: