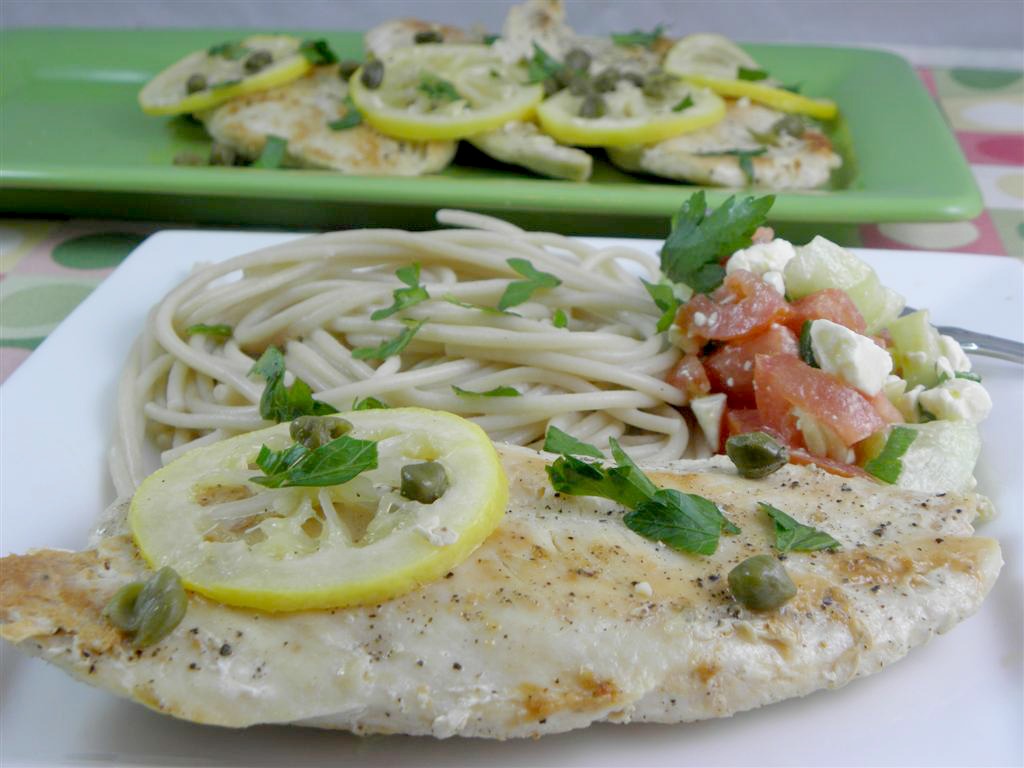 It's Share the Love Healthy Recipes Week and today I'm contributing my healthy low fat chicken piccata. This is a favorite in our house, even the picky ones love it! Super easy and quick to make , even on a week night. Simple is sometimes the best recipe and this is no exception. There is no breading or coating on this chicken, but that doesn't mean it lacks terrific taste! In my opinion its the best way to eat chicken breasts because the chicken juices are retained making it super moist!
I almost forgot to mention my sides here on this plate. I made some delicious Tinkyada brown rice spaghetti and added my cucumber feta salad . It was a pretty perfect meal, very satisfying! For having no carbs, 0 fat grams, 2 points and only 108 calories for a serving.......AND fabulous taste..... this is a winning dish in every way!
Nutrition Info
Servings: 10 (3.5-4oz) Calories: 108* Fat: 1g* Fiber: 0g* Carbs: 0g* Protein: 23g*
Points+: 2*
*To see an new adaption and updated photos to this recipe, click here.
Healthy Low Fat Chicken Piccata
[sc:Ziplist]
Ingredients
5- ( 8 oz) skinless, boneless chicken breasts, cut in half
¼ tsp. salt
¼ tsp. pepper
1 c. chicken broth, low sodium
4 garlic cloves, minced
4 tbsp. capers
1 lemon, thinly sliced
1 tablespoon fresh parsley, chopped
Directions
Place each chicken breast portion between two pieces of plastic wrap. Using the flat side of a meat mallet, pound each breast until its about ¼ inch thick.
Remove top plastic wrap and salt and pepper chicken.
Spray a large saute pan with nonstick cooking spray and lay chicken salted side down, then salt and pepper this side of chicken.
Cook chicken until browned and no longer pick in center, turning halfway through cooking. Remove chicken and set aside in a covered container to keep warm.
Add garlic to hot saute pan and cook for about a minute or until browned. Add chicken broth and scrap any brown bits from the saute pan, bring to a boil.
Add lemon slices and capers, cover and reduce to low heat.
Cook until lemon slices are softened about 4-5 minutes.
Return chicken to pan and heat through.
Serve chicken with capers and lemon juices over top and sprinkle with parsley.