Are you stumped by all the choices of coconut products out there wondering if and what is interchangeable in recipes? Here are the basics about coconut butter, coconut milk and coconut oil.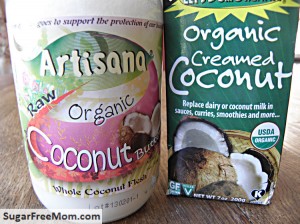 Have you purchased either of these products? The one on the left will cost you over $10.00 and the one on the right will be far less and won't break your food budget. BOTH are equivalent and can be used interchangeably in recipes. I've replaced many recipes using peanut butter with using coconut butter and have had success.
BOTH need to be softened in order to use successfully. The jarred coconut butter can be microwaved in the jar for 15 seconds at a time to soften as much as needed. The box on the right needs to be completely opened and placed in a closed container for further storage. It can be easily melted with hot water a few tablespoons at a time to desired consistency. I've used both in recipes and either will provide the same result.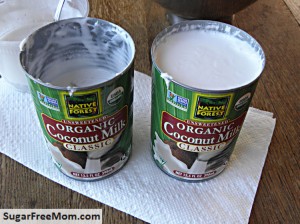 Here are two cans of canned coconut milk. Once opened, they need to be kept refrigerated. If you leave the opened can without a cover overnight in your refrigerator all the "cream" from the milk will come to the top of the can. When you are ready to make Dairy Free Whipped Cream, you've got to spoon out only the "cream" from the top of the can.
¾ of "cream" will come from MOST cans. From this picture you can see I was only able to get half the can of cream, before it was too watery and the cream part was gone. (You can use the rest of the coconut milk for a smoothie!)
I added it to my KitchenAid blender and blended that with some stevia and YUM!! Whipped Dairy Free Cream!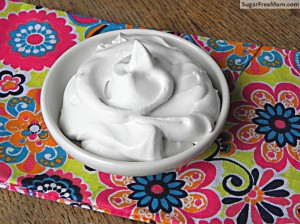 It takes a good 15 minutes to produce that nice thick, whipped texture, but it's worth it. You can then keep it in the fridge either covered or uncovered.
Delicious coconut cream recipes: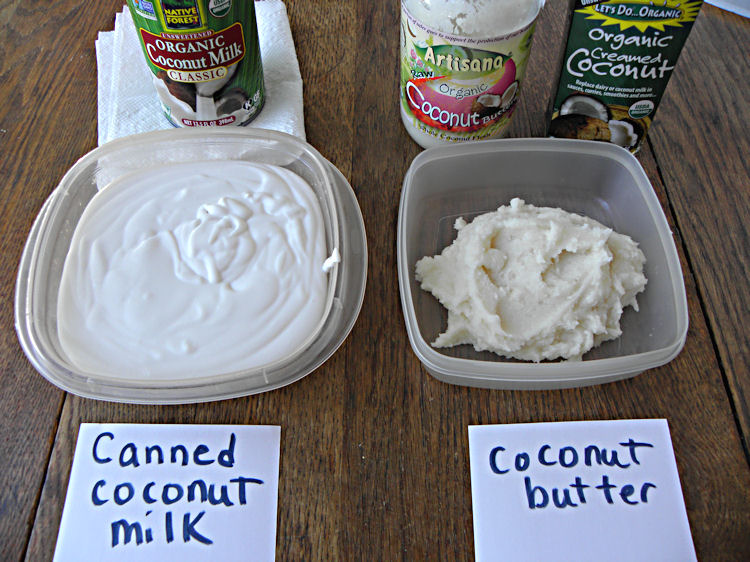 Here on the left is the canned coconut milk which I did not blend long enough to get that whipped consistency. It can be fickle, but it is easily fixable! Just keep blending it and it should thicken.
The texture and taste of canned whipped coconut cream is much more consistent with a dairy cream or even cool whip if you've used that before. It's light and fluffy and perfect as a topping. You can even freeze them into little drops and enjoy like ice cream dots. They melt easily, use a spoon! I have not tried and do not believe the canned coconut milk and coconut butter can be exchanged equally in any recipe.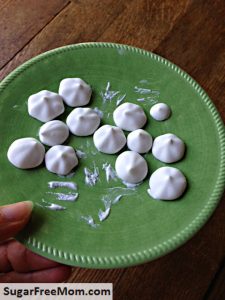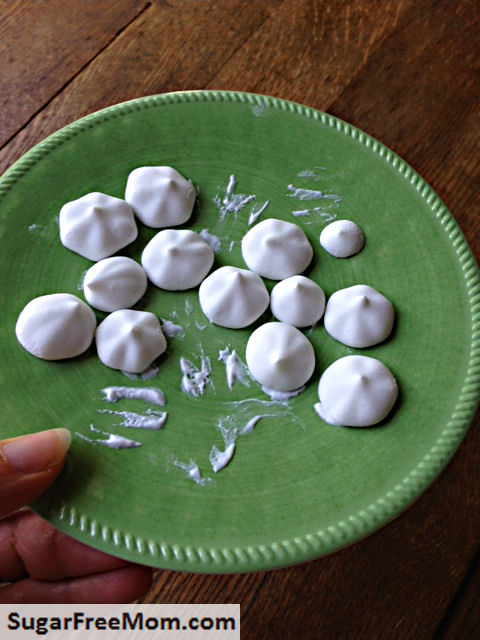 The coconut butter on the right above came straight from my jar. I mixed it with a few tablespoons of water and it fluffs up slightly but I wouldn't consider it perfect for a topping. More like a texture of a butter cream frosting and slightly thicker, but not as smooth as peanut butter. Once mixed with hot water or microwaved, it is spreadable so you can use it in a sandwich as well. I definitely recommend mixing it with water as it seems dry in my opinion.
Here's a pic of the coconut butter used as a frosting on my coconut cream cupcakes!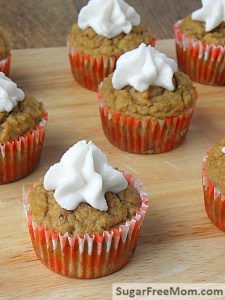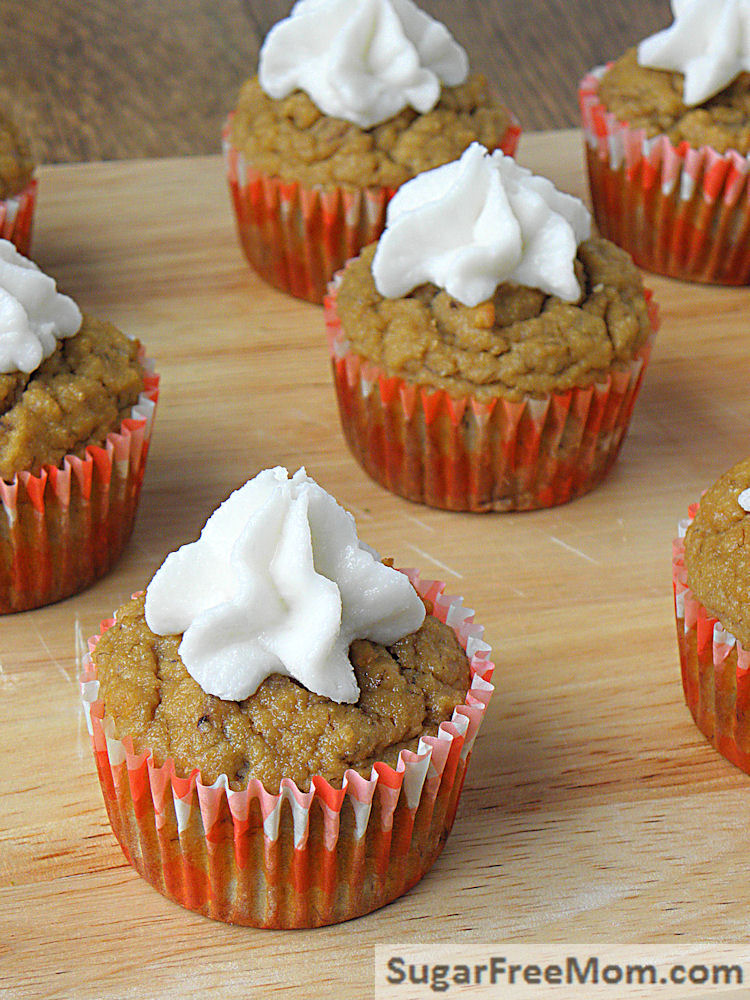 Coconut Butter does not need refrigeration.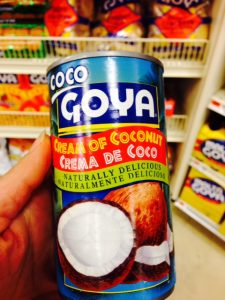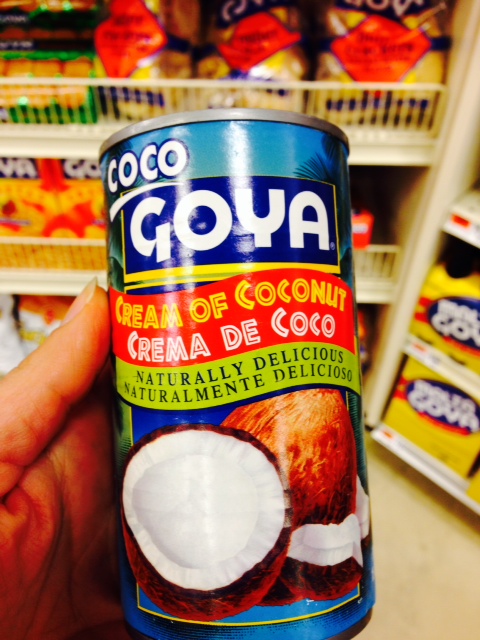 Have you seen this at the store? It says CREAM of COCONUT right? SO it should be good in place of the canned coconut milk shown earlier and left in the fridge overnight right? And why wouldn't you want to just buy this instead of have to wait for the milk overnight in the fridge? Just look at the below pic with the ingredients and that says it all!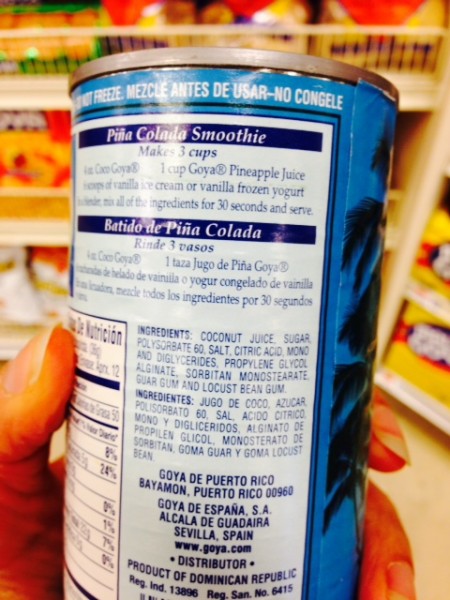 Sugar is listed as the second ingredient and not something I would use in my recipes. My rule of thumb has always been no matter what the sugar is, it has to be listed as the fifth or higher ingredient. Since I've not used this, I can't readily say it is interchangeable with coconut cream.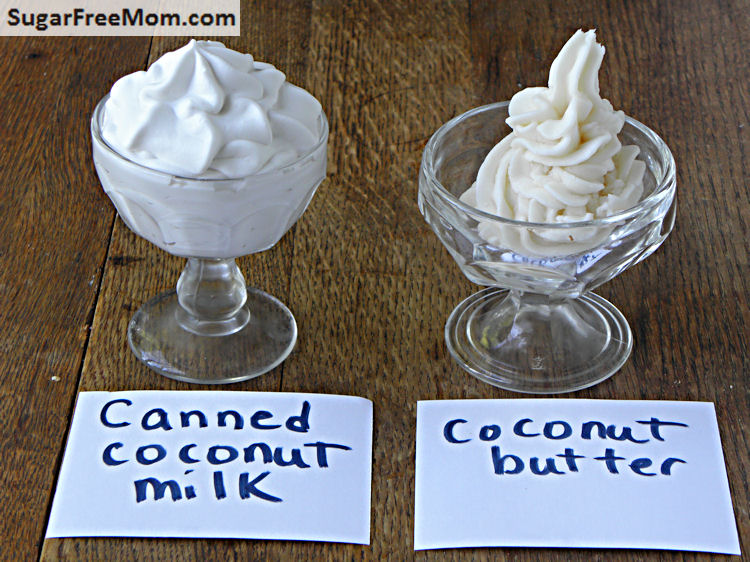 Here you can see the color and texture differences in both when whipped up in the KitchenAid. Again canned coconut milk is more similar to a dairy whipped cream and coconut butter more consistent with a butter-cream frosting.
Recipes using just canned coconut milk, no cream required: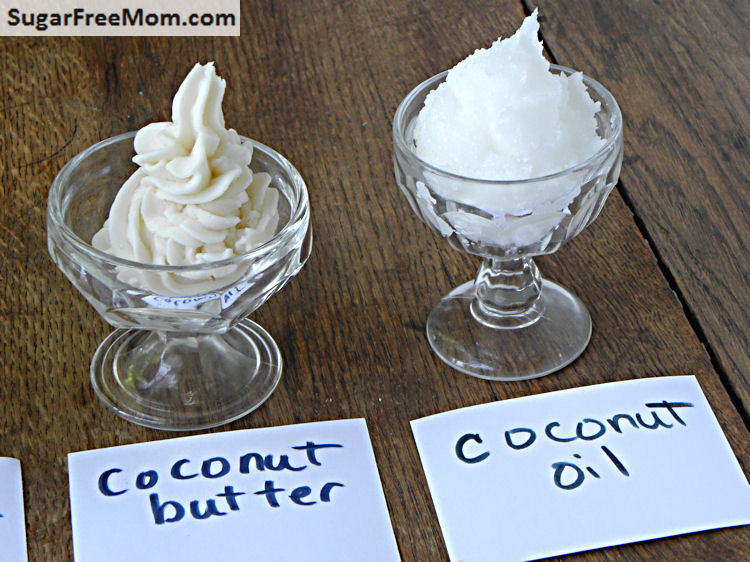 Now let's throw in coconut oil into our comparisons. Coconut oil is the edible oil extracted from the meat of the coconut. There's not much as far as taste compared to the butter or canned milk. It acts more consistent with a typical oil and can be used in place of cooking oil in recipes. In baking in can be replaced with oil but I find it doesn't yield the same results as typical oil or dairy butter. To me the end product becomes a bit more dry and dense.Some people have successfully replaced coconut oil with coconut butter in some of my recipes, but it really depends on the recipe. I wouldn't recommend it unless you're really in a bind and would waste ingredients if you didn't' try to substitute.
I'm not an expert in using the oil but I'm sure many people have successfully used coconut oil in recipes with good results. I have a few successful recipes using oil and butter, here with comments of others sharing how they subbed the butter for the oil: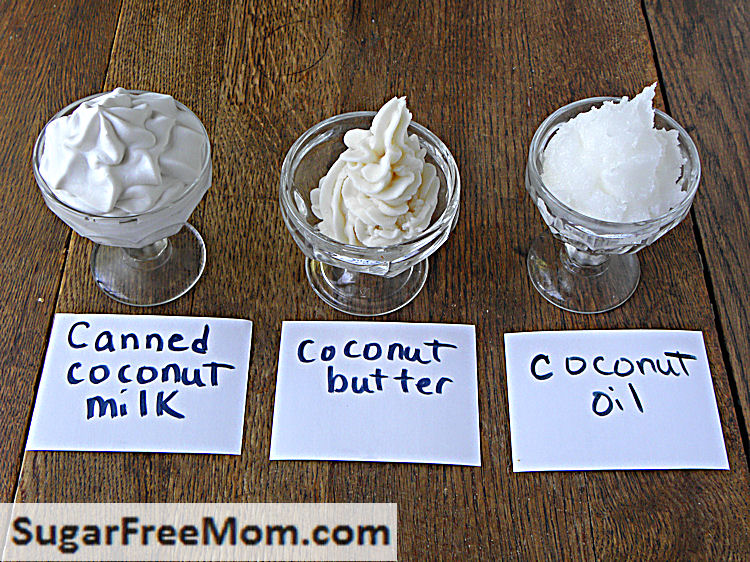 THE BASICS
COCONUT MILK /COCONUT CREAM:
A milky fluid extracted from the flesh of the coconut.
You can make the coconut cream at home without waiting overnight for it to thicken in the fridge. Simmer four parts shredded coconut with one part water.But then it will still need to be refrigerated. I've not tried making it myself and just buy the canned coconut milk. I usually just keep an opened can in my fridge all the time because we love it! A side note: IF you try to make the whipped cream with LIGHT canned coconut, it will NOT work, I have tried it.
COCONUT BUTTER or CREAMED COCONUT:
Pureed Meat of mature coconuts and contains 60% oil and the rest is fiber.
You can make this at home as well, although I have been unsuccessful doing so. Just add shredded coconut into a blender or food processor and let it go for a good 15-20 minutes, but pulse it as you need to scrap down sides often. As I said, I've tried it and nope, didn't work for me. You can buy the jarred coconut butter here and use my coupon code YAJ035 or if you can find the creamed coconut at the store, awesome! It will only cost you $2.49 or you can purchase online here.
COCONUT OIL:
The oil has been separated from the meat and contains no fiber.
I have no desire to make my own coconut oil or milk or butter at home. BUT if you are interested in doing so, here's a great descriptive post on how to do so from the Food Renegade.
If you'd rather buy the oil like me, follow this link.
If you're interested in some basics regarding coconut flour, my friend Carolyn from All Day I Dream About Food has a very informative post for you.
Again, I'm not an expert by any means, this info is just based on my own experiences using these three products in my recipes. Hope it helps you decipher when to use each one in certain recipes so as to alleviate recipe fails! 🙂
50 Sugar Free Low Carb Recipes using Coconut Butter, Coconut Milk or Coconut Oil!