2 Ingredient Sugar Free Dairy Free Keto Chocolate Frosting is amazing!!
Sugar Free Chocolate Frosting
A keto low carb chocolate frosting that's sugar free and dairy free and uses just 2 ingredients is a match made in heaven! It's quick and easy using a stand mixer taking just minutes to whip up. Using a good sugar-free chocolate brand is important to the success and taste of this delicious sugar free chocolate frosting. The brand I use that I think tastes fantastic is Lily's Sweets Sugar Free Chocolate Chips. They also have bars and you can use either for this recipe. The reason Lily's sweets is so good is that it does not contain any sugar alcohols that cause digestive issues like when ingesting Sorbitol or Maltitol. If you've ever had store bought sugar free candy and ate more than a serving or two, you know exactly what I'm talking about and it is not pleasant. Erythritol is a natural sugar alcohol, but does not seem to cause me or anyone I know that also uses it, any issues with our digestion. Here's a post I wrote about erythritol for more info if you're still unsure about it.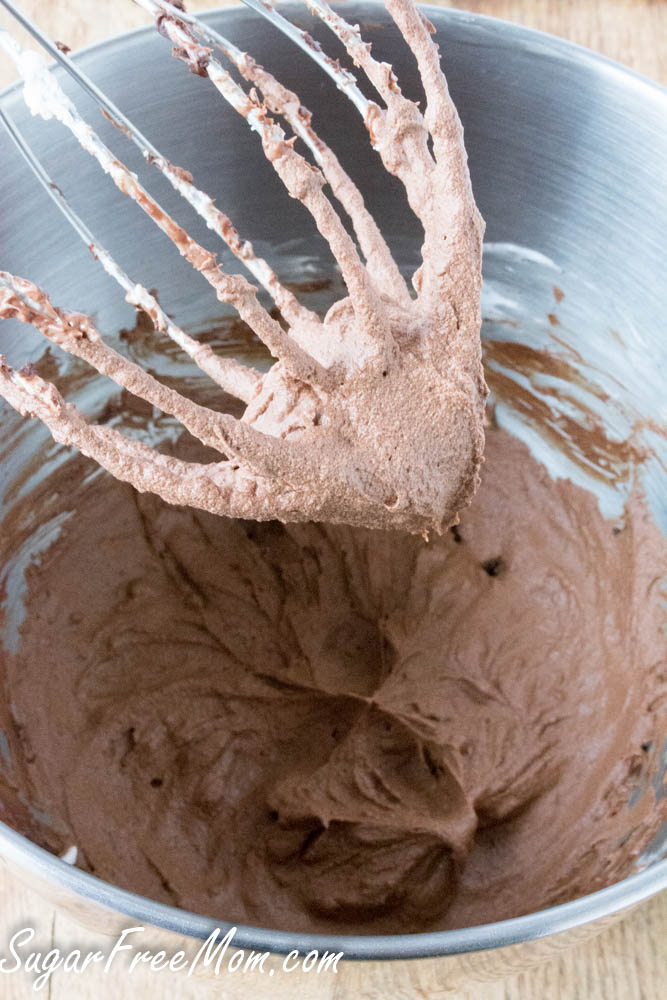 It could even be considered a chocolate mousse and eaten in little serving glasses as a dessert! But of course it's fabulous prepared and spread over a chocolate cake! My Low Carb Chocolate Crazy Cake is made with shelf stable ingredients, and no eggs, butter or milk needed!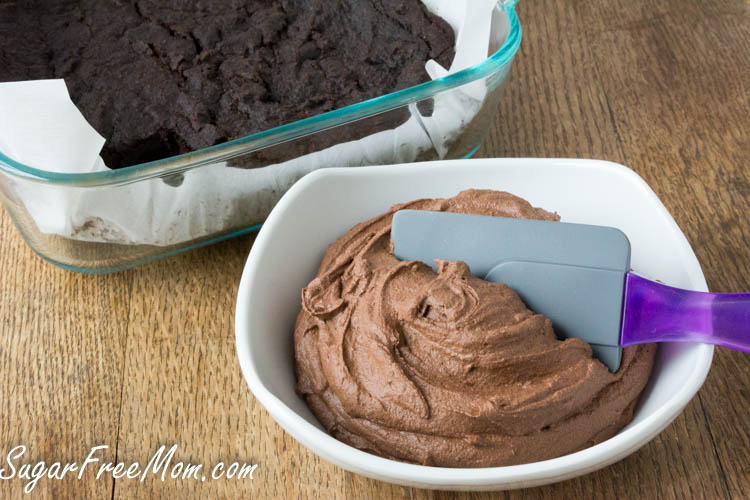 Canned Coconut Milk versus Fresh Coconut Milk
Unfortunately canned coconut milk and fresh, in a carton, coconut milk, are not the same. You simply can not replace the canned
I like the brand Native Forest for canned unsweetened coconut milk which I find at Whole Foods and online. It often has the most amount of coconut cream in the can, about ¾ of the can will be the cream and the rest will be watery liquid. Another brand is Cocoplanet that also has a lot of cream in the can, more than most other brands.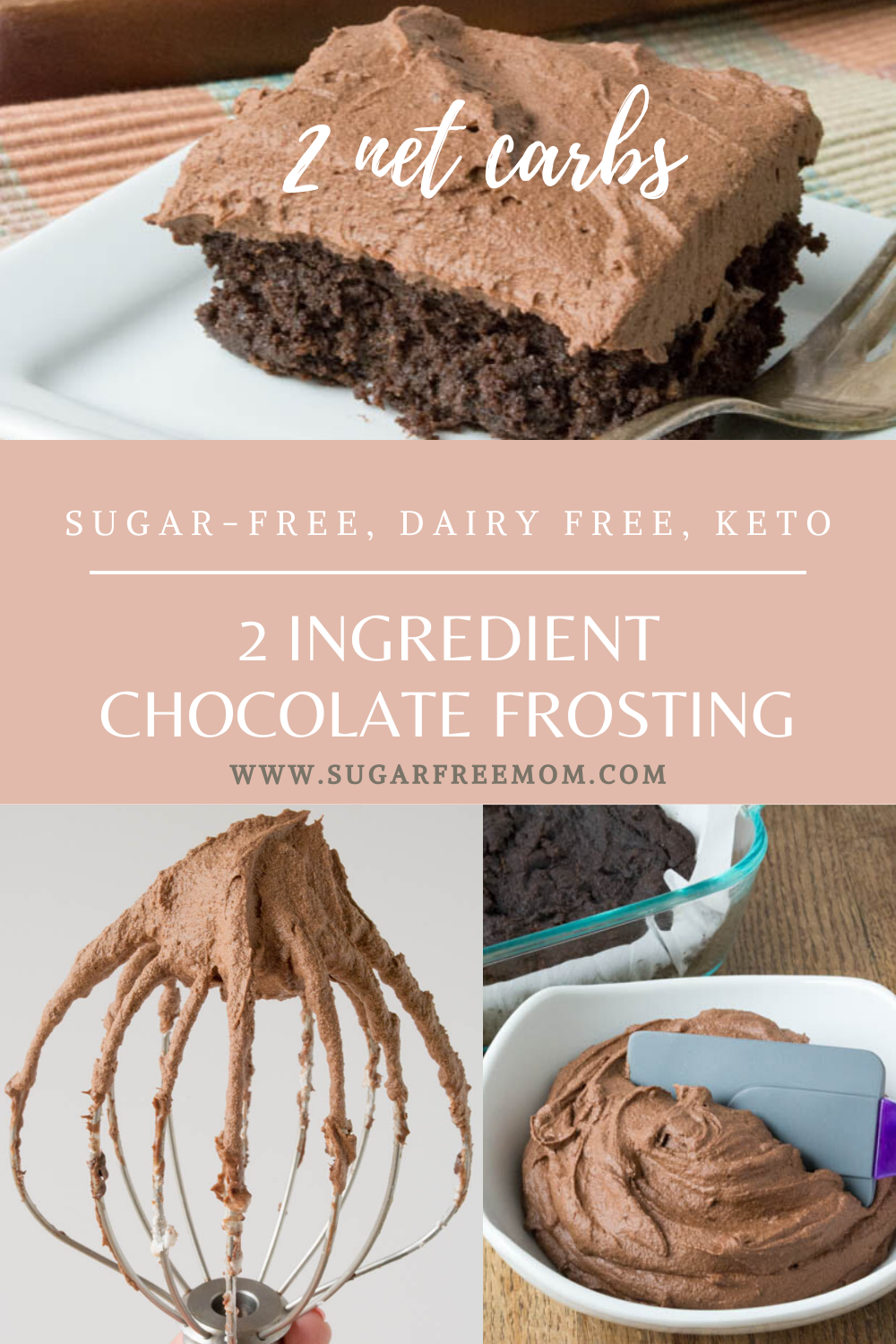 This frosting will go perfectly on my Sugar Free Chocolate Cake Cake! It's Egg Free, Low Carb, Dairy Free, Gluten Free, and Grain Free too! Or on my Chocolate Cupcakes or my 1 minute Chocolate Mug cake!
Meal Planning
If you love recipes like this for yourself and family, you might be interested in my meal planning membership. Weekly low carb keto dinner meal plan sent to your inbox every Friday with shopping list. The best part about my meal planning feature is that if you aren't interested in one of the dinner meals you can swap it out for something else! You can even change serving sizes and the shopping list will adjust! It pretty amazing software and I hope you'll take advantage of it. You can have a sustainable low carb/keto lifestyle when you're well prepared and planning meals is the key! LEARN MORE TODAY!
2 Ingredient Sugar Free Dairy Free Chocolate Frosting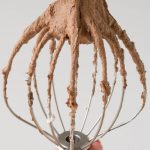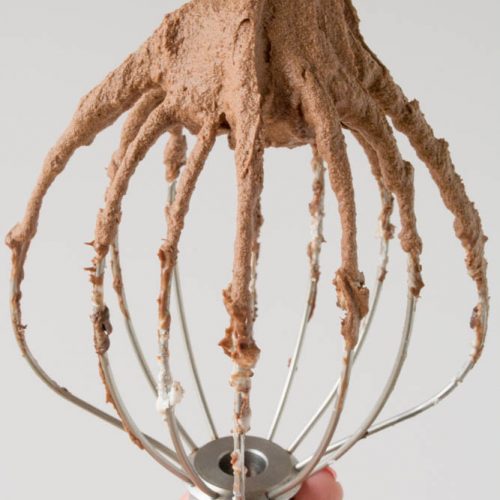 Print
2 Ingredient Sugar Free Dairy Free Chocolate Frosting
Servings
12
@ 2 tablespoon each
Instructions
Melt the chocolate chips in the microwave for 30 second intervals or use a double boiler on the stove. Stir until smooth. Allow to cool for about 5 minutes.

Scoop only the thick coconut cream from the can. Use the watery liquid from the can for another recipe like a smoothie.

Add the coconut cream to a stand mixer and blend until smooth.

Slowly pour in the melted chocolate chips into the mixer and blend until combined well. If it looks too loose to spread like frosting simply place it in the fridge for 30 minutes and it will solidify enough to spread.

Use frosting to decorate a cake or keep refrigerated until ready to decorate. May need to soften in the microwave for 30 seconds if kept refrigerated for a long period of time.
Notes
Net Carbs: 2g
This recipe was first published in April 2015. 
Nutrition
Serving:
2
tablespoon
|
Calories:
88
kcal
|
Carbohydrates:
3
g
|
Protein:
1
g
|
Fat:
9
g
|
Saturated Fat:
7
g
|
Sodium:
4
mg
|
Potassium:
62
mg
|
Fiber:
1
g
|
Sugar:
1
g
|
Vitamin C:
1
mg
|
Calcium:
4
mg
|
Iron:
1
mg