These Keto Low Carb Strawberry Cream Cheese Cinnamon Rolls are gluten free, grain free and made with my nut free fathead dough! Perfect Brunch idea for Mother's Day!
Cinnamon Rolls
Traditional Cinnamon Rolls are hard not to love. Soft, Fluffy, Sweet and satisfying. So what's a person to do when on a low carb diet? Create new recipes made low carb so you never feel deprived. The dough for these cinnamon rolls are pretty magical. Made without flour or gluten or yeast, yet completely and utterly melt-in-your-mouth delicious. Satisfying to the core of you being. You'll almost feel sinful, like you might be cheating on your keto diet, but you're not!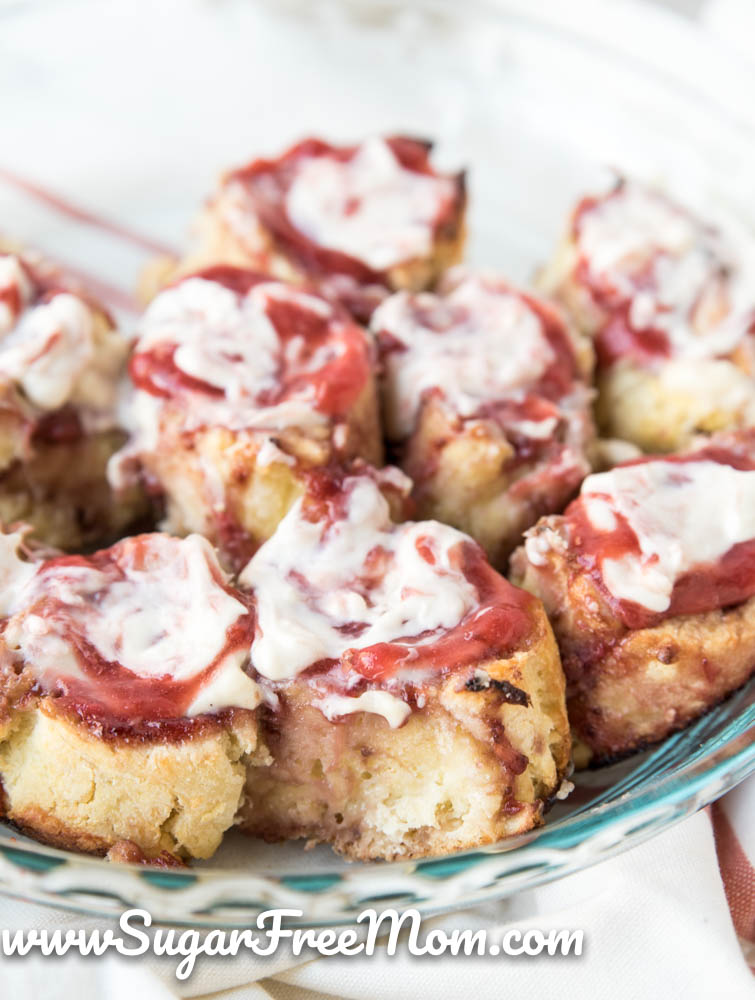 How to Make Cinnamon Rolls Low Carb
Making Cinnamon Rolls low carb and keto start with the magical dough I just mentioned. You might be surprised if you've never used fathead dough before and wonder how in the world this can make something so spectacular. Don't knock it till you try it. The magic dough is made unlike other fathead doughs since many use almond flour and I can't due to my youngest having a nut allergy. Since mine is made a bit different than other fathead dough cinnamon rolls I think you'll find you might like it even better than using almond flour.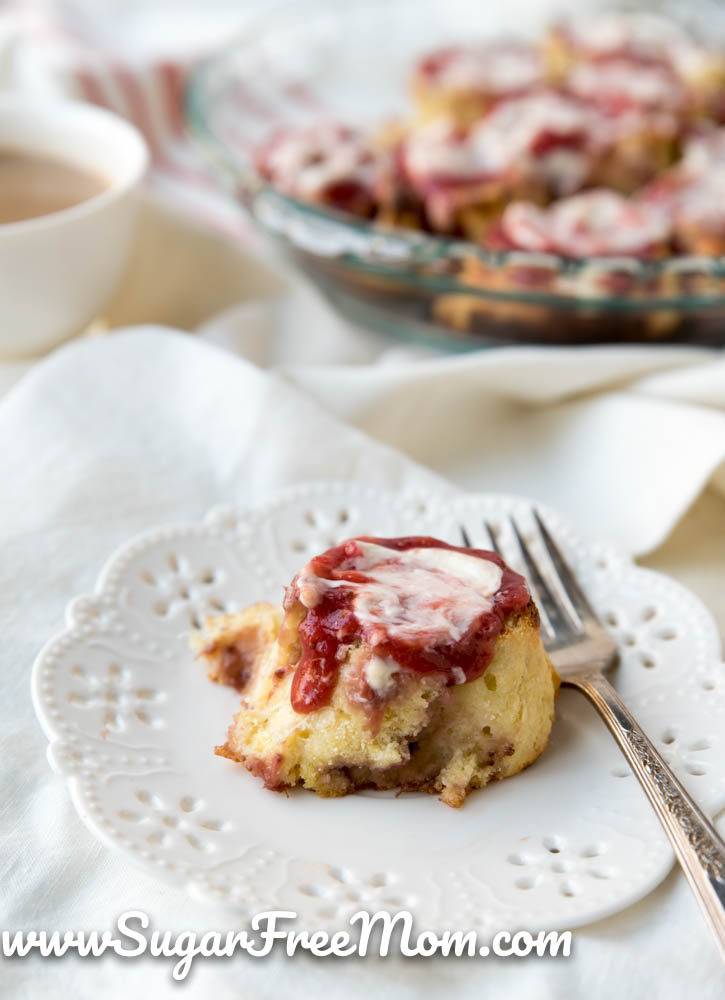 Nut Free Cinnamon Rolls
Almond flour FREE and Low Carb Cinnamon Rolls are not something you'll find often on the internet when searching. Almost all low carb and keto recipes use almond flour. Those of us who can't use it due to allergies end up with many hardships in having to change ingredients to make recipes work. That's why I work so hard for all allergy friendly people out there, because I'm in the same boat with a tree nut allergic son. Luckily for us he can have coconut without issue and I know some with tree nut allergies who can't have coconut either which is a shame. Check with your allergist if coconut is a problem. You may be able to also swap out the coconut with sesame flour but I can't vouch for that as I haven't tested it.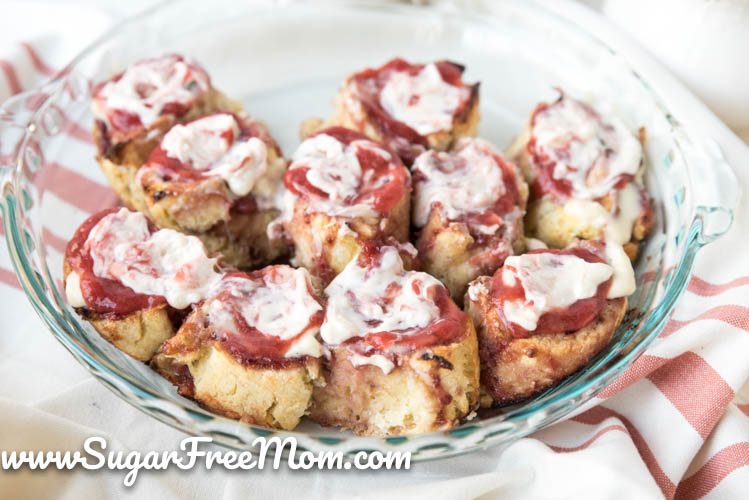 My idea for this recipe being filled with a luscious strawberry puree was Mother's day of course! I love my cinnamon rolls but wanted a change and I love berries and cream cheese so that's how this idea came to be. Fill with my strawberry puree then top with my cream cheese frosting and enjoy each bite in pure delight!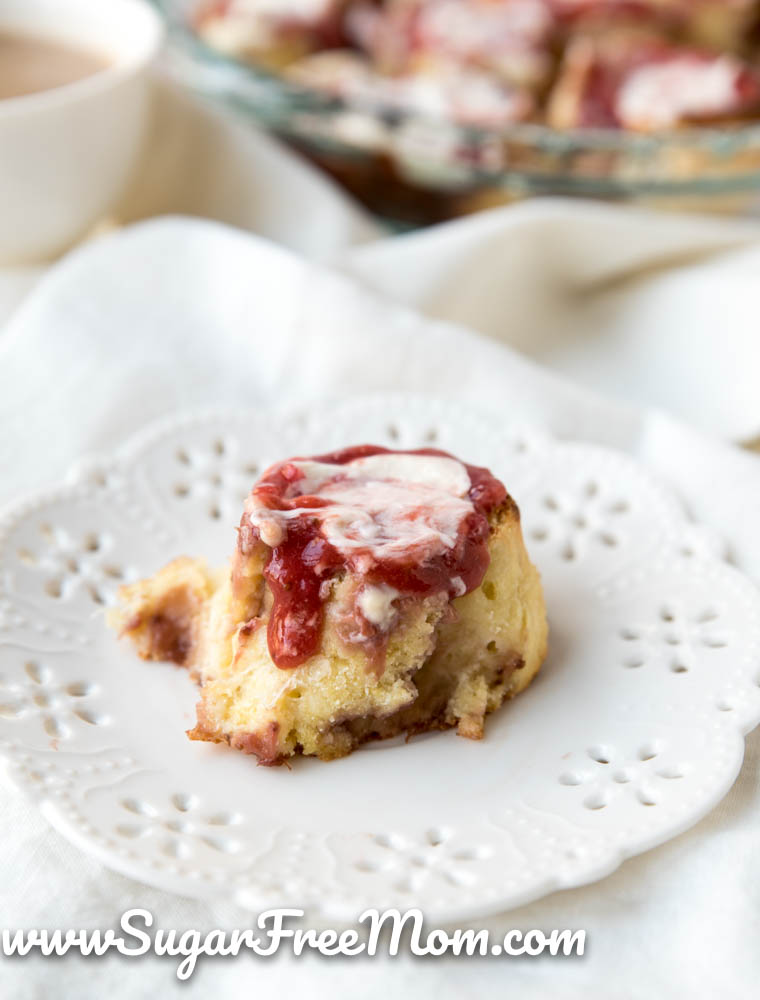 Fathead Dough Recipes
Other Delicious Recipes made with this fathead dough! Try my Savory Keto Pizza Rolls or my Keto Cheesecake Danish. You might also enjoy this Cheeseburger Calzone or these Pigs in a Blanket!
Anything can really be made with this fabulous dough! My very first recipes was making this Low Carb Grain Free Pizza and I ran with it from there!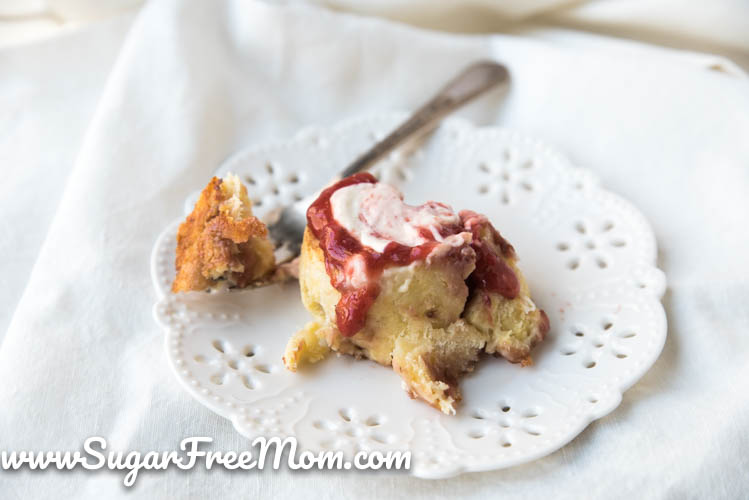 Low Carb Strawberry Cream Cheese Cinnamon Rolls
You can view my video here on making Cinnamon rolls if you've never worked with this type of dough before. If you don't have vanilla stevia and Swerve confectioners you can replace with any sweetener you prefer. I'd suggest at least ¾ cup sweetener of choice for what would equal the sweetness of what I used. Xanthan gum is important in this recipe for both the filling and the texture of the dough making it more pliable.
Hope you Enjoy these delightful Strawberry Cream Cheese Cinnamon Rolls!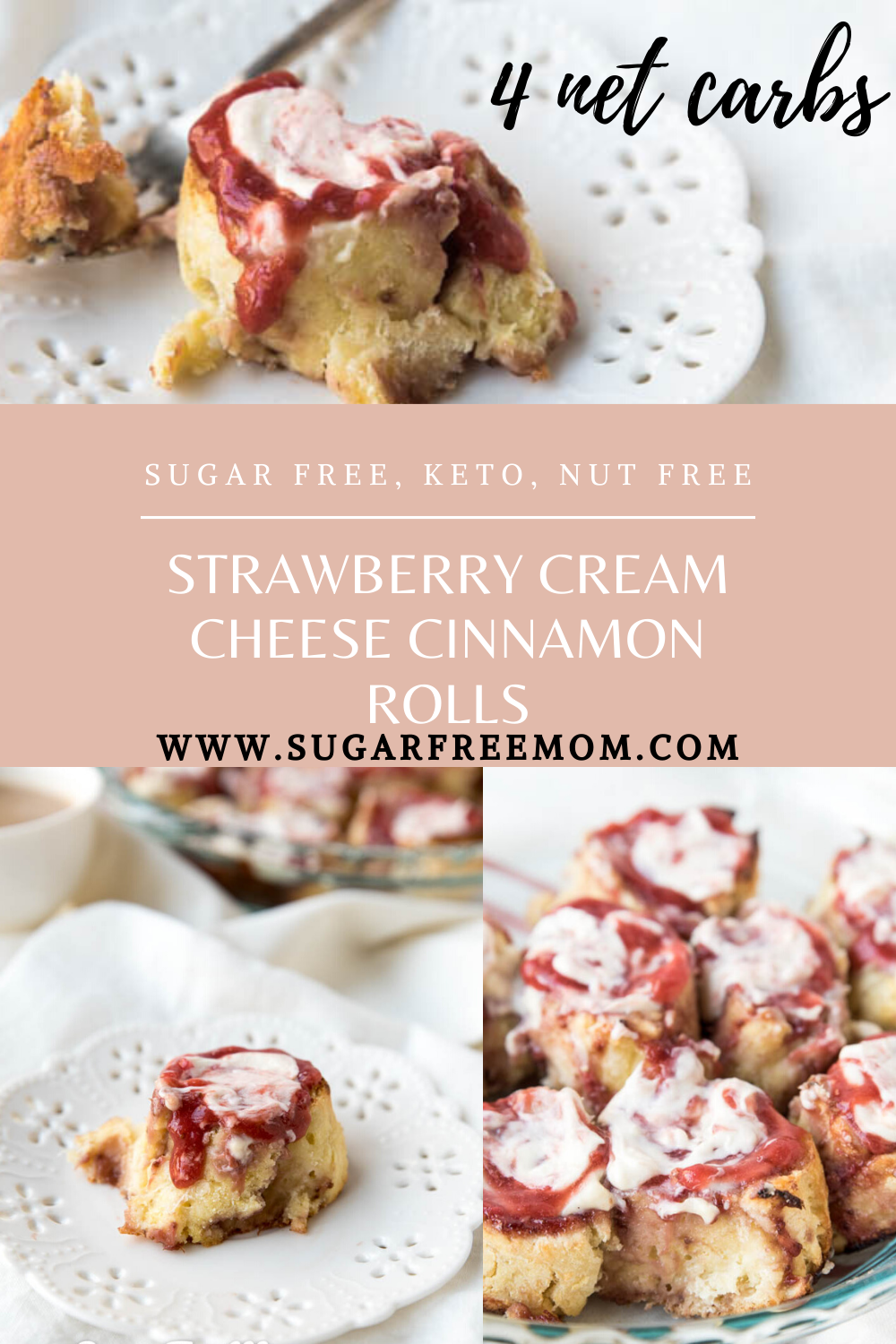 Meal Planning
If you love recipes like this for yourself and family, you might be interested in my meal planning membership. Weekly low carb keto dinner meal plan sent to your inbox every Friday with shopping list. The best part about my meal planning feature is that if you aren't interested in one of the dinner meals you can swap it out for something else! You can even change serving sizes and the shopping list will adjust! It pretty amazing software and I hope you'll take advantage of it. You can have a sustainable low carb/keto lifestyle when you're well prepared and planning meals is the key! LEARN MORE TODAY!
Keto Low Carb Strawberry Cream Cheese Cinnamon Rolls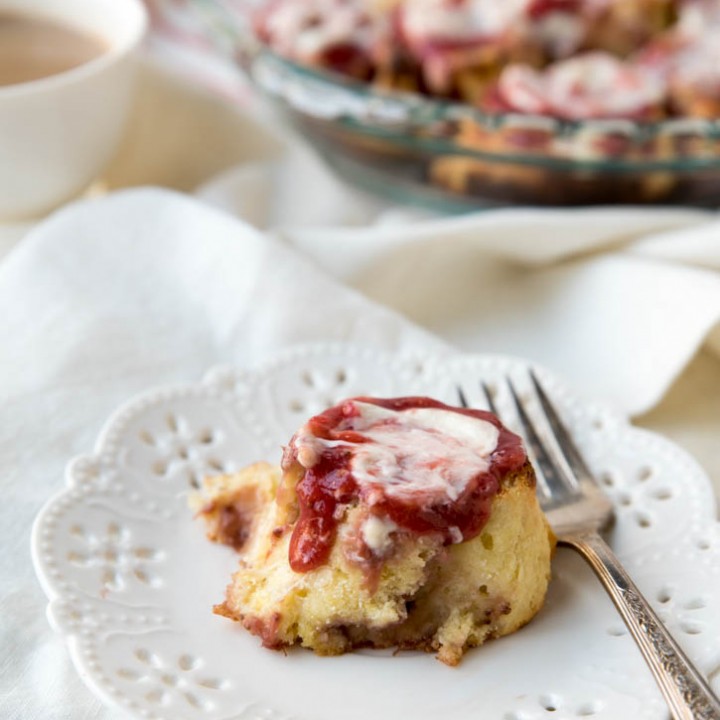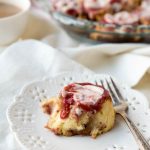 Print
Keto Low Carb Strawberry Cream Cheese Cinnamon Rolls
Just like a Cinnamon Roll but filled with a Delicious Strawberry filling and topped with Cream Cheese Frosting!
Ingredients
Instructions
Strawberry Filling
Start with the strawberry filling which will allow it time to cool while you then make the dough. Place the berries in a sauce pan with lemon juice. Bring heat to medium high. As the berries heat you should be able to mash them. Once berries appear heated through and have made their own juice add Swerve sweetener and salt. Continue to stir while allowing it to simmer. Reduce heat to low and sprinkle in xanthan gum. Cook about 5 minutes while constantly stirring and mixture will start to thicken. Once thickened turn off heat and set aside to cool. You should have about 1-¼ cup.
Dough
Preheat oven to 400 degrees F. Add all ingredients for the dough into the food processor and process until combined. Place into a microwavable bowl and microwave for 2 minutes or melt over low heat on the stovetop. Stir together until well combined. 

Wet hands because this dough is sticky and knead together. 

Roll dough between two pieces of parchment paper to form a rectangle about 8 by 16 inches. 
Assemble Rolls
Spread half cup of the strawberry filling onto the dough.

Roll the long side of the dough, peeling it off the parchment paper until it's all rolled up and seam side is down.

Slice into 12 rolls and place rolls onto a greased pie dish.

Spoon another ½ cup strawberry filling over the rolls and bake for 20- 25 minutes or until golden brown and expanded in size and fluffy . Save any remaining filling to top after rolls are done.
Cream Cheese Frosting
While rolls are baking you can add the ingredients for the frosting to a blender or stand mixer and blend to combine well. Taste and adjust sweetener if needed. 

Once rolls are hot out of the oven you an spread on the frosting and enjoy!
Notes
Net Carbs: 4g
This recipe was first published in May 2018 and updated with video in April 2020.
Nutrition
Serving:
1
roll
|
Calories:
159
kcal
|
Carbohydrates:
6
g
|
Protein:
7
g
|
Fat:
12
g
|
Saturated Fat:
7
g
|
Cholesterol:
63
mg
|
Sodium:
290
mg
|
Potassium:
174
mg
|
Fiber:
2
g
|
Sugar:
2
g
|
Vitamin A:
411
IU
|
Vitamin C:
12
mg
|
Calcium:
163
mg
|
Iron:
1
mg