These Chocolate Ganache Filled Cupcakes are for every chocolate lover everywhere! These Low Carb, Nut Free, Gluten Free, Grain Free, Sugar Free Cupcakes will blow the minds of all your friends who aren't sugar free!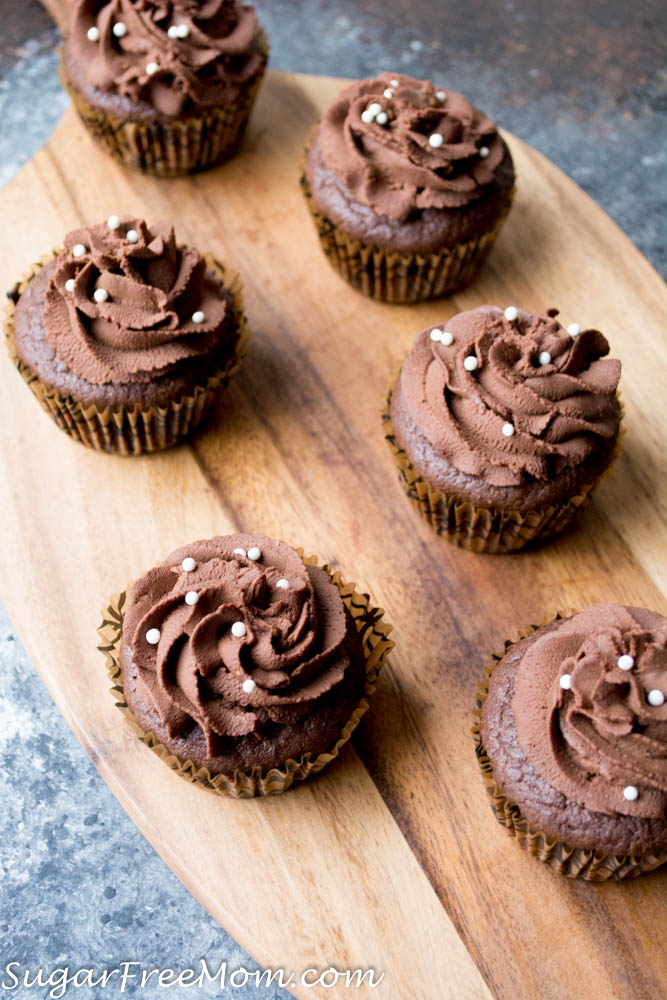 I was going to call these "Death By Chocolate" Cupcakes, because they are for serious chocolate fanatics.
Chocolate on Chocolate, basically triple chocolate cupcakes is really what they are. But I decided filling them with ganache took these basic cupcake up a notch.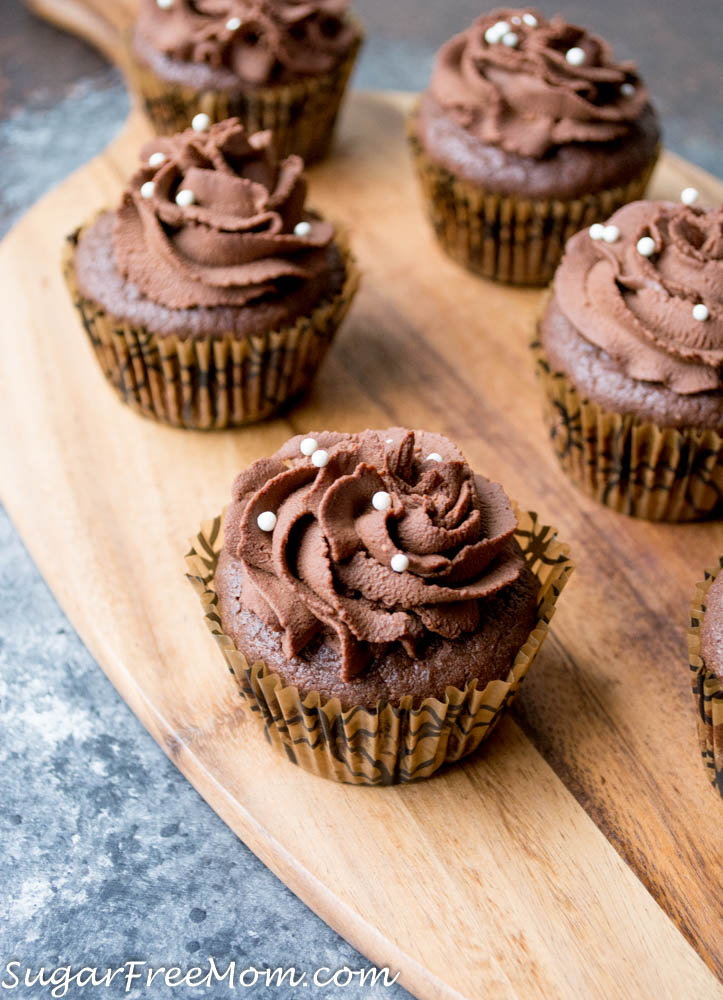 Chocolate in the cupcake, cocoa in the cupcake, chocolate filling inside and on top. You can't get any more chocolate then this cupcake. And it is worth every bit of time in the kitchen to make. It is worth every calorie and fat gram. It is indeed worth it.
The good news is, if you're low carb like me, you aren't too concerned with the fat or the calories. The carbs is what concerns me the most. These beautiful, decadent, delicious cupcakes are less than 7 net carbs and worth every single one of them.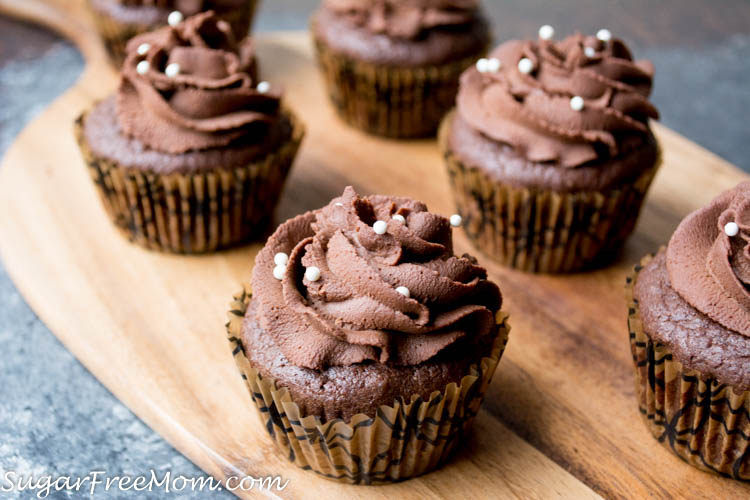 I often make new recipes for family parties or friends, but for the most part I don't get too many requests for a specific dessert. But recently my trainer asked if I could make some "Chocolate on Chocolate" cupcakes for his boss who is watching her carbs. I readily agreed since I realized I don't really even have a basic chocolate cupcake on my blog. I have a Chocolate Zucchini Cupcake, a Banana Cream Pie Filled Cupcake and Sparkling Champagne Cupcake, but not just a basic chocolate cupcake. I was ready for the challenge!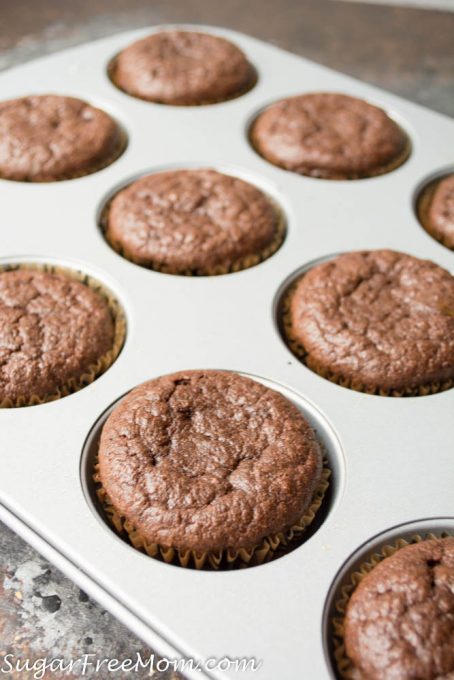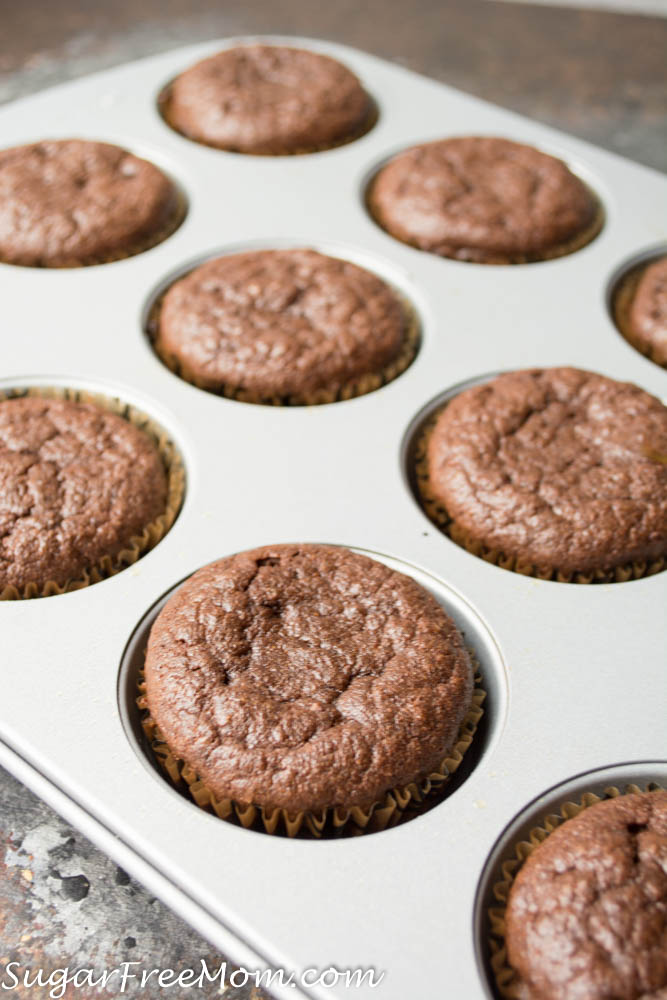 I made these beauties 3 times before I hit perfection. They are perfectly moist even without the ganache filling and frosting.
AND the best part, even after testing one out on the counter in a container and waiting 3 days, the beautiful cupcake was still moist! That is perfection in my mind.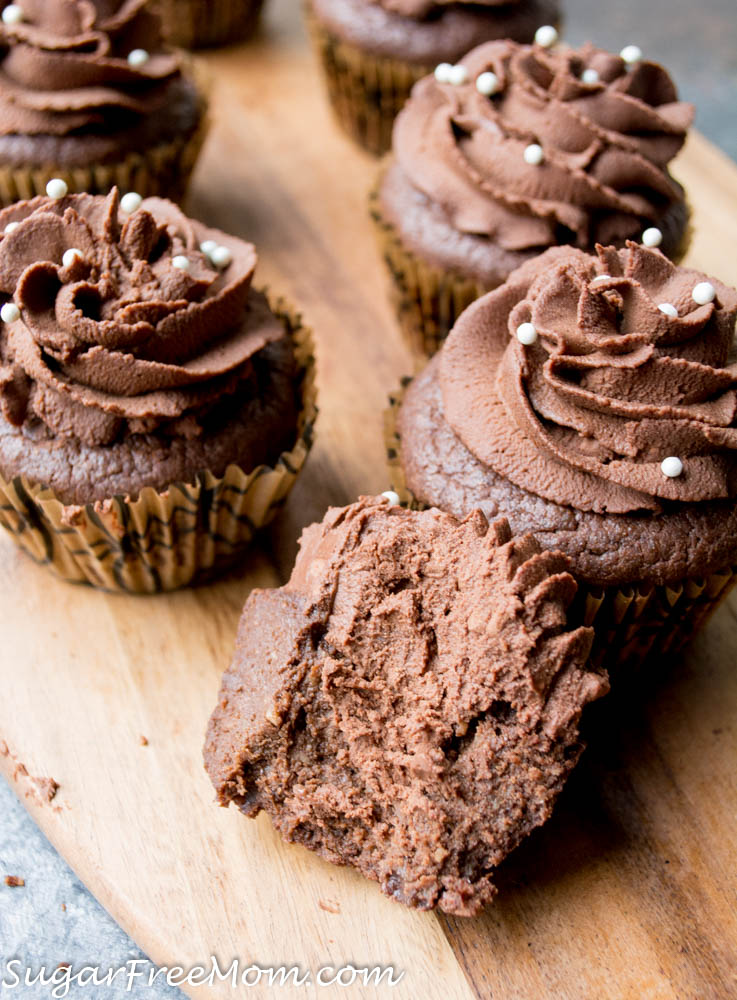 When you can't see the difference between where the chocolate cupcake ends and where the filling begins, that's just called chocolate heaven in your mouth.
My trainer said they were a big hit in the office and his boss also sent me a message saying how much she loved them. You can feel confident that these cupcakes will win over everyone!
Brenda's Notes:
Because a portion of the inside of each cupcake is removed to add the ganache I did remove about 3 ounces of cupcake batter from the ingredients to more accurately calculate the nutrition info below. The nutrition info does include the ganache inside and on top.
You can choose to use any chocolate you like. Another option besides the dark chocolate which is low in carbs is Lily's Sweets sugar free chocolate bar. That will increase your carbs but lower the sugar amount listed here.
You should not eliminate the protein powder as it creates a nice smooth and light texture to the cupcakes as gluten would have done in a typical recipe. I've linked to the protein powder I've used.
You don't have to use any instant coffee but it deepens the chocolate flavor.
The higher the percentage of cocoa in the dark chocolate the bitter it is. If you're not a fan of dark chocolate, reduce the % to 70 or even 60% or use Lily's Sweets sugar free chocolate bar made with stevia.
Enjoy!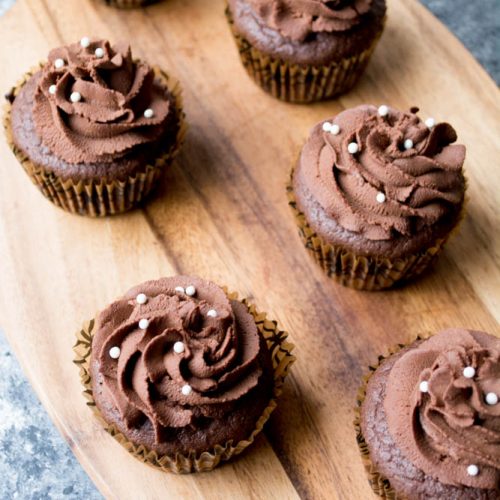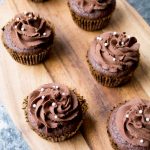 Print
Low Carb (Nut Free) Chocolate Ganache Filled Cupcakes
Instructions
Preheat oven to 325 degrees F.

Add the first 8 ingredients into a food processor and process until combined.

Place the butter and chocolate into a microwaveable bowl or bowl set over a simmering pot of water on the stove on low heat until melted. Melt in microwave 1-2 minutes. Stir until smooth.

Taste batter and decide if you need more sweetener. Set aside.

Place the eggs, Half & Half, vanilla and stevia in a stand mixer and blend on high until combined.

On low speed add the dry ingredients into the wet ingredients in the mixer until well combined.

Continuing on low speed, slowly pour in the cooled, melted chocolate.

Grease a 12 capacity cupcake pan or use liners and spray with non stick cooking spray.

Evenly pour batter into each cup.

Bake for 22-24 minutes.

Cool completely then scoop out about a tablespoon from center of each cupcake to add ganche filling.
Ganache Filling:
Break chocolate into pieces in using a bar and place in a bowl.

Heat heavy cream on low heat until just boiling.

Pour heavy cream over chocolate and let it sit for 15 minutes. Do not stir.

Once time is done, stir until smooth.

You can add ganache to cupcakes now or wait about 30- 45 minutes and the ganache will thicken. You can then add it to a stand mixer or hand held mixer and blend on high until whipped in texture. Place into a pastry bag and fill cupcakes and frost as desired.
Nutrition
Serving:
1
cupcake
|
Calories:
335
kcal
|
Carbohydrates:
9
g
|
Protein:
8
g
|
Fat:
30
g
|
Saturated Fat:
16
g
|
Polyunsaturated Fat:
1
g
|
Monounsaturated Fat:
1
g
|
Trans Fat:
1
g
|
Cholesterol:
107
mg
|
Sodium:
217
mg
|
Potassium:
132
mg
|
Fiber:
2
g
|
Sugar:
1
g
|
Vitamin A:
656
IU
|
Vitamin C:
1
mg
|
Calcium:
61
mg
|
Iron:
1
mg