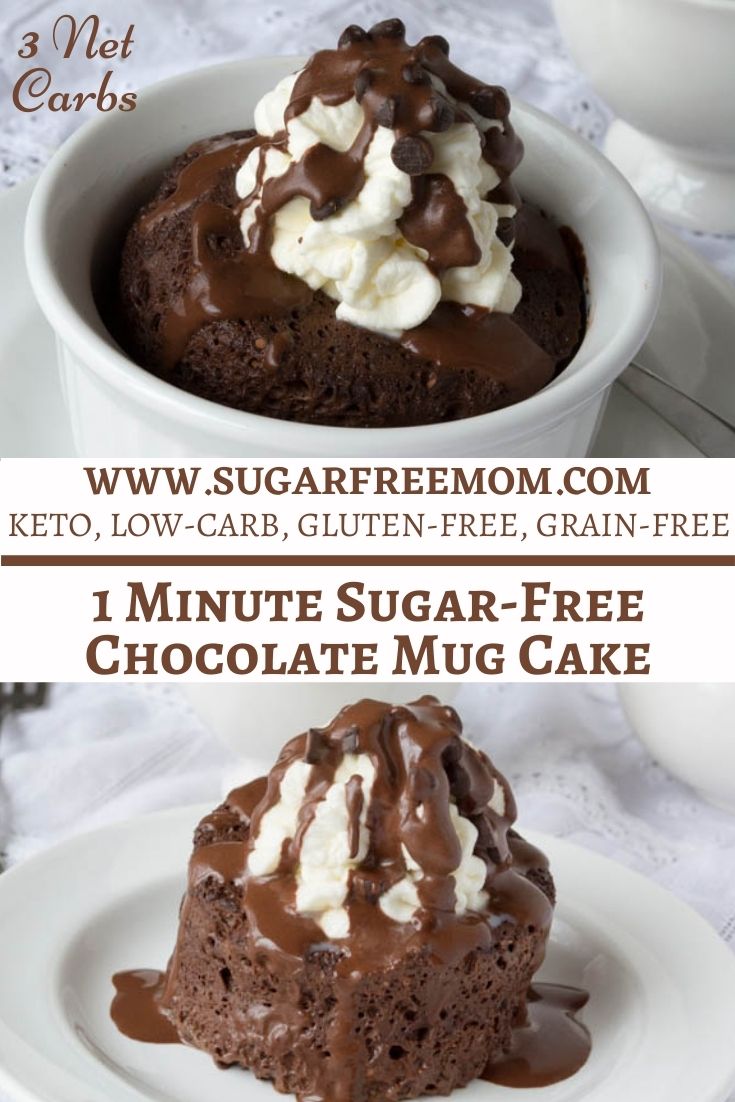 This Low Carb, Sugar-Free Chocolate Mug Cake is amazing! Made in just 1 minute in your microwave, but oven directions are provided! This Keto Chocolate Mug Cake is sugar free, low carb, dairy free, gluten free and just 3 net carbs!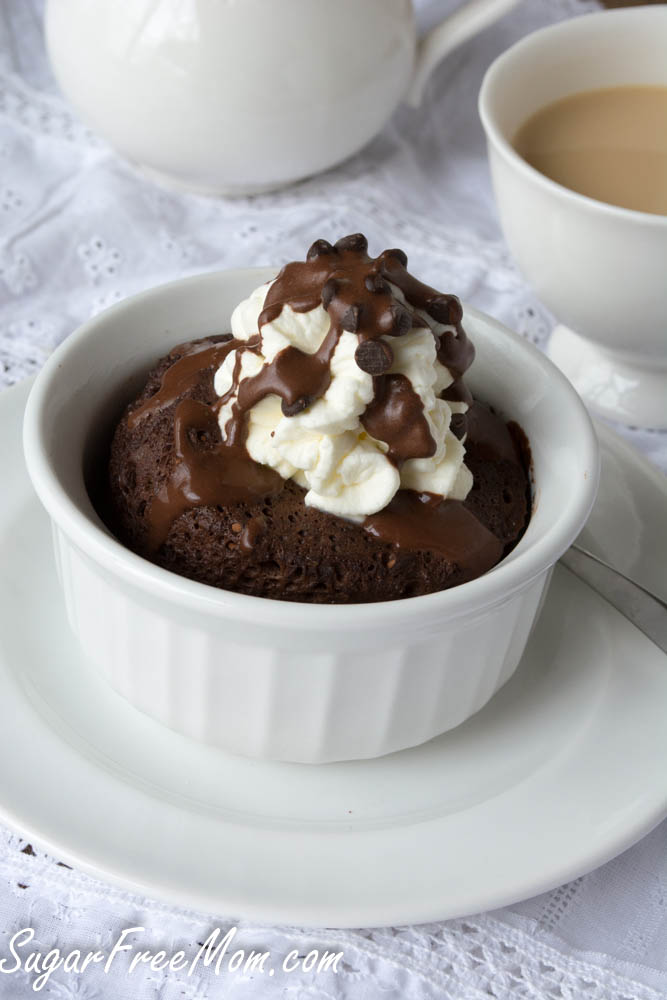 Best Keto Chocolate Cake
Do you ever have a time when you just need a little chocolate fix? Rather than make a whole cake you can simply make one serving so you can have perfect portion control, because sometimes even keto desserts are hard to resist, am I right?
This chocolate keto mug cake recipe has been one of my most popular recipes since I first posted it back in May of 2014. I felt it deserved a front row seat this month and I added an easy video below for you!
For chocolate lovers everywhere this chocolate mug cake recipe will curb that sweet tooth craving.
Besides this beauty, I've got a bunch more mug cake recipes you might enjoy, like my Carrot Mug Cake, Cannoli Mug Cake and my Tiramisu Mug Cake, or maybe lemon mug cake is more your speed.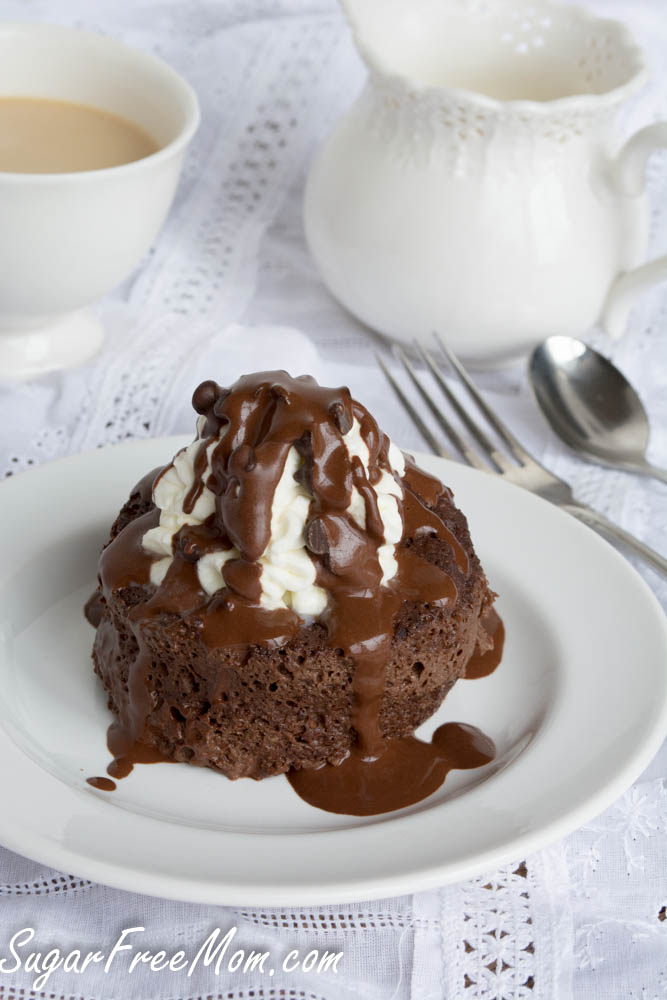 Easy Keto Chocolate Mug Cake
The best part about this sugar-free mug cake made in a single serving is that it is just enough to enjoy a sweet treat without feeling tempted to eat more, since there isn't any!
With just a handful of ingredients you probably have on hand, you can make it whenever you want. You can also enjoy it whether on a keto diet or you follow a low-carb lifestyle, as it's high in fiber and protein, sugar free and low in carbs!
You can certainly just eat it right in the microwave-safe mug you make it in, but for picture purposes I popped mine out after it cooled slightly. I did spray my dish with nonstick cooking spray before pouring in the batter just in case, but if you are eating it right in a large mug no need for that.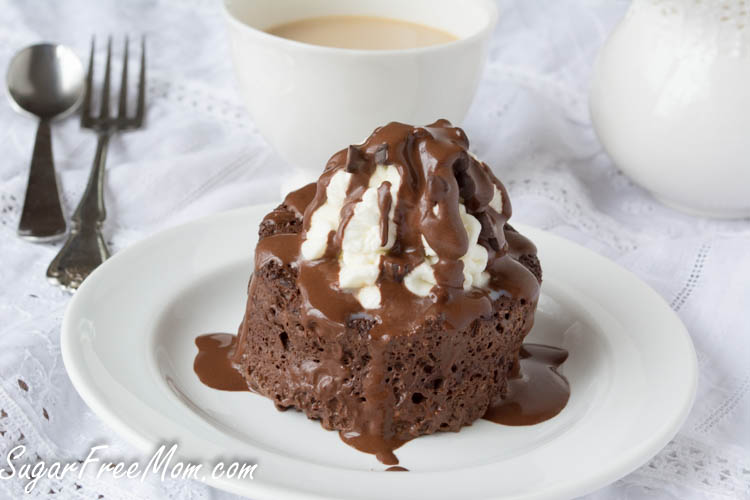 Microwave or Oven Mug Cake
If you want a successful recipe with rich chocolate flavor, the best thing you can do is not overcook your mug cake.
Microwave cook time will vary so you may need another 20-30 seconds to make sure it cooked through, just check with a toothpick, if it comes out clean you're good to go.
You could also make this in an oven if you prefer, see directions below.
I'm really in love with this moist cake and hope the next time you have a chocolate craving you try my recipe.
I adapted from some of my tasty mug cakes and kept out the coconut flour I used in those recipes to make this more dense and unlike a muffin texture. I'm super happy with the results and I hope you'll try it and come back and share how you liked it, I love reading comments like that!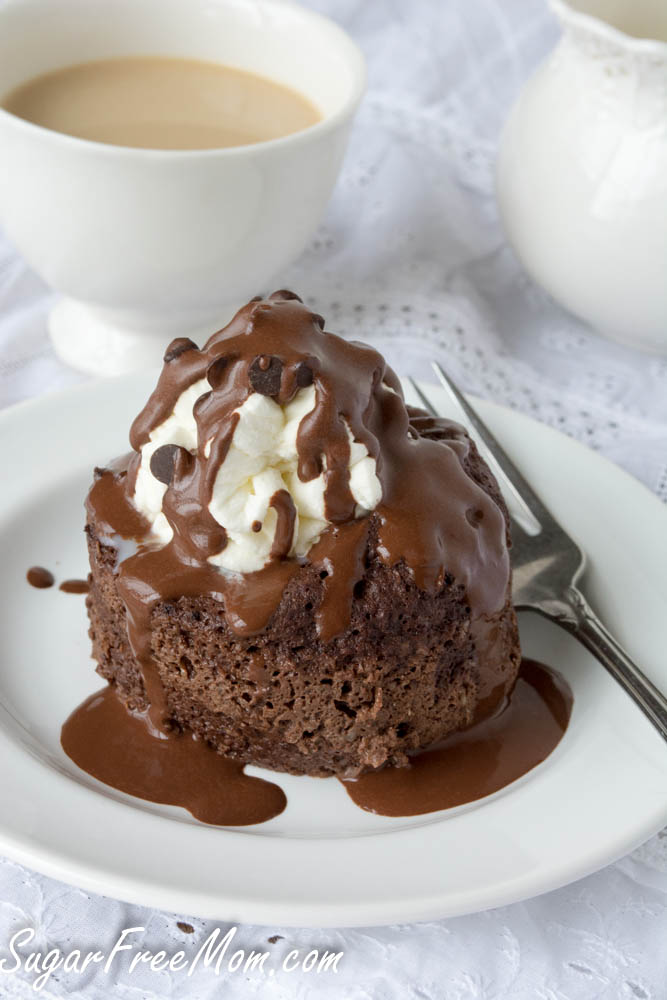 How to Make Keto Chocolate Mug Cake
Simple Ingredients
Egg, unsweetened almond milk or you can also use heavy cream, low-carb sweetener, ground flaxseed or almond flour, unsweetened cocoa powder, baking powder, salt.
Optional toppings like sugar-free chocolate chips and sugar-free whipped cream.
Microwave Directions
Spray your large mug or ramekin with cooking spray. Whisk the dry ingredients together. Mix in the wet ingredients. Microwave for 45 seconds, up to 1 minute. Check center of cake with toothpick. If it comes out clean, it's done.
Oven Directions
Preheat your oven to 350 degrees F. Follow directions to prepare cake.
Place in preheated oven for 10 minutes. Check center with a toothpick. If it comes out clean, it's done. If not bake an additional 5 minutes then check again.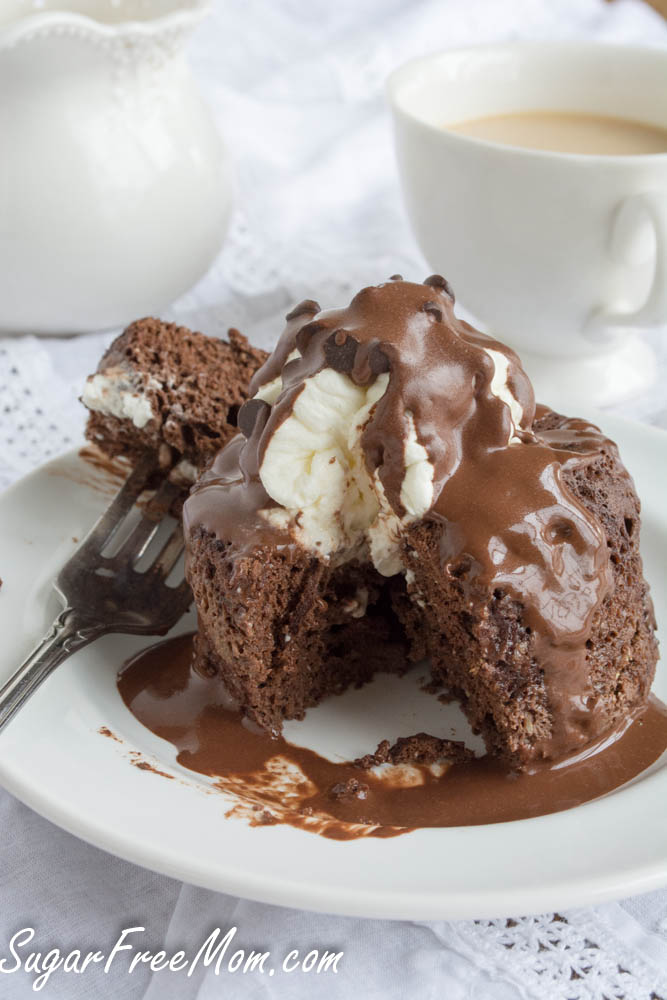 More delicious mug cake recipes, like this Peanut Butter Mug Cake or this Red Velvet Mug Cake for 2!
Sugar-Free Keto Toppings
As you can see from the pictures, I enjoyed the whole cake topped with sugar free whipped cream, some melted sugar-free chocolate chips. It's the perfect size and I was truly satisfied!
Swapping Low-Carb Sweeteners
You can use your favorite sweetener of choice, you know I'm a huge fan of liquid stevia, but anything you like will work. If you don't have chocolate stevia, you can use vanilla or plain or even powdered. I would use only ¼ teaspoon if it's the pure extract or 1 packet if that's all you have.
A full dropper of stevia yields about ⅛ of a teaspoon, sometimes I can get ¼ teaspoon but never more than that. So if you don't have a dropper in your liquid stevia, measure out ¼ teaspoon, depending on your brand that may not be sweet enough for you. You may need ½-1 teaspoon if you like really sweet cakes.
You can use my sweetener guide and conversion chart to determine how much sweetener to use to replace the stevia I used in my orginial recipe.
UPDATE: I've swapped the ground flaxseed with the same amount of almond flour and it came out just as good.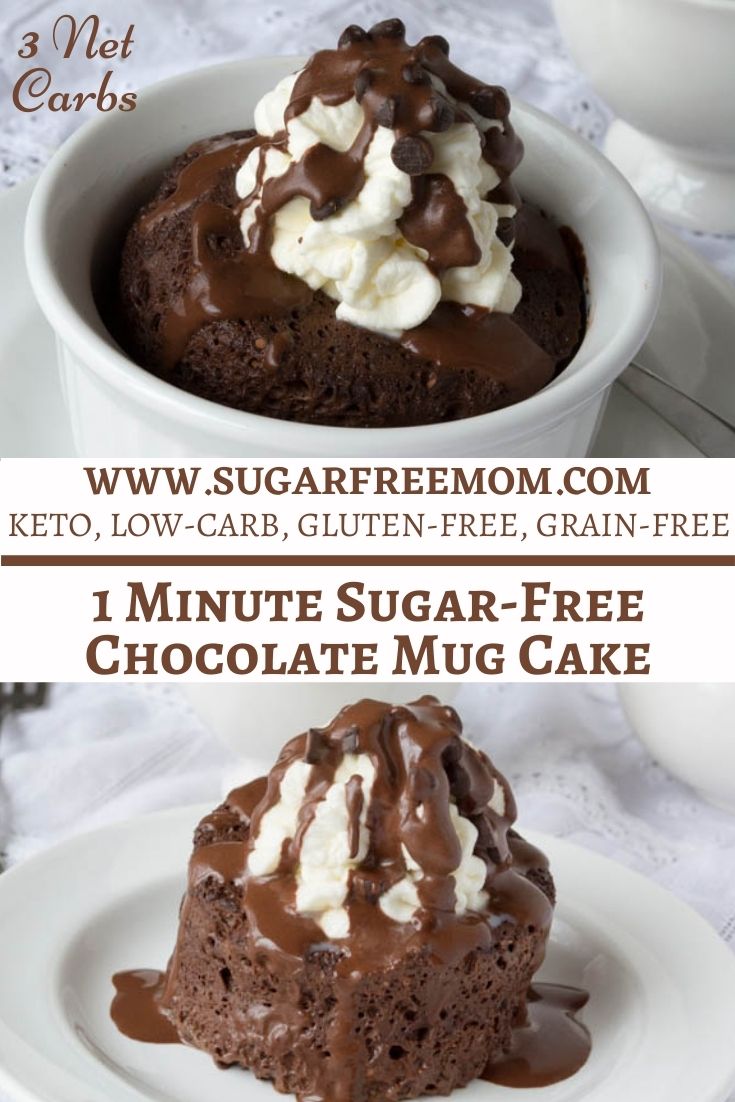 Best Recipes with Chocolate
1 Minute Sugar Free Chocolate Mug Cake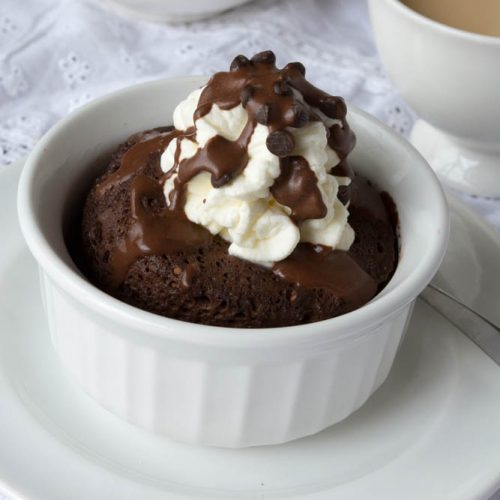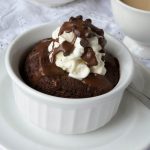 Print
1 Minute Sugar-Free Chocolate Mug Cake
Instructions
Whisk the egg, almond milk and liquid stevia until combined. Whisk in the remaining dry ingredients. Pour batter into a greased ramekin or mug.
Microwave Directions
Microwave for 45 seconds to 1 minute (may need 20 seconds extra depending on your microwave.) Check center with a toothpick, if comes out clean, it's done.

Melt Lily's chocolate chips with oil and pour over cake.
Oven Directions
Preheat oven to 350 degrees F. Bake for 10-15 minutes or until a toothpick in center comes out clean.
Notes
Net Carbs: 3g
Nutrition info does not include chocolate syrup or whipped cream.
This recipe was first published in May 2014.
Nutrition
Serving:
1
cake
|
Calories:
138
kcal
|
Carbohydrates:
10
g
|
Protein:
8
g
|
Fat:
9
g
|
Sodium:
2
mg
|
Potassium:
101
mg
|
Fiber:
7
g
|
Calcium:
44
mg
|
Iron:
1
mg