These Simple Keto Raspberry Cheesecake Fat Bombs require just 6 ingredients and are a delicious frozen keto treat!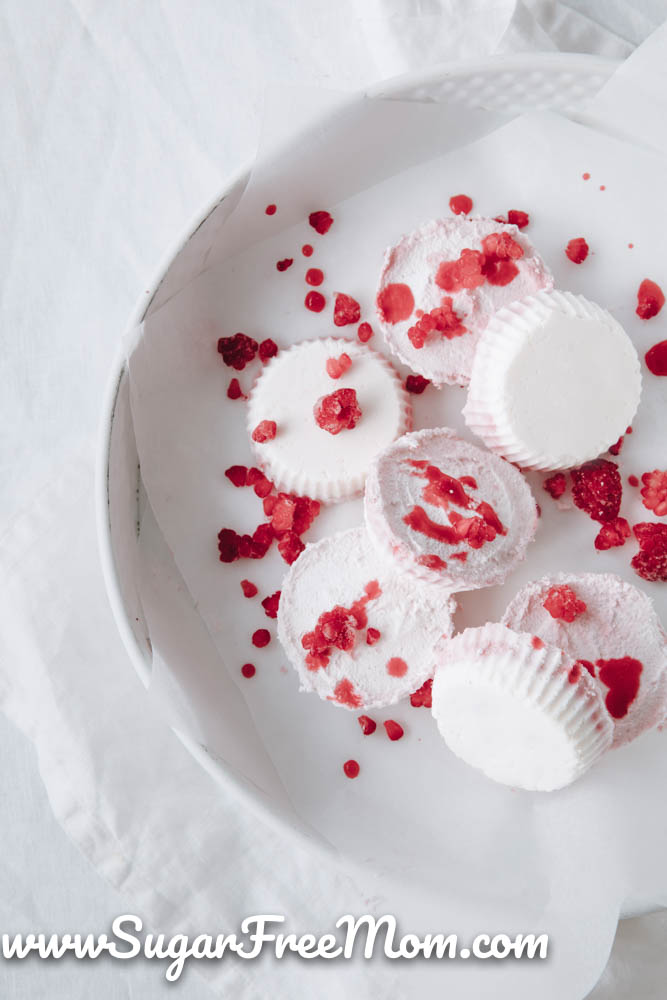 What are Fat Bombs?
Fat Bombs are exactly what they sound like! A perfectly healthy concoction of a couple of different types of healthy fat to make one delicious fat bomb treat! Recipes for fat bombs can be sweet or savory versions with unlimited variations!
If you've been on a ketogenic diet you know exactly what fat bombs are, but even if you're not on a keto diet you can still enjoy the benefits of fat bombs. Typically fat bombs, and I'm not sure who named them as such, are perfect for those following a keto diet because they include a high quality healthy fat that helps keep you satiated. Most fat bombs use a combination of ingredients like nut butters, seeds, and either butter, heavy cream or coconut oil. If you're just doing a low carb diet though these little snacks can help keep you satisfied between meals, so don't exclude them yet if you're not currently on a ketogenic diet.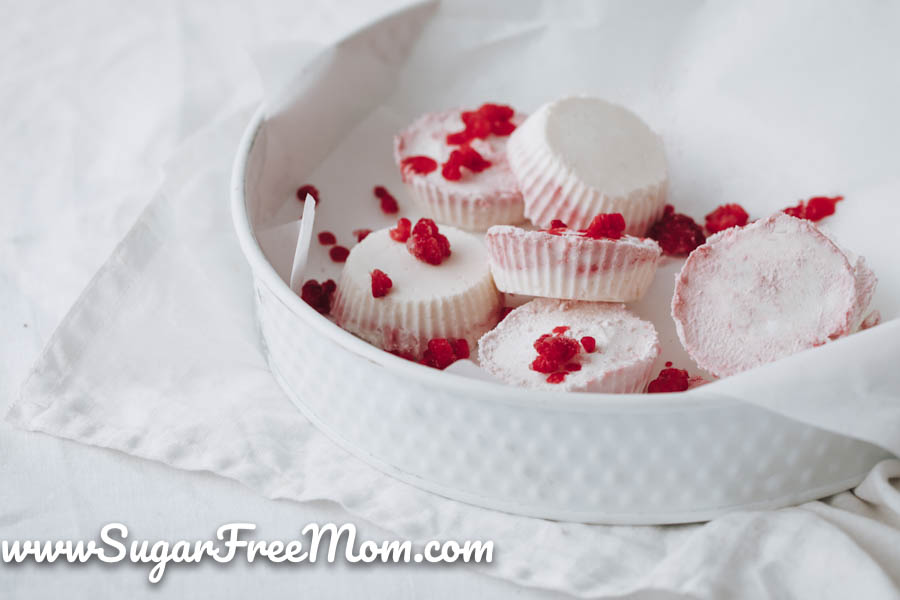 Cheesecake Fat Bombs
Cheesecake makes for the ultimate, decadent fat bomb dessert. Full fat cream cheese is the way to go for this recipe and any others you are making for keto fat bombs. The low fat options may contain ingredients that are not optimal for your best health, and usually have more carbs in them. Mascarpone is Italian cream cheese and is also a great option in place of cream cheese in any recipe. But use what you have on hand. Frozen or fresh raspberries will also work in this easy keto fat bomb recipe. Keep frozen then sit them out on the counter for 5 minutes or so to soften before enjoying.
Meal Plan Membership
Make your life simpler and stress free by joining our meal plan membership on a month to month basis or pay for the discounted 1 year membership. Weekly low carb and/or keto meal plans are sent to your inbox every Friday with shopping list. The best part about my meal planning feature is that if you aren't interested in one of the dinner meals you can swap it out for something else! You can even change serving sizes and the shopping list will adjust! It pretty amazing software and I hope you'll take advantage of it. You can have a sustainable low carb/keto lifestyle when you're well prepared and planning meals is the key! LEARN MORE TODAY!
More Fat Bomb Recipes:
Keto Raspberry Cheesecake Fat Bombs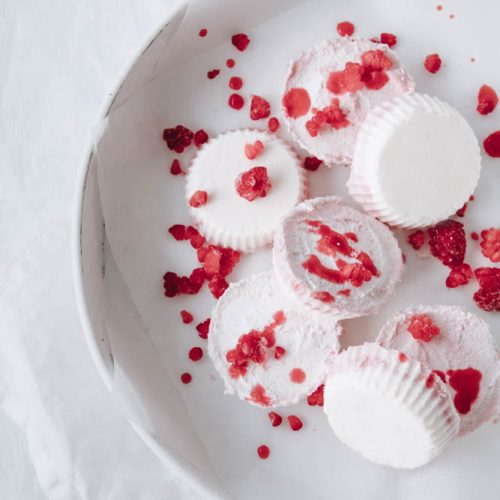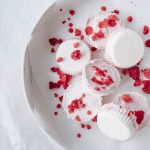 Print
Keto Raspberry Cheesecake Fat Bombs
Fat bomb lovers… have I got a treat for you today! These Raspberry Swirl Cheesecake Swirl Fat Bomb Cups are the best thing to help boost your healthy fats intake, plus a deli-cious keto treat all in one.
Instructions
Place the coconut butter and coconut oil in a heatproof bowl and melt using the bain marie method. (Place the bowl over a pan filled with 1 inch of water and simmer on a medium heat until melted.)

Remove the bowl from heat (allow to cool for about 5 minutes) and add the vanilla extract, Swerve and cream cheese. Mix using a hand whisk until combined.

Process the raspberries using an immersion blender (or a high speed blender but you'll need to use a lot more raspberries to get the volume to process. If doing this, store the remainder in the fridge for another recipe.) Strain the raspberries through a muslin cloth, or fine sieve, to get the juice. Discard the seeds.

Using a pipette, drop in some raspberry juice and option to swirl with a toothpick. Add another 1 tablespoon of coconut mix on top. Option to top with few more drops of raspberry. Smooth the top with the back of a spoon so it swirls a bit.

Place in the freezer for 1 - 2 hours, or until full set. Option to serve with a little more raspberry juice if you have some left over.

Store these in the freezer, and allow them to soften slightly to room temperature before eating, or enjoy as frozen fat bombs. Freeze in an airtight Tupperware for 1 - 2 months.
Nutrition
Serving:
1
fat bomb
|
Calories:
178
kcal
|
Carbohydrates:
3
g
|
Protein:
2
g
|
Fat:
19
g
|
Saturated Fat:
14
g
|
Cholesterol:
18
mg
|
Sodium:
55
mg
|
Potassium:
31
mg
|
Fiber:
2
g
|
Sugar:
1
g
|
Vitamin A:
218
IU
|
Vitamin C:
1
mg
|
Calcium:
16
mg
|
Iron:
1
mg
Jo is the creative food photographer and stylist behind the healthy eating blog, Modern Food Stories. Jo's a testament that once you find the right approach for you, you can overcome chronic illness through the healing power of food. She believes the secret to radiant health starts and ends with a healthy gut so all her recipes are grain, gluten and refined sugar free. Many are also dairy-free.