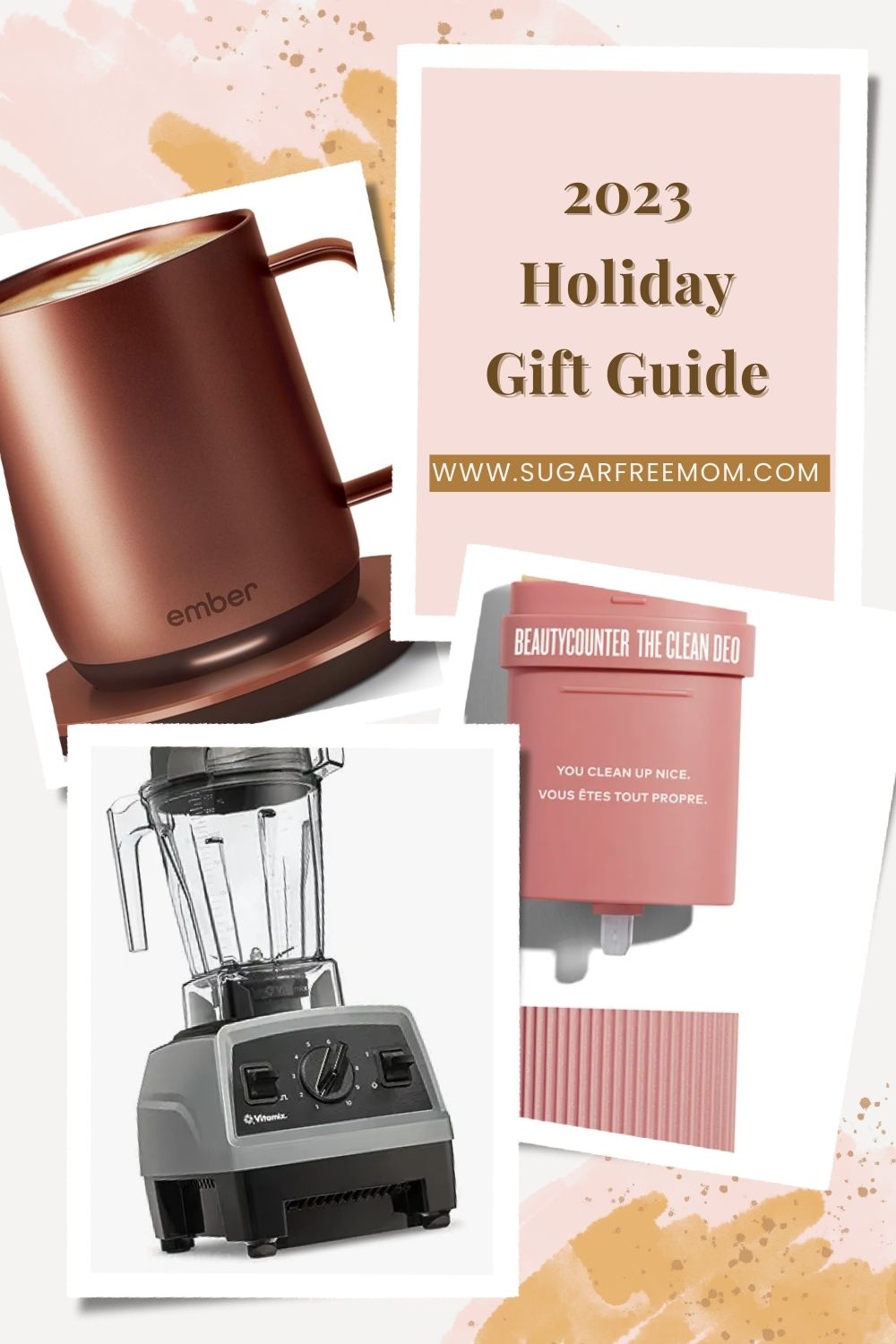 Here's our 2023 Holiday Gift Guide for the best gifts for those low carb as well as thoughtful gifts for everyone on this year's list for your holiday season!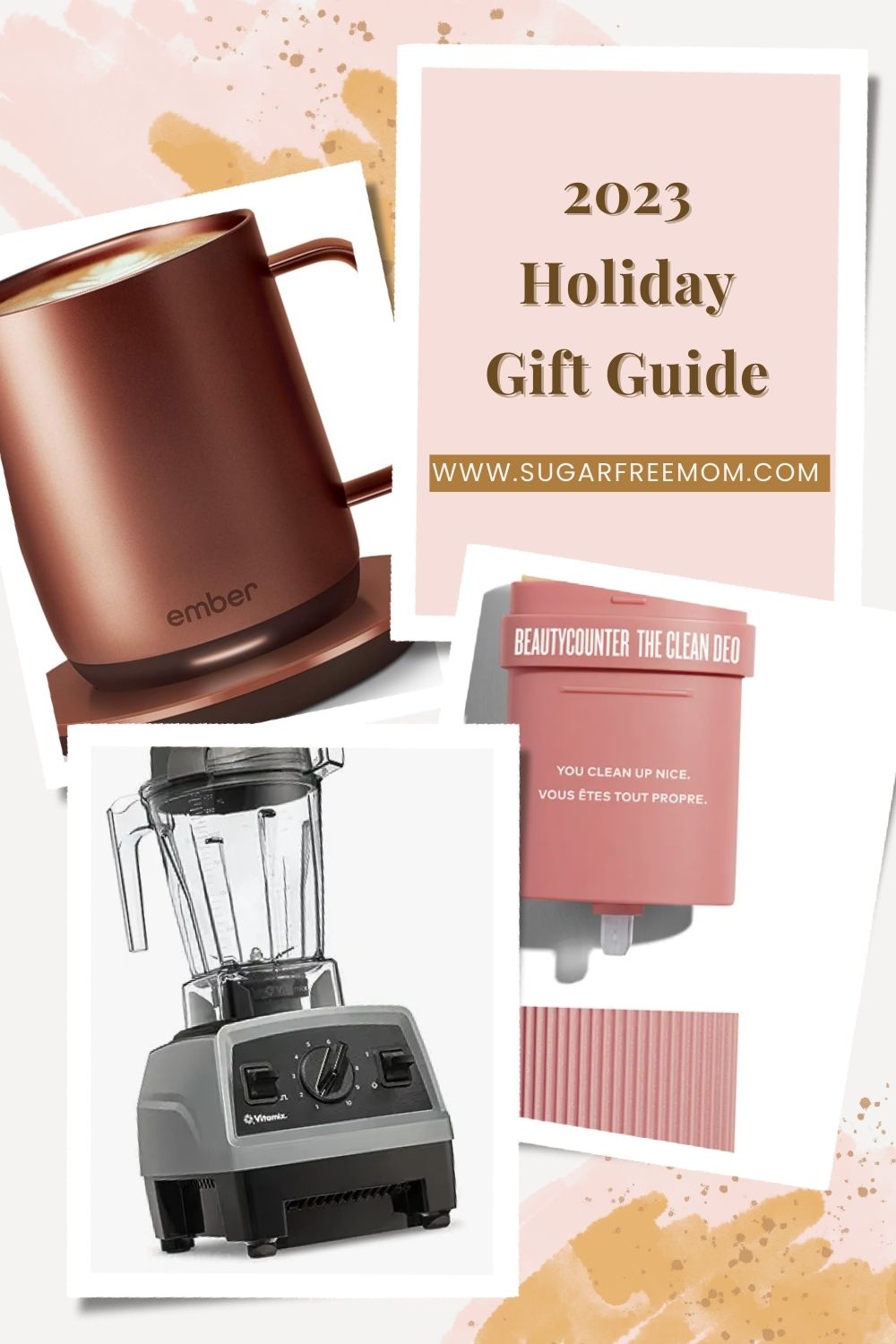 Low Carb Gifts for the Foodies
If you're new to a low carb diet or keto diet and your family doesn't know what to get you, gift guides like this is what you send them!
If you've got a family member who is a foodie, we've got you covered with the perfect gift for them too!
Being a foodie myself and recipe developer, I think the best Christmas gifts are homemade food gifts!
Lily's chocolate is the brand I use for all my baking, especially for the chocolate chips, but they have a variety of other items like Chocolate Bars, peanut butter cups, and chocolate covered almonds.
Good Dees is a company that makes quick low carb baking mixes for breads, brownies, cookies, pancakes and even sugar free sprinkles!
Paleo Valley offers clean, high protein, 100% grass fed beef sticks my boys love.
Chomps also offers a variety of beef sticks and even mini size.
Carnivore Crisps are just two ingredients and are crispy like a chip, but all meat! Grass fed beef, free range chicken and pork and plenty of other options like all meat flours.
Kiss my Keto Gummy bears without the junk made with natural sweeteners like stevia and erythritol.
High Key cookies are low carb and keto made with almond flour and stevia.
Chozero candy, caramels, and even marshmallows all made with Monk Fruit sweetener.
PUR Aspartame Free Gum made with xylitol and really delicious!
LMNT- It's my favorite electrolytes to use and my whole family loves the different flavors too. Get a free sample to try.
Tillamook beef jerky has zero sugar and is a great stocking stuffer for the boys who are working out and need constant fuel on the go!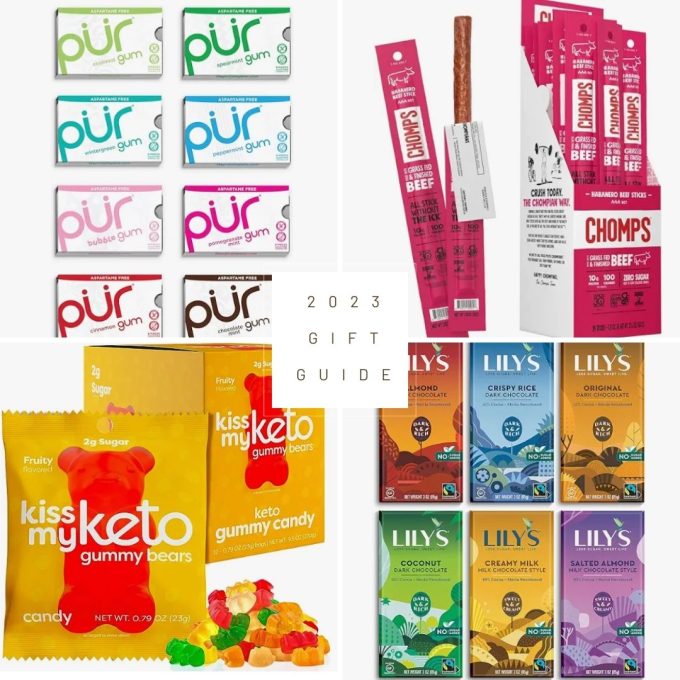 I'm all about goodies for stocking stuffers and my kids do enjoy gift cards too, but I like to add a few non food practical gifts when it comes to stocking stuffers for my family.
Dr. Squash brand offers hair care, soap and deodorant in manly scents without harsh chemicals or synthetics like parabens, sulfates, phthalates, or silicones. Bought them for my boys and they don't want any others but these from now on.
Wellnesse toothpaste is fluoride free and tastes great compared with so many natural toothpastes I've tried. Free from glycerin, GMOs, parabens, and sulfates.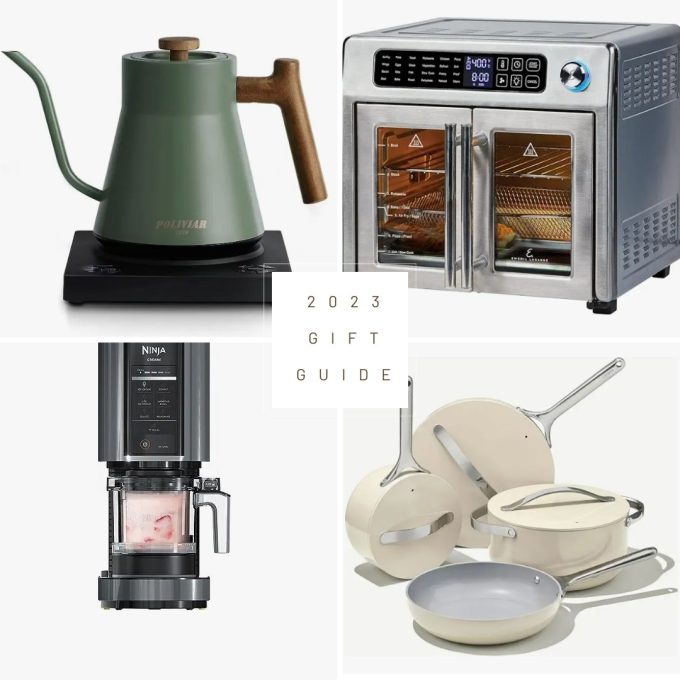 Favorite Gifts for the Home
If you're like me, you don't spend much money on kitchen gadgets all year long, but once Black Friday hits, you are ready and know what you want and need for the most wonderful time of the year!
Any of these gifts would be a great option for the newly married couple or as housewarming gifts or just a great gift to treat yourself.
Dash mini waffle maker- I use this for my dairy free waffles and chaffles!
Caraway Cookware & Baking gift sets- my favorite cooking set as it's non toxic and cleans easily! Worth the money in my opinion and 20% using my link.
Ninja creami- My oldest son loves this and I need my own as he moved out and got married and took it with him!
Kitchenaid- I've used this appliance since I got married years ago and it has held up well for the last 26 years! Worth it's weight in gold!
Vitamix Blender- I know it's expensive but this blender has lasted me for years to make so many easy recipes, my newest ons is my cottage cheese pudding, and of course smoothies and iced coffee frappes.
Food processor- I swear by this appliance and again something I've used for the last 26 years of my married life. Works so well for my pie crust dough, cheesy fat head dough recipes, pizza dough, and chocolate protein bars to name just a few recipes.
Electric tea kettle- This is a new to me item that we just received as a gift from my LMNT partnership and we love it because we don't have a working stove at the moment as we have been remodeling the kitchen.
Breville coffee maker- I purchased this as a Father's day gift for the hubby but really it's my gift and it makes the best coffee. This way I can buy the organic coffee beans I choose and set the grind level for a perfect cup of coffee every time, or espresso which the hubby prefers.
Air fryer- Stainless steel and an extra large full basket plus tray can fit nearly everything. I cook chicken wings and almost all the veggies nice and crispy.
Glass storage containers are a must in my kitchen for left overs and easy reheating.
Frother- Best thing ever to whip up an incredible cup of coffee with collagen and cream!
Whipped cream canister my most favorite tool in the kitchen for delicious homemade sugar free whipped cream every time!
Best Gift Ideas for Men
Finding the perfect present for the men in your life won't be hard with these practical gifts.
Bombas socks and underwear- I started a tradition with these socks and underwear for the family and no others compare to this brand, plus for every pair of socks purchased they donate a pair to the homeless.
Grill brush- Every guy needs a good grill brush!
Digital Meat thermometer- Not much to explain here, your man needs a good one to cook that perfect grilled meat!
Live Bearded is a brand for the men in your life who have beards. My hubby loves the sets that includes beard wash, beard oil and beard balm for a smooth tamed beard.
Oura ring- I've been using my ring since hubby bought it for me two years ago and I love the information on deep sleep, activity, time awake, restlessness, heart rate, oxygen level and when to pay attention to rest and stress. Anyone who is interested in hacking their health would love this gift.
Man Crate- For the men in your life you have no idea what to get them, lots of unique options.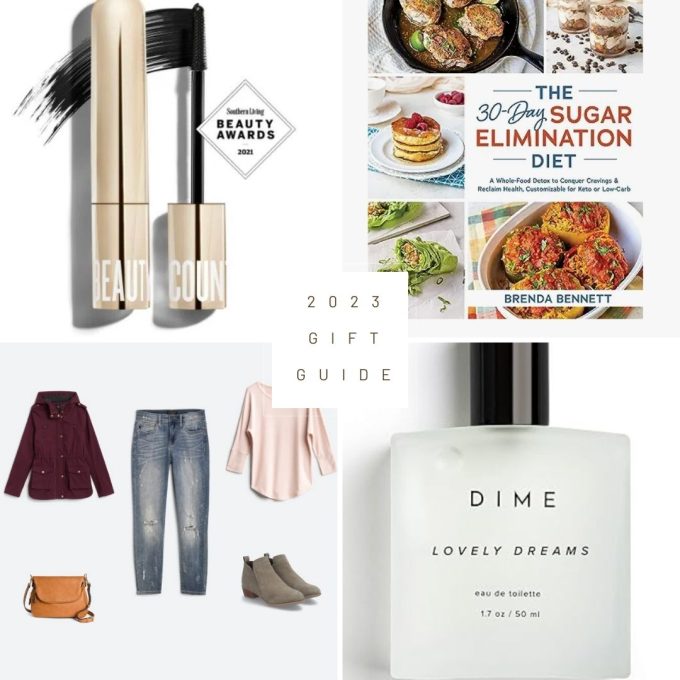 Best Gift Ideas for Women
I'm a woman who prefers a meaningful gift over an expensive one. Not to say, some practical gifts aren't expensive, but price points don't matter when heartfelt gifts show you thought about what I'd like.
You've got a good reason to share this wish list with your family when they say they have no idea what to get mom.
Stitchfix- I've been using them for years to get cute clothes delivered to my door to try on and what I don't like I just pack up and mail off at no cost.
THINX- If you're wanting to get rid of using tampons or pads, these are the best underwear for your periods whether heavy, or light and in a variety of styles.
Safe Perfume by DIME- it took me a very long time to find a non toxic perfume that I liked and my hubby liked, while the scents aren't super strong, they are enough for a subtle fragrance without chemicals.
Beautycounter- I am in love with the mascara and eyebrow brush to fill in some sparse areas of my brows and lashes. I use all their make up, but I especially love their deodorant.
Ember mug- I actually bought this for myself last year and now never have a cold cup of coffee.
Sunlighten Infrared sauna- This is another pricey, but well worth the money item to help decrease inflammation in the body, lower blood pressure, pains, aches, and help sleep better too. I've been using it faithfully a few times a week for the last 3 years and see huge benefits to my healing from toxic mold and inflammation.
Queen of Thrones- Caster oils packs that I've been using for quite some time to help with my hormones during this time of my life and I highly recommend for any woman who deals with cramping, constipation and trouble sleeping.
Supplement organizer helps keep me organized with all the things I take morning, noon and night.
My Naturally Keto & the 30 Day Sugar Elimination Diet cookbooks for the coffee table are a thoughtful gift for your friends and family looking to optimize their health through nutrition.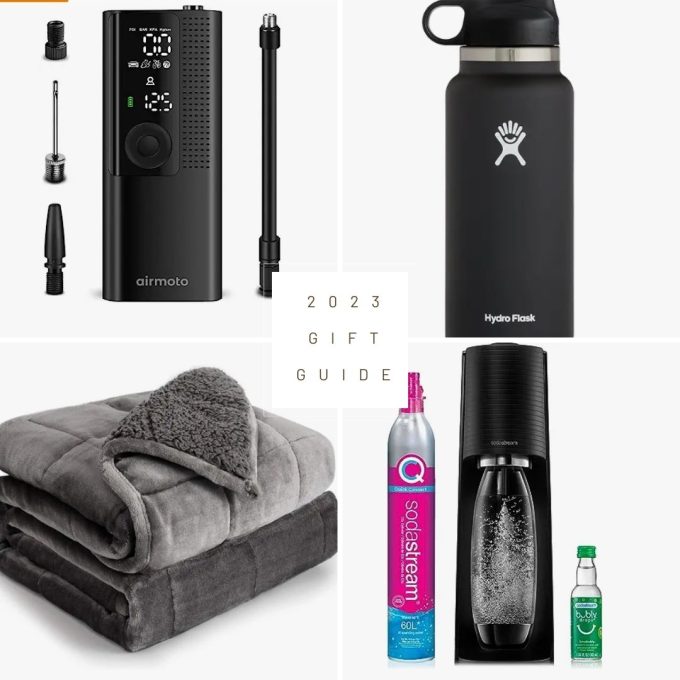 Best Gift Ideas for Teens
My youngest is still a teen and tech gifts do get quite expensive so for the teenage boys here are some gift ideas other than video games.
And for the teen girl, we've added some great gifts that will make a lasting impression.
Portable Tire Inflater great to have on hand, especially for new drivers.
Journals for the teens who love to write.
Ugg Boots for boys or girls, short, tall, slippers to boots, they love them all.
Non toxic nail polish many colors without the toxic chemicals.
Soda stream is perfect for the kids who like bubbly water, seltzers and great for the college dorm too.
Weighted blanket perfect for those who need a little extra comfort to sleep.
Beautycounter body butter for teens with severe dry skin, like my boys, they love this stuff.
Portable charger- my kids love to travel and use these often.
Water bottle - stainless steel and sturdy for kids on the go or at college, work or wherever, they take these with them everywhere.