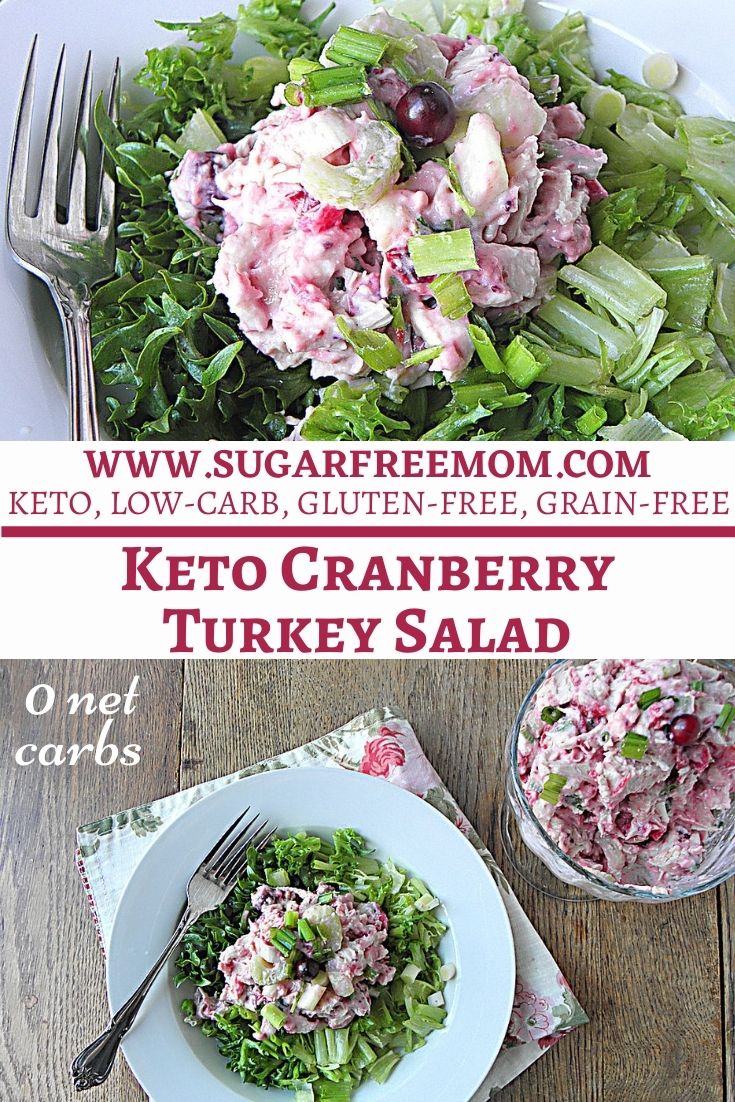 If you're looking for a delicious keto recipe and a perfect way to use up Thanksgiving leftovers of turkey or cranberry sauce, try this tasty Keto Low Carb Cranberry Turkey salad! 0 g net carbs per serving!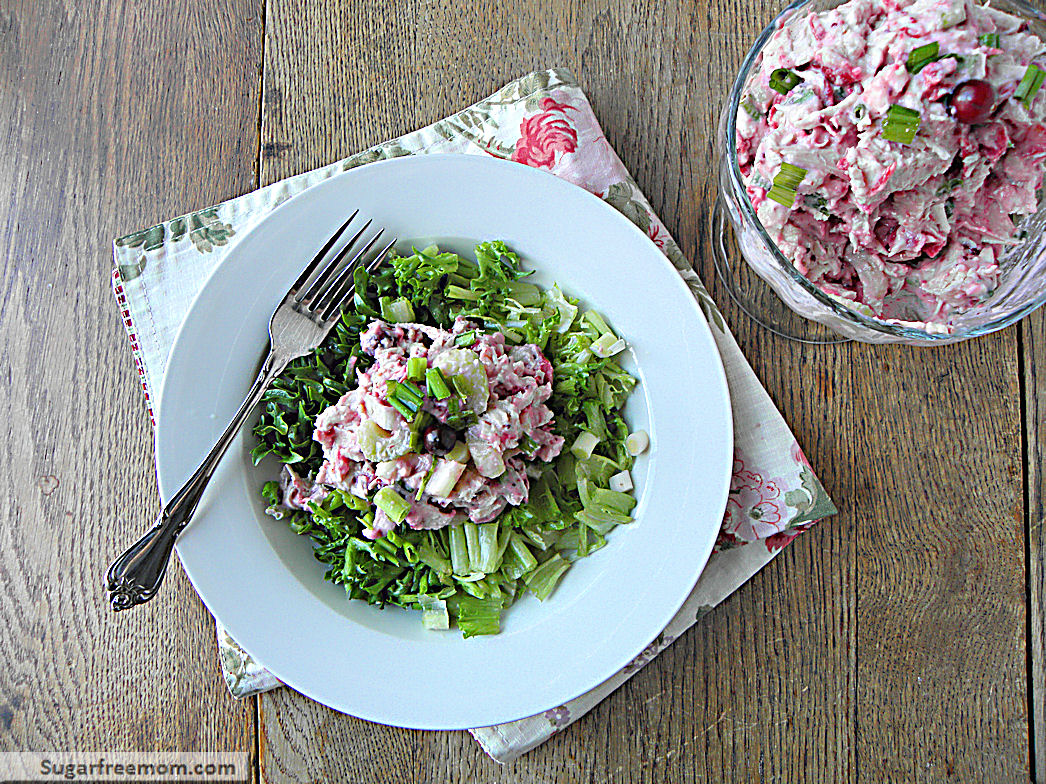 LEFTOVER TURKEY SALAD
It's the day after Thanksgiving so you know you've got left overs! Got any left over keto cranberry sauce or leftover turkey breast or dark meat? Of course you do!
Want a great way to feel fantastic after feasting on your Thanksgiving dinner and a delicious healthy lunch today? Of course you do!
You will feel amazing after eating this fresh turkey cranberry salad rather than bloated and stuffed, especially if you over indulged on Thanksgiving.
The holiday season only comes once a year, but you don't have to overeat the next day or in between the actual 5 holidays we have from Halloween until New Year's day.
Let's not repeat yesterdays overeating with our meal choices today and create favorite ways to use up leftover Thanksgiving turkey in a low carb way.
No Turkey Leftovers? No problem! You can swap out the turkey for rotisserie chicken!
IS CRANBERRY SAUCE KETO FRIENDLY?
No, traditional canned cranberry sauce that you can purchase at the market is very high in sugar and carbs so it isn't something that should be eaten if you're following a keto diet.
But my homemade cranberry sauce recipe uses a keto-friendly sweetener plus fresh cranberries and orange zest, making the whole thing low in carbs and easy to include on your keto diet or low carb diet.
NUTRITIONAL INFORMATION IN CANNED CRANBERRY SAUCE
According to the app Cronometer, ¼ cup of canned cranberry sauce has 110 calories and 28 total carbs and 23 grams of sugar.
But when you make it at home, you can make it without added sugars, using low-carb sweeteners and it will be much lower in carbs.
A small amount during the holidays can be enjoyed on a keto diet.
HOMEMADE KETO LOW CARB CRANBERRY SAUCE NUTRITION FACTS
A ⅓ cup serving of my keto cranberry turkey salad has 178 calories and just 1 total carb!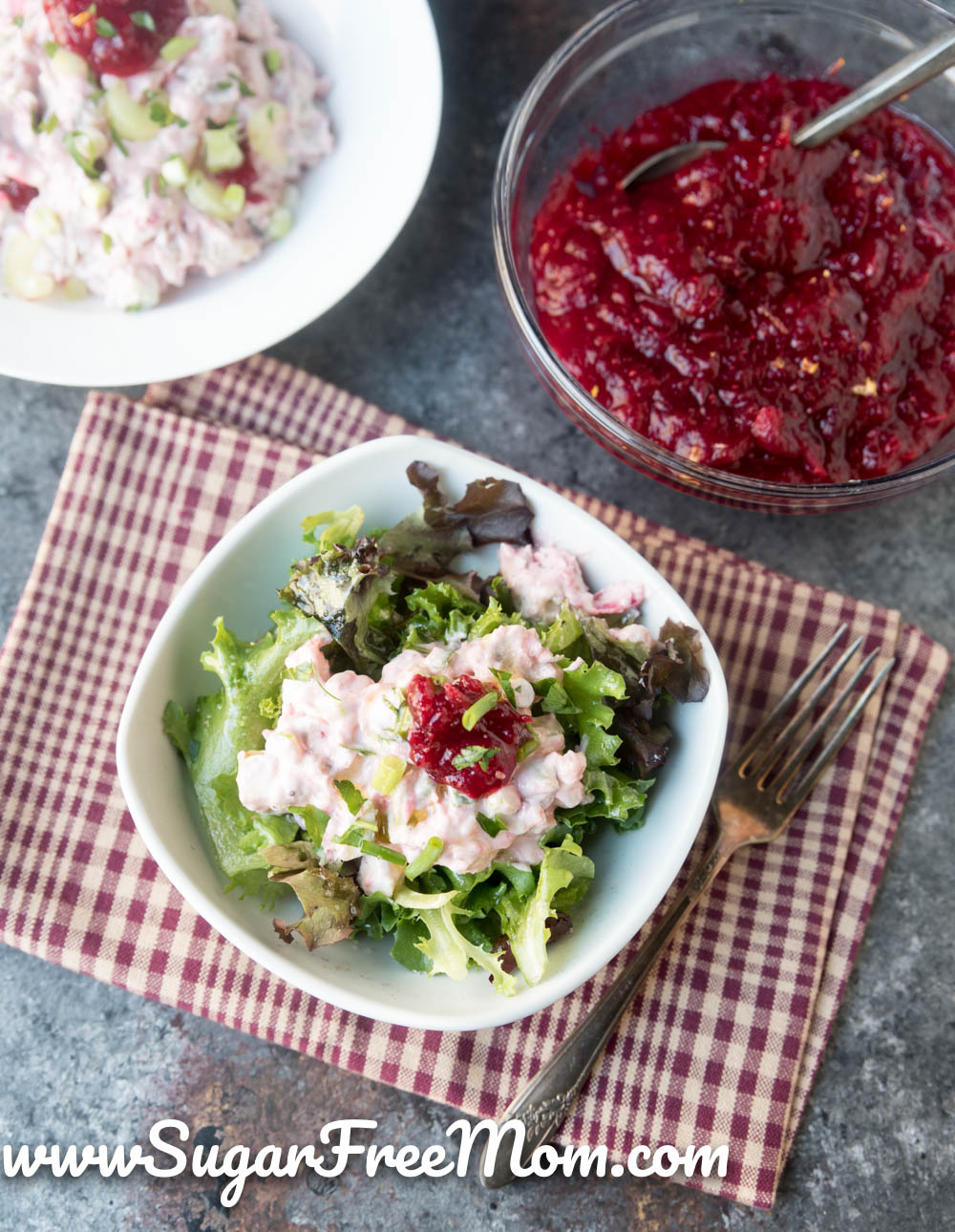 CAN I MAKE THIS WITHOUT THE MAYONNAISE?
You can definitely make this keto cranberry turkey nutritious salad without mayonnaise if you prefer. You can use other healthy fats like plain full fat Greek yogurt as an option or even canned coconut milk to replace the mayonnaise.
This recipe is a simple adaption of my Mayo Free Chicken Salad. With the added low carb Cranberry Orange Sauce I just posted this past week, this creamy turkey salad is outrageously amazing! All the flavors of Thanksgiving but keto-i-fied!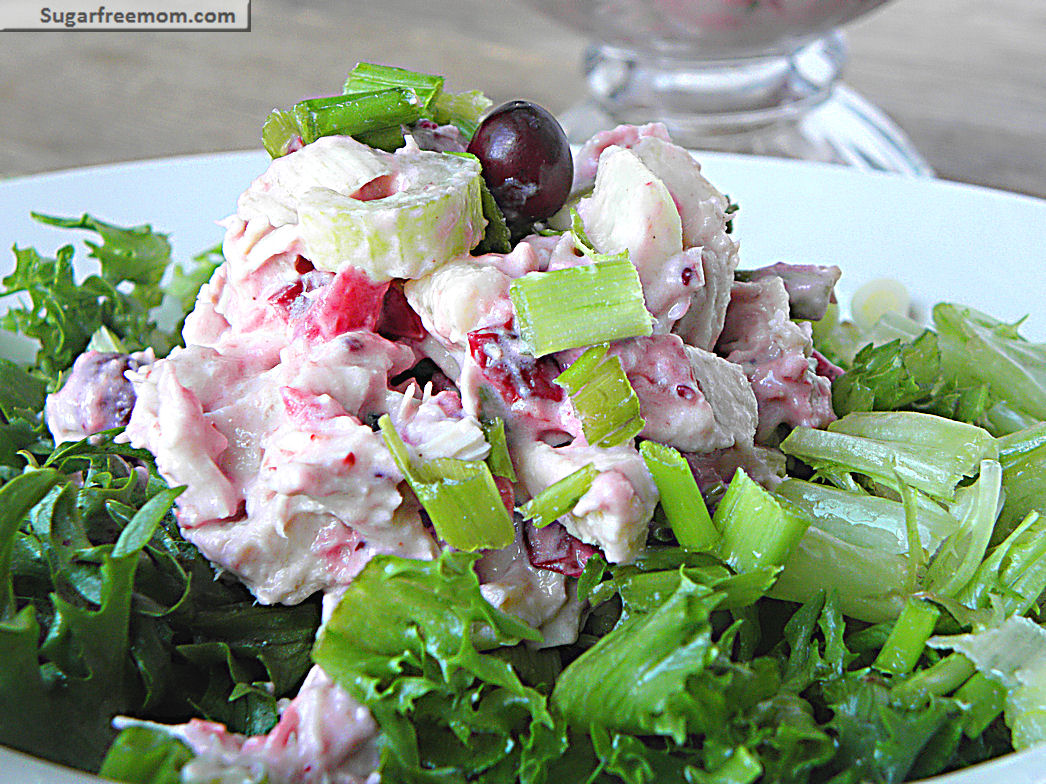 CAN I LEAVE OUT THE STEVIA?
You can certainly use whatever low carb sweetener you prefer to make the cranberry sauce or use what you have on hand and if so just eliminate adding any stevia in the mix.
I prefer liquid orange flavored stevia in this keto cranberry sauce recipe because it really gives it a warm, citrus flavor.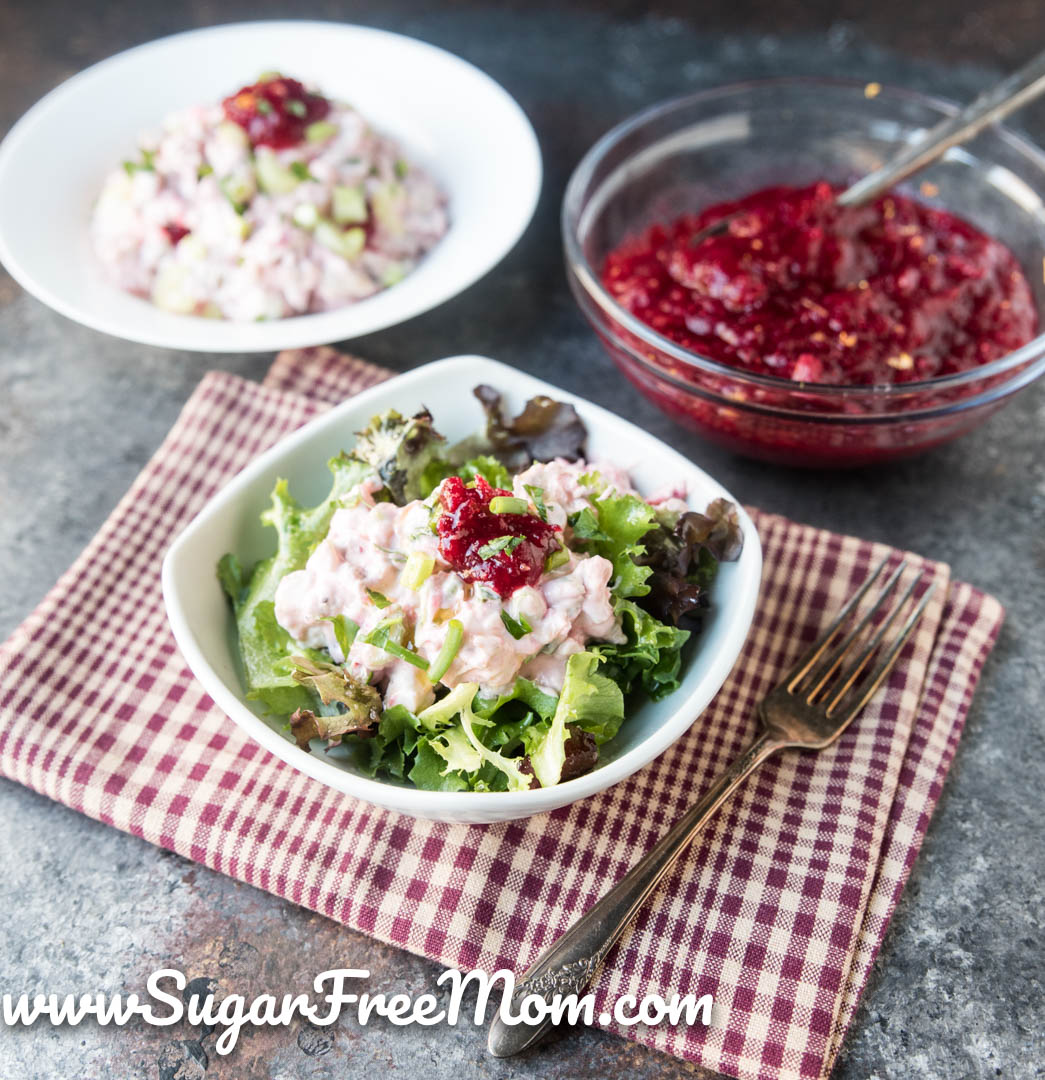 LOW CARB SWEETENERS
There are many sugar-free sweeteners at the grocery store today: figuring out which is the best to use for one purpose or another can be quite confusing.
Unfortunately, the product labels can be misleading, and not all sugar-free sweeteners are created equal.
When I first went sugar-free in 2004, I didn't know any sugar-free sweeteners beyond aspartame, Splenda and stevia.
I tried several artificial sweeteners, and after two years sugar-free, my sugar cravings were still just as bad, if not worse.
That was when I decided to start creating recipes with natural sugar-free sweeteners and nothing artificial. The most natural sugar free sweeteners are stevia, Monk fruit, erythritol, xylitol and Allulose, but there are some big differences when it comes to using these in your recipes.
Learn all about the low carb sweeteners for all your baking needs in my Sweetener Guide & Conversion Chart!
My Low Carb Sweetener Guide & Conversion chart lists other low carb sweeteners to try. I avoid sugar alcohols that are artificial because of the GI distress that comes when using a sugar substitute, like Maltitol and Sorbitol.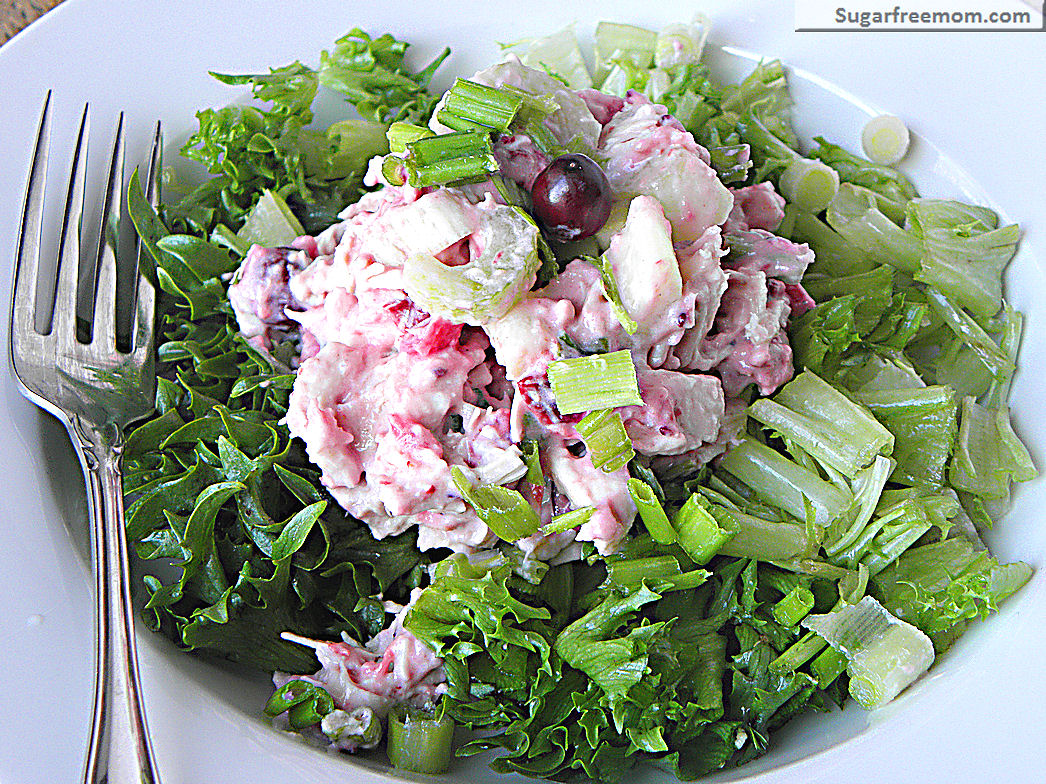 HOW TO MAKE KETO CRANBERRY TURKEY SALAD
Exact measurements and printable recipe card are below.
INGREDIENTS
Keto Cranberry Sauce is needed to make this delicious creamy dressing for the cranberry turkey salad.
I don't think you can find any store bought keto cranberry sauce but my recipe is very quick and easy to make.
The best part about this entire recipe is you also need very simple ingredients; mayonnaise, extra origin olive oil, garlic powder, sea salt, scallions (green onions), celery, and of course the main ingredient of cooked leftover turkey meat, breast or dark, whichever you prefer.
DIRECTIONS
In a bowl mix together the first 5 items.
Taste it and decide if you need to add any stevia.
Add in the rest of the ingredients and toss to combine.
Makes 3 cups. Serve over a bed of lettuce or use as lettuce cups to make lettuce wraps or make it a turkey salad sandwich with a slice of bread from my Cloud Bread Recipe.
Store in an airtight container in the fridge for 3-4 days.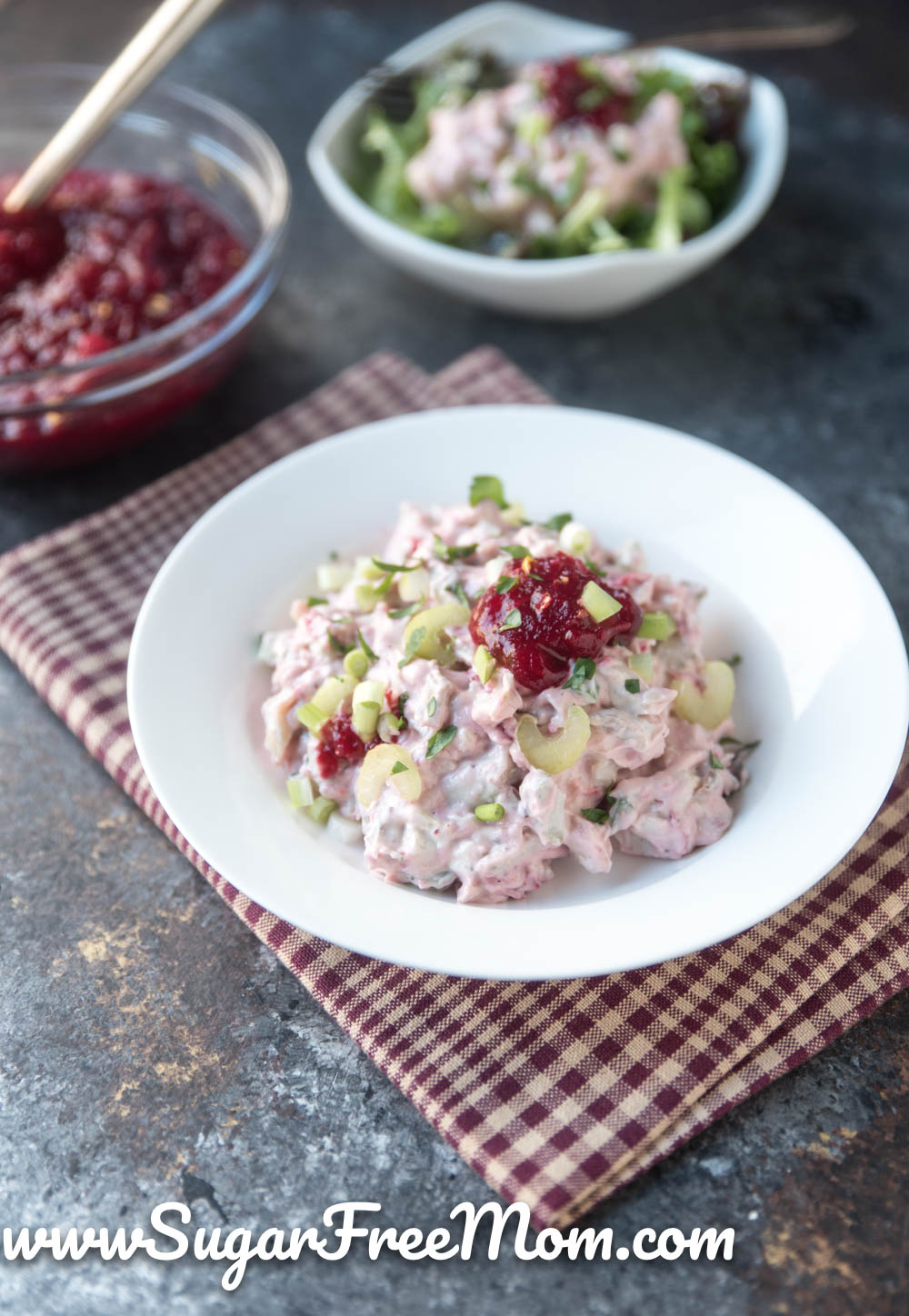 KETO RECIPES WITH HOLIDAY LEFTOVERS

LOW CARB KETO CRANBERRY TURKEY SALAD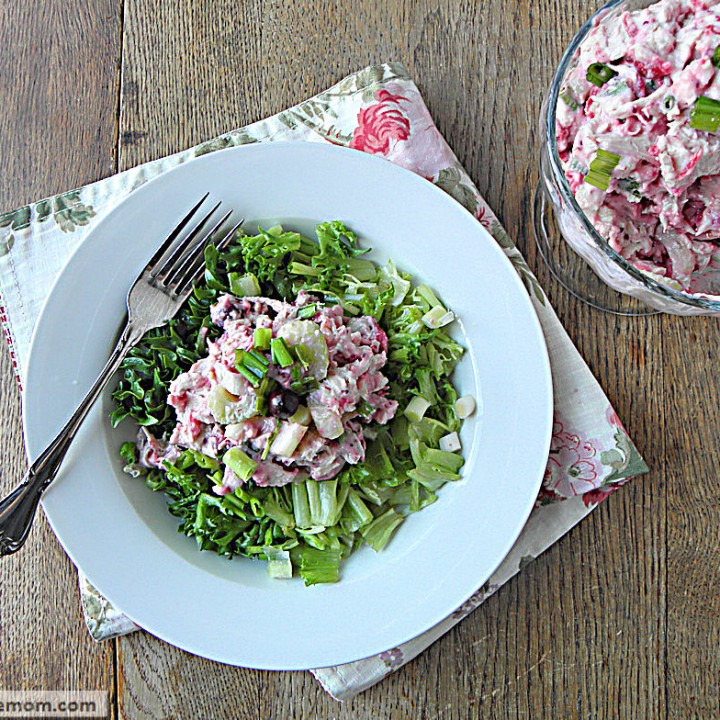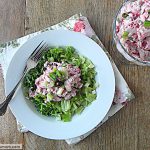 Print
Low Carb Cranberry Turkey Salad
Ingredients
6

ounces

mayonnaise

For Mayo Free use Plain Full Fat Greek Yogurt or Canned Coconut Milk

1

tablespoon

extra virgin olive oil

1

teaspoon

garlic powder

½

teaspoon

salt

2

scallions

chopped

1

celery stalk

chopped

8

ounces

turkey breast

cooked, chopped

optional: 2-3 droppers liquid stevia
Instructions
In a bowl mix together the first 5 items.

Taste it and decide if you need to add any stevia.

Add in the rest of the ingredients and toss to combine.

Makes 3 cups. Serve over any lettuce you like. Keep refrigerated.
Notes
Net Carbs 0g
This recipe was first published in November 2012.
Nutrition
Serving:
1
serving @ ⅓ cup
|
Calories:
178
kcal
|
Carbohydrates:
1
g
|
Protein:
6
g
|
Fat:
18
g
|
Saturated Fat:
2
g
|
Polyunsaturated Fat:
1
g
|
Monounsaturated Fat:
1
g
|
Trans Fat:
1
g
|
Cholesterol:
34
mg
|
Sodium:
352
mg
|
Potassium:
84
mg
|
Fiber:
1
g
|
Sugar:
1
g
|
Vitamin A:
52
IU
|
Vitamin C:
1
mg
|
Calcium:
8
mg
|
Iron:
1
mg