This easy recipe for sugar-free chocolate dipped keto caramel candy is made with just 4 ingredients and is a wonderful keto no bake treat at just 1 carb per caramel!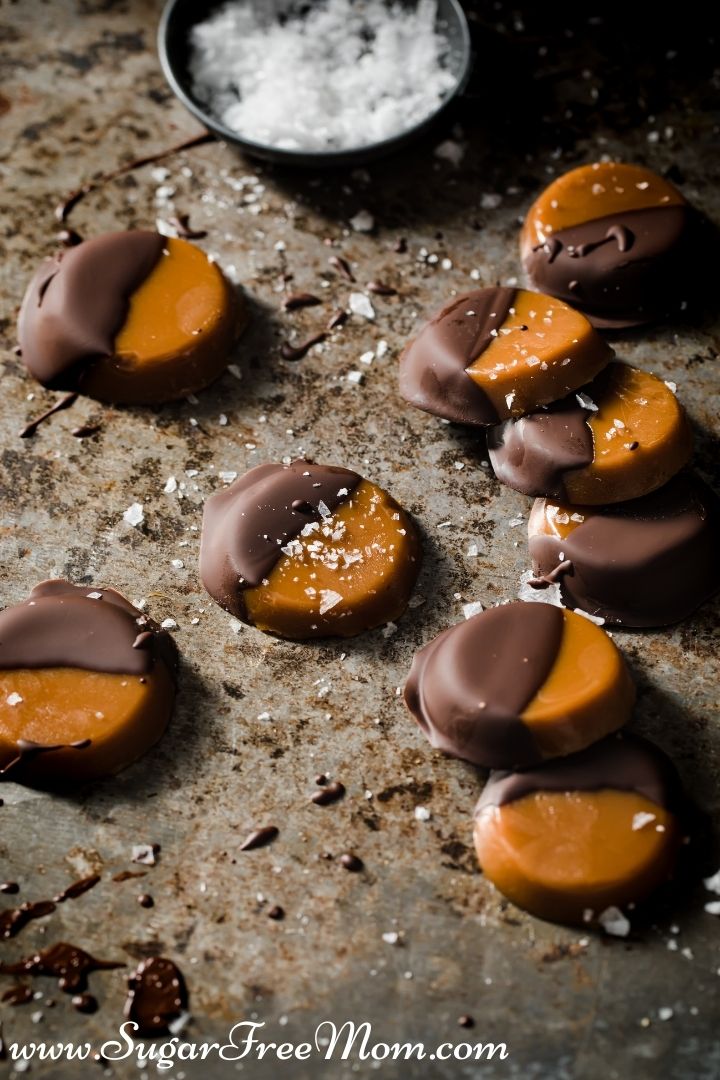 Sugar Free Caramel Candy
While traditional caramel is made with corn syrup and granulated white sugar, this sugar free caramel candy is made with a natural sugar free sweetener called Allulose. This product makes for a wonderful, soft and chewy, smooth caramel candy with no aftertaste! But the key to making these keto caramel candies perfect is the cooking process. Be sure to check my best tips below for perfect keto caramel candy!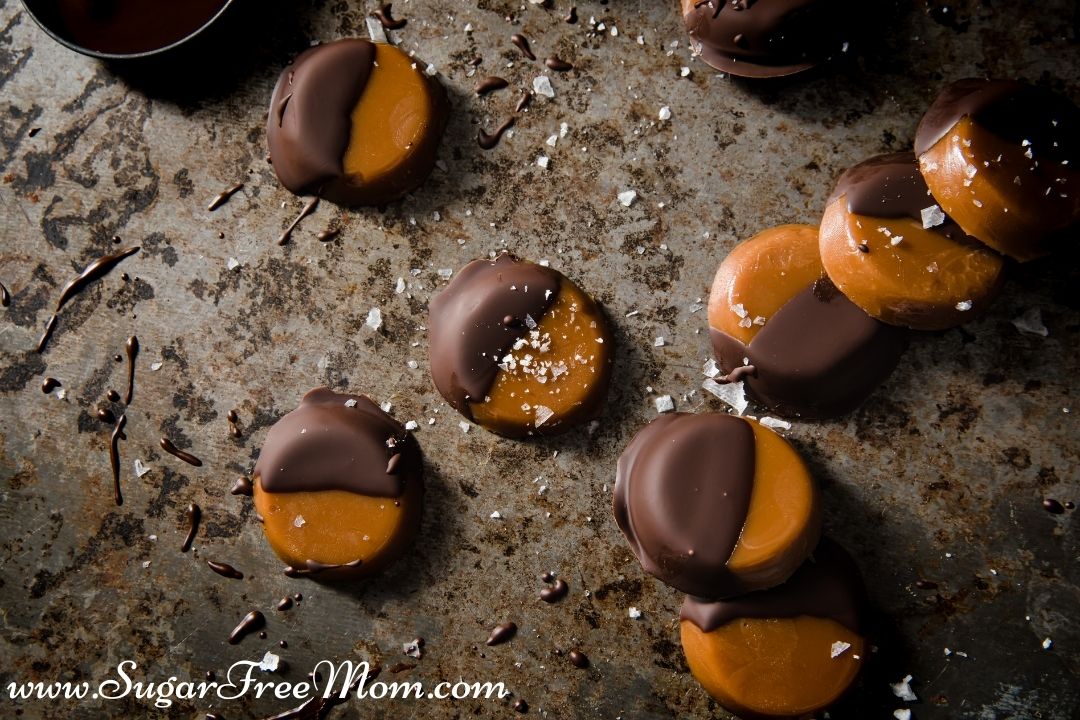 Best Tips for Making Sugar Free Caramel
Tip #1, use Allulose over erythritol. It produces the silkiest, smoothest caramels. If you prefer to use erythritol, they may not be as smooth. This recipe was not tested with erythritol.
Tip #2, be sure to not overcook the caramel. As soon as you see that the mixture coats the back of a spoon, you should remove it from the heat. It will thicken as it cools.
Tip #3, use a silicone mini muffin mold for the easiest removal of the caramel candies.
Is Allulose Keto?
A new- to- me keto sweetener is allulose. I've been a fan of stevia and erythritol for a long time as you will often find both of those in my dessert recipes. Often though I hear complaints about both as an having aftertaste. So I started investigating Allulose as an alternative sugar free sweetener and here's what I've learned:
is a monosaccharide or simple sugar, absorbed by the body, but not metabolized so it's very low in calories and won't spike blood sugar.
it's a very rare sugar, though naturally occurring in a few foods like figs, raisins and jackfruit.
it's 70% as sweet as table sugar.
doesn't seem to have any effect on blood glucose and might actually help improve insulin sensitivity.
about 75% of the Allulose you consume is excreted in your urine. This means that it has very low fermentation in the gut, which means you shouldn't have any bloating, gas or just upset like can sometimes occur for some people who ingest erythritol or xylitol.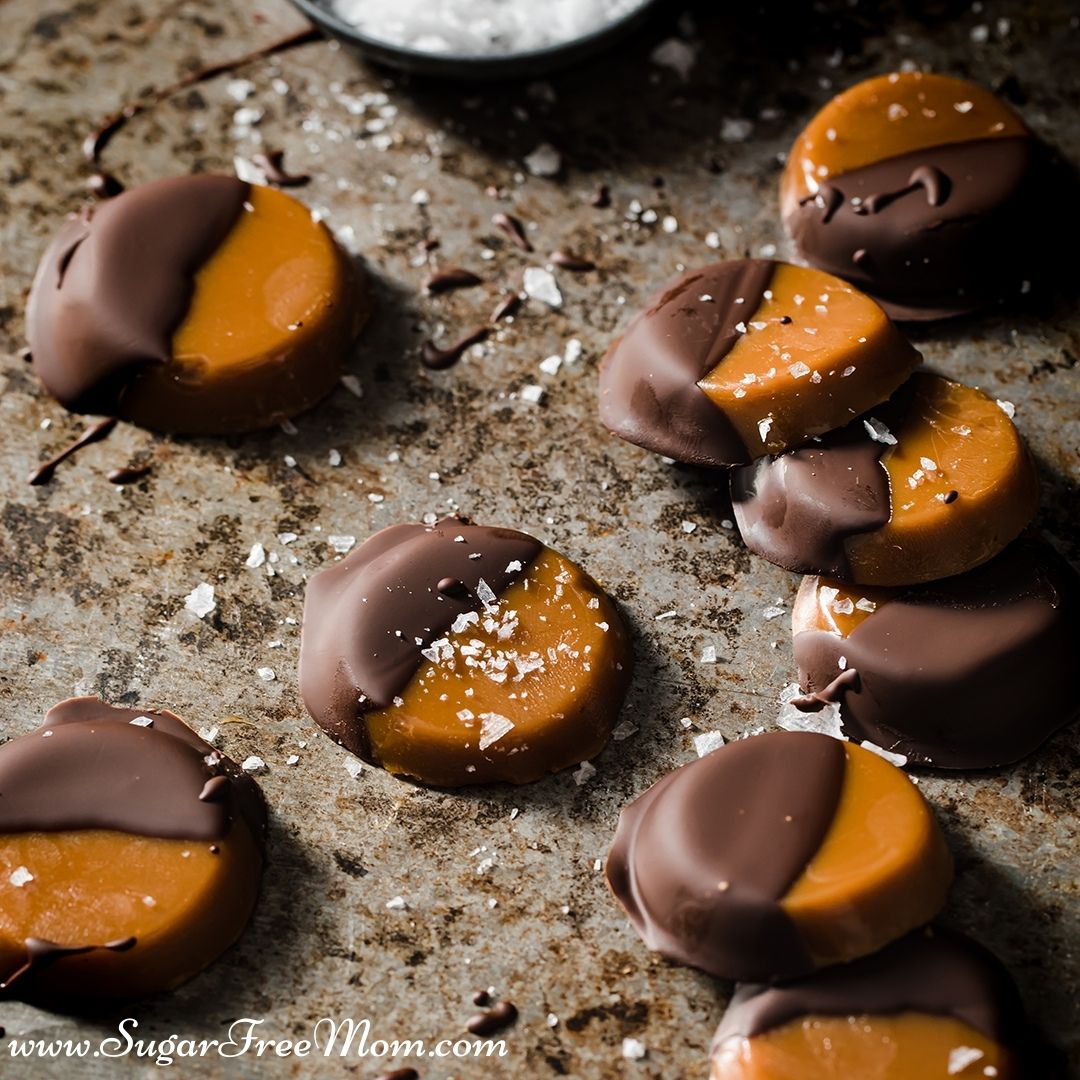 Meal Planning Membership
Our membership is simple. You can subscribe for a month to try it out or you can subscribe for a yearly membership. Each Friday you will get a meal plan that comes to your email. You'll have that early in order to go food shopping before the meal plan begins on Sunday. You will be able to view and print the meal plan and the shopping list. If you don't like a meal, simply delete it and swap it with another meal you like. The shopping list will automatically adjust. It's the best software available out there for a customizable menu plan. Not many other low carb or keto meal plans allow you the option to remove, add, start with a blank menu and create your own if you so wish. Try a FREE Meal Plan today!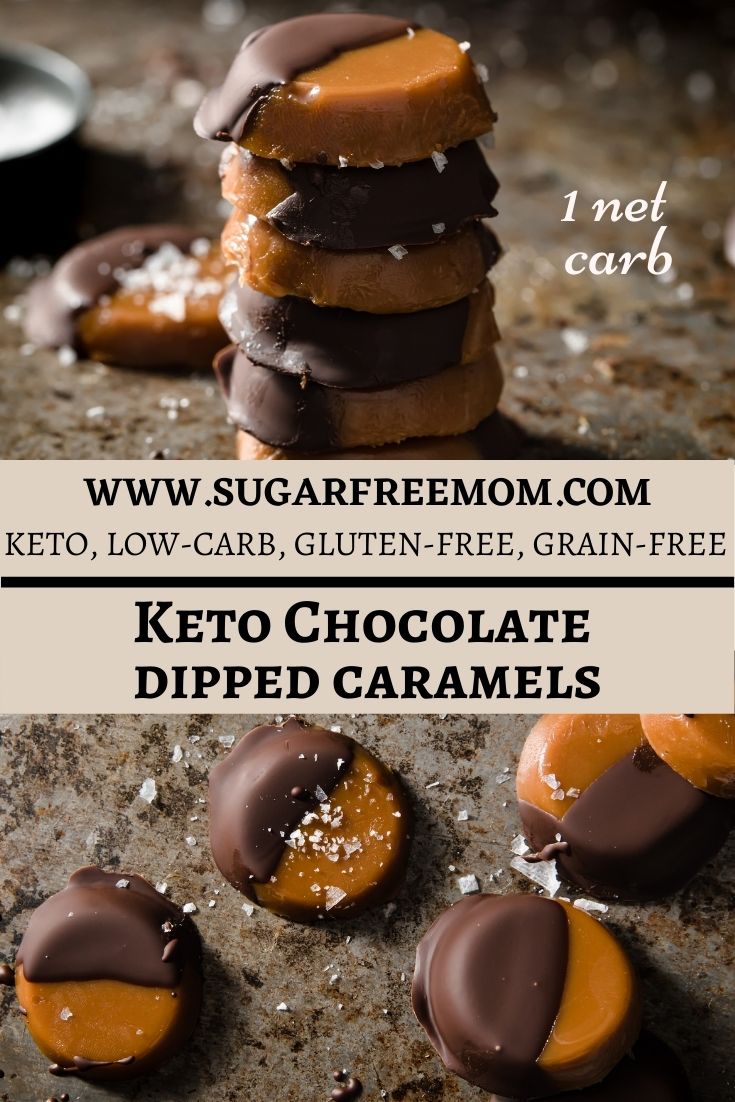 Other Sugar Free Caramel Recipes you might like:
Sugar Free Chocolate Dipped Keto Caramels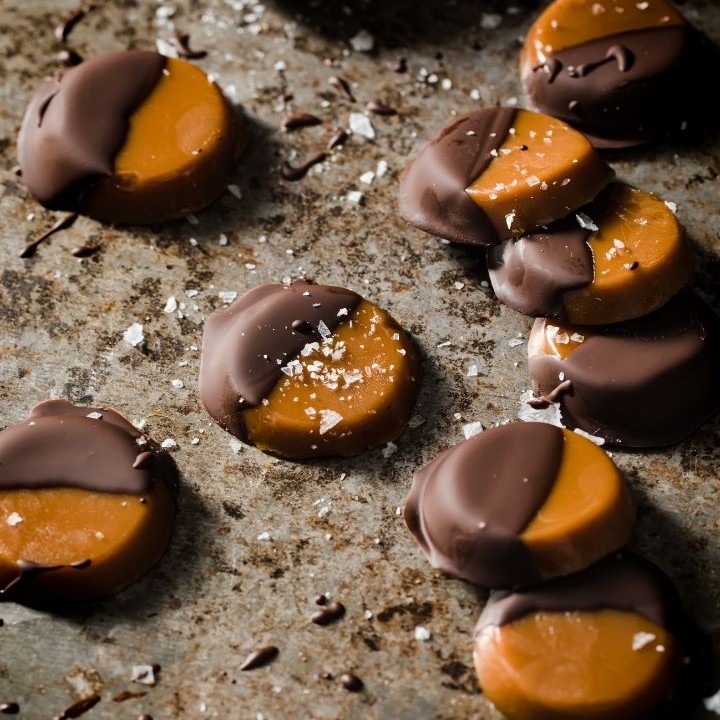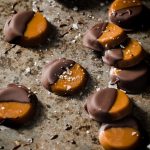 Print
4-Ingredient Sugar Free Chocolate Dipped Keto Caramels
These Chocolate Keto Caramels are smooth, creamy and perfectly chewy, not hard. Made with just four ingredients, they're easy to make and the ultimate sugar-free treat. Feel free to fully coat or part dip these keto caramels in chocolate, it's totally up to you.
Instructions
Place the granulated allulose and butter in a pan. Stir over a medium/ low heat with a balloon whisk or wooden spoon, about 3 minutes, until golden. If the butter separates, take off the heat and whisk vigorously to combine.

On the heat, slowly add the cream whilst whisking. The mix will bubble so be careful. Cook for about 2 minutes until the caramel starts to thicken and coats the back of a spoon. It should be a runny (not solid) caramel as it will thicken as it sets. Cooking times will vary depending on your room temperature too.

Remove from the heat and stir in the optional salt. Allow to cool down slightly (1 minute) before pouring into your silicone molds. I used a mini muffin mold. The low-carb caramel should still be pourable. Refrigerate for 30 minutes or until set solid.

Place the chocolate in a heat proof bowl over a pan filled with a little water. Melt on a medium heat. Remove the bowl from the pan.

Remove the caramels from the silicone mold. Dip the keto caramels in the chocolate. Option to fully coat or partial. Place on a parchment lined baking tray and pop back in the fridge to set. About 10 minutes. Keep refrigerated to avoid melting.

Storage: Fridge for up to 2 weeks.

(Note if you place in a Tupperware they may stick together, it would be best to keep on one layer)
Nutrition
Serving:
1
caramel
|
Calories:
57
kcal
|
Carbohydrates:
1
g
|
Protein:
1
g
|
Fat:
6
g
|
Saturated Fat:
4
g
|
Cholesterol:
14
mg
|
Sodium:
27
mg
|
Potassium:
4
mg
|
Sugar:
1
g
|
Vitamin A:
162
IU
|
Calcium:
4
mg