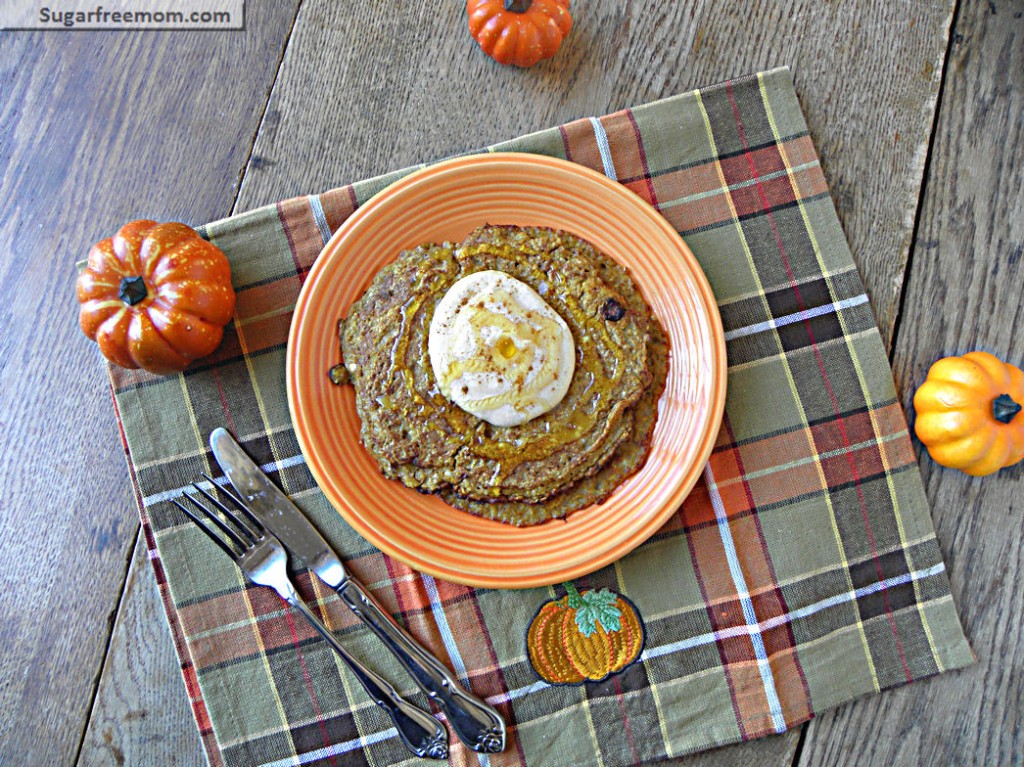 Healthy rolled oats, pumpkin and a few simple ingredients make this the most tasty pumpkin pie flavored pancake you will ever have! Add some delicious pumpkin flavored yogurt for the topping and it's practically like having dessert for breakfast!
Even my picky 12 year old who hates pancakes said if I made these more often he'd always eat them!
Shocked.I.Was.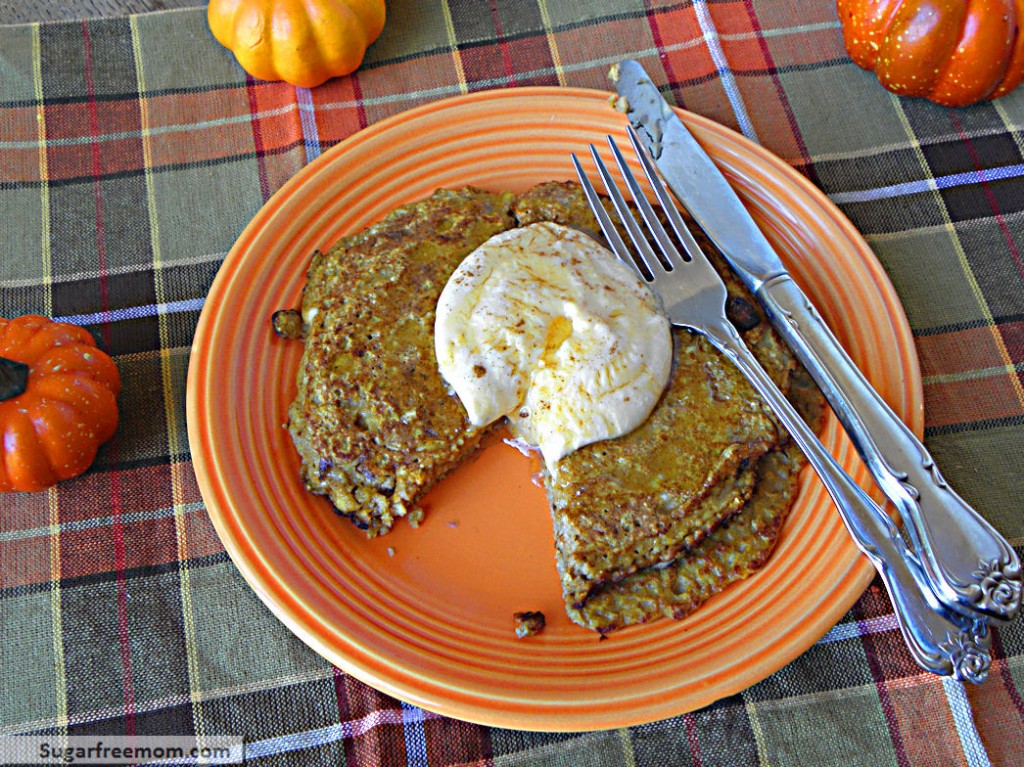 These weren't even for my kids the morning I made them, hence the single serving you see below. They were JUST for me, but once the kids saw them they, of course, wanted to try them and almost devoured the dish before I was able to take a bite.
You won't hear me complaining though because they were, after all, eating a healthy protein pancake. So sooner than later, I will get around to adapting this to serve the family, but for now its a single -hearty- serving for one. Beware of your children and guard your plate carefully. 🙂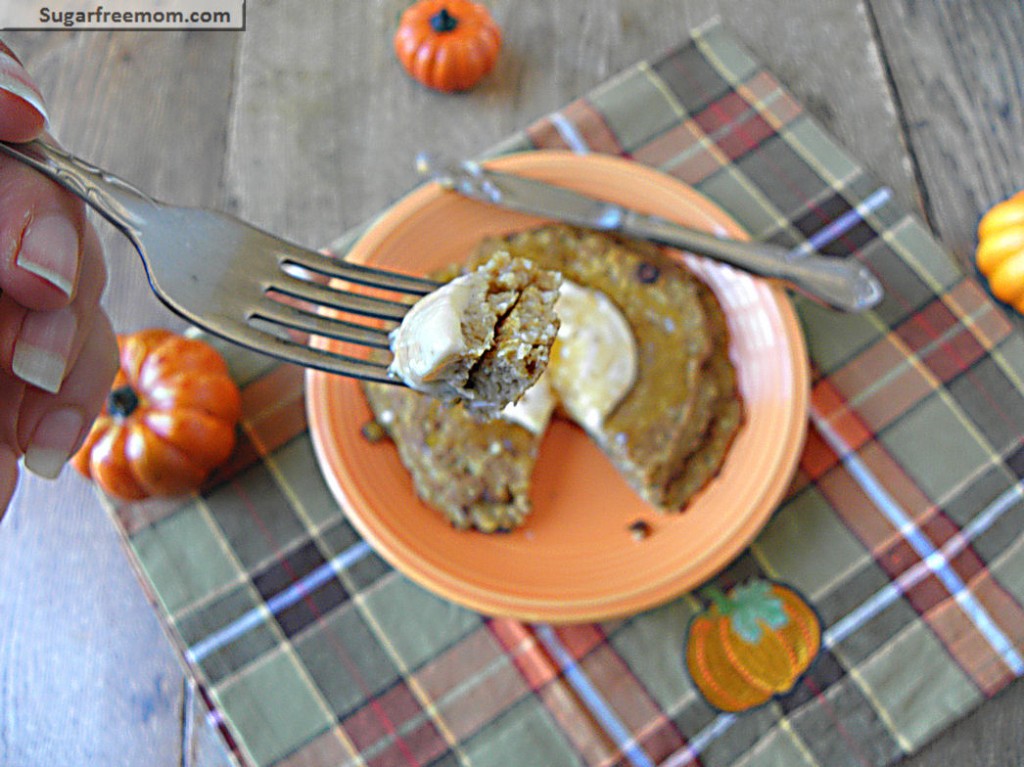 This recipe was a simple adaption of my Blueberry Oat Protein Pancakes and to be honest I wasn't sure I'd really even like them. I had some left over canned pumpkin in the fridge I wanted to use up so I tried it. The picky child said it was like a yummy flattened pumpkin pie! A few more calories and points than the blueberry ones, but well worth it.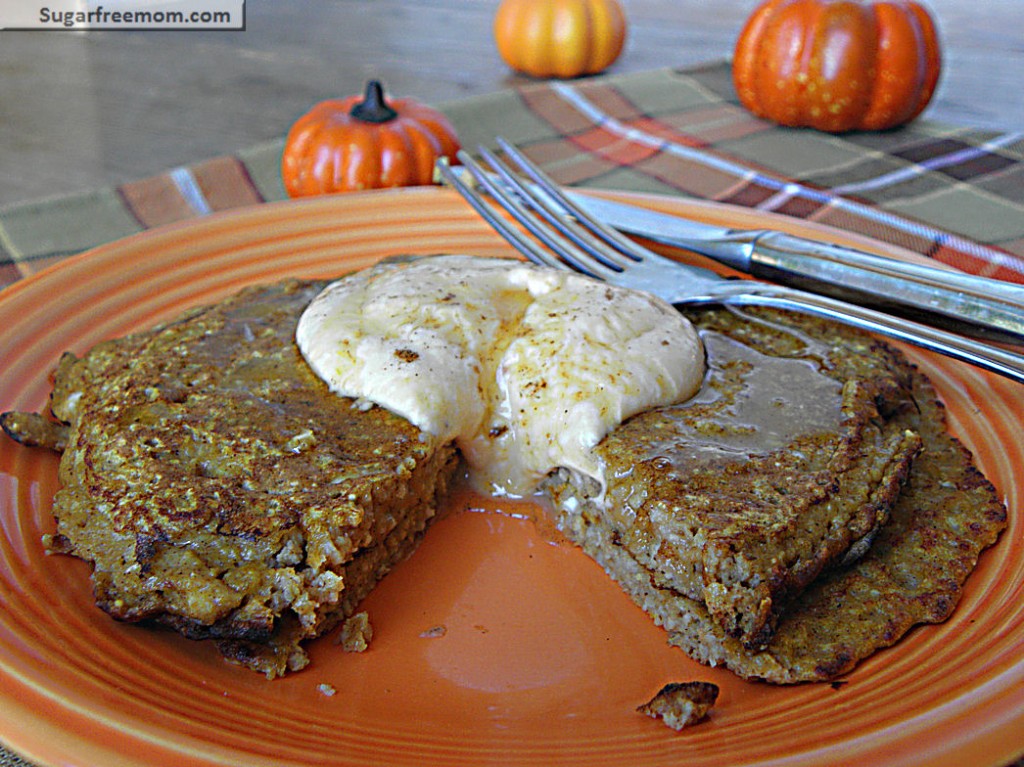 Healthy Pumpkin Protein Pancakes
Ingredients
½ cup egg whites
½ cup rolled oats
¼ cup canned pumpkin
¼ cup cottage cheese, low fat
½ teaspoon cinnamon
½ teaspoon pumpkin pie spice
½ teaspoon vanilla liquid stevia
1 teaspoon vanilla extract
Pumpkin Yogurt Topping
½ cup plain, nonfat Greek yogurt
1 tablespoon canned pure pumpkin
2 droppers full liquid vanilla stevia
optional: sprinkle of cinnamon
Directions
Blend all pancake ingredients together in your blender . Spray a small skillet with nonstick cooking spray and pour half the mixture into the pan. Cook until edges are dry and bubbles on top have formed. Flip over and cook another minute. Finish with the rest of the batter. Mix the yogurt topping ingredients in a small bowl and top pancake. Add some honey if desired.
Nutrition Info {makes 2 large pancakes}
Without Topping

Servings: 1* Calories: 273* Fat: 4g* Cholesterol: 2mg* Sodium: 437mg* Carbs: 35g* Fiber: 6g* Sugars: 5g* Protein: 26g* Points+: 7*
With Topping
Servings: 1* Calories: 342* Fat: 4g* Cholesterol: 2mg* Sodium: 480mg* Carbs: 41g* Fiber: 6g* Sugars: 10g* Protein: 38g* Points+: 8*
Other Pumpkin recipes you might like: