This Keto Salted Caramel Macadamia Nut Butter has just 7 ingredients and is paleo, gluten free, sugar free and so easy to make at home!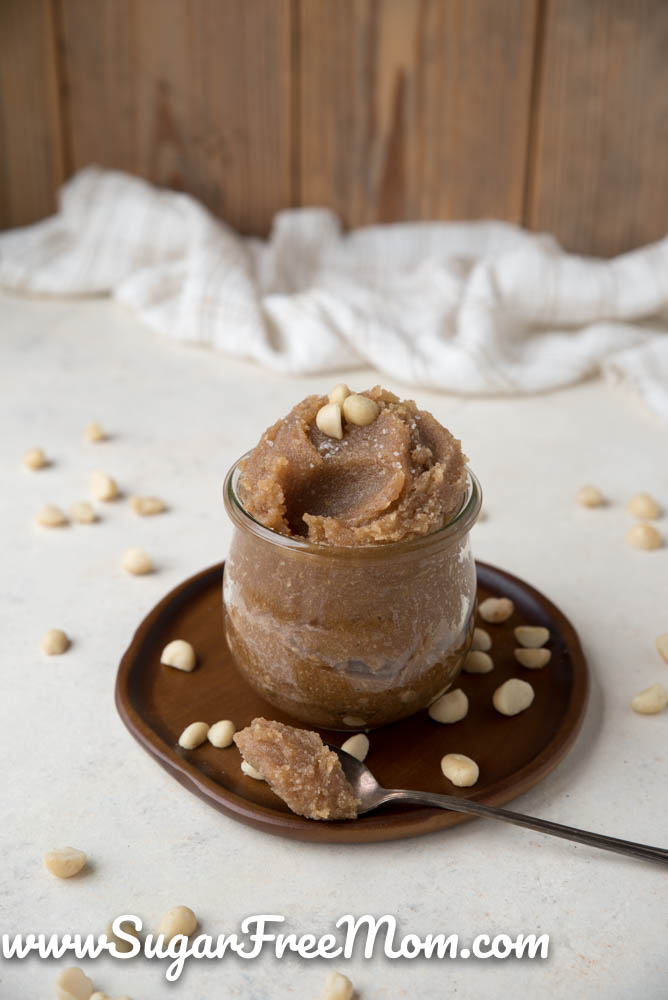 Macadamia Nut Butter
Macadamia nuts are one of the healthiest nuts you can consume on a low carb and keto diet. It's higher in healthy monounsaturated fats that other nuts like almonds, and walnuts and because of the higher fat content, a small amount makes you feel fuller for longer. One thing to note though is while many nuts are great for a low carb ketogenic diet, they are calorie dense. If you purchase salted nuts they can be so tasty, you can easily overeat them. No matter what kind of diet you're on, over consuming even healthy, low carbohydrate food will cause you to gain weight. But for those of you who enjoy some nuts on a regular basis, turning these deliciously tasty, low carb macadamia nuts into nut butter is easy to do at home and less costly than purchasing already made macadamia nut butter.
The reason most macadamia nut butter is so expensive to buy is because it takes a lot longer for the macadamia tree to bear the nuts and they need to be harvested by hand which is labor intensive. If you were to purchase store bought macadamia nut butter it would cost about $20 for an 8 ounce container. If you buy raw, unsalted macadamia nuts, here on Amazon, it's just $10.99 for an 8 ounce bag. But if you shop around you might find it locally for even less. For instance, my local Oceanstate Job Lot sells a raw macadamia 16 ounce bag for just $9.99! More cost effective and you can control all the ingredients, flavors and sweetness you prefer!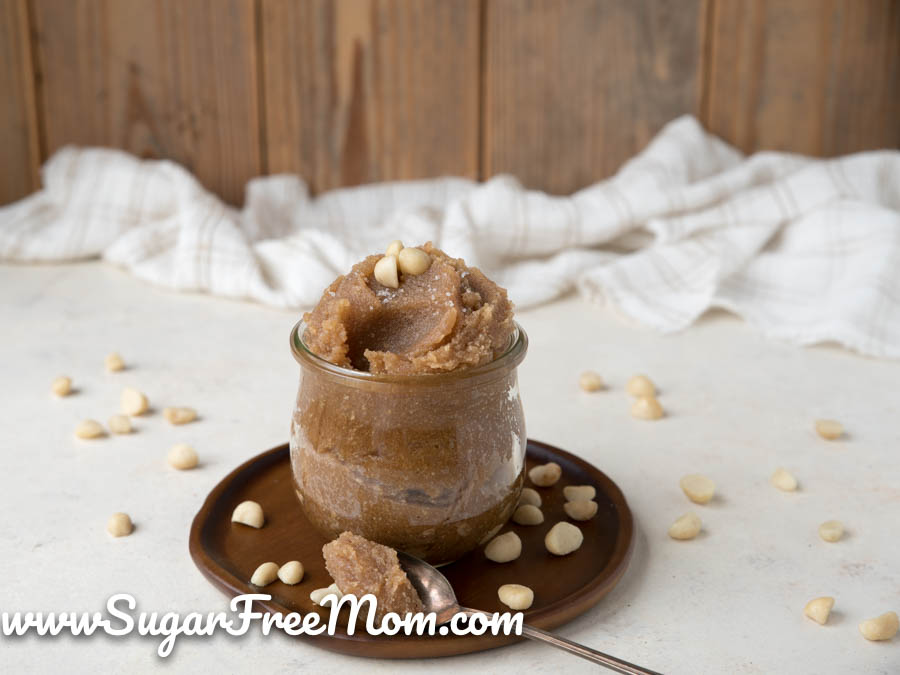 How to use Macadamia Nut Butter
Enjoy this as a spread on a piece of toasted low carb bread, like my Coconut Flour Bread.
If you have a peanut allergy, use this recipe in place of peanut butter, like in myPeanut Butter Cups.
Add a few tablespoons to a smoothie for some added healthy fat, like in my Smoothie.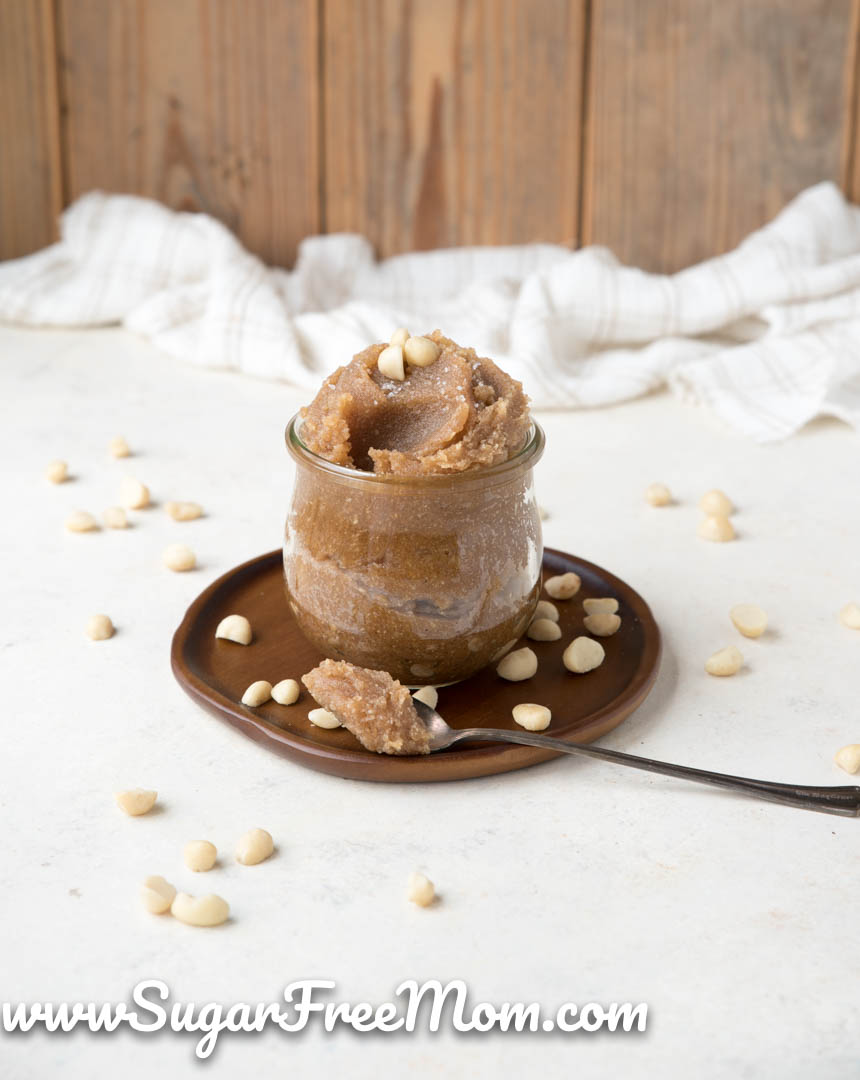 Tools to Make Macadamia Nut Butter
Small Cast Iron Skillet- This cast iron skillet is perfect for roasting nuts as it heats up well and quickly.
Food Processor-This is a large 14-cup processor that will meet all your needs in the kitchen. It works effortlessly and always combines all ingredients smoothly.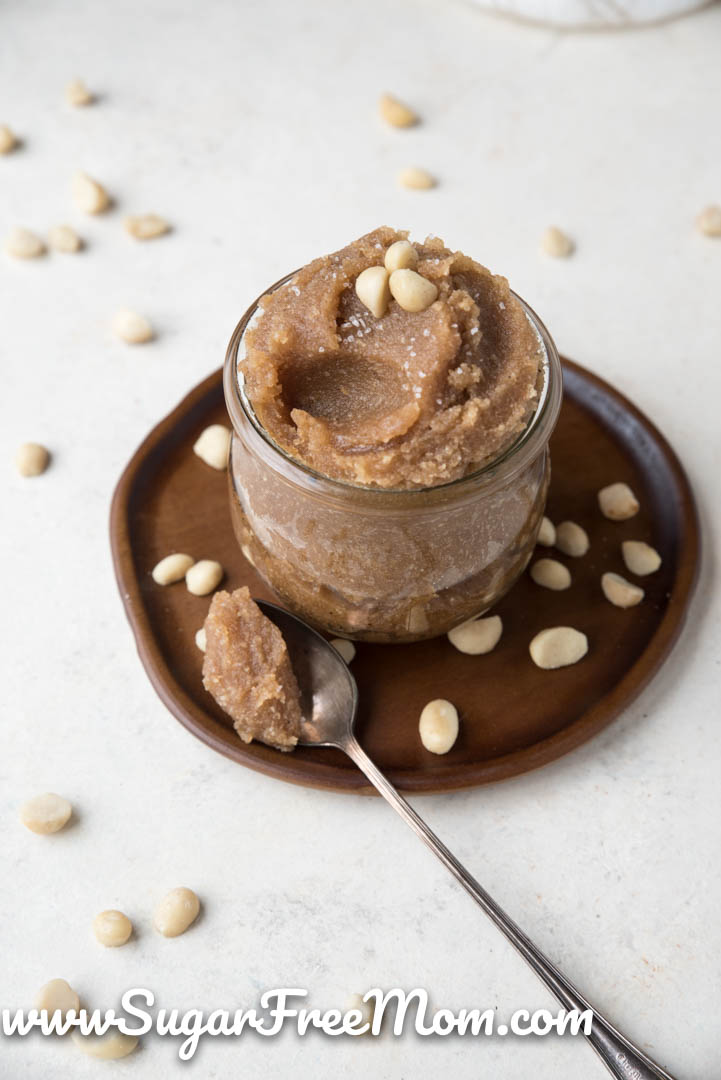 Meal Planning
If you love recipes like this for yourself and family, you will love my meal planning membership. Weekly low carb and/or keto meal plan sent to your inbox every Friday with shopping list. The best part about my meal planning feature is that if you aren't interested in one of the dinner meals you can swap it out for something else! You can even change serving sizes and the shopping list will adjust! It pretty amazing software and I hope you'll take advantage of it. You can have a sustainable low carb/keto lifestyle when you're well prepared and planning meals is the key! LEARN MORE TODAY!
Other Recipes you might like:
Keto Salted Caramel Macadamia Nut Butter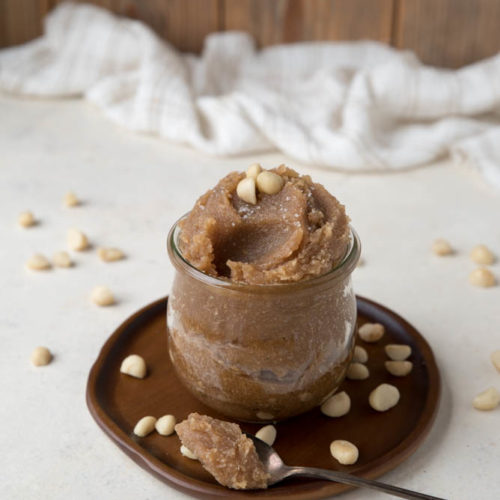 Print
Keto Salted Caramel Macadamia Nut Butter
This recipe was adapted from my Salted Caramel Sunflower Seed Butter in my cookbook, Naturally Keto.
Servings
14
@ 2 tablespoon per serving
Instructions
In a small skillet over medium heat, add macadamia nuts. Stir continually to toast and brown nuts. Once they are fragrant, remove from skillet and place into food processor.

Pulse a few times to grind the nuts then add the remaining ingredients, except water.

Process until smooth. Taste and adjust salt and sweetener if needed.

Add 2 tablespoons of water and process again. If the mixture is still too thick for your liking, add another tablespoon. Continue to add more if needed to desired consistency. I prefer my texture thick and used just 4 tablespoons of water.

This recipe makes 12 ounces of nut butter. Store covered in the refrigerator for up to 2 weeks.
Nutrition
Serving:
1
serving
|
Calories:
175
kcal
|
Carbohydrates:
3
g
|
Protein:
2
g
|
Fat:
19
g
|
Saturated Fat:
5
g
|
Cholesterol:
11
mg
|
Sodium:
84
mg
|
Potassium:
70
mg
|
Fiber:
2
g
|
Sugar:
1
g
|
Vitamin C:
1
mg
|
Calcium:
16
mg
|
Iron:
1
mg