Low Carb Cloud Bread Loaf is  one of the lowest carb breads you will ever make! You can even turn this loaf into rolls as well!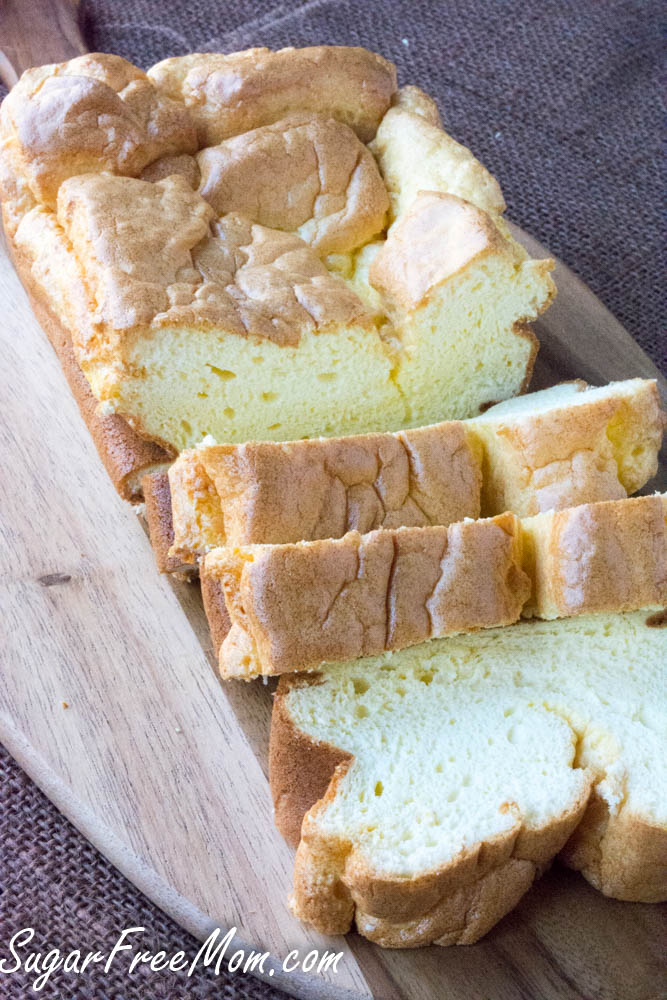 Cloud bread has been taking the internet by storm and for good reason. It's one of the easiest ways to enjoy "bread" without all the carbs. This recipe makes rolls or a loaf.
The rolls are perfect for burgers or sandwiches. The loaf is better for toasting, French Toast, Grilled Cheese, and TEXAS TOAST!!
You may have all ready tried the orginial version of cloud bread and wasn't quite thrilled or satisfied with the texture. It does tend to be light and airy, but it's wonderful for those who just need a little something to satisfy that need for bread.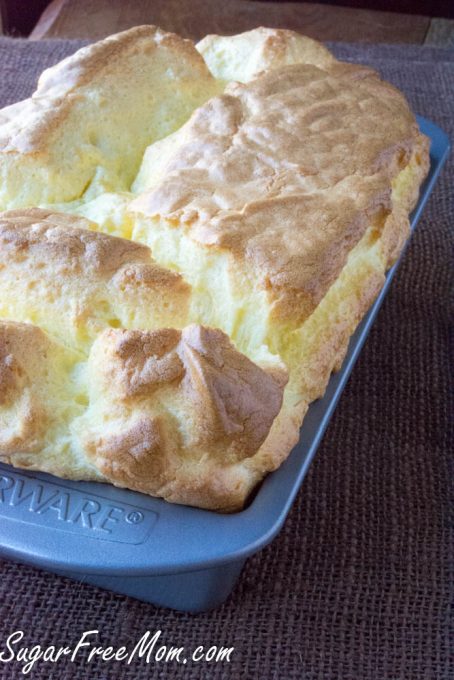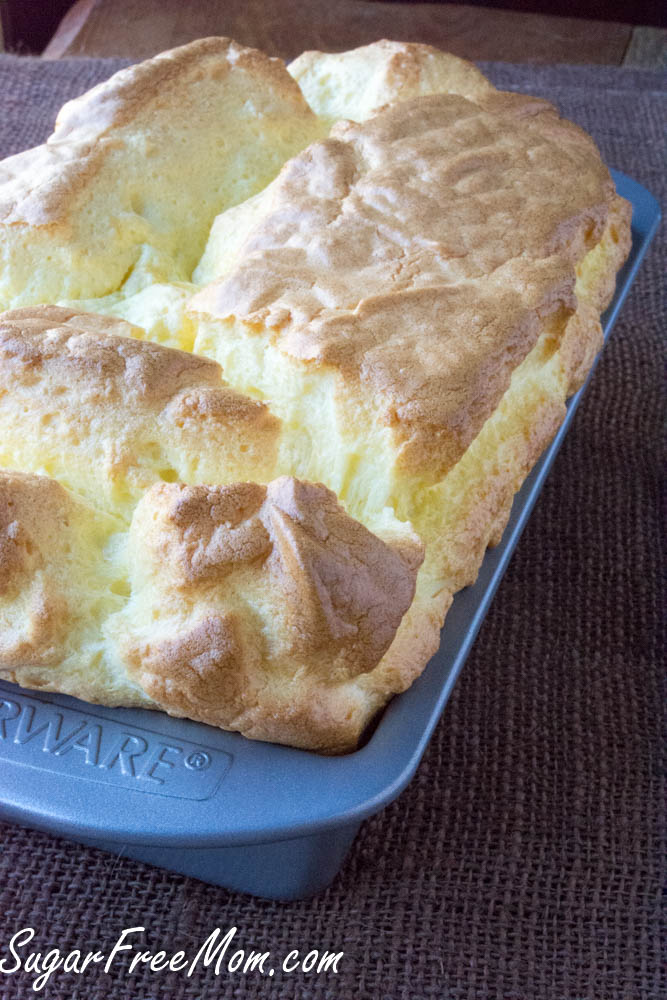 I'm to quite sure of the original creator, but it may have been from here. Either way, many, many and many more bloggers have gotten on the bandwagon to make it and share it as well.
Don't worry this shrinks and is typical in all cloud bread recipes.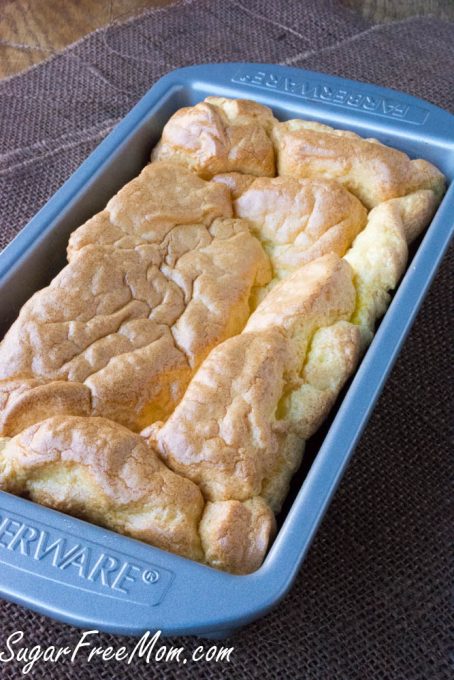 The only problem I had when trying the original recipe?
The kids and I hated the fact that upon the first bite, it was stuck to the roof of your mouth and all we tasted was the cream cheese. So I wasn't that impressed, even with all the rave reviews.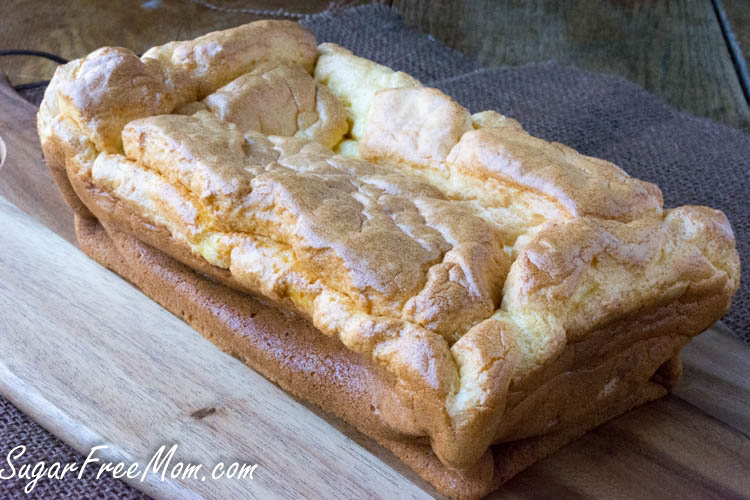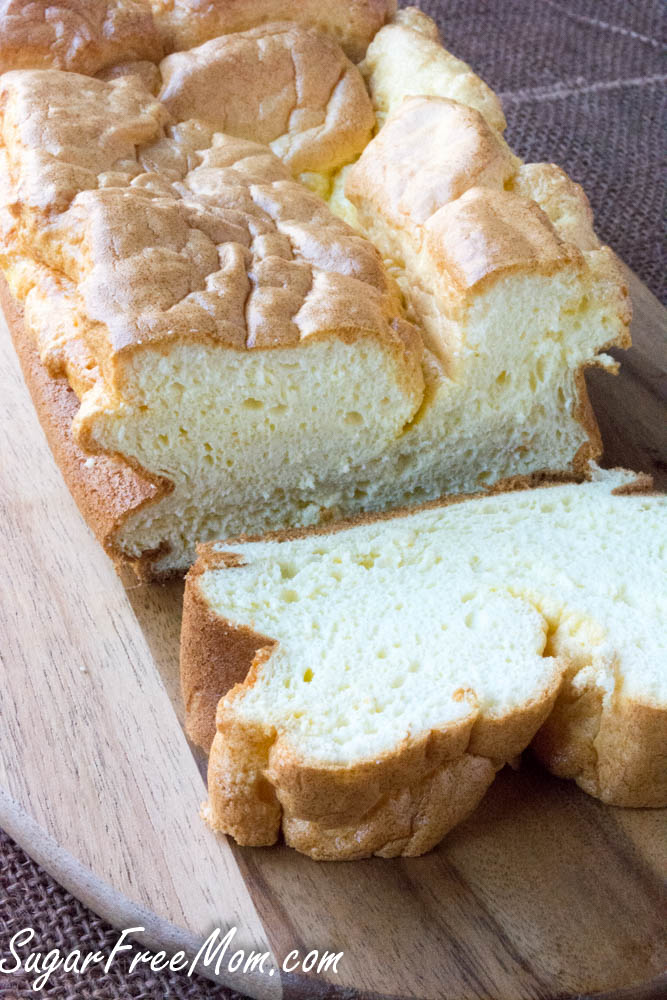 But I too wanted a "bread" to enjoy and really hoped it would be my new Go -To recipe.
I had to change it. That's what I do. So I did. And it is so much better, we've been making it a lot around here lately. I've got a few other recipes coming this week using it and they are phenomenal!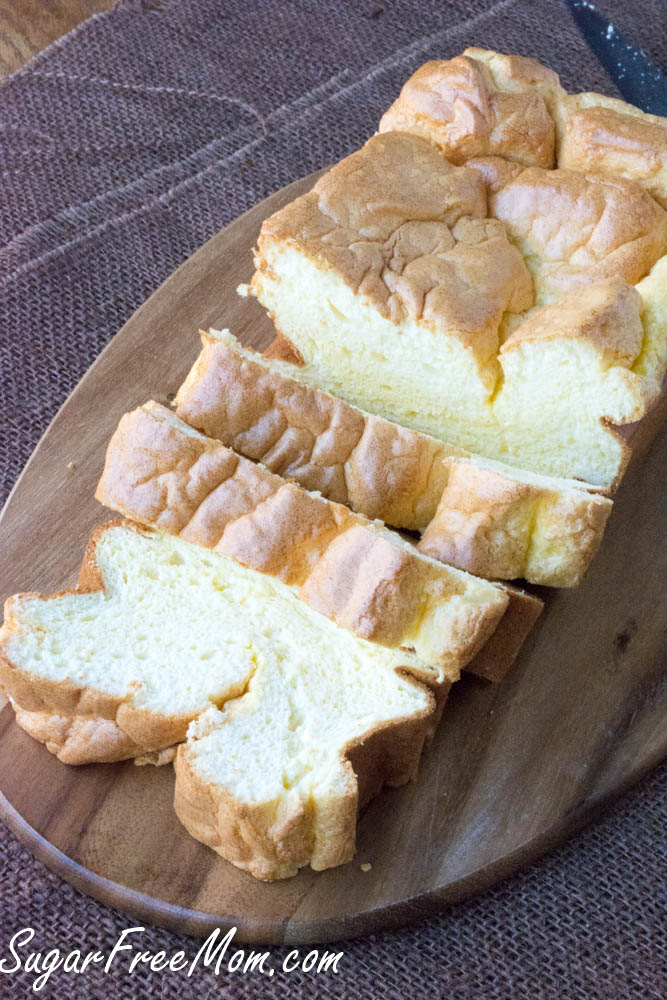 I really hope you will try my version, but if you're just not willing I've got some great recipes you might enjoy! My Fat Head Pizza Dough recipe can be used for bread, these Cheddar Sandwich buns are great too!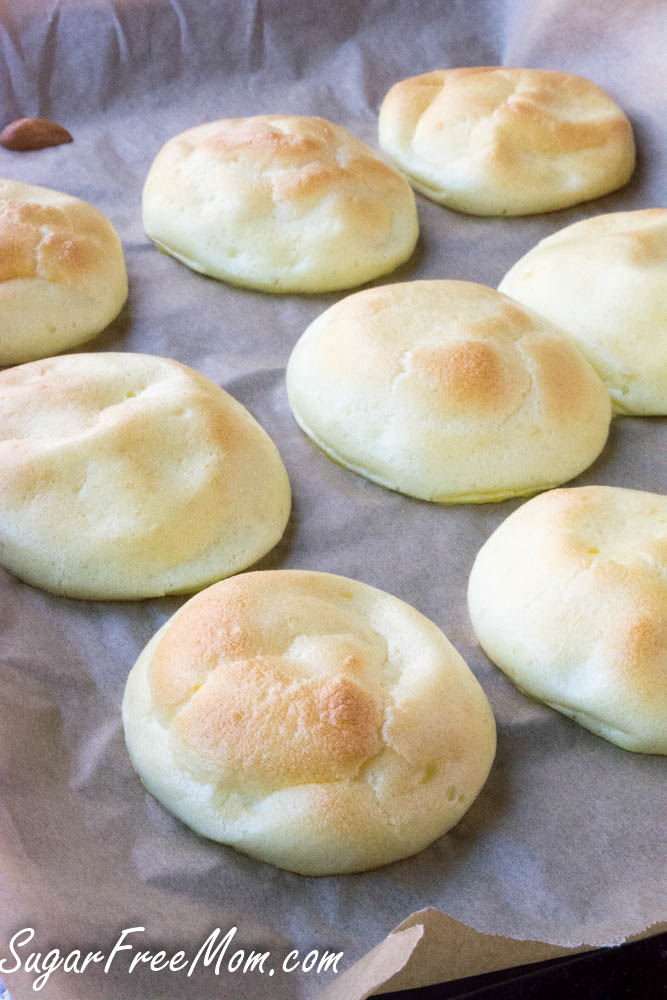 So I guess maybe it's not quite considered "Cloud Bread" because if you are doing an egg fast, such as this one my blogger friend Lisa did, I'm not quite sure sour cream would be allowed.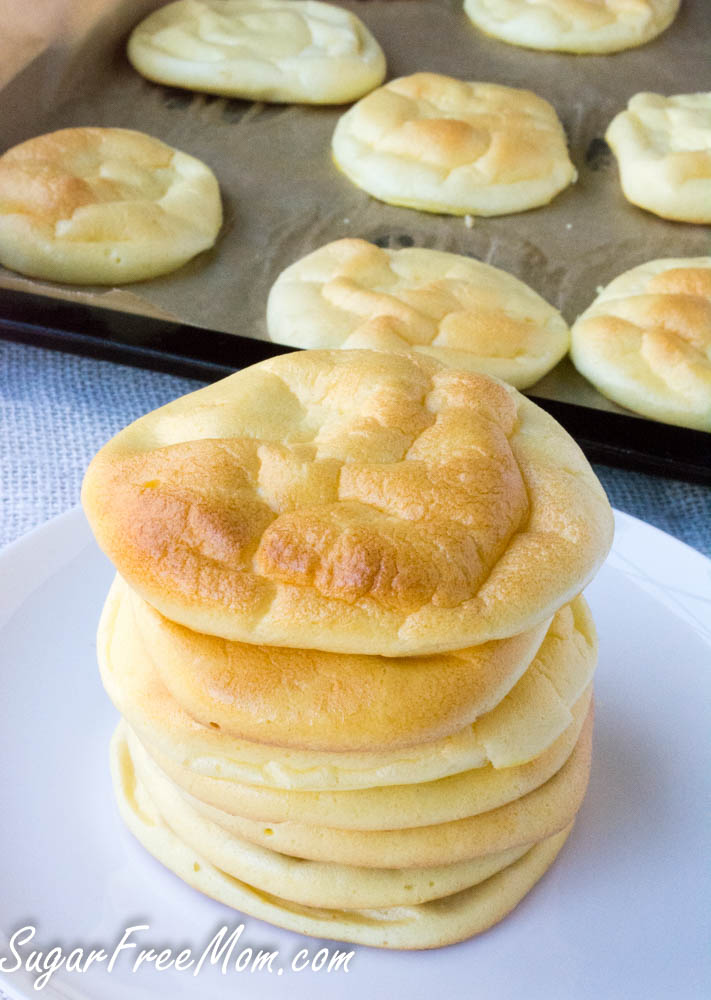 But I'm not on an egg fast and this really needed some substance to it to make it work for me and for the family. So you could try it without the protein powder or use something else besides sour cream if you are doing an egg fast and see how you like it, then try it with the protein powder and tell me how much you love it! There will NOT be any "sticking to the roof of your mouth" with this recipe!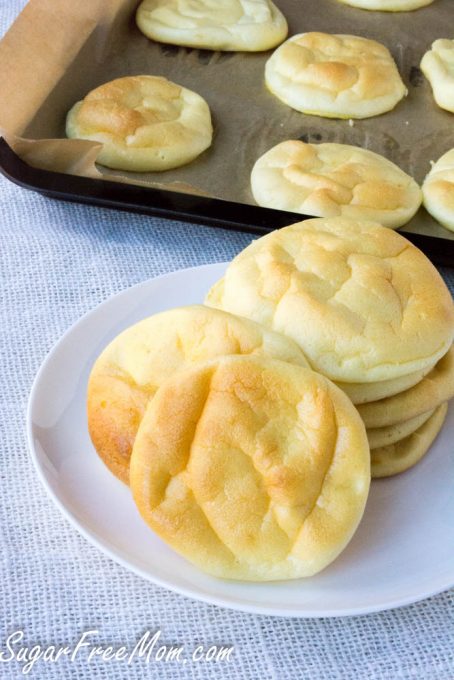 Here's my video to show you how this is to make!

Brenda's Notes:
If you decide to make these as ROLLS  you should be able to get 18. The nutrition info will change to: Calories: 56, Total Fat: 3g, Sat. Fat: 1.3g, Cholesterol: 65mg, Sodium: 74mg, Total Carbs: 0.5g, Dietary Fiber: 0g, Sugars: 0.4g, Protein: 5g.
PLEASE NOTE: When making these as rolls and not as a loaf, the cooking time will only be 20- 30 minutes.
If you need this to be dairy free, try subbing the sour cream with coconut cream or make your own homemade dairy free sour cream and use egg white protein powder.
Here's my French Toast Recipe using this loaf!
UPDATED May 2017: The orginial recipe used only 1/3 cup or 1.5 ounces of whey protein powder. I've made this quite a few times since I posted this recipe and have increased the protein powder to see if it would make a difference in how well the loaf kept it's height. I adjusted the whey protein powder just slightly and it results in a better loaf. I also have found cooking loaf on the middle shelf of the oven is best to cook through properly and mine was done in 50 minutes as opposed to 60min. When I've made the sandwich buns they were done in 20 minutes as opposed to 30 min.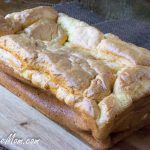 Low Carb Cloud Bread Loaf
Total Time
1
hour
5
minutes
Ingredients
6

eggs

separated

1/2

tsp

cream of tartar

6

ounces

170g sour cream

1/2

tsp

baking powder

1/4

tsp

garlic powder

1/4

tsp

onion powder

1/4

tsp

salt

1/2

cup

1.8oz (50g)whey protein powder(I used Jay Robb's vanilla)
Instructions
Preheat oven at 300 degrees F.

Place your egg whites in a stand mixer with the cream of tartar and whip until stiff peaks. Set aside.

Place the egg yolks in a bowl with the remaining ingredients and stir well to combine.

Fold in a small amount of egg whites into the yolk mixture a little at a time until it's all incorporated.

Bake on the middle shelf of oven for 50- 60 minutes or until a toothpick or skewer stick in the center comes out clean. (See notes above if you are making rolls, cooking time changes.)

Allow to cool before removing and slicing.

Best if toasted.

Keep refrigerated.
Nutrition Facts
Low Carb Cloud Bread Loaf
Amount Per Serving (1 g)
Calories 84
Calories from Fat 41
% Daily Value*
Total Fat 4.5g 7%
Cholesterol 97mg 32%
Sodium 111mg 5%
Total Carbohydrates 0.8g 0%
Protein 7.5g 15%
* Percent Daily Values are based on a 2000 calorie diet.