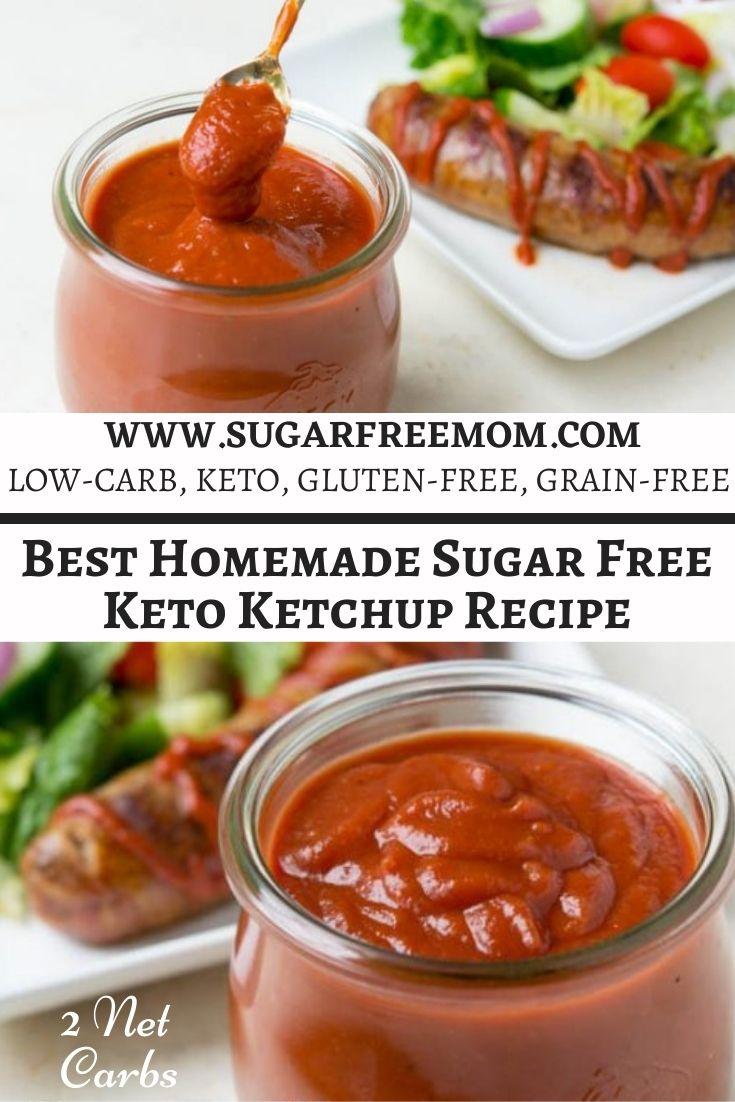 This Easy Blender Ketchup is Made with No Added Sugars! It's quick and easy, gluten free and low carb! I've also provided the stove top version of my original recipe if you prefer!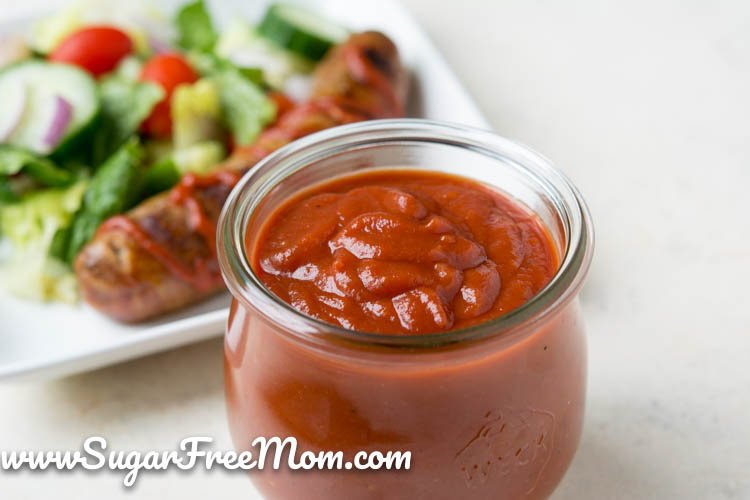 Homemade Sugar-Free Ketchup
Is ketchup your favorite condiment? Do your kids love regular ketchup? You can stop buying store-bought ketchup from now on and make your own homemade ketchup that is a healthier, better for you, version at home, quickly and EASILY!!
This healthy ketchup recipe with simple ingredients, makes a lot so you won't need to make it often. My younger two children who are quite picky have given it a stamp of approval! I love that it has no high fructose corn syrup or artificial sweeteners!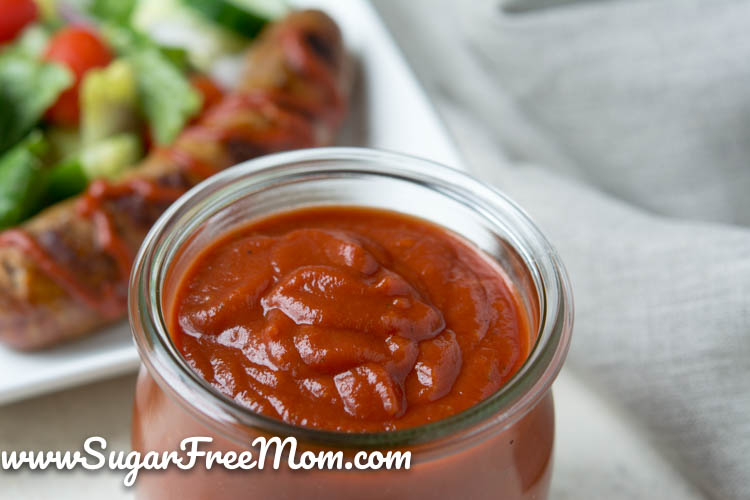 It's just the right, luscious, smooth texture as what the kiddies are used to. You can use honey if you prefer it over my sugar-free sweetener of choice.
I'd say ½ a cup if you think the family needs it as sweet as store bought tomato ketchup. With the amount I used my kids liked it this way just fine, but it's definitely not as sweet as bottled ketchup.
I think once you taste it, you'll never go back to buying any store bought ketchup again!
But of course if you don't have time to make your own homemade version, you can find a few sugar free ketchup options at your local grocery store.
The best sugar free ketchup for those on a keto diet or low carb diet that doesn't have artificial sweeteners, is Primal Kitchen ketchup in my opinion. They also have another popular condiment, sugar free BBQ sauce!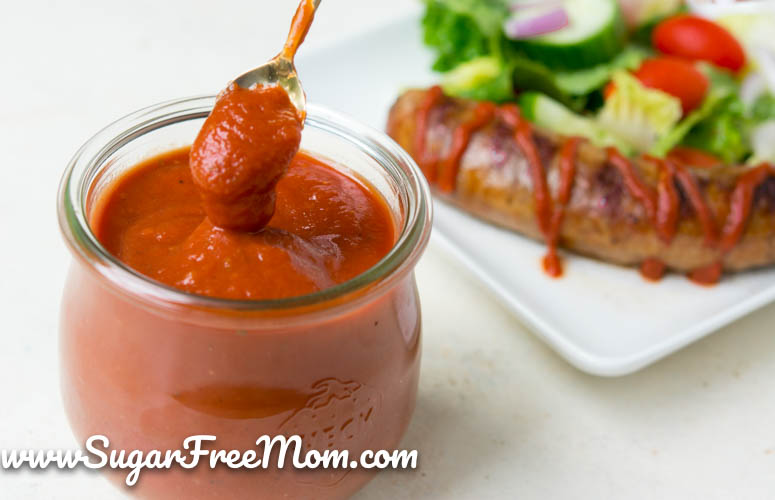 Sugar and Carbs in Traditional Ketchup
The basic ingredients in ketchup are tomatoes, spices, water, oil and vinegar but unfortunately, store bought ketchup always contains sugar making the sugar content quite high.
If you're looking to reduce your daily sugar intake, the best thing to do is look for sugar in the main ingredients listed on the jar. My rule of thumb is if sugar is listed within the first 5 ingredients, I do not buy it.
Not only is the grams of sugar and carbs higher in store bought ketchup, the sugars in Heinz are highly inflammatory.
High fructose corn syrup and corn syrup should be avoided when you are trying to balance your blood sugar so you can stop the cravings and lose the weight.
Nutritional information in store bought ketchup Heinz based on one serving size which is one tablespoon:
Calories: 20
Carbs: 5g
Sugar: 4g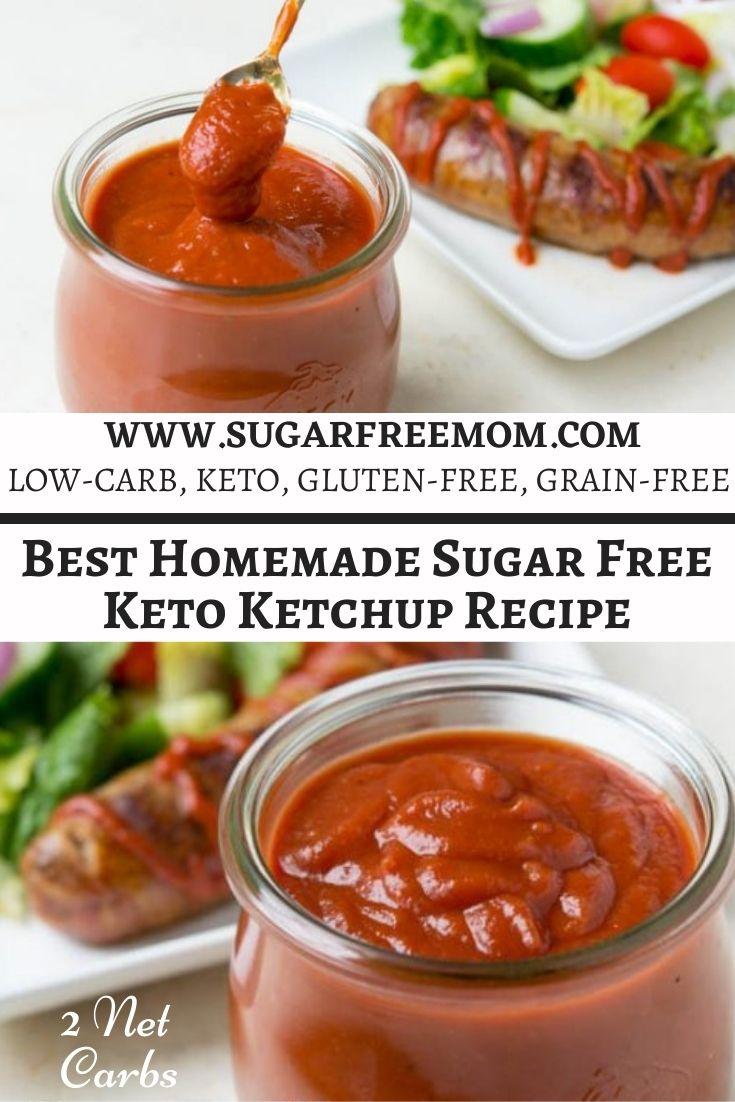 Carbs in our Homemade Ketchup Recipe
In my recipe card below the recipe ingredients you will see all the details but here's just calories, carbs and sugar.
Our serving size is 1 ounce:
Calories: 15
Carbs: 2g
Sugar: 1g
G Hughes Sugar Free Ketchup isn't any better than Heinz. Though it doesn't include high fructose corn syrup, it does include modified corn starch and Sucralose which is shown in studies to spike blood sugar just as much as regular cane sugar.
It's just a good idea to make it at home so you can to avoid these common ingredients that won't help you when it comes to weight loss and balancing blood sugar.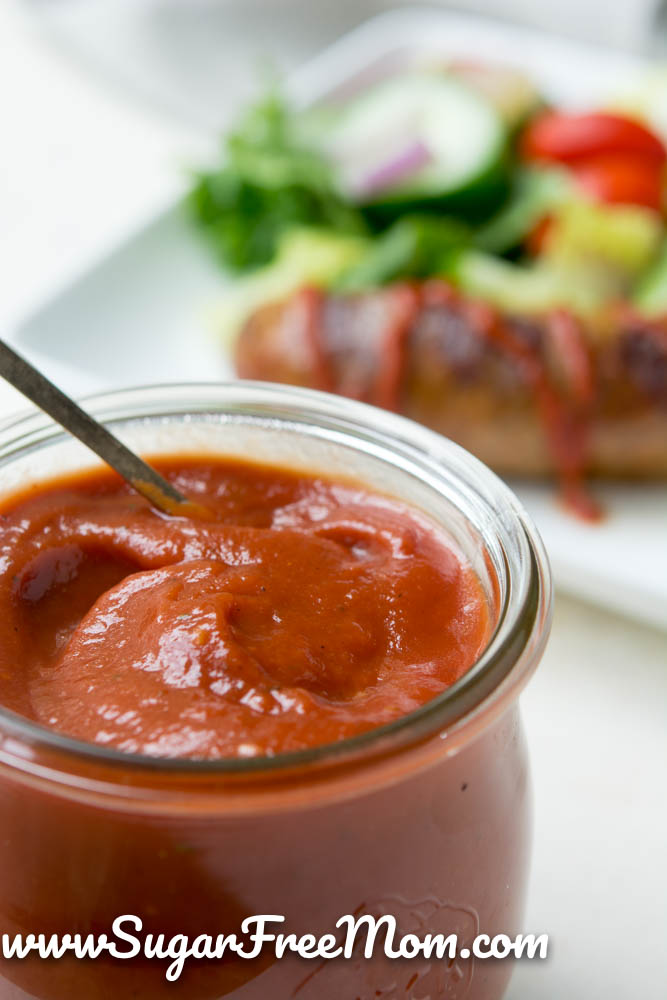 Best Natural Sugar Substitutes
I prefer using keto sweeteners that have natural ingredients. My preferred sweeteners are Swerve, Allulose, Monk Fruit sweetener, and pure Stevia.
Feel free to use my Natural Sweetener Guide & Conversion Chart if you would like to swap out the sweetener I used in my sugar-free ketchup recipe.
You could substitute maple syrup, coconut sugar or honey, but all of those are still sugar, have high carbs and will spike your blood sugar.
Equipment for Low-Carb Ketchup Recipe
I've made this in my high powered blender (Vitamix) without cooking anything on the stove but I eliminated the fresh onion and used some dried minced instead. Using the blender and you can make this faster anytime you want and it still have a rich tomato flavor.
You could probably also use an immersion blender or food processor.
You can certainly still make it on the stove and I do think it provides a better mingling of flavors but in the blender is great for when you run out and have no time!
This recipe was originally posted in May of 2013. I felt that it needed to come out of the archives with new photos and video because it is such a great recipe and deserves to be featured!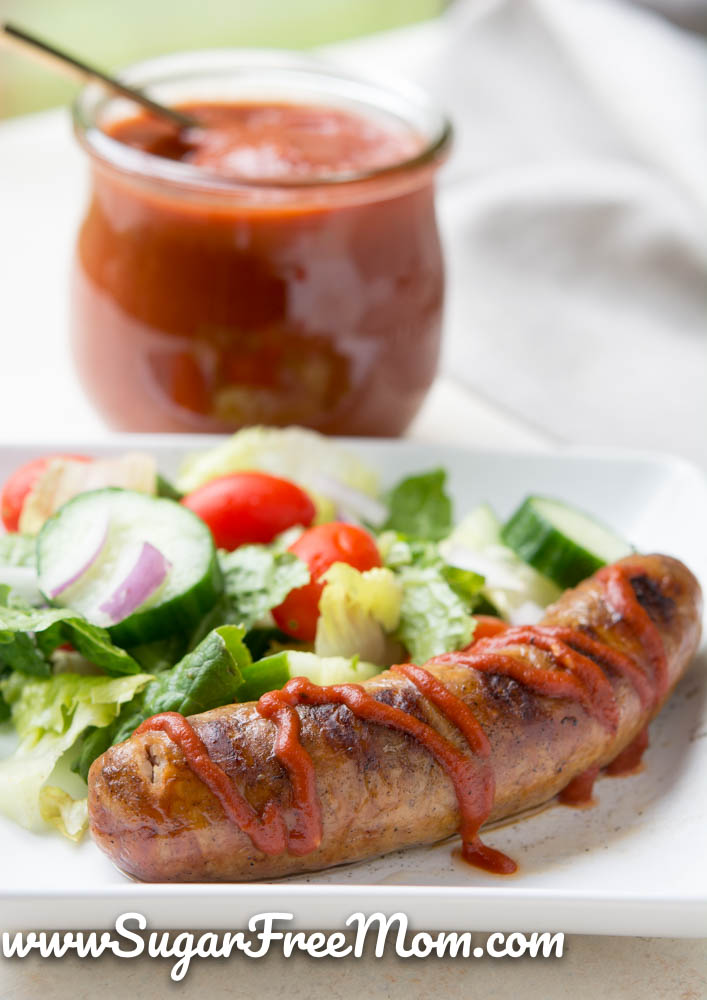 How to Store Low Carb Ketchup
I bought this cute Ketchup bottle to put mine in to be able to easily serve our own ketchup. I also used a Mason Glass Jar to store the rest in the fridge for up to 6 months.
I promise you, this homemade ketchup is the real deal and your taste buds will be thanking you!
In my new book, The 30 Day Sugar Elimination Diet, I've got an amazing recipe for French Fries using Rutabaga and those who have made it said, they had no idea rutabaga could taste just as good as sweet potato fries or white potato fries with a lot less carbs!
Homemade Keto Ketchup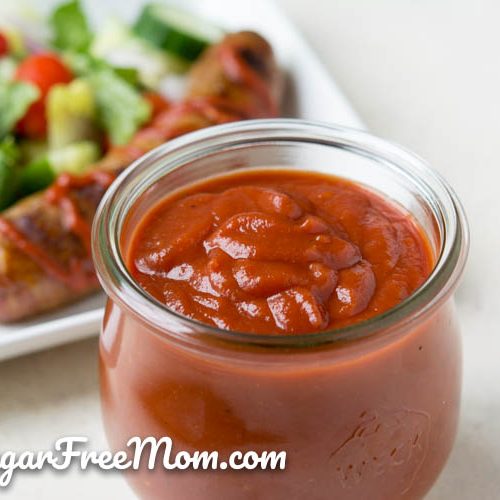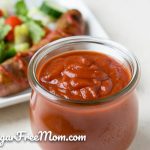 Print
Healthier Homemade Tomato Ketchup
Instructions
Add all ingredients to a blender and pulse until desired consistency.

Taste and adjust spices and sweetener if needed.

Store in airtight containers in the fridge.
For Stove Top cooking:
Heat oil over low heat, saute garlic until fragrant.

Add 1 cup chopped onion and cook until softened.

Pour in vinegars, sweetener of choice and salt.

Bring to a boil over medium heat.

Add tomato puree and paste.

Bring to a boil.

Add in cloves and oregano.

Cook until reduced and sauce thickens about 15-20 minutes.

Pour into blender and blend until smooth.

Refrigerate. Makes 30 ounces if cooking on stove top. If not cooking and doing blender method, it's 38 ounces. Nutrition Info is for 38 ounces.

Enjoy over hot dogs, kielbasa, sausage, eggs or our low carb French Fries!
Nutrition
Serving:
1
ounce
|
Calories:
15
kcal
|
Carbohydrates:
2
g
|
Sodium:
102
mg
|
Potassium:
138
mg
|
Sugar:
1
g
|
Vitamin A:
175
IU
|
Vitamin C:
3.2
mg
|
Calcium:
6
mg
|
Iron:
0.5
mg