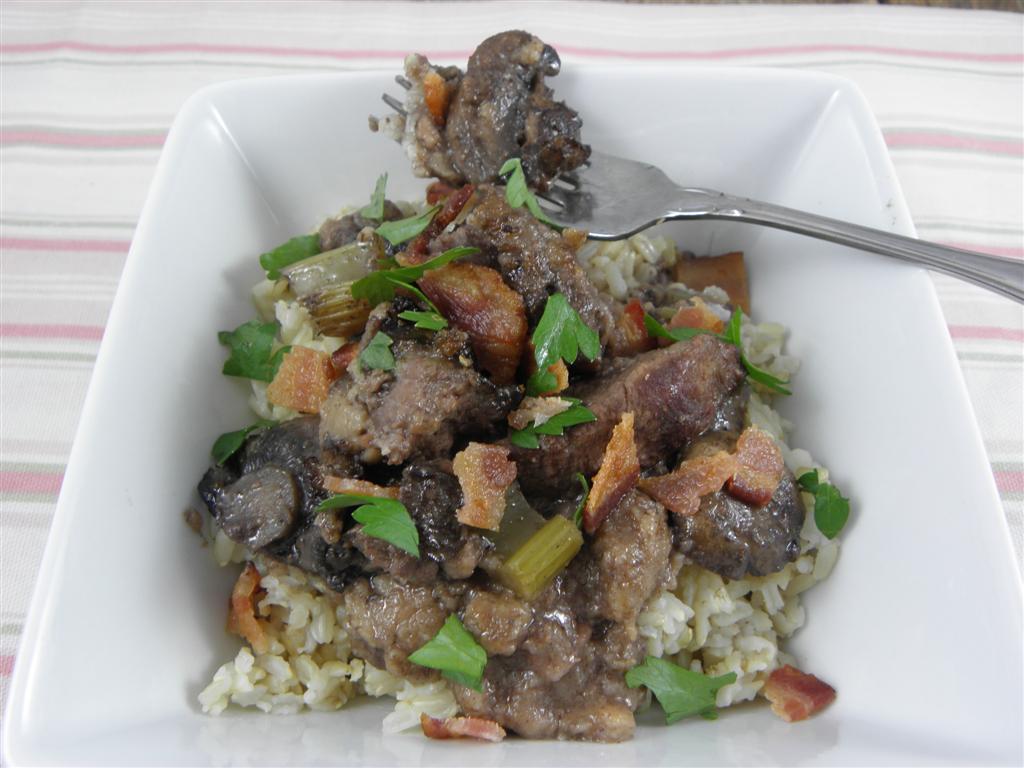 I don't eat beef very often. It's not that I don't like it, I love it in fact! But it can be high in calories and often is expensive for a family of five. Once in awhile, mostly in the summer, we will have sirloin tips grilled with lots of veggies. More nights than not, we are eating chicken, turkey, or fish for dinners.
When we do have beef that isn't ground for meatloaf, I need it to be very tender otherwise my kiddies won't eat it. They often complain of sirloin tips being too chewy, no matter how perfectly the hubby has grilled it.
This recipe take a little bit of time to get INTO the crock pot, but it is well worth it to have the most tender, melt in your mouth meat, you have ever had!
This recipe calls for 2 pounds of beef which is 32 ounces. I have it figured out for 8 servings which is approximately a 4 oz weight serving size which is really plenty for the average woman to consume for dinner in my opinion anyway. Now if you don't have a scale to weigh your meat and you are hoping to just eyeball it, I can guarantee you will be OVER about 2 or 3 ounces more than you think. If you want to lose weight, the only way I have done it successfully is not by guessing on portion size, but by actually weighing everything.
BUY.A. GOOD.SCALE. It will be the best investment you have ever made to continue to lose and maintain that girlish figure! Mine is in plain view on my counter every day. Tucking it away so you won't see it is not a good idea friend. Out of sight, out of mind is really true!
Be honest, do you own a scale? If so, do you faithfully USE it?
Nutrition Info
Servings: 8* Calories: 237* Fat: 11g* Fiber: 0* Carbs: 2g* Protein: 25g* Points+: 8*
Crock Pot Beef Burgundy
[sc:Ziplist]
Ingredients
2 lbs. sirloin tip steak, cubed
¼ c. white whole wheat flour
2 c. red wine
4 slices bacon, chopped ( I used Turkey bacon)
1 c. sliced mushrooms
1 c. celery, chopped
¼ tsp. pepper
1 tsp. salt
1 garlic clove, minced
¼ tsp. dried thyme
¼ tsp. dried marjoram
optional: chopped parsley
Directions
Marinate the beef in the wine in a bowl in the fridge for 3 hours. (you don't HAVE to do this step, but it makes the beef so much more flavorful and tender, really.)
Remove meat from bowl and save and set aside marinade.
Coat beef cubes in flour and set aside.
Cook 4 slices of chopped bacon in a saute pan and remove once crisp.
Brown the beef in the bacon juices then remove and place in your slow cooker.
Add celery and mushrooms to the same pan, saute a few minutes then add reserved wine, garlic, salt, pepper, marjoram, thyme.
Bring wine and veggies to a boil and cook for about a minute then pour over the meat in the crock pot.
Cover and cook on low 6-8 hours.
Top with crispy bacon and chopped parsley.
Serve over brown rice or pasta! Make some yummy whole wheat popovers and your family will be praising you to no end!