This post and photos may contain Amazon or other affiliate links. As an Amazon Associate I earn from qualifying purchases. If you purchase something through any link, I may receive a small commission at no extra charge to you. All opinions are my own.
Pumpkin Cream Cheese brownies made grain free, low carb, sugar-free, gluten free and completely FUDGEY!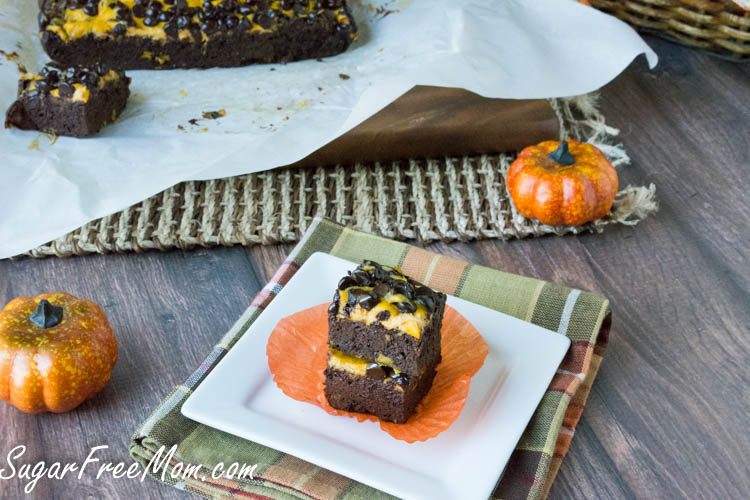 I am a lover of chocolate, there is no denying. I'm also a lover of fudgey brownies The combo together is a match made in heaven. I don't make or eat brownies often but when I do they've got to be dense and full of chocolate flavor or I feel I wasted my calories on a so so dessert.
My intent was not to make these grain free, but adapting from my Flourless Fudgey Brownies and it just sort of happened, not that I'm complaining or anything. 🙂 Less carbs is always a good thing in my humble opinion.
A few nights ago we took the kids to the movies to see Alexander and the Terrible, Horrible, No Good Very Bad Day. It's pretty much just like the book only more elaborate and completely hilarious. It was a great movie. One with the lesson that yes some days you just can't fix no matter how hard you try. And when those days come I too just want to move to Australia.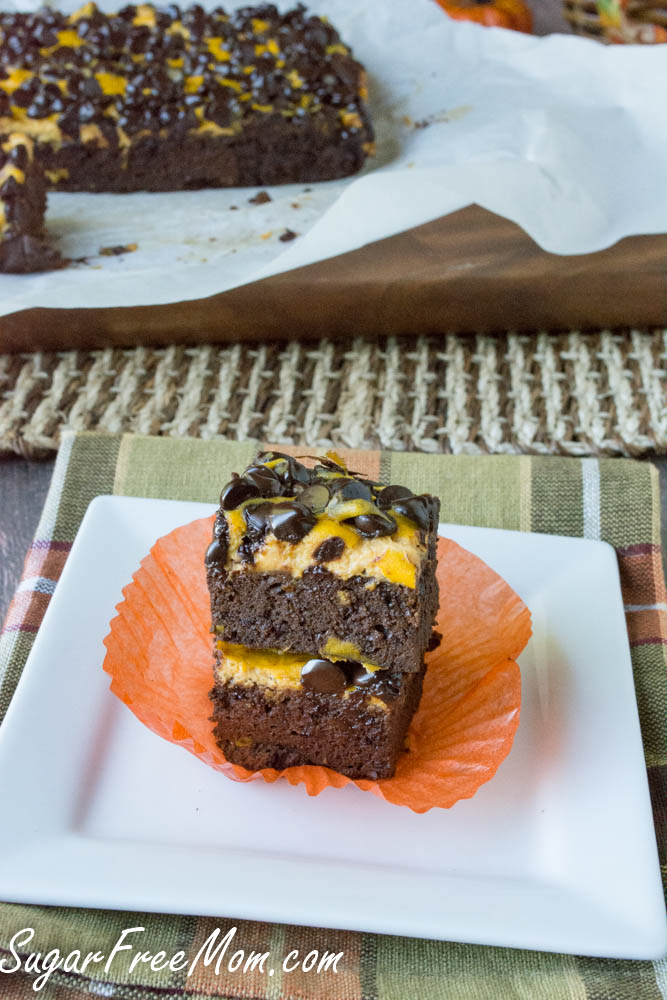 Look at that gorgeous orange color on top right?
You might be surprised that I didn't use food coloring to get that awesome orange color in the topping, it just sort of happened. Some days are like that. Everything just goes even better than you expected. The recipe rocks, the weather is perfect for pictures, the pics come out fantastic, the children are getting along marvelously and every picky family member says these are the best brownies ever.
Yep some days are like that.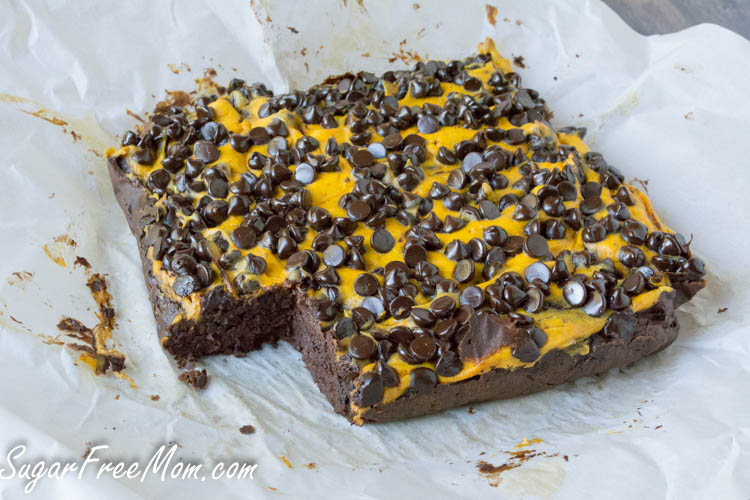 Yet some days are so not like the one I've just described. A bad nights sleep means a grumpy mom. An overcast day brings worry of picture taking success. That first cup of coffee you were so looking forward to got poured into a cup from yesterdays left over coffee with old cream still stuck in the bottom because you forgot to wash it but left it near the coffee pot and now you need to dump it out for fear of getting sick on curdled cream.
Yep some days are just like that and it's only 7 am.
I will try to move forward and recover before this day brings out the worst in me and my attitude. A brownie for breakfast sounds like a pretty good idea right about now don't you think?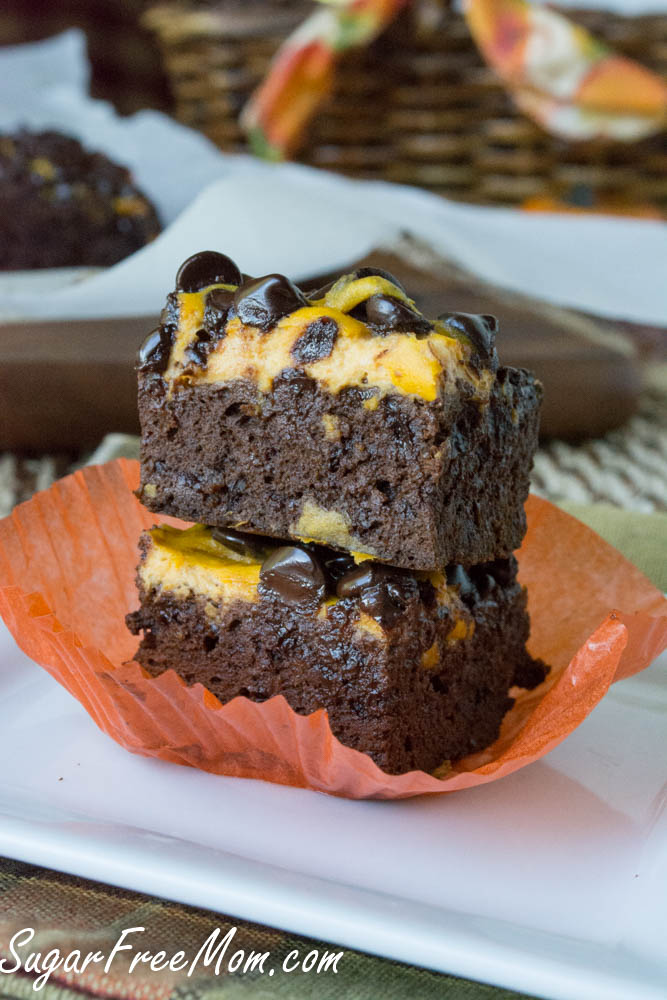 I can't say whether that first bite of a decadent chocolate fudge brownie with soft pumpkin cream cheese topping could change your day around from misery to magnificence, but it sure does make you feel like all is well in the world for just a few minutes.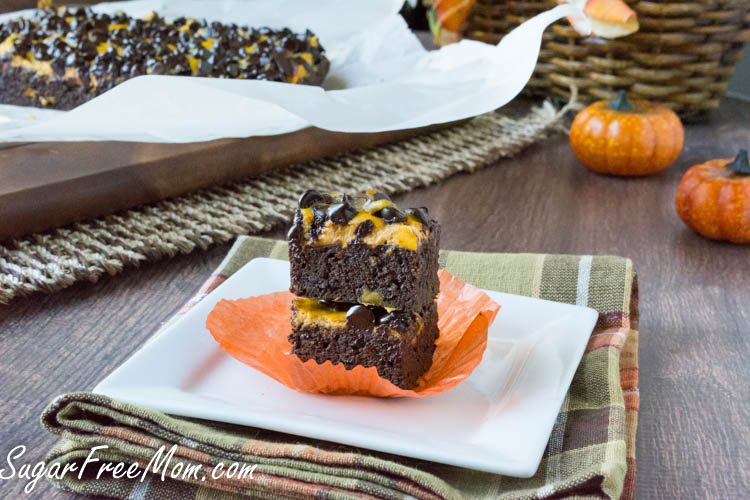 When the terrible, horrible, very bad days do come, in the end it's because of them that makes us all appreciate the very best of the best days and so I guess we all need a little of both to balance it all out.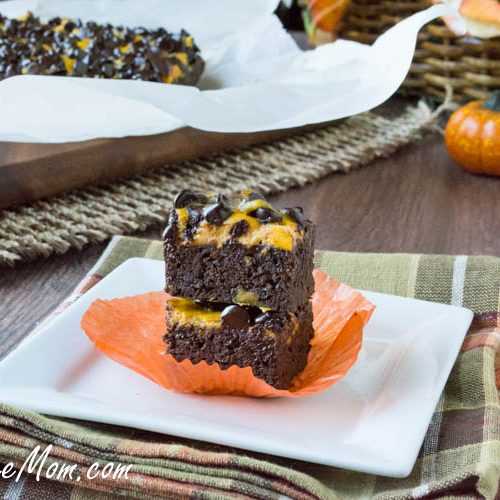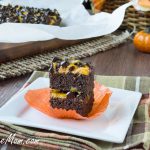 Grain Free Sugar-Free Pumpkin Cream Cheese Brownies
Ingredients
Pumpkin Cream Cheese Topping
4

ounces

cream cheese

1/4

teaspoon

liquid cinnamon stevia
Instructions
Preheat oven to 350 degrees.

Line an 8 by 8 baking dish with parchment paper.

Place 1 1/4 cup chocolate chips and 1 cup pumpkin into a food processor. (Reserve the rest of the chocolate chips and pumpkin for the topping.)

Add all the rest of the ingredients except topping ingredients and process until smooth and no lumps.

Spread the batter evenly into the baking dish.

In a stand mixer add the reserved 1/2 cup pumpkin, cream cheese and cinnamon stevia and blend until smooth.

Spread over the brownie batter in the pan. Sprinkle the remaining 1/4 cup chocolate chips over the cream cheese topping.

Bake 40-45 minutes or until a toothpick in center comes out clean.

Allow to cool 15-20 minutes before slicing.
Recipe Notes
I used Lily's Sugar-Free Chocolate Chips.
You can use another flavor of liquid stevia if you prefer, perhaps chocolate or vanilla. You can also leave out the stevia and add another sweetener of choice that equals about 3/4 cup of sugar.
Weight Watchers Points Plus: 5*
Nutrition Facts
Grain Free Sugar-Free Pumpkin Cream Cheese Brownies
Amount Per Serving (1 g)
Calories 166
Calories from Fat 119
% Daily Value*
Fat 13.2g20%
Cholesterol 25mg8%
Sodium 87mg4%
Carbohydrates 16.4g5%
Protein 4.1g8%
* Percent Daily Values are based on a 2000 calorie diet.