Crock Pot Gluten Free Chocolate Pumpkin Cake is made with no added sugar!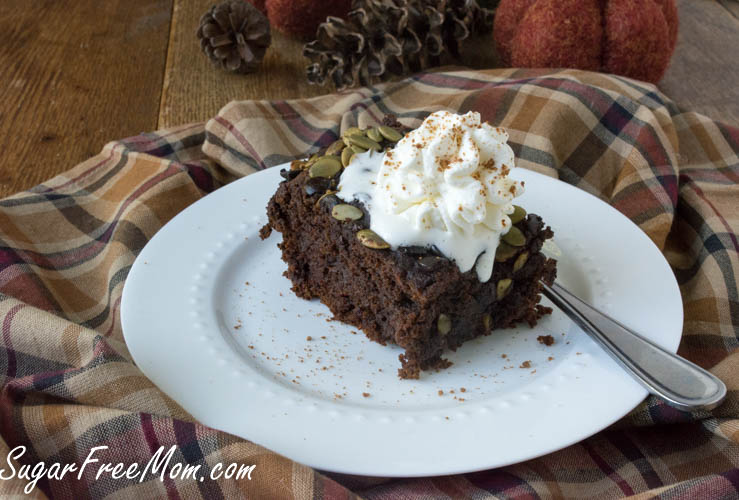 'Tis the season of all things with some pumpkin flare and this chocolate cake is undeniably a star, one to keep handy for not only for the fall season but any time of year. You're surprised it actually came out of a crock pot aren't you? Don't worry I have a picture of evidence to tame your skeptical mind.
It's not that I don't love to bake in my oven but the joy of being able to leave the house and not worry about something in the oven just melts my heart and wins me over every time. I'm in love with my crock pot and if I can easily bake a fabulous cake in the crock pot, I prefer it every time.
Baking in my crock pot was my new adventure this summer when I didn't enjoy heating my kitchen with the oven on. If it weren't for my crock pot, no baking would have happened. I made Crock Pot Chocolate Zucchini Cake and Crock Pot Chocolate Quinoa Brownies. The zucchini cake has been on my mind to adapt since I made it and knew it would be a piece of cake (pun intended) for switching out the zucchini for pumpkin. A few other tweaks to keep it moist and tender and perfection was inevitable. I hate to even say it but I think this cake is even better than the zucchini one!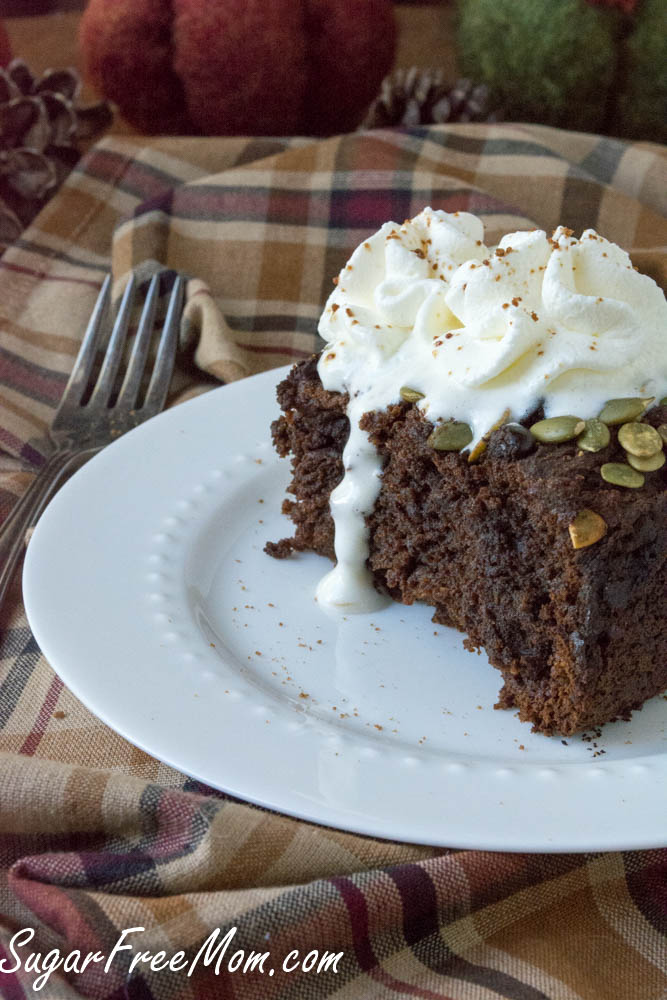 Of course the whipped cream I made begins to melt as I begin to photograph this lusciousness. Why didn't I wait until it cooled? Because clearly I have no patience for that and I needed a piece of this cake when it was still warm out of the crock pot!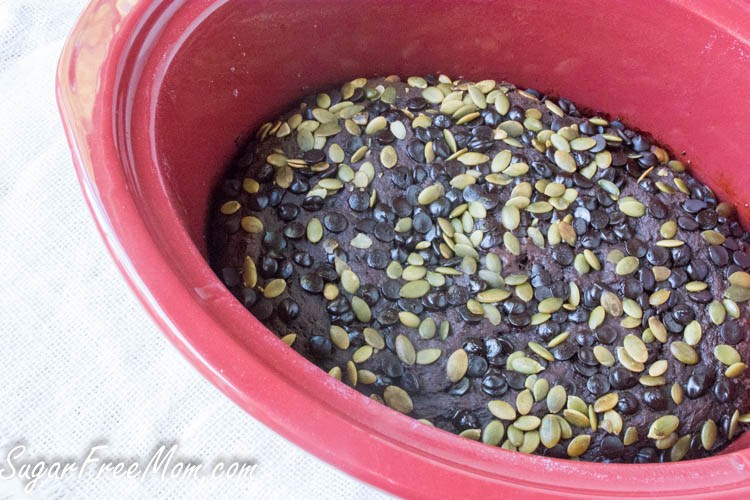 Here's your evidence my friends! It truly was made in my crock pot! Sometimes it's a bit tricky to remove that first piece out but don't follow my lead, let it COOL before trying to slice and remove and it will be just fine!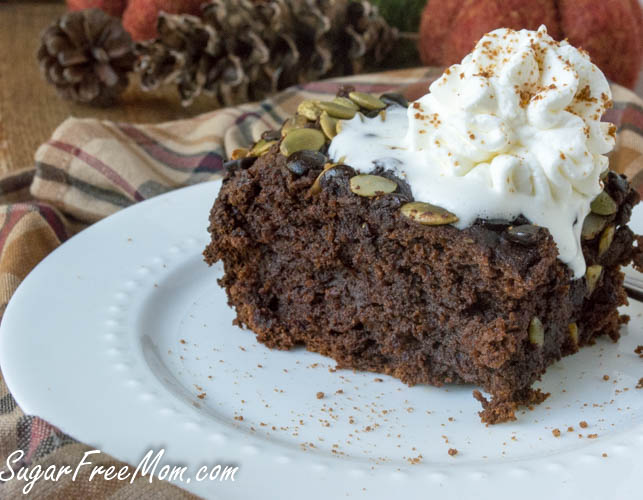 Brenda's Notes:
Although this is low in sugar, it is not diabetic friendly as the net carbs are high.
If you don't have Swerve or use erythritol you could eliminate it and just use about 2 tablespoons of this powdered stevia. You could also sub the Swerve for Truvia if you prefer.
If you don't have chocolate liquid stevia, vanilla or plain or cinnamon will work nicely.
Nutrition information is not including optional toppings.
If you and family have no allergies to wheat/gluten you can certainly sub the gluten free flour for whole wheat if you prefer.
This isn't an overly sweet cake which is how I prefer it. You could make this sweeter by adding ½ cup of chocolate chips in the batter. You could increase the liquid stevia to 2 teaspoons as well.
My favorite sugar-free chocolate chips are from the brand Lily's found at Whole Foods or online.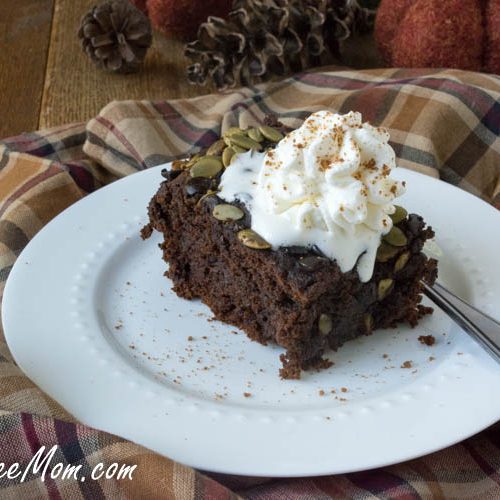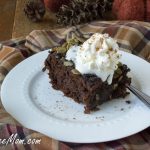 Print
Crock Pot Gluten-Free Chocolate Pumpkin Cake
Ingredients
Optional Topping: ⅓ cup sugar-free chocolate chips, ¼ cup pepitas
Instructions
Whisk together the first 7 dry ingredients. Set aside.

Add the rest of the ingredients to a stand mixer and blend until combined.

Slowly pour the dry mixture into the wet in the stand mixer and blend on low until incorporated.

The batter will be thick!

Grease your crock pot then spread the batter onto the bottom. To make spreading easier, wet the back end of a spoon or spatula and try to make an even level.

Add toppings if desired.

Cover and cook on low 3 ½ hours or until toothpick in center comes out clean.

Uncover and allow to cool 30 minutes before slicing.
Nutrition
Serving:
1
g
|
Calories:
213
kcal
|
Carbohydrates:
31.1
g
|
Protein:
4.4
g
|
Fat:
9.2
g
|
Saturated Fat:
4.5
g
|
Cholesterol:
50
mg
|
Sodium:
172
mg
|
Fiber:
4.1
g
|
Sugar:
1.8
g