Crock Pot BBQ baby back ribs are made healthier and without added sugar! They're the ultimate football food! Perfect for the Super Bowl or any party you're having!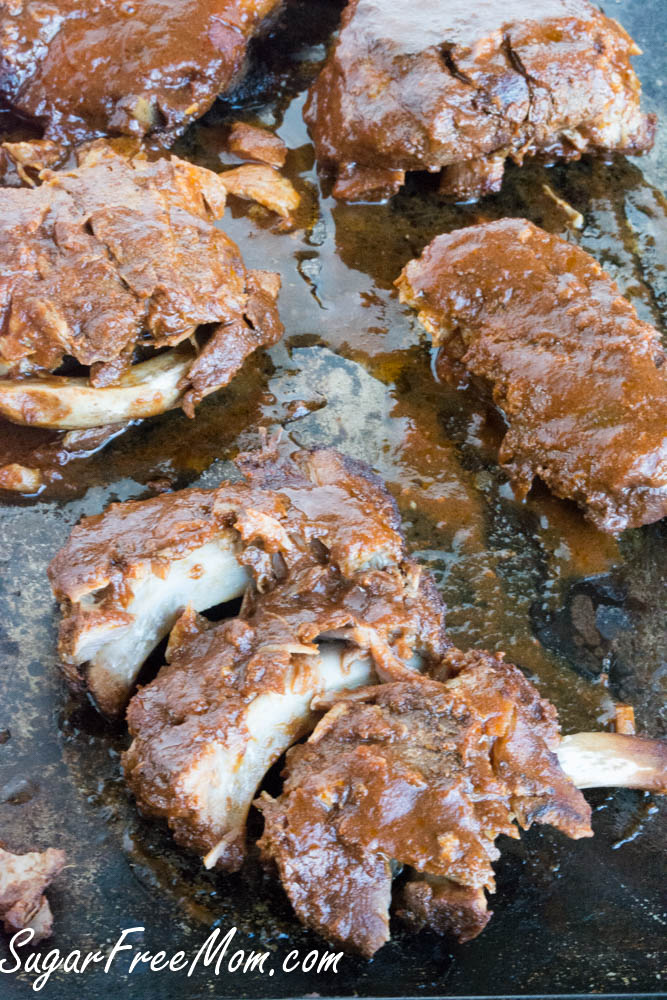 I can't think of anything more fun to eat then finger licking good ribs!
I mean who can resist right? When you're eating low carb or sugar-free most sauces that ribs are made in are full of added sugars. Bottled barbecue sauce is full of sugar as well. Sure it's easy to throw in a bottle of BBQ sauce with ribs and call it a done deal in your crock pot, but making sugar free ribs at home is much easier than you think.
I have a confession to make, we are not much of a football loving watching family. We will watch the Super Bowl if our local Patriots team is in the play offs but that is about it.
My man is an outsdoors man. You know the type, camper, fisher, hunter type man. Sports were never really his thing.
Even as a child the only sport we watched was soccer because my Italian dad was a soccer player a long time ago. He never really got into watching sports when he came to the States so as a child neither did I.
To be honest I'm kinda glad I didn't marry a man who needed to watch football or any sport for that matter whenever it was the weekend.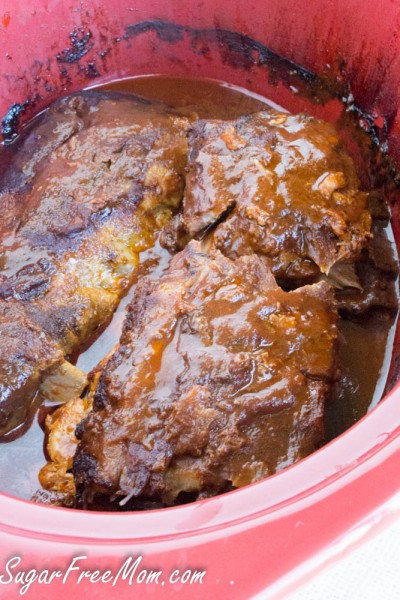 The only tradition we do stick with is awesome finger foods when the Super Bowl is on and this recipe is the ultimate!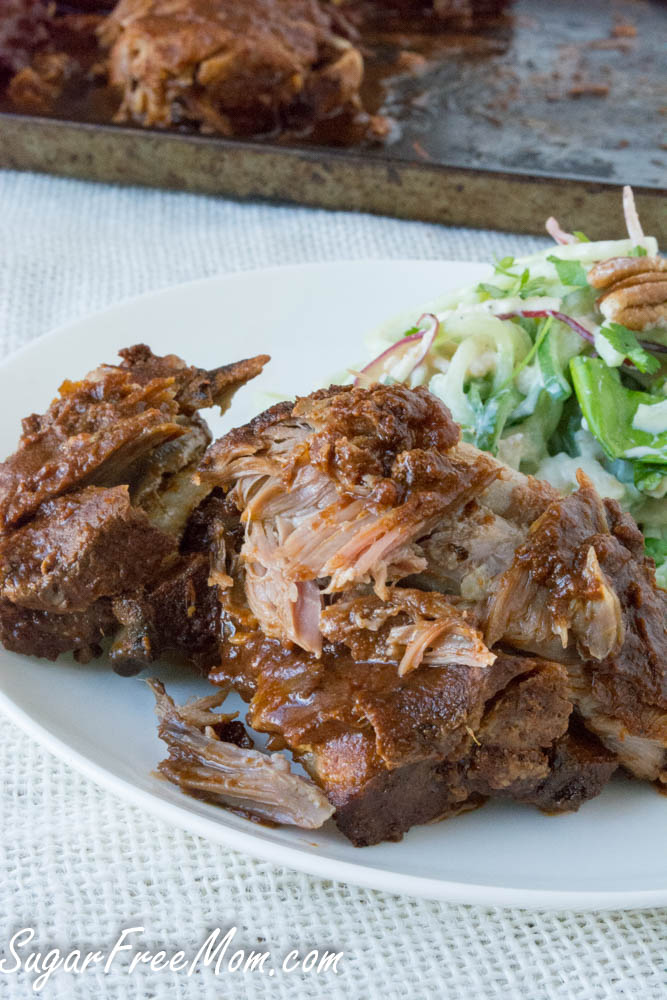 Perfectly tender after a good 10 hours. The sauce is cooked in the crock while the ribs are going so it's the easiest thing to coat them once they are cooked and then you've got this amazing looking pot of succulent ribs with meat hanging off the bone waiting for you to pick it off.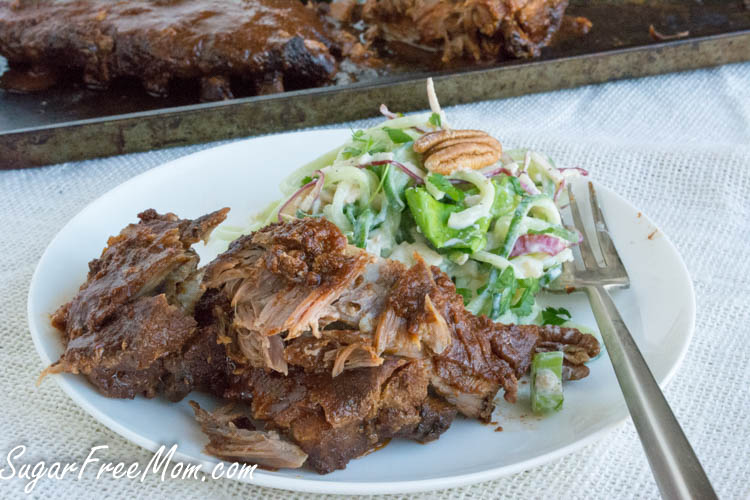 I made this for New Year's Day when we were having company and it was phenomenal. Everyone loved it. I added this pretty Spiralized Waldorf salad on my plate and felt completely satisfied.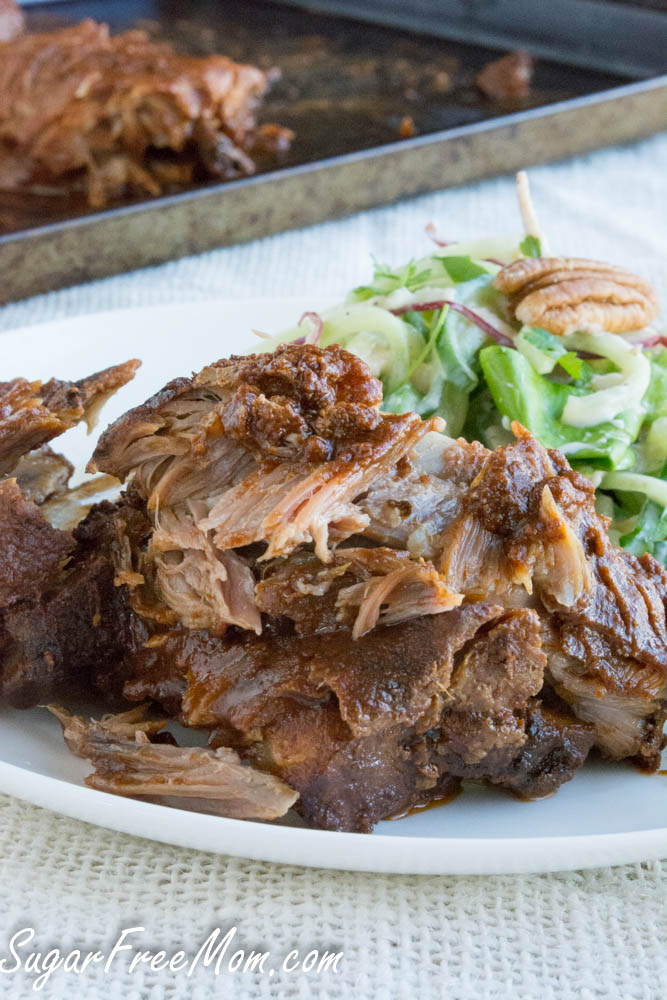 And don't forget; it is perfectly acceptable to lick your fingers when indulging in good ole' ribs!
Looking for more rib recipes? Check out these luscious looking Slow Cooker Braised Short Ribs! Maybe Korean flavors are more of interest; Check out these Slow Cooker Korean Short Ribs! If spicy is what you love these Slow Cooker Green Chile Ribs will be perfect!
Brenda's Notes:
The smoked paprika really is a must in this recipe. Regular paprika just won't do. Trust me, you need to get some because it makes quite the difference.
If you don't have balsamic you can use another vinegar, like apple cider.
You can find no sugar added ketchup at Whole Foods or make my homemade ones.
Nutritional Information was calculated using my Homemade Sugar Free Ketchup from my Cookbook.
You can also use this recipe for homemade ketchup and eliminate the the ¼ cup honey for Swerve.
The salad on the plate with the ribs is my newest recipe, Mason Jar Spiralized Waldorf Salad.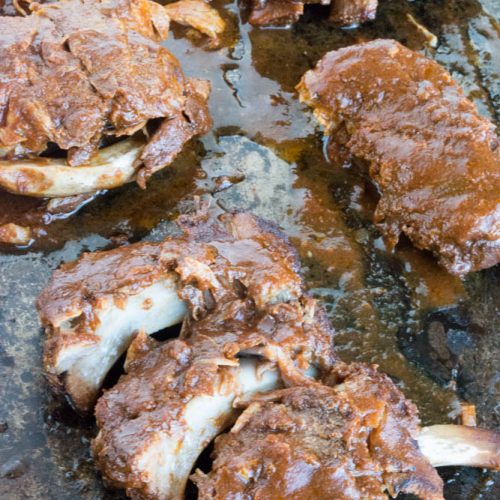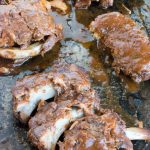 Print
Crock Pot Low Carb BBQ Baby Back Ribs
Instructions
Lay the baby back ribs on baking sheets. Set aside.

Stir together the salt, paprika, onion powder, garlic powder, cumin and pepper in a small bowl.

Spread this dry rub onto both sides of the ribs. Set aside.

Add the water, vinegar, ketchup, Worcestershire sauce, and maple extract into the crock pot and stir until combined.

In a small bowl stir together the salt, cocoa powder and stevia.

Whisk this into the crock pot then add the ribs on top of the sauce.

Cover and cook on low 10-12 hours or until meat is falling off the bones. During the last 2 hours of cooking coat the ribs with some of the sauce.

Coat the ribs with the rest of the barbecue sauce before serving.
Nutrition
Serving:
6
g
|
Calories:
396
kcal
|
Carbohydrates:
4.5
g
|
Protein:
26
g
|
Fat:
30.3
g
|
Saturated Fat:
10.5
g
|
Cholesterol:
105
mg
|
Sodium:
942
mg
|
Fiber:
0.3
g
|
Sugar:
2.4
g