Crock Pot Cabbage Roll Soup is a comforting, hearty, but keto, low carb meal you can make any weeknight!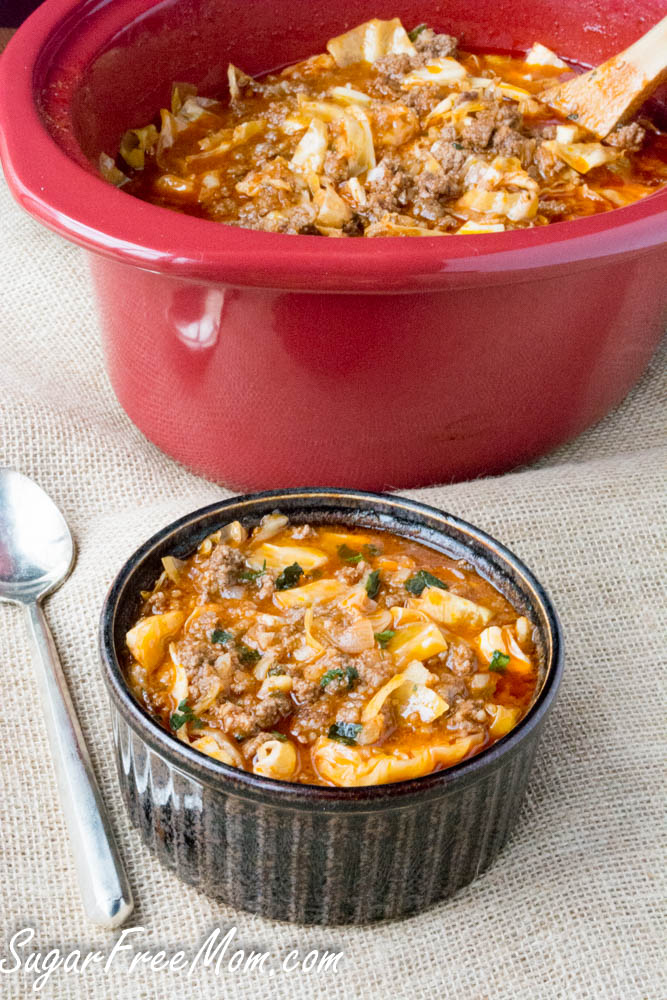 Cabbage Roll Soup
You may or may not be a cabbage fan, but honestly you must try this recipe!
This recipe might just win you over. One of the most comforting meals on a cold winter's day made in your crock pot or just simmer on the stove, but either way it's a hearty meal for the whole family. Often cabbage roll soup has rice in it, but to make this keto friendly, I swapped it out with the infamous cauliflower and you will love how thick the texture is because of it. In fact I think you'll love it even more than traditional cabbage roll soup with rice!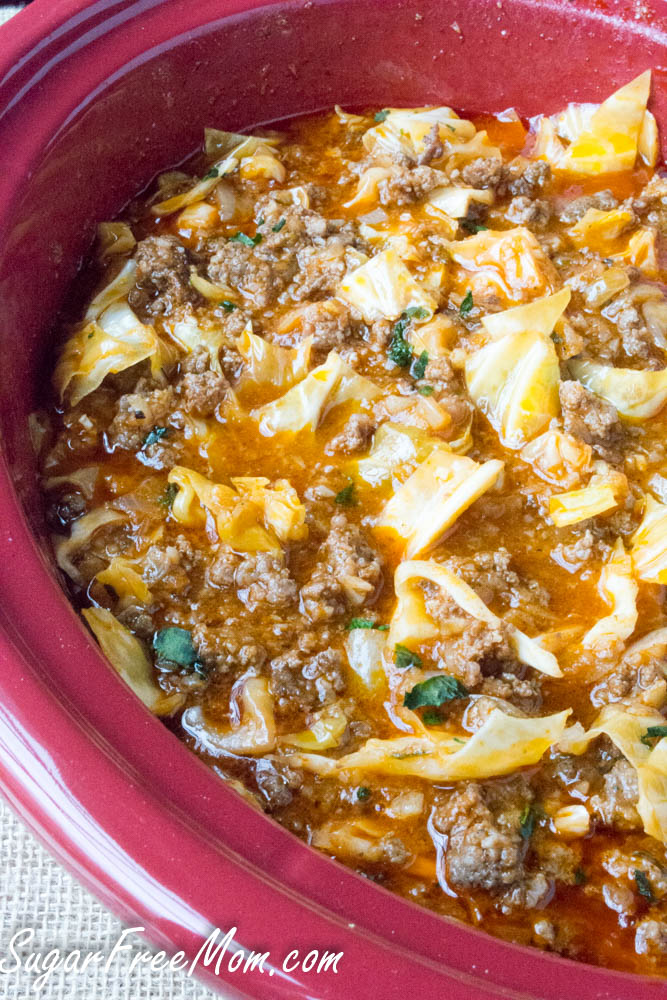 Did you make any New Year's Resolutions?
I don't. I do make short term goals though and feel with a goal, I make steps each day toward reaching it. A monthly or 3 month or even 6 month goal is far easier to see the end result than a whole year long resolution don't you agree?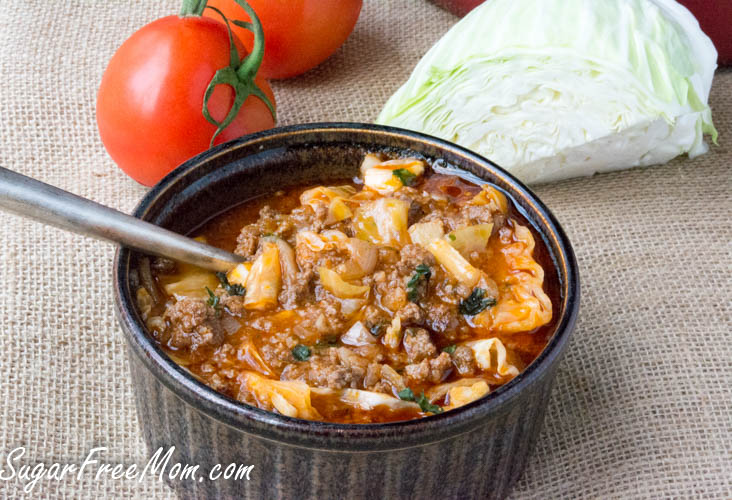 Low Carb Cabbage Roll Soup
My hubby finally made a decision (well New Year's resolution!) to remove the carbs from his diet. I have to say after many years waiting for my man to want to make healthier changes in his life I'm pretty excited about this.
Oh don't misunderstand though, he eats everything I make at home. It's when he's not home, he chooses his love of carb and sugar laden foods and goodies. But making his favorite cabbage roll soup in a low carb version, I wasn't sure his reaction. I am happy to report, he absolutely loves my keto friendly cabbage roll soup!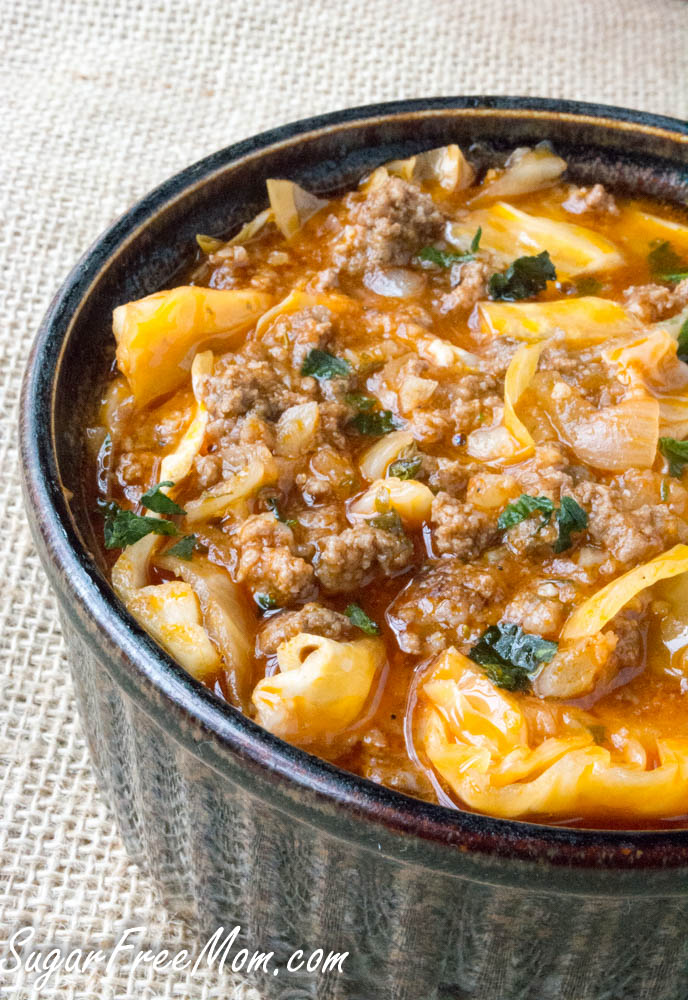 Getting your love to desire to be healthier has to be their choice and one I haven't tried to push because in all honestly you just can't make someone want something they don't want. Am I right?
But finally after many years he is focusing on the carbs and sugar and feeling much better all ready.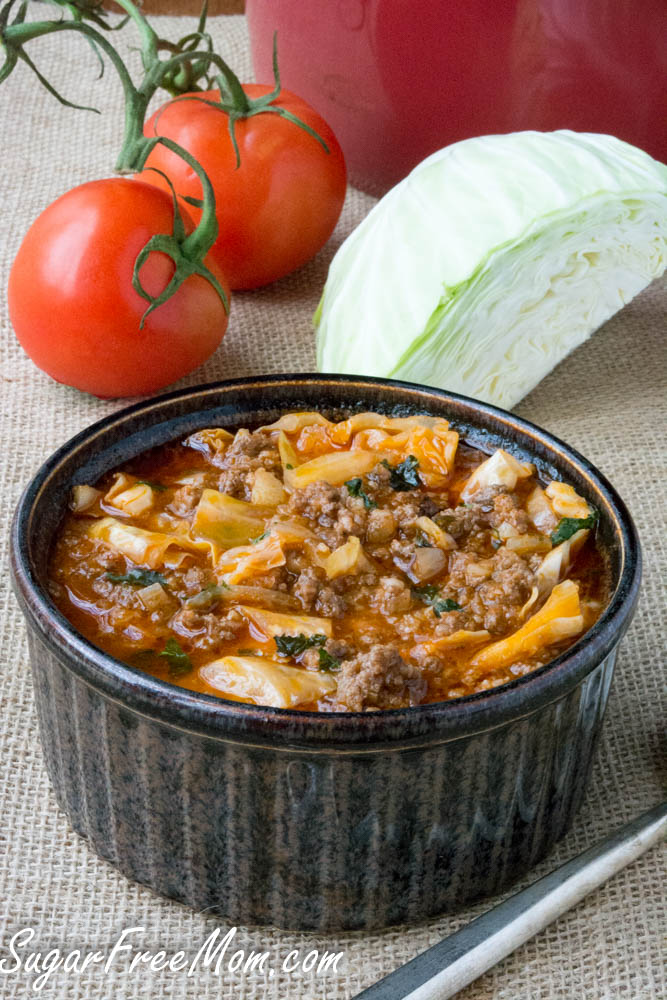 My job is making sure there is plenty of low carb and sugar free foods for him to eat at home that keeps him full and satisfied and this soup is one of those recipes. He had it for lunch every day last week! A few recipes he often asks for again and again is my Coconut Flour Bread, Peanut Butter Cups and my Keto Cheesecake.
The first time I served this was for a New Year's Day party with over 50 people and it went fast and everyone was asking for the recipe! I've made them all wait until today LOL!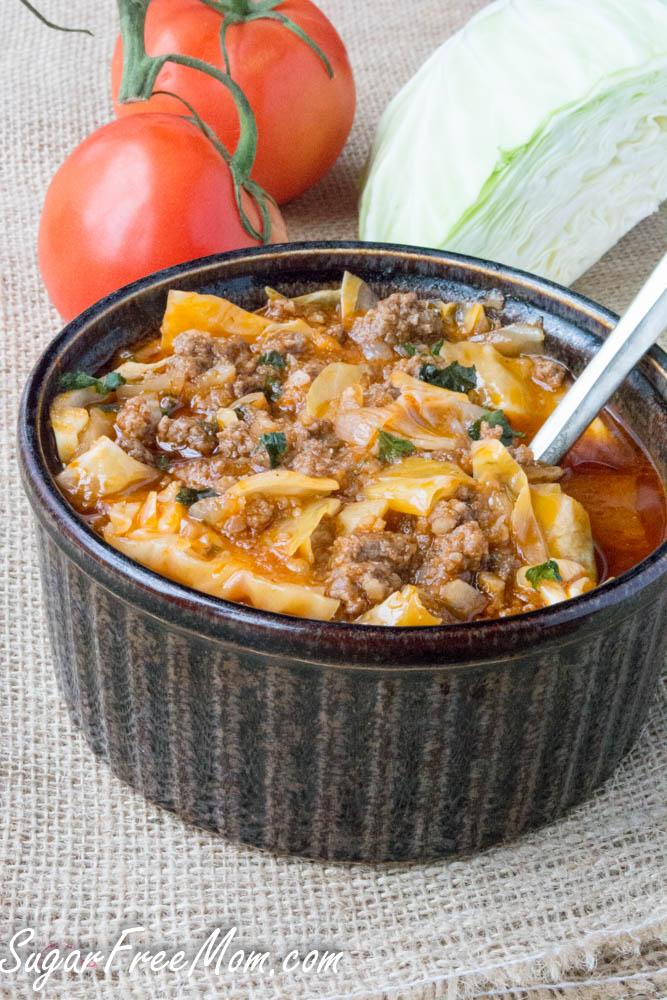 If you've had a reluctant family member not ready to embrace a sugar free and/or low carb lifestyle, try comforting recipes like this that they won't even notice is grain free and healthy! They will hopefully realize it's not that hard to give up processed carbs and sugar.
Crock Pot Cabbage Roll Soup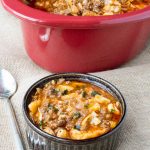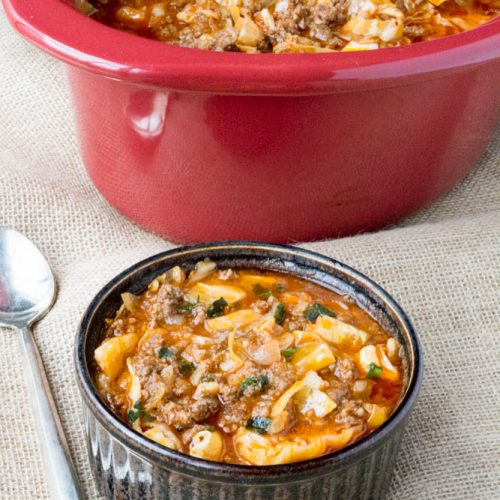 Print
Crock Pot Low Carb Un-Stuffed Cabbage Roll Soup
Ingredients
2

tablespoon

extra virgin olive oil

2

garlic cloves

minced

½

cup

onion

chopped

½

cup

shallots

chopped

2

pounds

ground beef

1

teaspoon

dried parsley

½

teaspoon

dried oregano

1

teaspoon

salt

1

teaspoon

pepper

16

ounces

low carb marinara sauce

I used Rao's brand

2

cups

cauliflower

riced

5

cups

beef broth

low sodium

8

cups

cabbage

sliced
Instructions
Heat olive oil and garlic on medium high heat.

Add onions and shallots and cook until softened.

Add ground beef and cook until browned and no longer pink.

Add seasonings to beef and marinara sauce.

Add the riced cauliflower to the beef mixture and stir until coated.

Pour the beef into the crock pot.

Pour beef broth into crock pot and add cabbage.

Stir to combine everything.

Cook on high 3 hours or low 6 hours. If you don't have a crock pot, simply cook ground beef in a dutch oven or heavy soup pot, follow recipe and simmer on low, covered for about an hour until cabbage is tender.
Notes
Net Carbs: 6g
Brenda's Notes:
This recipe was first published in January 2016 and updated with video in October 2018.
You could reduce the carbs more if you have just a cup as a serving instead of suggested serving.
If you choose to use rice instead of cauliflower then I would suggest 1 cup of cooked rice and eliminate the cauliflower.
You can eliminate the cauliflower in the recipe if you prefer. I feel it was a good substitute for rice which is usually in cabbage rolls. I think it thickened it nicely without being very noticeable in texture.
The sugar amount you see listed below is naturally made from the tomato sauce used.
You could simply use cooked rice in place of the amount of cauliflower I used.
I will tell you that not even my hubby noticed cauliflower was in this soup and everyone raved about it!
Are you unsure about all the sugar free sweetener options and what is the difference between sugar free versus low carb? Here's what you'll see shared on my blog as well. If you're all ready a sugar free fan, but need a little guidance in converting some recipes to sugar free, this post about all the differences with stevia plus a conversion chart might help you.
And last if you're ready to start the New Year, but need a little more help and guidance you can check out my Sugar Detox Plan .
You can subscribe for free by email so you won't ever miss any recipes I share on social media. 
Nutrition
Serving:
1.5
cups
|
Calories:
356
kcal
|
Carbohydrates:
8
g
|
Protein:
20
g
|
Fat:
26
g
|
Saturated Fat:
8
g
|
Cholesterol:
71
mg
|
Sodium:
990
mg
|
Potassium:
534
mg
|
Fiber:
2
g
|
Sugar:
3
g
|
Vitamin A:
60
IU
|
Vitamin C:
35.1
mg
|
Calcium:
60
mg
|
Iron:
2.6
mg