Do calories matter when you are on a ketogenic diet to lose weight? There is quite a bit of debate on this controversial topic and we discuss calories, the thermic effect of food, oxidative priority and much more in this post about calories on a keto diet.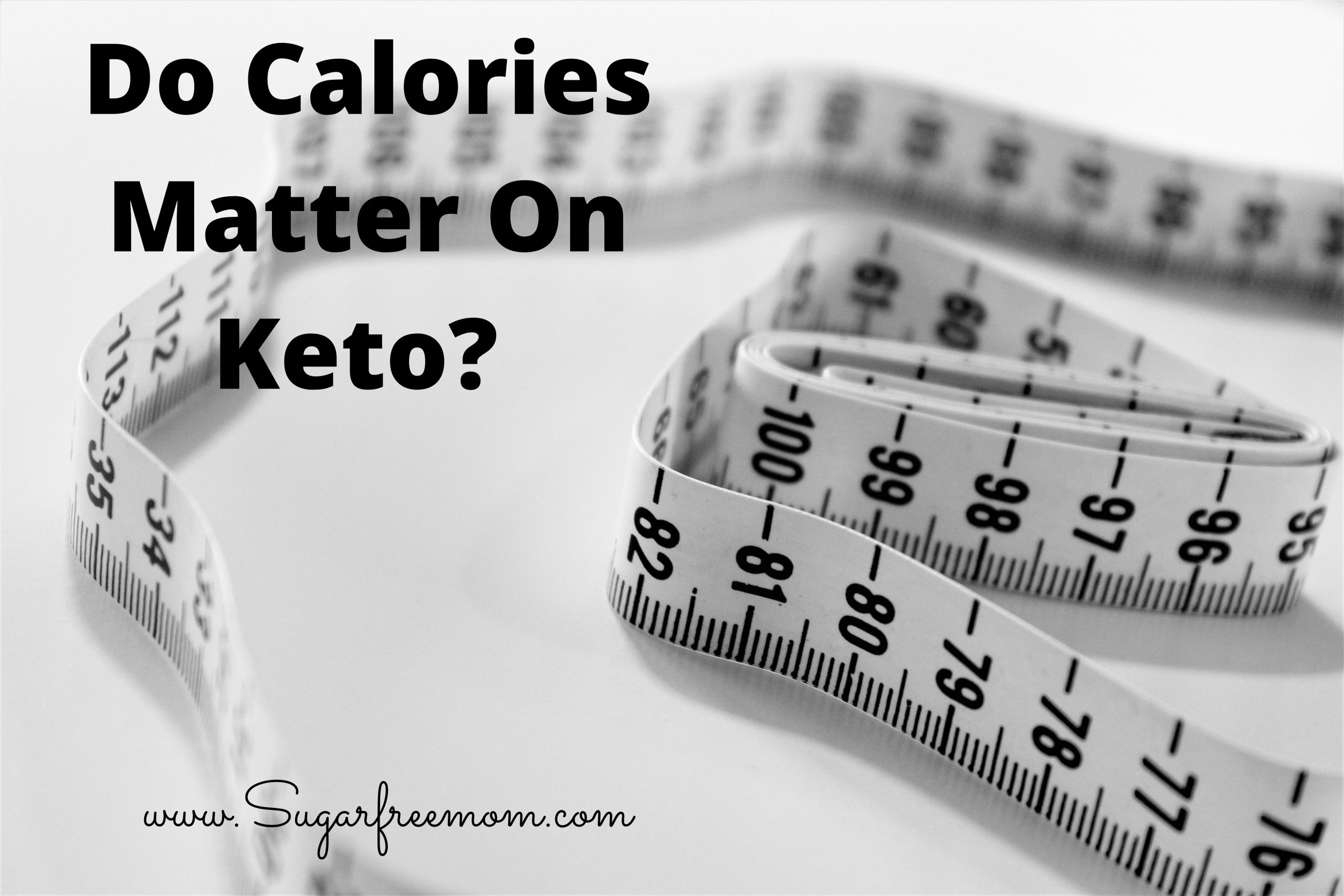 ISN'T WEIGHT LOSS JUST CALORIES IN AND CALORIES OUT?
If you're ever been on a diet to lose weight, you've most often been told or heard that it's just about the calories you're consuming and the calories you are expending that matters for weight loss. But if you've been on a ketogenic diet, you most likely have heard that counting calories isn't needed at all on a keto diet and just keeping your daily carb intake to 20, with moderate protein and high fat will be enough to lose weight. This can be confusing and is often debatable among keto experts.
While there are many different approaches to following a keto diet, one thing is constant across the board for all the research I found and that is, that the most effective ketogenic diet is one that is a nutrient dense, whole food diet. Focusing on fresh, single ingredient low carbohydrate foods and eliminating packaged, refined, processed foods, even keto products, is the best for overall health and longevity.
Many factors besides just calories are involved in weight loss. Hormones like insulin, ghrelin and leptin play a critical role in fat loss, hunger and satiety levels. The nutrient density of your food, your genetics, your sensitivity to insulin, your ability to keep your blood sugar balanced when eating a ketogenic diet, your muscle mass, your exercise level, all effect your weight loss or lack there of.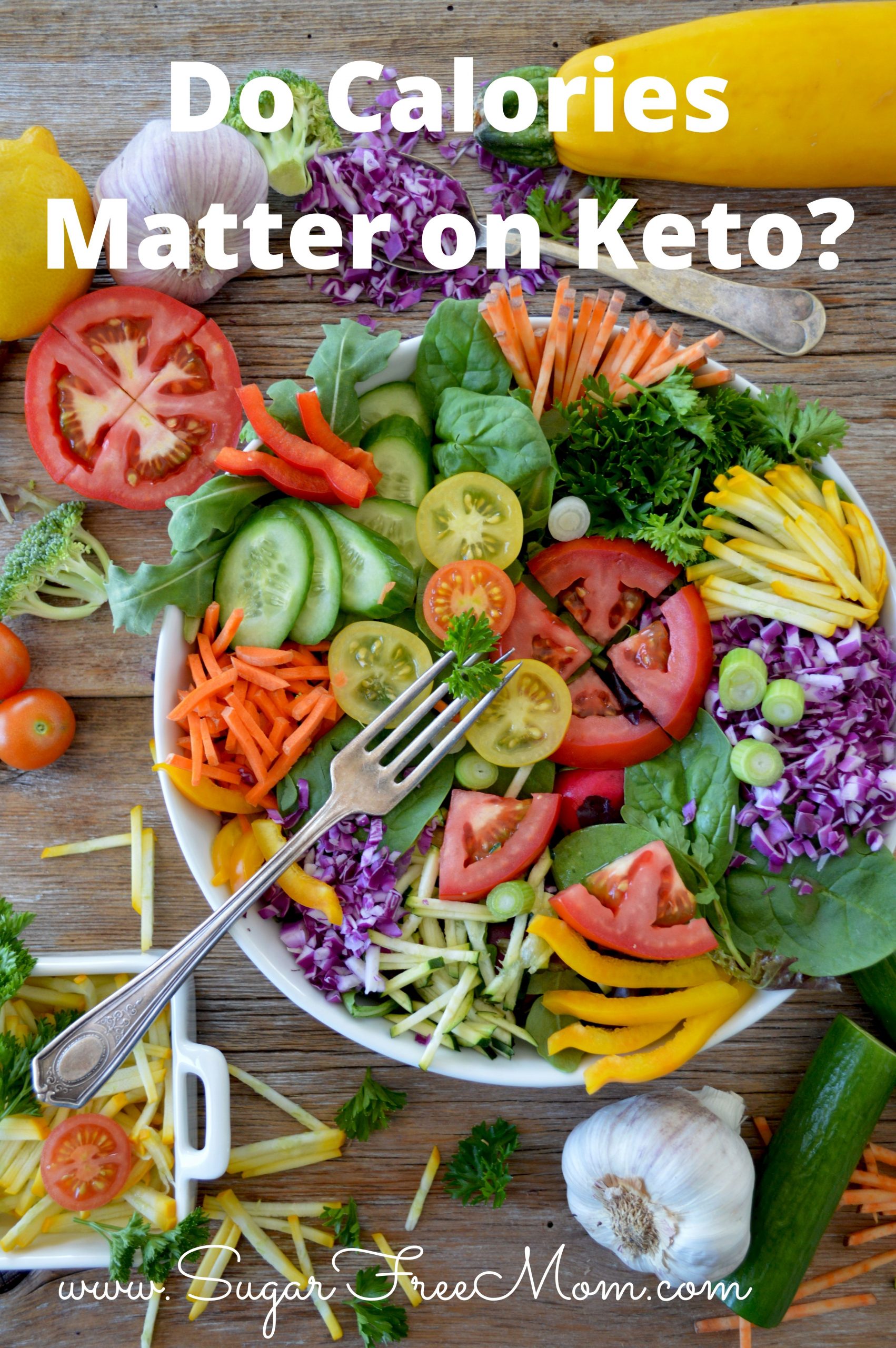 THE THERMIC EFFECT OF FOOD
The thermic effect of food (TEF) is the amount of energy needed to consume and digest different macro nutrients. Some nutrients like protein, require much more energy to be digested than others, like carbs and fat. This means that the total calories consumed will result in different amount of effective calories in the body depending on what macro nutrients were consumed.
The TEF for protein is 25%, meaning 25% of the calories you eat from a protein source actually goes into breaking down the food, but for carbohydrates, that number is only 8%.
So if you eat 100 calories of protein, 75 calories are left after digestion. If you eat 100 calories of carbohydrates, 92 calories are left after digestion. It makes sense to prioritize protein when trying to loose weight since your body will use more energy to digest it, therefore consuming 25% less calories.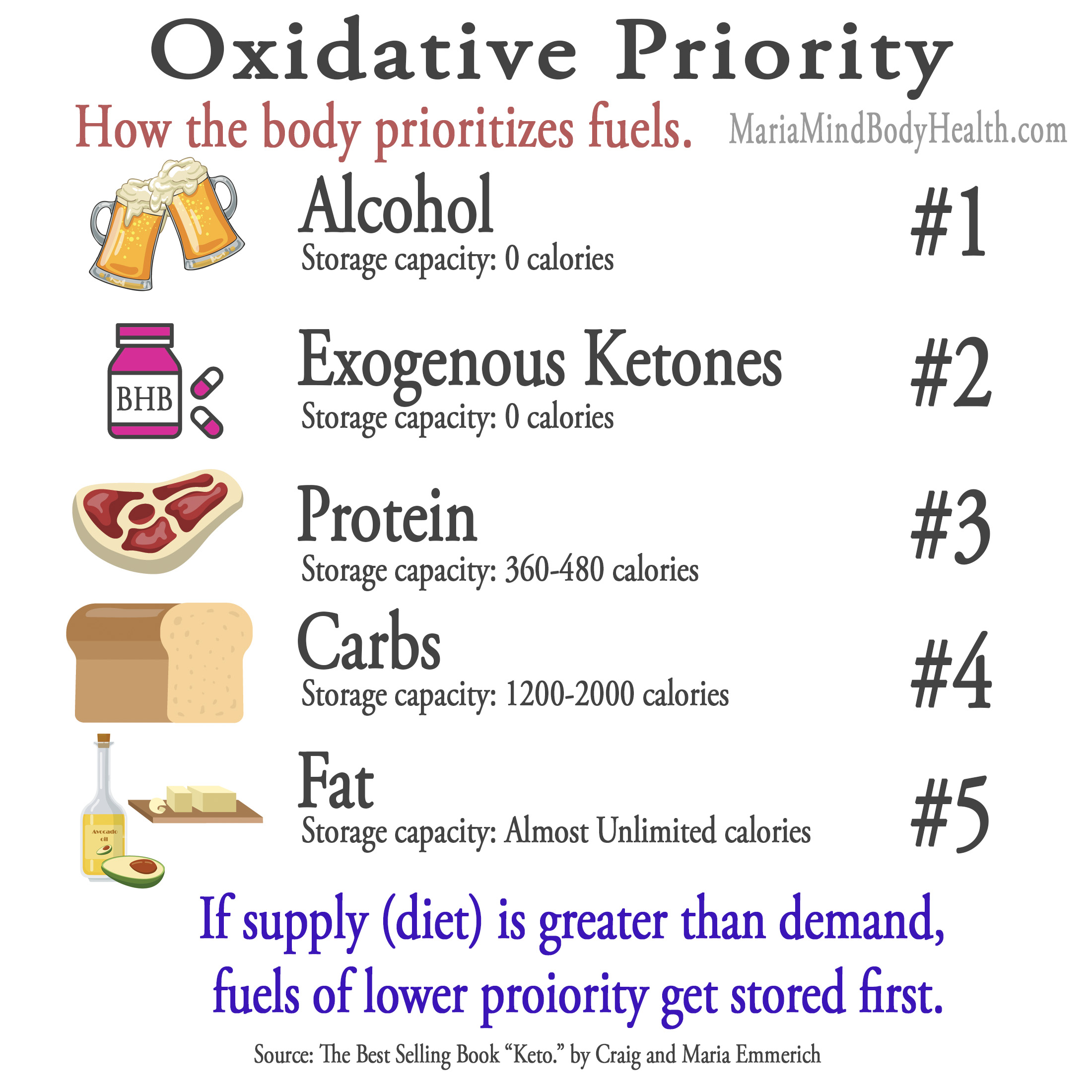 OXIDATIVE PRIORITY
Oxidative Priority is the order in which our body processes and stores fuels from the diet. Fuels with higher priority have to be processed first before fuels of lower priority as seen above in the graphic from Mariamindbodyhealth.com and their book, Keto; The Complete Guide to Success on the Ketogenic Diet. Not all macronutrients can be stored at the same level. For example, alcohol has no long-term storage capacity, while fat has a relatively unlimited capacity.
ALL CALORIES ARE NOT CREATED EQUAL
Imagine you have two meals with the same thermic effect, as well as oxidative priority, yet one is nutrient dense with vitamins, minerals, enzymes and the other is void of these. While your body may digest it the same, you may be left feeling less than completely satisfied after your meal, hunger for more, which is often what can lead to overeating and cravings.
For example, eating a bun-less, fast food burger with cheese, onions, pickles, and condiments is not going to give you the same satiety as a meal of a grass-fed ground beef burger, with organic broccoli and cauliflower, tossed in grass-fed butter, ghee or avocado oil.
SATIETY LEVEL MAKES A DIFFERENCE FOR WEIGHT LOSS
While many on the ketogenic diet encourage eating fat for increasing ketones and satiety levels, there are more studies indicating the protein is more satiating than fat. Higher protein diets shown in this study have been shown to decrease food cravings for sweet or savory foods.
A common advantage and benefit from eating a ketogenic diet is that you will feel fuller on more nutrient dense food, therefore eating less and you will feel fully for longer between your meals, which will help your body burn stored fat for fuel and lose weight.
The caveat here though is that each person will feel satiety differently. Some may not feel as satiated by eating higher protein, and others will not feel as satiated eating more fat. The key is to try different macronutrient amount of protein and fat to learn when you feel best and most satiated so that you can reduce your snacking and eat less for weight loss.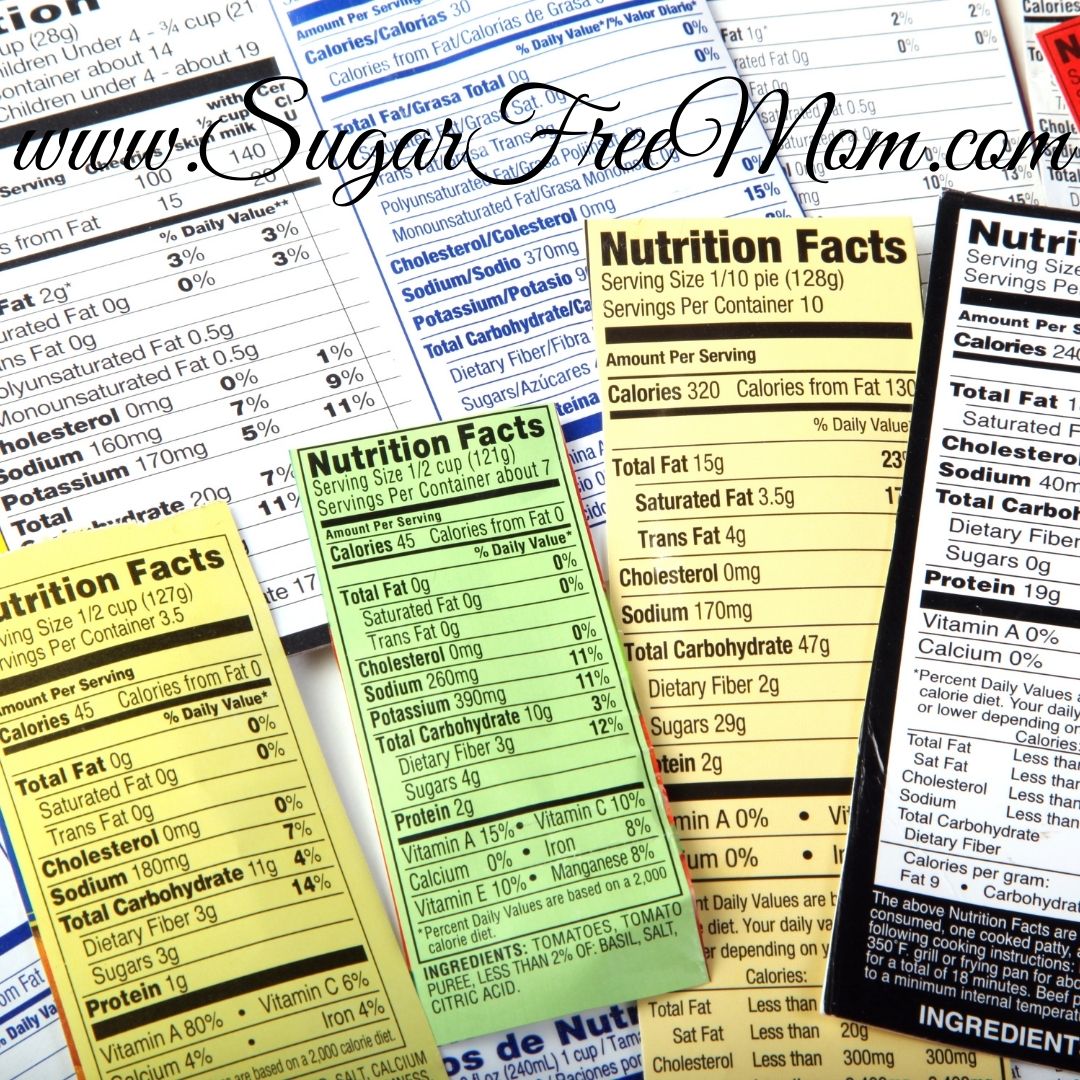 SHOULD YOU COUNT CALORIES TO LOSE WEIGHT ON KETO?
Those against counting calories:
Dietdoctor.com does not recommend counting calories because they believe that it's more about the kind of food you are putting into your body that matters. They state that staying away from high carb, processed foods, and leaning toward nutrient dense, whole foods is better, as well as reducing or eliminating even low carb, high-reward type foods like nuts and cheese that are easy to overeat.
The True Health Center for Functional Medicine advises against counting calories, stating that while they believe calorie counting does have some benefits, in general it is unnecessary. They state that as you become more keto adapted, you will burn calories at a higher rate and that it is more about the type of calories than the amount consumed.
Those for counting calories:
While a ketogenic diet can help you decrease cravings and feel more satisfied with less food, at PerfectKeto.com they believe that you still do need to be aware of the total calories you're eating daily. If you end up eating more calories then your body needs, you will store it as fat, even if you are in ketosis.
Hvmn.com (Health via Modern Nutrition),
"Despite what many people say, it is possible to overdo your protein and fat intake. If you've ever found it tempting to throw down an entire jar of peanut butter, you understand our sentiment. Overdoing it on oils, nuts, butter, even the "healthy fat" sources like olive oil and avocado—this could lead to an increased calorie consumption. "
According to Ruledme.com, use calorie counting and tracking as a short-term tool for weight loss. It may not be needed for the rest of your life, but it can help with learning what macros work best for your body to lose weight.
THE TAKE AWAY
Whether you're on team calorie counting or not, one thing to take away here is that everyone is different. What works for one person to lose weight may not be effective for you to lose weight. Learning how many carbs and how much fat to eat on your ketogenic diet for your body to lose weight is the key.
Not counting calories and tracking macros may work for some time for you to lose weight. But when your current method on your keto diet has stalled you and you are plateaued, it may be time to start counting calories and tracking.
For me with hypothyroidism, not counting calories never worked for me to lose weight and body fat. I had to know the total carbs, calories, fat and protein I was taking in so that when I stalled, I could easily change one variable to see if that made a difference for my weight loss.
It may not have to be for a lifetime, but calorie counting and tracking can be an effective, temporary tool for getting the most benefit from your ketogenic diet. Once you reach your goal weight and are in maintenance you can probably relax a bit on the rigidity of tracking.