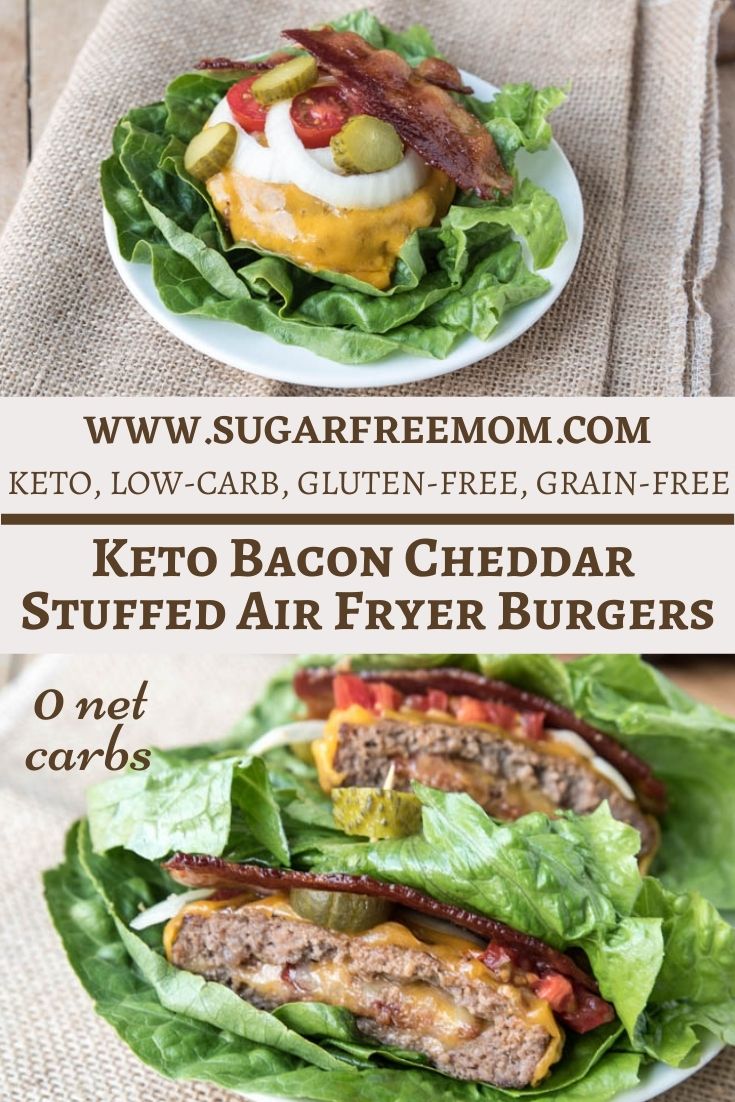 A delicious, bacon cheddar stuffed air fryer burger for any busy weeknight made in under 30 minutes!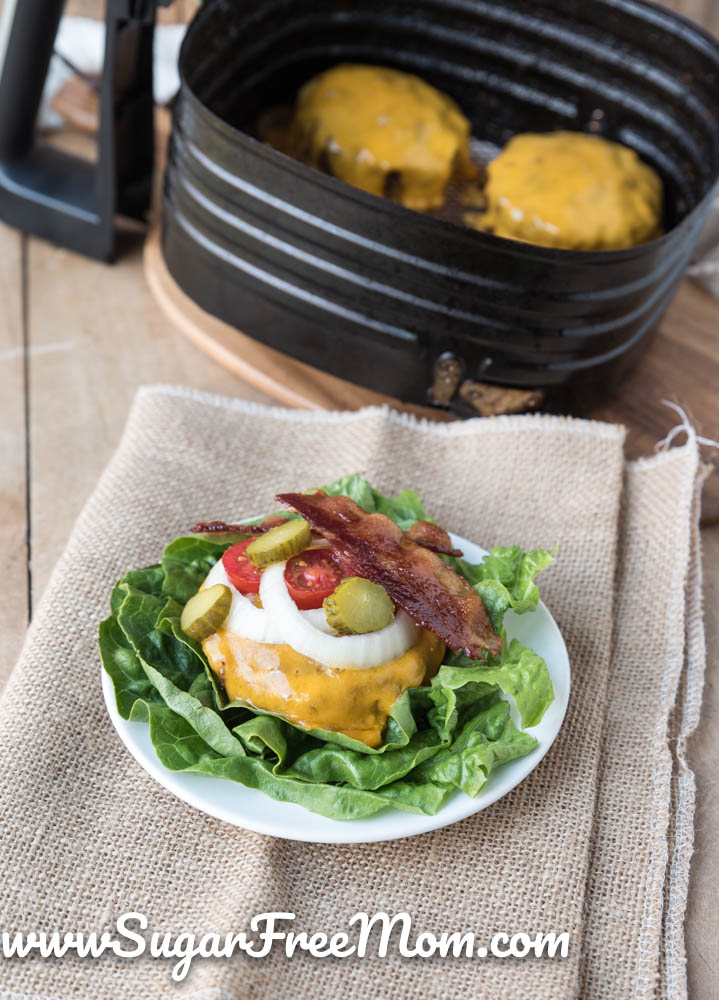 AIR FRYER BURGERS
Air fryer burgers are super easy to make and ready in under 20 minutes making this a delicious, healthy, keto, family-friendly meal for the whole family! Add a side wedge salad, zucchini fries, or pork rinds and Greek Feta dip and dinner is done for any busy weeknight!
Air Fryer burgers takes dinner to a stress free level. No need to heat the grill or the oven, the air fryer does all the work! All you need to do is a simple flip, half way through cooking, top with cheese if desired and you're done!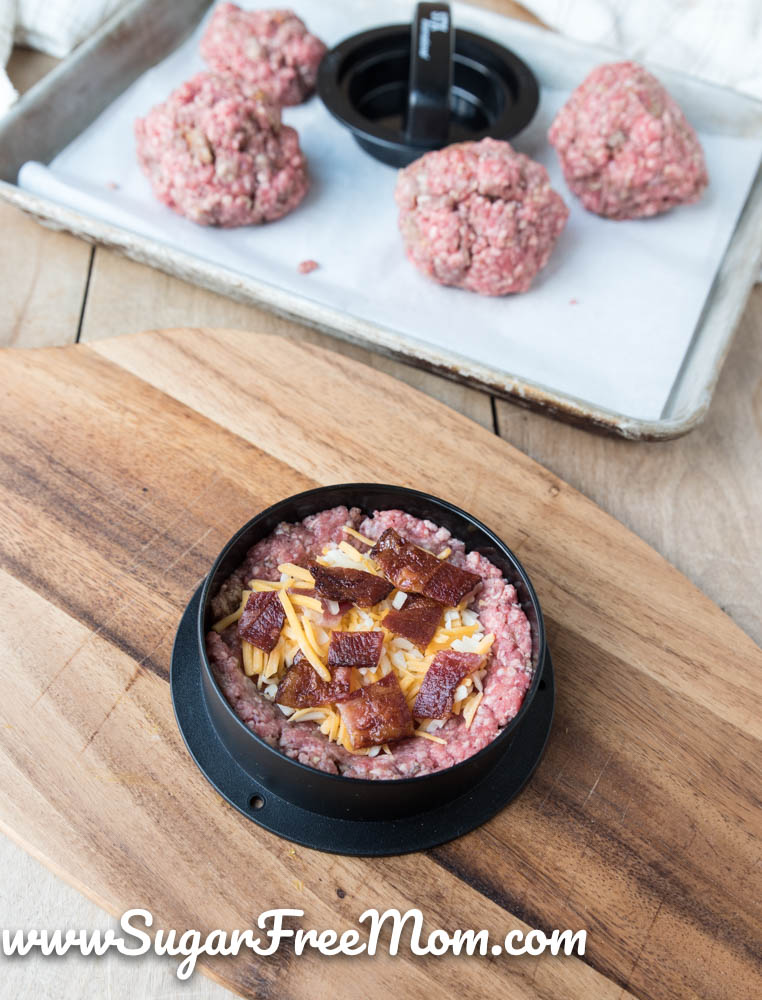 A BURGER PRESS SAVES TIME
Using a burger press will save you lots of time. The burger press helps to form your stuffed burger patties perfectly. When you've got perfectly shaped burgers, you've got perfectly cooked ones as well! They cook much more evenly and you're not going to have to worry if they are fully cooked.
Use an internal meat thermometer for accuracy and you'll have a juicy, tasty, bacon, cheddar stuffed burger that the whole family will love!
Before using a burger press, I've made this recipe many times, just forming the patties by hand. You just can't get them as neat and round as when using a press. Mine originals were not picture worthy and very lumpy causing some stuffed burgers to be cooked while others that were thicker were not fully done. Spend the money and get that burger press for evenly cooked stuffed air fryer burgers!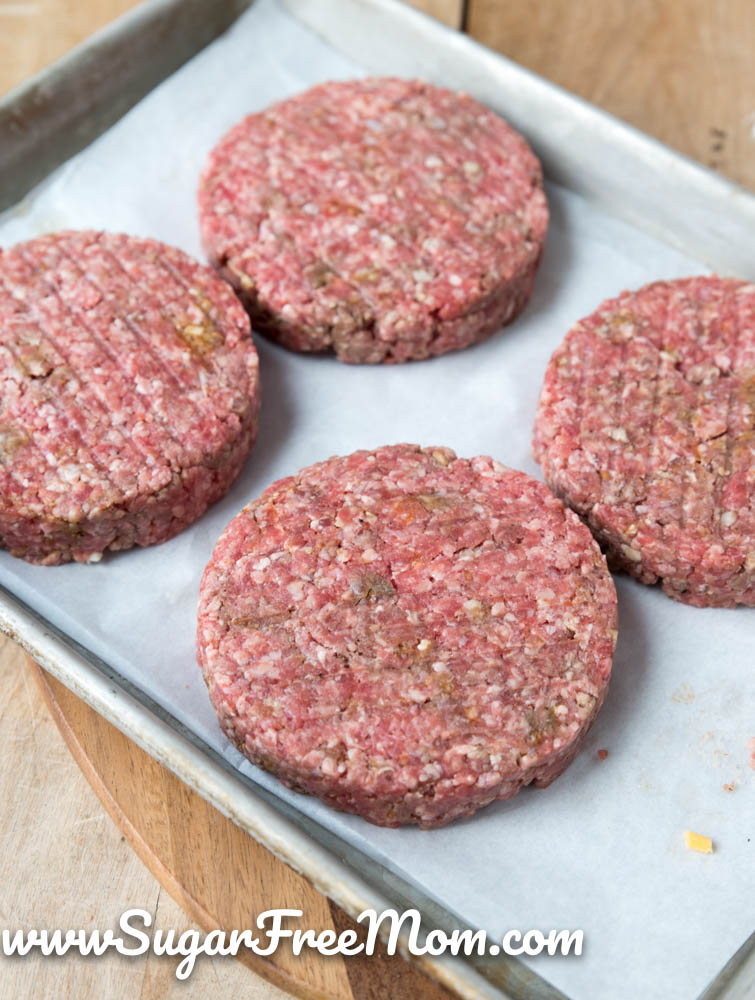 CAN I SWAP THE CHEDDAR CHEESE?
If you're not a fan of cheddar cheese, you can definitely swap it out for another cheese you like. I'd suggest, Monterey Jack or Colby Jack or even Gouda might be good!
If you need a lactose free cheese, try goat cheese or Manchego which is made from sheep's milk. There are also plenty of vegan cheeses on the market, but be careful if you have a nut allergy as many of the vegan cheeses are made with cashew or almonds.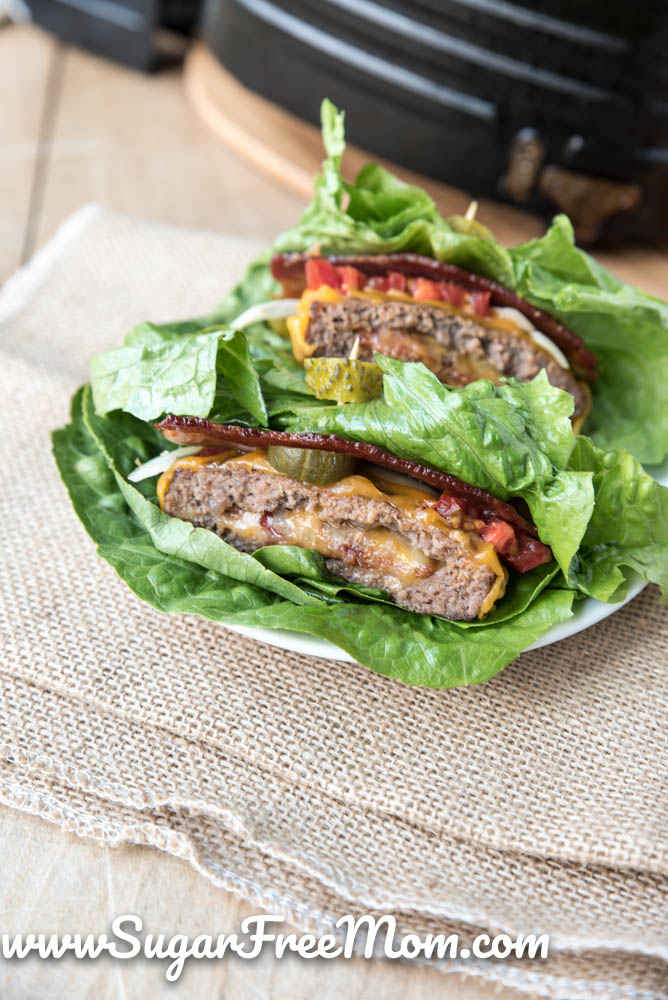 WHAT IF I DON'T HAVE AN AIR FRYER?
If you don't have an air fryer you could easily cook these in your oven. Preheat your oven to 400 degrees F. Place your stuffed burgers on a baking sheet pan on the middle shelf of your oven. Bake for 10 minutes, flip over and bake another 10-12 minutes or until the internal temperature reads 160 degrees F.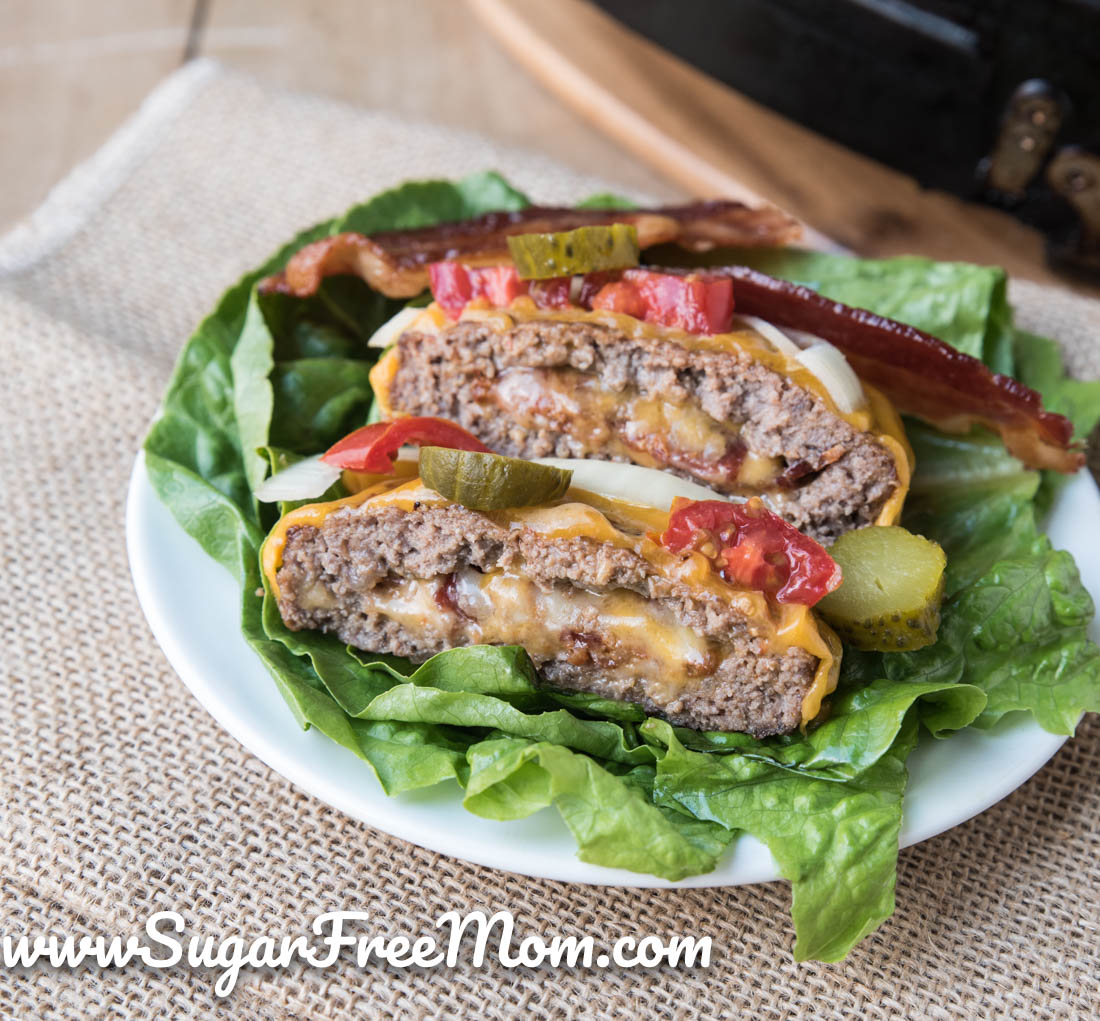 LOW CARB KETO MEAL PLAN MEMBERSHIP
Our membership is simple. You can subscribe for a month to try it out or you can subscribe for a yearly membership. Each Friday you will get a meal plan that comes to your email. You'll have that early in order to go food shopping before the meal plan begins on Sunday. You will be able to view and print the meal plan and the shopping list. If you don't like a meal, simply delete it and swap it with another meal you like. The shopping list will automatically adjust. It's the best software available out there for a customizable menu plan. Not many other low carb or keto meal plans allow you the option to remove, add, start with a blank menu and create your own if you so wish.
You can choose from Three Meal Plan Options:
Low Carb Meal Plan includes breakfast, lunch, dinner, and snacks with 40 net grams of carbs or less per day.

Keto Meal Plan includes breakfast, lunch, dinner, and snacks with 20 net grams of carbs or less per day.

Intermittent Fasting Keto Meal Plan includes 2 meals per day plus one protein/fat rich snack daily with no more than 20 TOTAL carbs per day.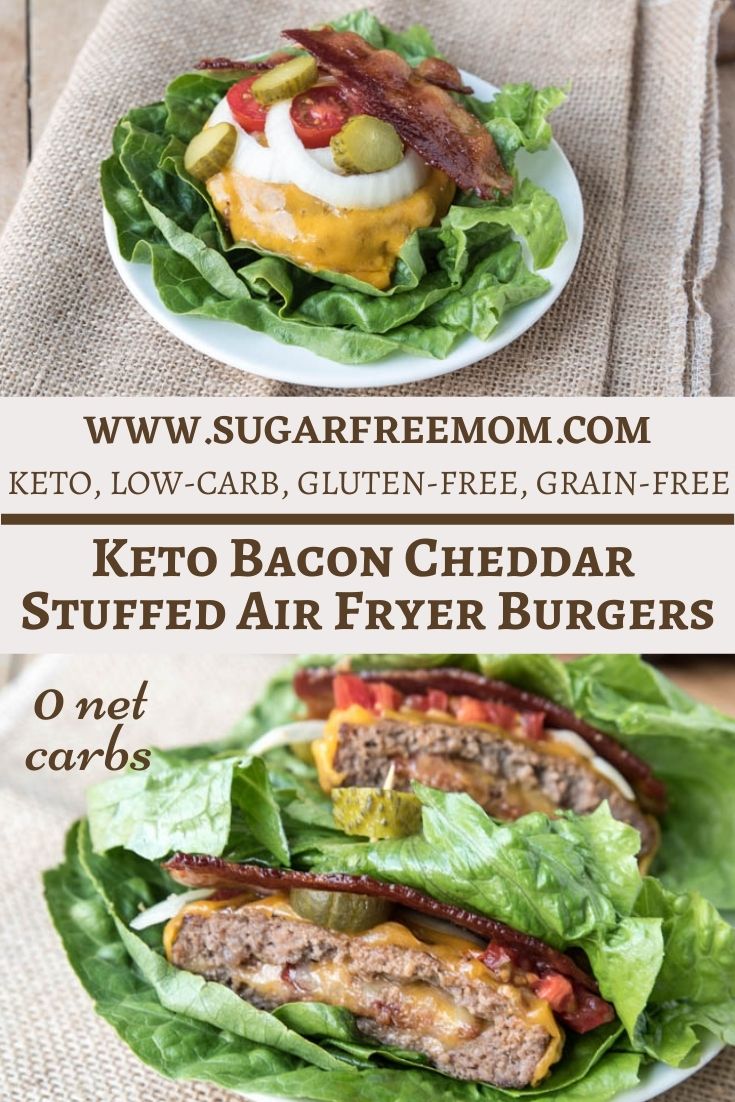 KETO BACON CHEDDAR STUFFED AIR FRYER BURGERS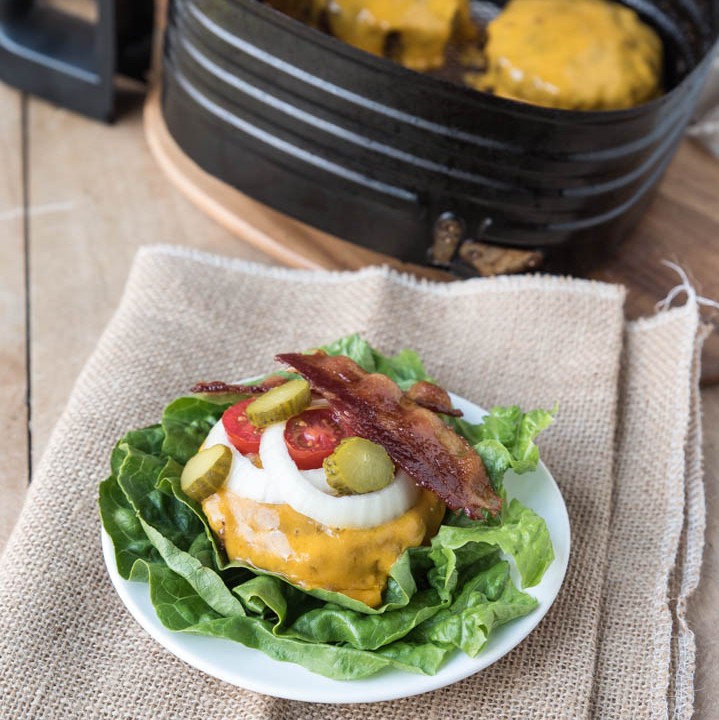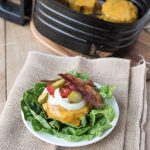 Print
Keto Bacon Cheddar Stuffed Air Fryer Burgers
Servings
4
stuffed burgers
Ingredients
1.25

pound

ground beef

½

teaspoon

dried onion

¼

teaspoon

garlic powder

¼

teaspoon

dry mustard

¼

teaspoon

paprika

½

teaspoon

salt

¼

teaspoon

pepper

½

cup

cheddar cheese

shredded

4

slices

bacon

cooked, chopped
Instructions
Preheat your air fryer to 375 degrees F. Place your ground beef and all the seasonings into a large bowl and stir until combined. Separate your ground beef into 5 ounce balls.

Separate each ball in two pieces. Use 3 ounces to form the bottom patty of your stuffed burger. Make a well in the center of the bottom patty. Place 2 tablespoons of cheese in the center of the patty. Top with 1 slice of cooked, chopped bacon. Flatten the remaining 2 ounces of ground beef to cover the stuffed burger. Seal edges together. Follow this procedure for remaining burgers.

Place the 4 stuffed burgers onto the grate of the air fryer. Set timer for 8 minutes. Flip burgers over and set timer for 6 minutes. Check center of burgers with an internal thermometer. Temperature should read 160 degrees. Top burgers with cheese if desired and cook 1 minute more to melt cheese.

Serve immediately. Enjoy in a lettuce wrap with bacon, pickles, onion, mayo, mustard and avocado.
Nutrition
Serving:
1
stuffed burger
|
Calories:
513
kcal
|
Carbohydrates:
1
g
|
Protein:
31
g
|
Fat:
42
g
|
Saturated Fat:
17
g
|
Trans Fat:
2
g
|
Cholesterol:
130
mg
|
Sodium:
619
mg
|
Potassium:
458
mg
|
Fiber:
1
g
|
Sugar:
1
g
|
Vitamin A:
212
IU
|
Vitamin C:
1
mg
|
Calcium:
132
mg
|
Iron:
3
mg