FREE 7 Day Keto Diet Menu Plan. If you've ever wondered what a week on a keto diet would look like or you've been curious to try, but have no idea where to begin, this post is for you!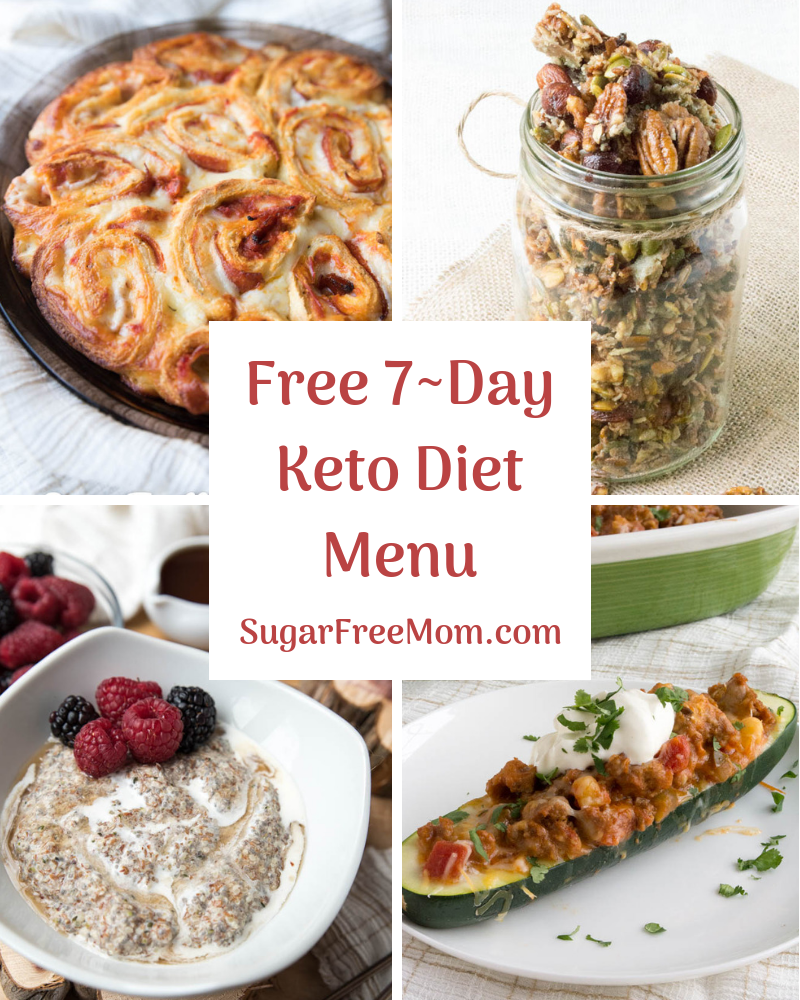 What is the Keto Diet?
I know you've been hearing and seeing the keto diet advertised everywhere. Maybe you're already on the keto diet, but maybe you're not and have no idea what all the buzz is about. Maybe you're just doing a low carb diet and that's working for you. Wherever you are in your health and journey, the keto diet is hot right now and getting a lot of attention and for good reason.
Keto is a very low carb diet, often it means no more than 20 net carbs a day. I had been low carb for 4 years prior to going keto a year ago, my daily carb intake was 50-70 grams a day and the carbs were coming mostly from non starchy vegetables. But yet even being lower carb than the standard American diet, it wasn't enough for me to still not crave sugar and carbs.
Burning fat for fuel is ultimately what happens when you eat keto and your body finally becomes fat adapted. You will no longer be a glucose or sugar burner and you'll begin to use your own body fat for fuel, it's a beautiful thing. You can read all about my Keto 6 week results and you'll even get to see the pics to prove the changes my body made in fat loss.
Does Sugar Free mean Keto?
I've been sugar free for 14 years, but sugar free doesn't necessarily mean low carb or keto. For me back then it meant no white sugar, white flour or anything white or refined. I still enjoyed sweet potatoes and even honey. As the years went on I discovered even natural sugars caused me to continue to crave and I eventually went low carb back in 2013. I started my blog in 2011 so prior to 2013, some of the recipes are not low carb just sugar free. Here's a post I wrote about the Differences between a Sugar Free and a Low Carb Diet.
All carbs turn to sugar in your body but some people can handle eating sweet potatoes or regular potatoes and not have any craving issues. I just look at them and I gain weight and I crave more and more. I am very carb intolerant. The more I indulge in carbohydrates the more I want and on and on and on it goes. It's a vicious cycle and I finally stopped the cycle. Know how? By eating keto!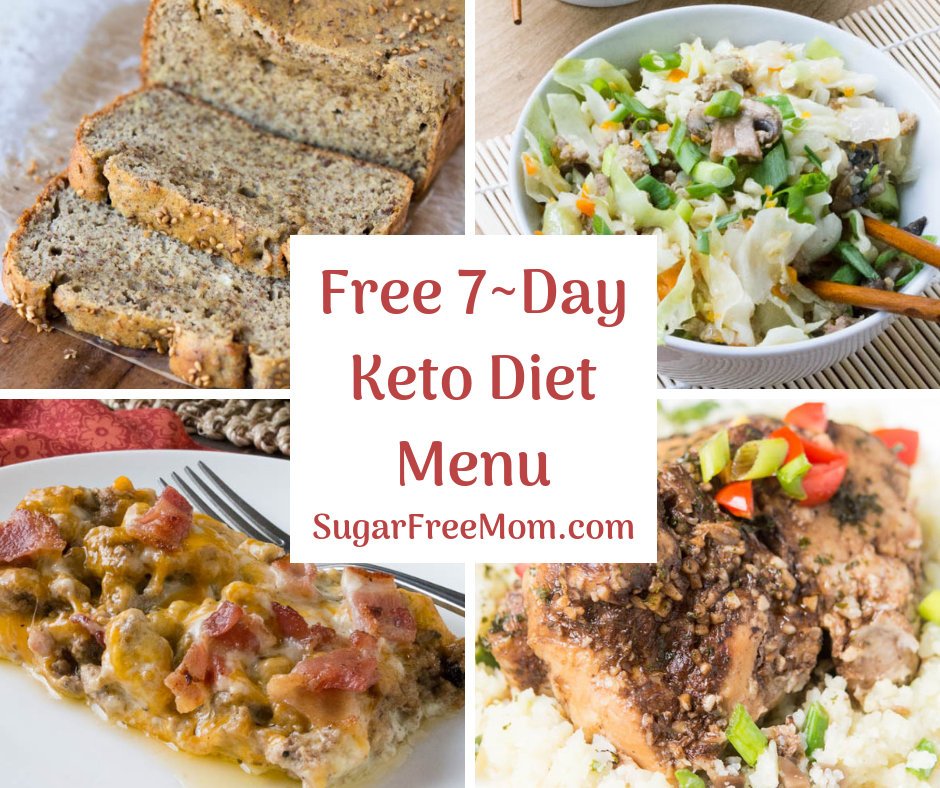 When I finally starting increasing my fat and not fearing the fat, that's when I started to realize there is something very special about this way of eating that makes it sustainable too! You're so completely satisfied after have a moderate protein, low carb, high fat meal that you'll soon realize it's better than anything you've ever tried. The keto diet does mean sugar free, but it's so much more as well.
I've had so many questions on my blog and so many friends and family asking how to get started I decided to write this Free 7 Day Keto Diet Menu plan to help others begin this awesome way of eating!
Benefits of a Keto Diet
You're not hunger between meals. You can go anywhere from 6-12 even 16 hours without feeling starving!
You don't have cravings for sugar as you once did. Instead you'll start craving good, healthy fat!
Your hormones will be balanced. No crazy mood swings or irritability.
You'll have great mental clarity. No more fogginess.
You'll have a ton of energy without the need for caffeine!
You'll lose body fat and see the differences in your body, not just the number on the scale!
You will actually be able to stick to this way of eating because you will be satisfied!
I hope you'll be encouraged to try this Free 7 day Keto Diet Menu plan. It's not at all as hard as you might think! I've done all the work for you, from breakfast through dinner and even a delicious dessert! The shopping list is included and all you will need to do is food shop then do a little prepping for the week ahead. Let me show you how wonderful the keto diet is and try this week for free!
Marisol says, "Thank you for the one week Keto Diet plan and recipes. It was really good. I feel much better! More energized and focused. No more indigestión either! An an extra added encouraging bonus is that I lost 6 lbs! Hurray!"
Mary says, "I'm starting my 2nd week...I would like to lose a few pounds (3-5) but mainly want to reduce the frequency or completely get rid of my migraines and increase energy. I am migraine free for 1 week since I started last week."
Angie says, "I lost 6 lbs in my first week! I don't expect it to keep falling off that fast, but it was a nice surprise, and a good motivator."
Once you've signed up and after you've confirmed your subscription, YOU WILL BE SENT THE MENU PLAN SHORTLY AFTER YOUR CONFIRMATION. You'll also be invited to a private Facebook group for others like yourself where you'll receive support and live chats/videos from me each day!
Didn't receive the email? Send an email here to [email protected]
Can't find the menu plan? Once you have confirmed your subscription, you will be sent another email and in that there is a link which contains the menu plan, it is not an attachment, it is a link you must click.
Can't open the pdf? If this happens it is a security setting on your browser. You need to Google to enable PDFs for your browser.