Garlic Butternut Bisque is a perfect soup to serve as an appetizer on any holiday, especially Thanksgiving!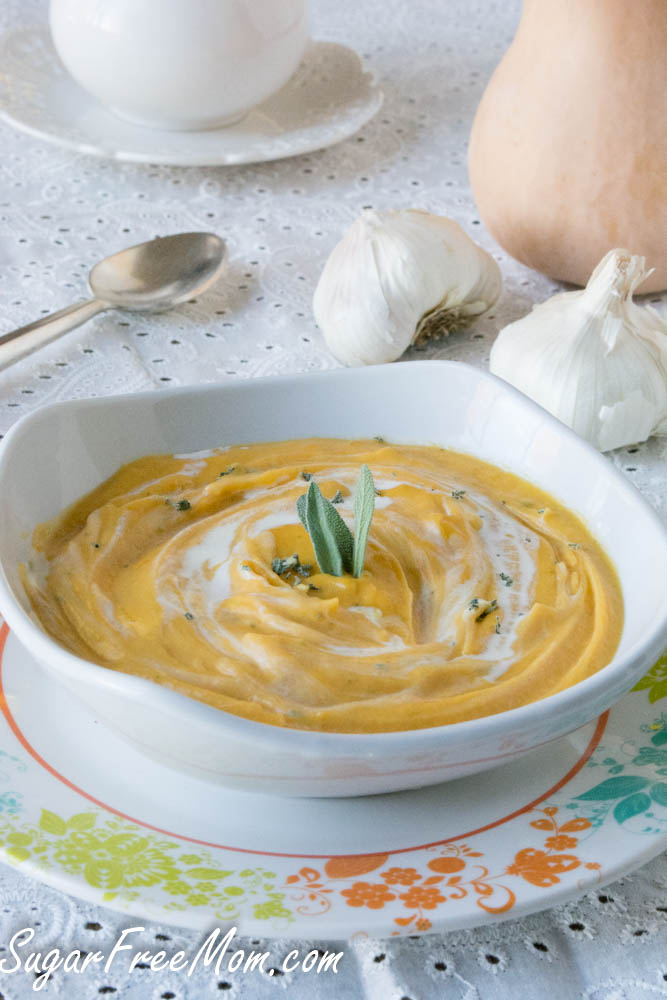 With Thanksgiving fast approaching and a butternut squash staring at me on the counter I knew I needed to use up, my first thought was roast it up and enjoy it for dinner. But then I participated in the Taste of Home Online cooking course I will be sharing in tomorrows post and was completely inspired to make this bisque!
Bisque sounds all fancy and typically you've probably heard of seafood bisque made with lobster. While I love lobster it's not a Thanksgiving type ingredient. Creamy soups made from roasting vegetables and pureed fruits are also called bisque's. But the idea is the same, extracting as much flavor as possible from the ingredients used to create a thick, creamier, more luscious, decadent soup.
Roasting the garlic is the key to making this bisque over the top amazing. If you don't, you'll just have a very strong, harsh, garlicky flavor in this soup. The roasted garlic adds an incredible sweetness, almost like sugar's been added it's so incredibly sweet.
I know buying fresh herbs can be expensive, especially if you live in a New England like me and the gardening season to grow your own herbs is short and fast. But don't skimp out on purchasing the fresh sage. It's just another ingredient that NEEDS to be in here. The smell alone leaves you coming in for more and tasting it you'll be happy you made the effort.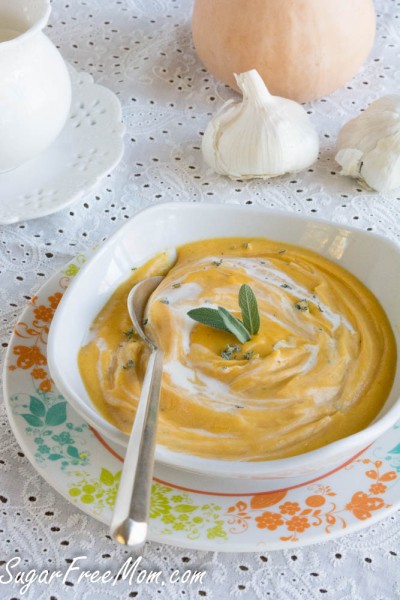 It's the perfect starter appetizer for any holiday party. Just a little ½ cup is all you need to start Thanksgiving off in a soothing, calming, relaxing way. Seriously, no joke, soup makes you slow down to enjoy every spoonful and isn't that what we should be doing on Thanksgiving, slowing down rather than rushing through the meal?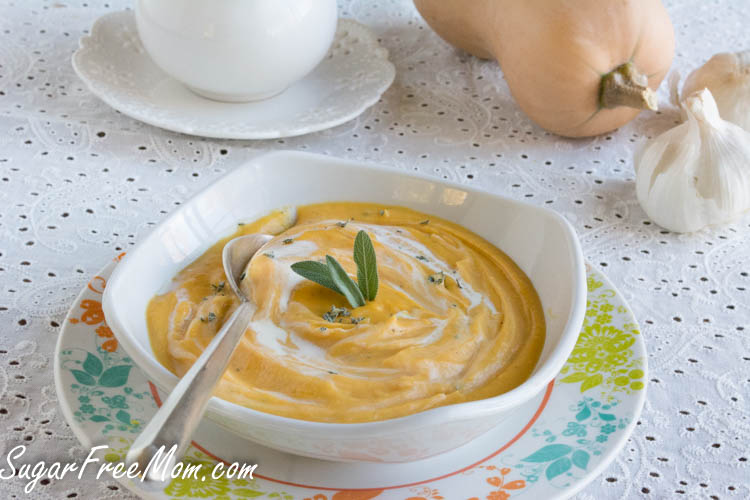 When I went to the market for the fresh sage, the all ready cut up butternut squash in a nice little package called my name and I purchased it!! But the one sitting on my counter is still stalking me! Guess I will just make the bisque again, no one will complain that's for sure!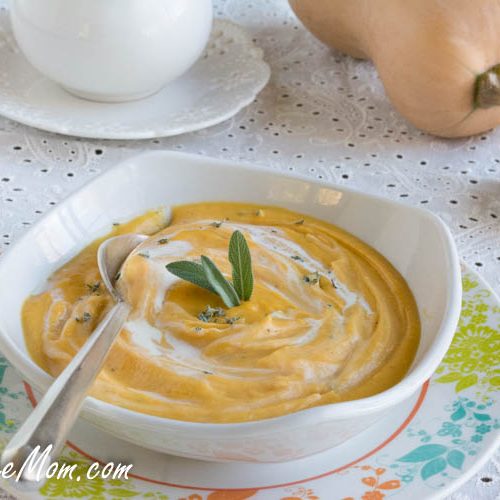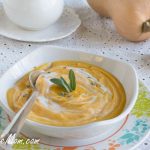 Print
Garlic Butternut Bisque
Ingredients
1

whole garlic bulb

2

teaspoons

extra virgin olive oil

½

cup

butter

1

cup

chopped onion

½

cup

diced carrots

20

ounces

cubed

peeled butternut squash

4

cups

low sodium chicken broth or vegetable broth

1

tablespoon

chopped fresh sage

¼

cup

heavy cream

½

teaspoon

salt

¼

teaspoon

pepper

Optional topping: additional heavy cream and minced sage
Instructions
Preheat oven to 425 degrees.

Remove the papery outer skin of the garlic bulbs but don't remove the bulbs.

Cut off the top of the garlic bulbs.

Rub the olive oil all over the bulb and wrap in tin foil.

Bake 30 minutes and let cool 10 minutes before unwrapping.

In a large Dutch oven melt the butter and add the onions and carrots. Cook until tender.

Stir in the butternut squash, the broth and sage.

Bring to a boil, reduce heat and simmer, uncovered for 30 minutes or until the squash is fork tender.

Squeeze the garlic bulbs right into the soup. Cool slightly.

Use an immersion blender or place mixture into a blender and process until smooth. (If using a blender, place a clean hand towel over the cover but lift one corner of the cover to allow steam to escape.)

Return to Dutch oven and add heavy cream, salt and pepper. Taste and adjust as needed.

Garnish with a little heavy cream and chopped sage.
Nutrition
Serving:
1
g
|
Calories:
177
kcal
|
Carbohydrates:
7.7
g
|
Protein:
1.8
g
|
Fat:
15.7
g
|
Saturated Fat:
7.7
g
|
Cholesterol:
43
mg
|
Sodium:
269
mg
|
Fiber:
0.9
g
|
Sugar:
2.5
g
Did you know I have a cookbook soon to be released on December 9, 2014. Right now you can pre-order on Amazon at a discount!