A Coffee Cake Protein Smoothie that tastes like the flavors of coffee cake all made without sugar and dairy is a delightful healthy breakfast for the On -the Go mornings!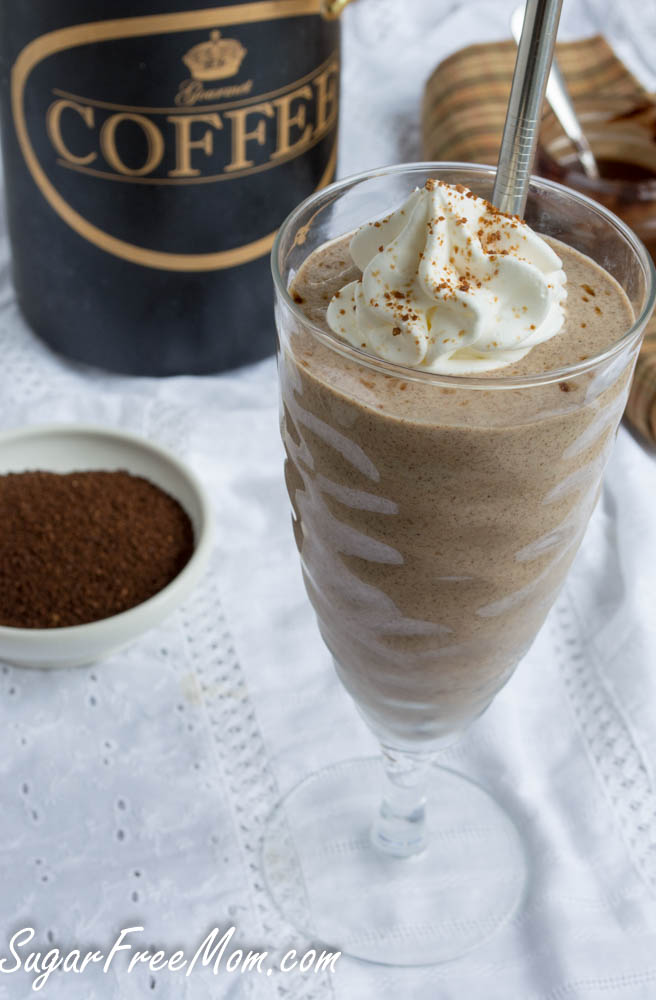 The gentle wake up call like no other is the heavenly fragrance of freshly brewed coffee coaxing you out of bed, eyes partially closed, stumbling, fumbling, searching for a cup to get to that first hot sip awaiting you.
Most days are not gentle wake ups like this are they? It's often an annoying alarm like someone poking at your shoulder that won't stop until you've gotten up to mute that siren. I confess I am a lover of hot coffee in the morning so a smoothie wouldn't necessarily be helping me get out of bed, but combining it with coffee and I'm interested.
Coffee cake is a combo with a reputation. Most people have heard of it and tried it and know it as: "sinfully delicious, how could it be called breakfast". But today protein and smoothie are joining in for some fun to help convert coffee cake to a new healthier level.
Making healthy breakfasts that include coffee in some way are my cup of tea, pun intended. 🙂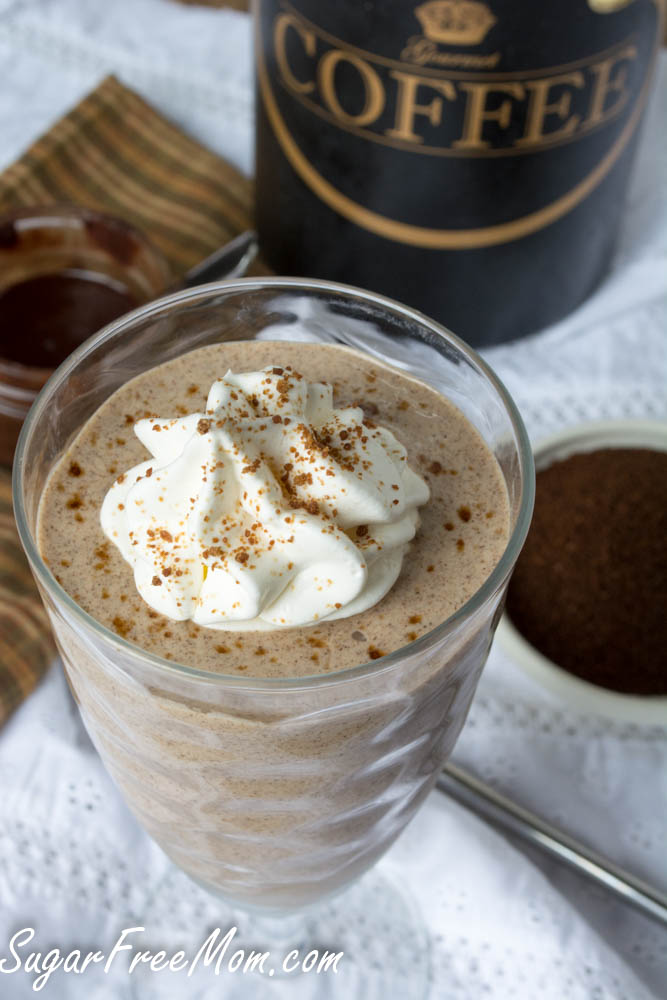 One night we were all gathered over a friends house so the kids could play in their pool and the adults could enjoy a nice evening together. My friends teen daughter and I were chatting about her baking love and also being gluten free. Meaning she never tries all the goodies she makes for friends who ask. I encouraged her of course to give some fabulous gluten free flour from Bob's Red Mill a chance. Experimenting with gluten free flours is challenging but not being able to enjoy her own creations is awfully sad in my opinion. Soon enough we were discussing all kinds of new ideas and flavors from cupcakes to cakes to inevitably coffee cake! And that is how my spin on this recipe today came to be!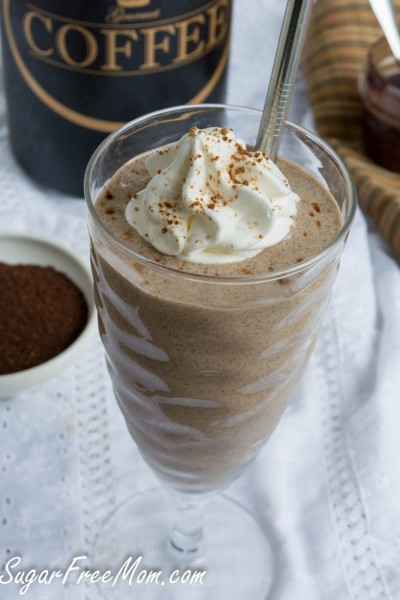 Since it's summer time in the states, I've not felt the desire to turn the oven on to bake anything. Hence my use of the crock pot for the chocolate quinoa brownies, and the last few delicious no bake recipes like; Sugar Free Broccoli Salad, Peanut Butter & Jelly Overnight Refrigerator Oats, Peanut Butter Cheesecake Mousse Pie, Lightened Up Alfredo Sauce with Zucchini & Yellow Squash Noodles, and Chocolate Peanut Butter Chia Pudding Parfait!
But fear not because a really yummy, sugar free and gluten free coffee cake has been tackled and delivered in my upcoming cookbook being released in December!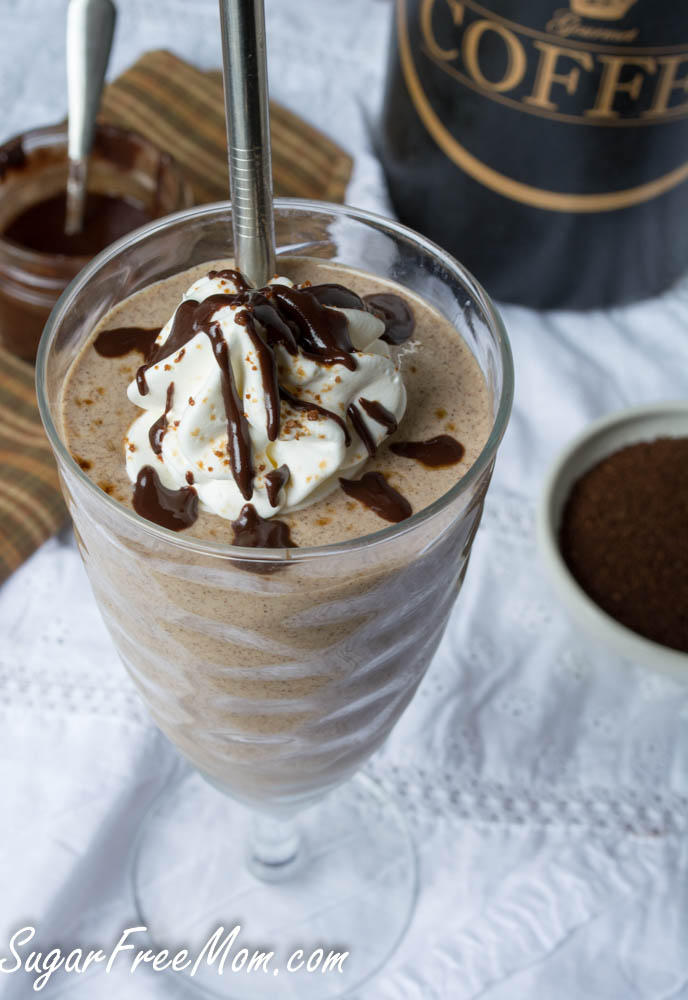 Of course you see I did add a little bit of sugar free chocolate syrup too, which is completely optional but totally worth it! The syrup is the topping I used on my No Bake Peanut Butter Cheesecake Mousse Pie and since I had some left over from that, why not right?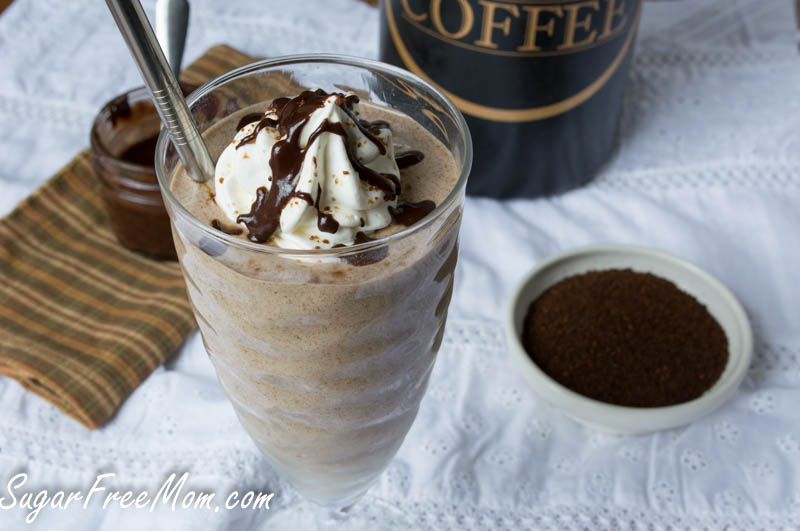 Whether the thought of making this for breakfast will pull you out of bed like a good cup of coffee, I know not. But it will allow you to get in some super foods like chia and flax, to easily grab it and go and be filling enough to sustain you until lunch!
Brenda's Notes:
If you don't have cinnamon stevia, you can use plain or vanilla liquid stevia. You could also use powdered here if desired. Here's my conversion chart.
You could sub the egg whites for a scoop of protein powder instead.
When you subtract the total carbs from the fiber you have 12.6 net carbs. Not too high in carbs for breakfast!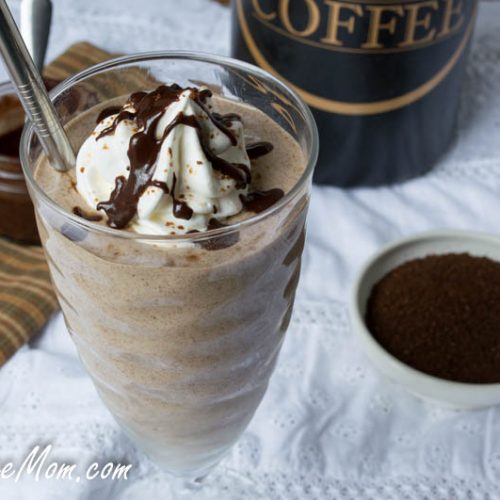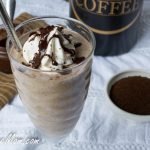 Print
Sugar-Free Coffee Cake Protein Smoothie
Ingredients
½

cup

chilled brewed coffee

1

cup

ice

¼

cup

unsweetened almond milk

¼

cup

pasteurized egg whites

3

tablespoons

rolled oats

2

tablespoons

flaxseed meal

1

tablespoon

chia seeds

½

teaspoon

vanilla extract

¼

teaspoon

ground nutmeg

½

teaspoon

ground cinnamon

½

teaspoon

cinnamon liquid stevia

Optional toppings: Dairy Free whipped cream

Chocolate Syrup
Instructions
Combine all ingredients into your blender and blend on high until smooth.

Taste and adjust sweetener if needed.

Pour over ice in a large glass, add additional toppings if desired and enjoy!
Nutrition
Serving:
1
g
|
Calories:
242
kcal
|
Carbohydrates:
23.8
g
|
Protein:
15.1
g
|
Fat:
11.4
g
|
Saturated Fat:
0.7
g
|
Sodium:
141
mg
|
Fiber:
11.2
g
|
Sugar:
0.4
g