Sugar Free Dalgona Coffee needs just 3 main ingredients and you've got a keto, low carb, paleo, fantastic whipped coffee beverage enjoyed iced or hot!
WHAT IS DALGONA COFFEE?
Whipped coffee or Dalgona coffee, popular in South Korea, has been around for a long time. Just recently though it began trending because of a video that went viral on TikTok video and then Instagram. It's a creamy beverage made with just equal parts instant coffee, sugar and hot water. I was super skeptical and quite surprised how it actually thickened and became whipped in texture even though I swapped the sugar for a sugar free sweetener. So it works and it works wonderfully and is perfectly delightful when combined with ice cold unsweet almond milk. Once thoroughly mixed it takes on a frappuccino style coffee drink.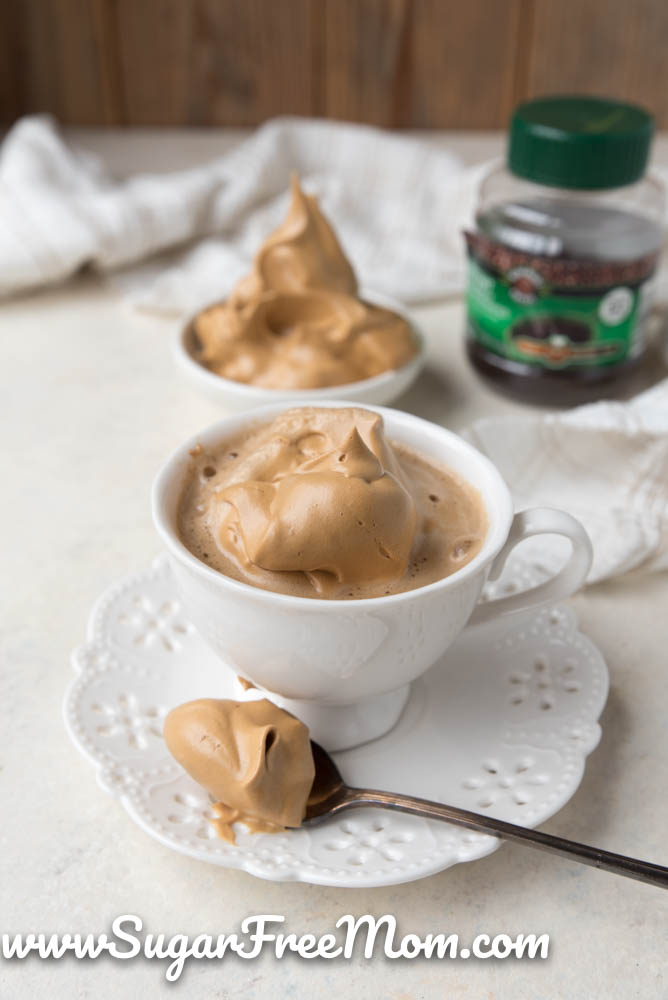 HOW TO MAKE IT LESS BITTER
I experimented with the ratios of instant coffee, sugar free sweetener and water quite a bit. While my husband and oldest son liked the orginial ratio of 2 tablespoons of coffee with 2 tablespoons of sweetener and 2 tablespoons of hot water, I felt it was quite bitter as did my teenage daughter. You can certainly try the original ratios to see how you like it, but if you're anything like me and not really into strong, bitter coffee, try my recipe below. With the addition of spices and extracts and using a bit less coffee, this keto concoction is amazing!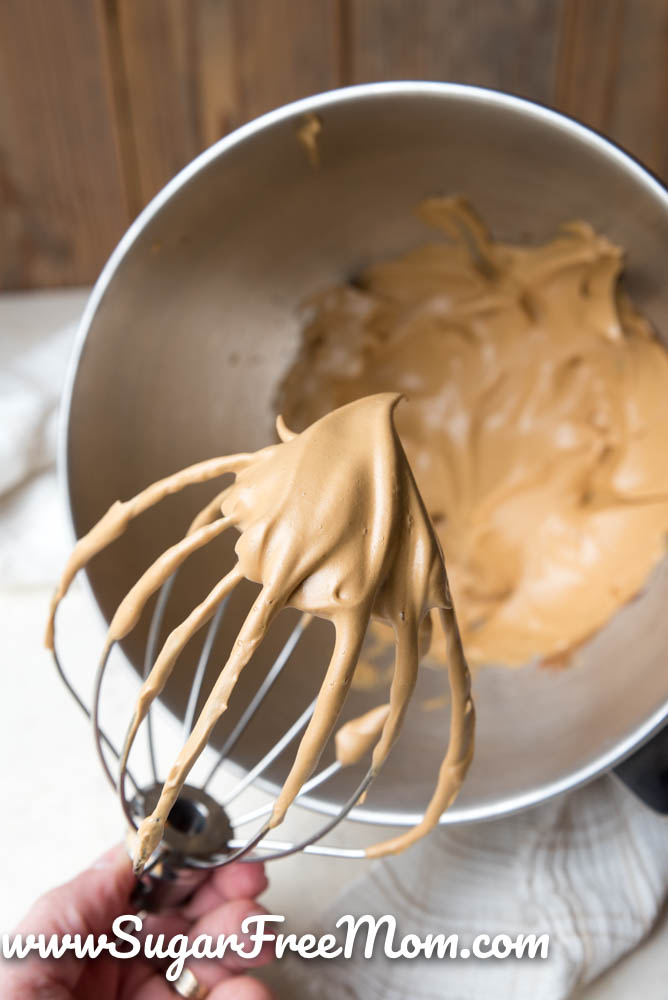 Natural Sugar Free Sweetener Options
I've tried this recipe multiple times with different low carb sweeteners. The one I feel is best, with no graininess, is Swerve confectioners. I did also like the flavor using the Swerve Brown sugar sub, but it did have some grainy texture in it. I've also tried this with liquid Allulose and powdered Allulose. And while I am a fan of Allulose as a sweetener in recipes like ice cream, see my Coffee Semi-Freddo, I did not like the flavor as much for this recipe.
My preference is still the confectioners Swerve. Use my SWEETENER GUIDE AND CONVERSION CHART .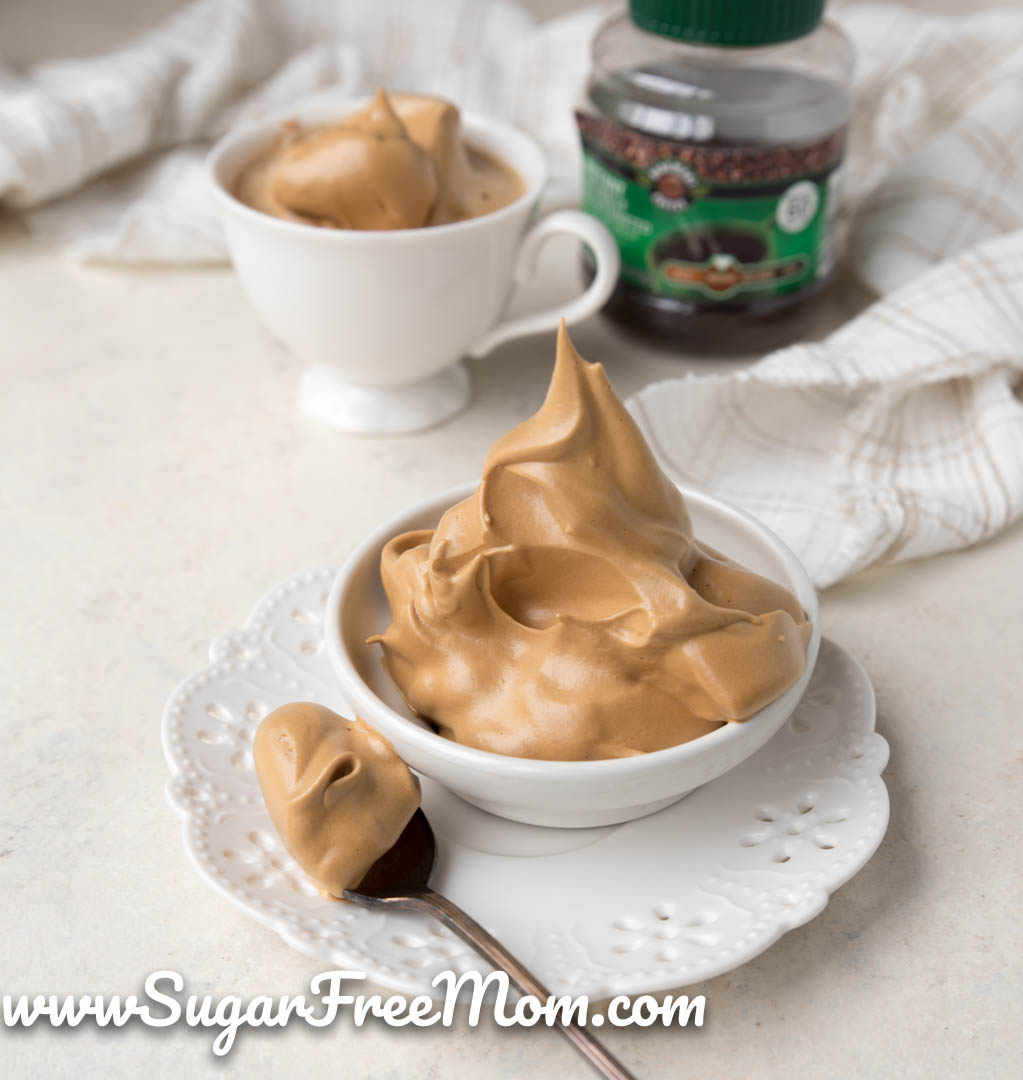 TOOLS TO MAKE DALGONA COFFEE
You really just need a stand mixer or a hand held electric mixer to make this very quickly. It will take about 3 minutes to get it whipped really well. You can do this by hand but it will take forever and in my opinion, not worth my time, use the mixer, folks!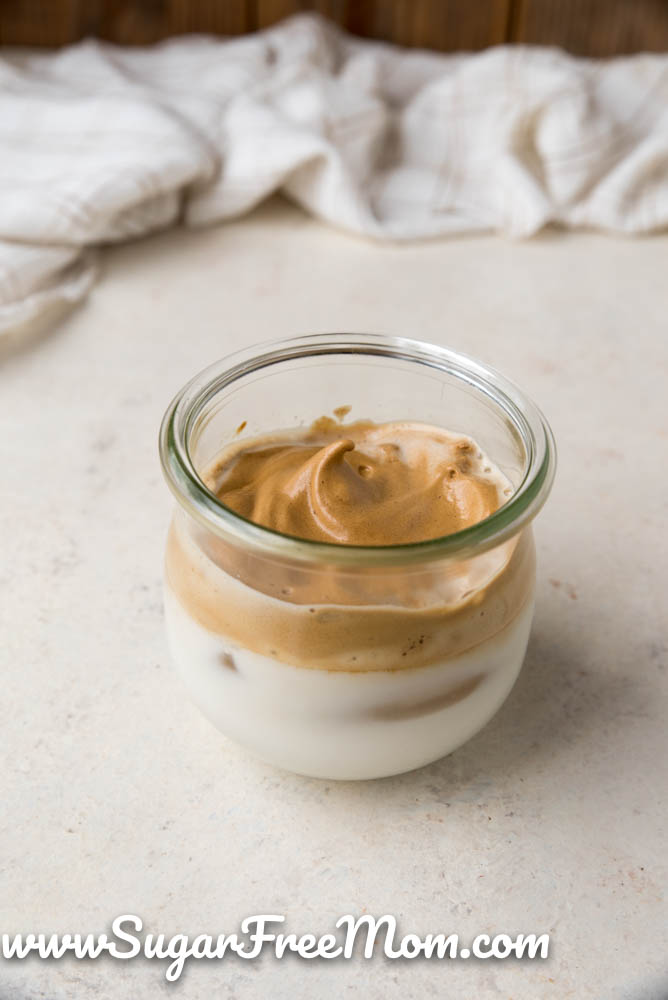 Meal Planning Membership
Our membership is simple. You can subscribe for a month to try it out or you can subscribe for a yearly membership. Each Friday you will get a meal plan that comes to your email. You'll have that early in order to go food shopping before the meal plan begins on Sunday. You will be able to view and print the meal plan and the shopping list. If you don't like a meal, simply delete it and swap it with another meal you like. The shopping list will automatically adjust. It's the best software available out there for a customizable menu plan. Not many other low carb or keto meal plans allow you the option to remove, add, start with a blank menu and create your own if you so wish. Learn More Here!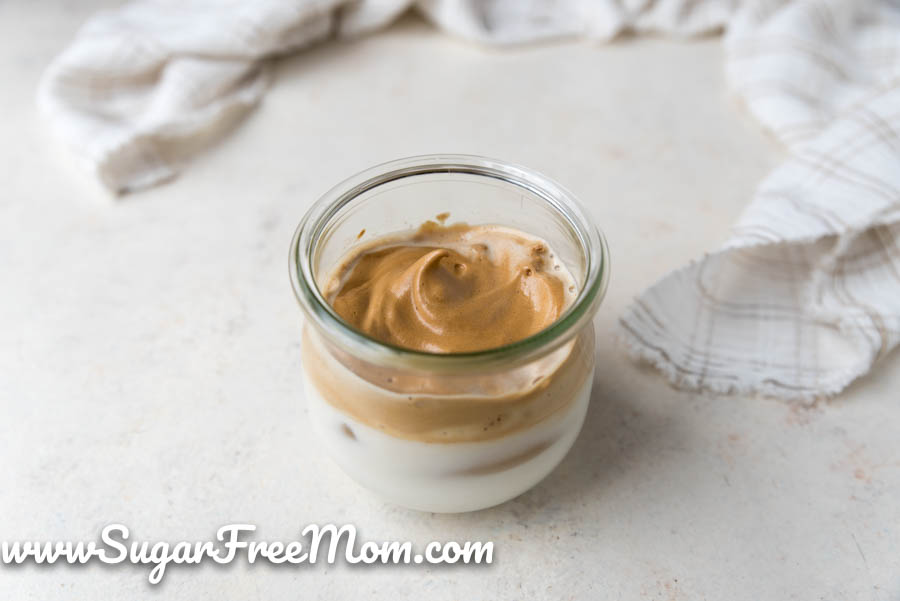 Sugar Free Whipped Coffee Iced Latte
I personally think having this sugar free whipped coffee over cold, unsweetened, almond milk over ice is the tastiest. It completely surprises me that even without heavy cream, I am enjoying an iced frappe like latte. It's best to stir the whipped coffee into the almond milk to really get it absorbed well. This will make the texture creamy and the latte taste even better than sipping it with it just sitting on top of the milk.
Here's the LIVE Video showing you how I made this delicious coffee:

Other Coffee Recipes You might Like:

SUGAR FREE KETO DALGONA COFFEE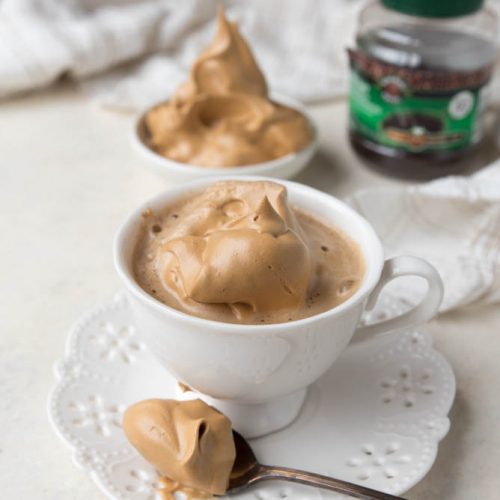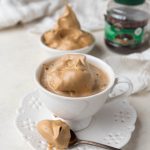 Print
Sugar Free Whipped Coffee
Instructions
Combine all the ingredients, except the hot water, into a stand mixer or bowl using a hand held mixer. Mix to combine.

Pour in the hot water and turn the stand mixer on high speed, number 6, for 1 minute. Scrap down the sides of the bowl and blend on high again for 2-3 more minutes until lighter in color and whipped in texture.

Heat a cup of unsweet almond milk or milk of choice or serve milk over ice and spoon half the whipped coffee into your glass. If enjoying this iced, I'd suggest stirring to combine the whipped coffee into the milk very well to make more like a latte.
Notes
Net Carbs: 1g
This recipe was first published in April 2020 and updated in September 2021. 
Nutrition
Serving:
1
serving
|
Calories:
10
kcal
|
Carbohydrates:
2
g
|
Protein:
1
g
|
Fat:
1
g
|
Saturated Fat:
1
g
|
Sodium:
1
mg
|
Potassium:
88
mg
|
Fiber:
1
g
|
Sugar:
1
g
|
Iron:
1
mg