Cranberry Pistachio Cookies made without sugar, grain free, gluten free and low carb too!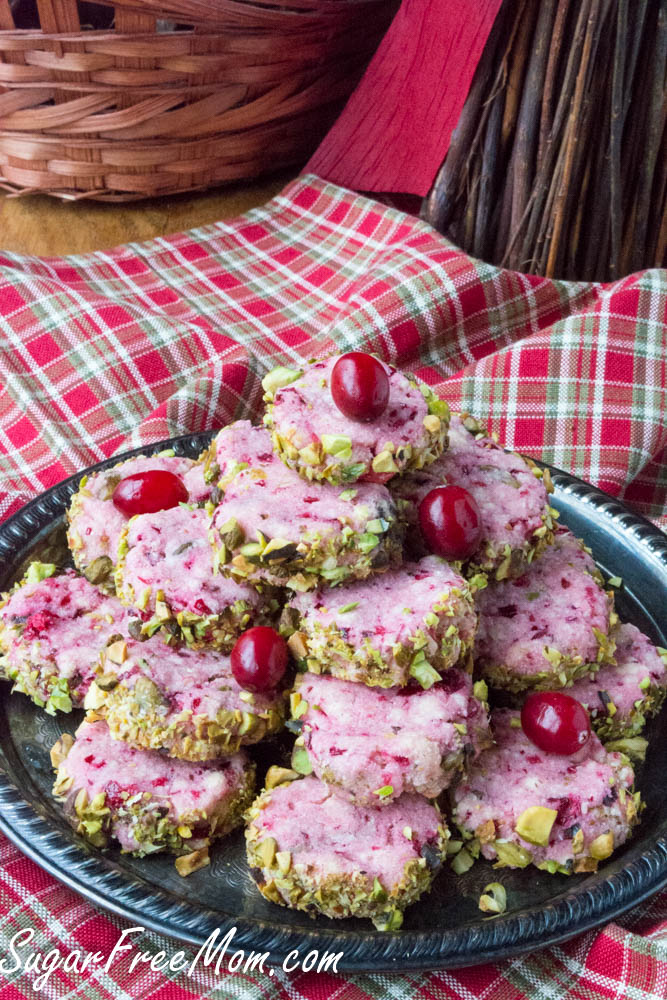 Pink might not be the typical Christmas color for a cookie but does knowing it contain cranberries make it more Christmas-y for you?
I wasn't planning on making them pink but just felt like a little bright color was festive enough for the holiday.
I've made these cookies 3 times now just to get them perfect in texture.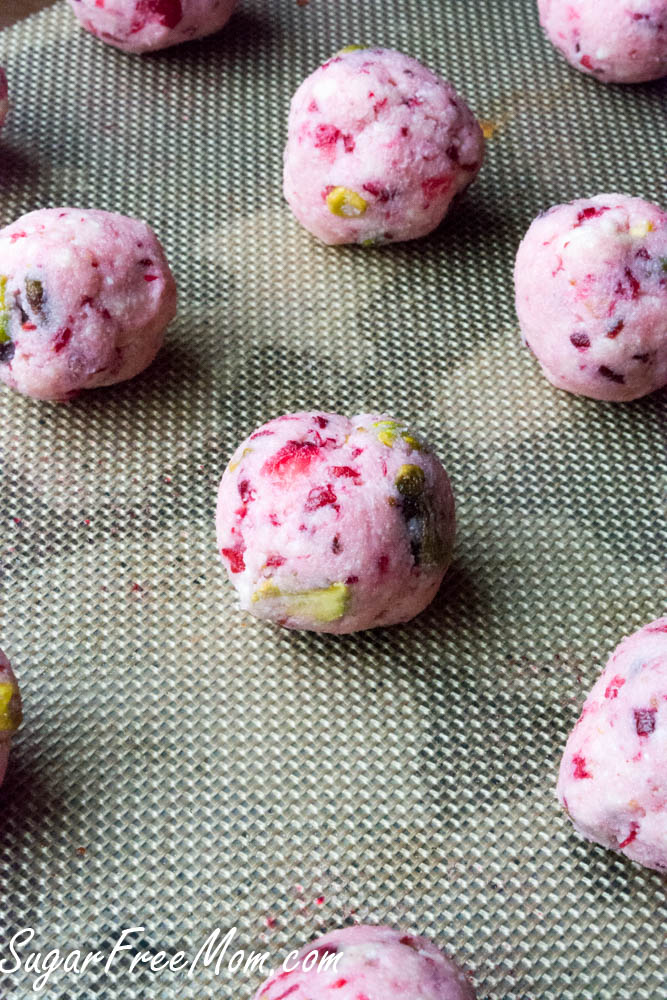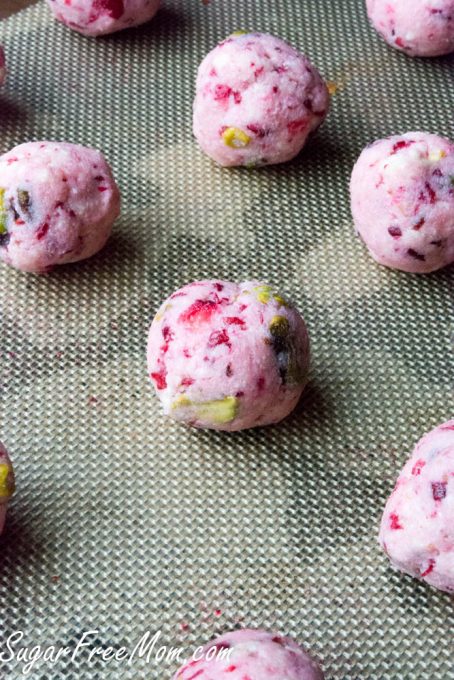 My original plan was a nut free cookies and the reason I was using coconut flour.
Have I told you about my youngest with the tree nut and peanut allergy? He hates coconut.
BUT that doesn't stop me for making things with coconut flour and disguising it enough for him to eat it.
Obviously these now have pistachios in them, otherwise they would be a pretty allergy friendly cookie; no eggs, no nut flour etc, BUT I added pistachios.
Why you might ask?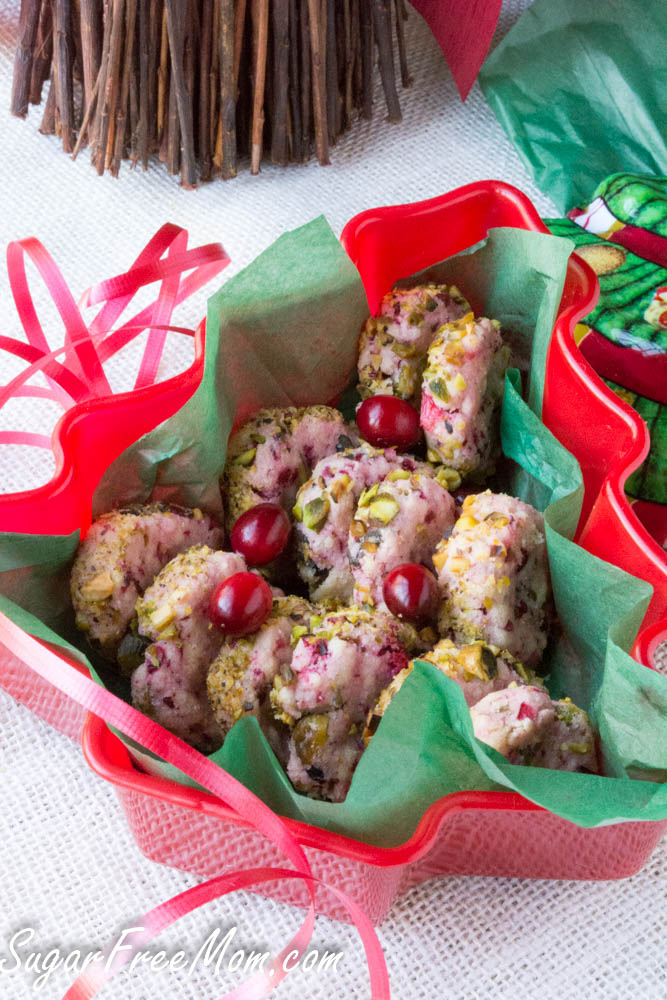 He hated the flavor of the cranberries.
I made them 3 times adjusting things each time and each time he tried them, nope, not interested. One bite was all he took.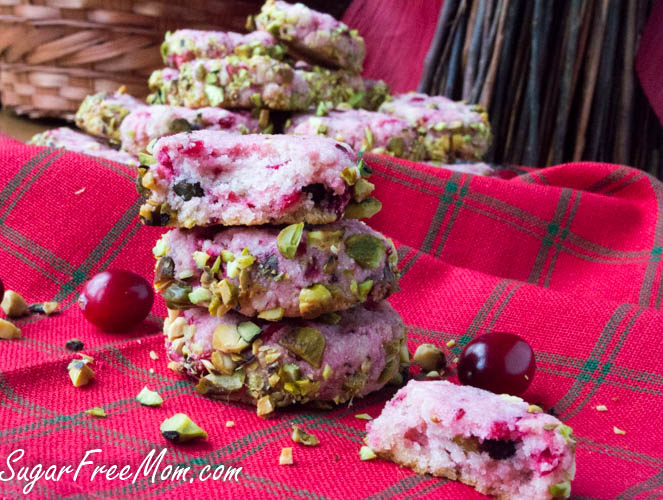 So I said, forget it. I love nuts and some Christmas cookies just needs some nuts. End of story.
These are those cookies and they are so much prettier with the nuts.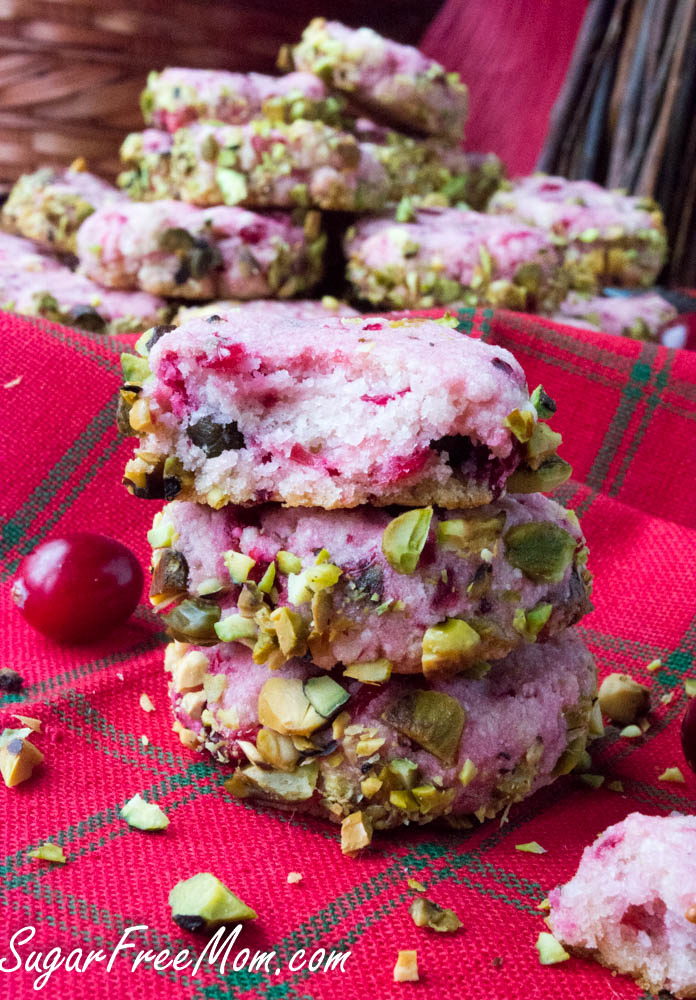 So if you do have a child with a nut allergy, then skip the pistachios, or replace with chopped pumpkin seeds instead. That would still give them some green color for the festive aspect, right?
Right.
Oh and by the way, my other two kiddies and picky hubby LOVED these cookies. Can't win them all right? 🙂
Brenda's Notes:
If you don't have Swerve sweetener you can use another sugar free granulated sweetener but you should remove the lemon stevia. Swerve is not as sweet as most sugar free substitutes.
If you don't have lemon stevia, vanilla liquid stevia would be my next choice.
You can remove the pistachios if there is a nut allergy.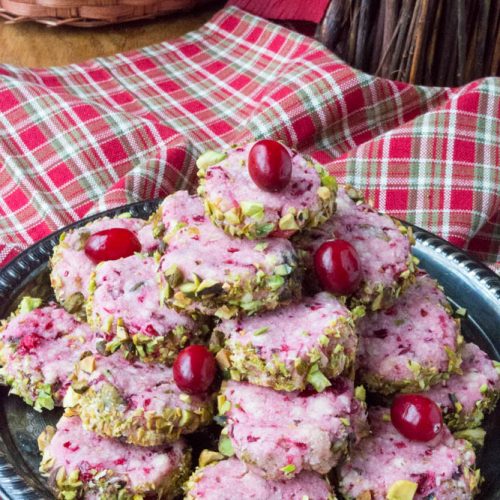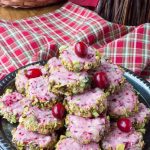 Grain Free Low Carb Cranberry Pistachio Cookies
Instructions
Preheat oven to 350 degrees.

Place the first 4 ingredients into a food processor and process until combined and cranberries are finely chopped. Set aside.

In a stand mixer add the coconut, Swerve, xanthan, baking powder and salt. Mix on slow to incorporate.

Add the remaining ingredients except the pistachios.

Taste batter to adjust sweetener if needed.

On low stir in ¼ cup pistachios.

Roll batter into 24 balls.

Place each on a silpat lined or parchment lined baking sheet.

Flatten each then roll outer edges of cookie in remaining chopped pistachios.

Bake for 12-14 minutes.
Recipe Notes
Net Carbs: 3.4g
Nutrition Facts
Grain Free Low Carb Cranberry Pistachio Cookies
Amount Per Serving (2 g)
Calories 134
Calories from Fat 103
% Daily Value*
Fat 11.4g18%
Cholesterol 20mg7%
Sodium 245mg11%
Carbohydrates 6.6g2%
Protein 2.3g5%
* Percent Daily Values are based on a 2000 calorie diet.