This healthy pumpkin bread is made without any grains, sugar or flour! It's low carb, gluten free and a perfectly healthy yeast free bread full of fall flavors!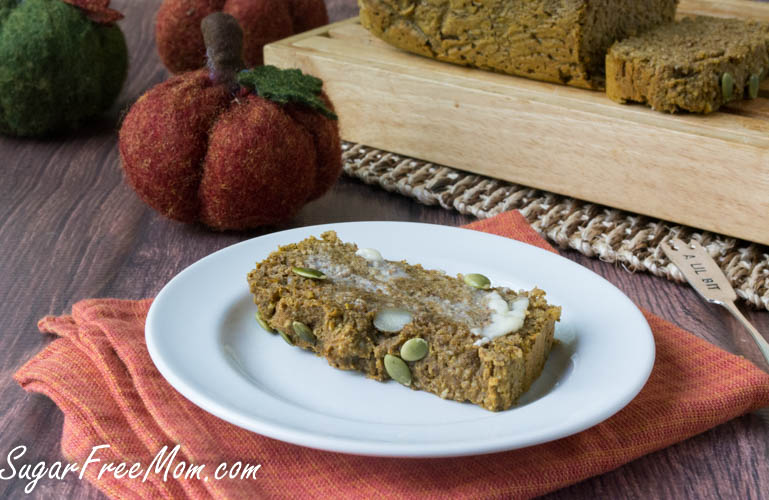 Have you ever been excited about meeting a celebrity or someone you've seen on TV, only to realize your nerves got the best of you and you acted far from professional and put together, to more... well.... childlike and silly?
That's what happened when I went to Miami last May and met Ree Drummond, the Pioneer Women. My photo on Instagram is so goofy and I told her I felt like a stalker, YIKES! Insert foot in mouth disease!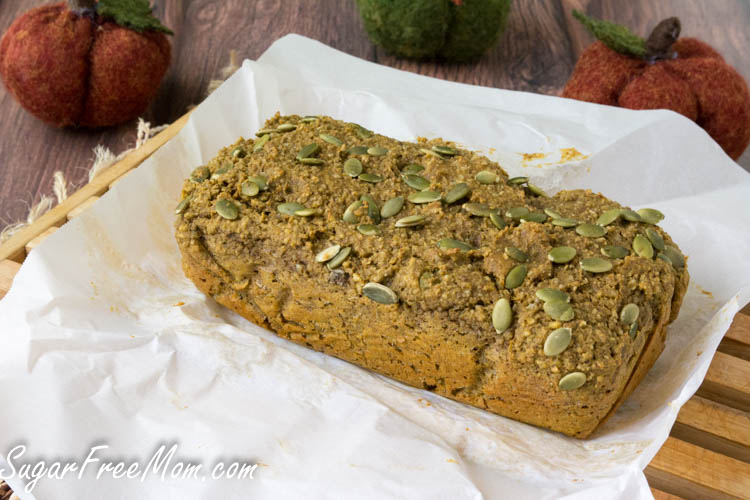 This weekend I'm headed to New York City for the Food Network Food & Wine Festival! I was thrilled to be provided tickets from my new potential clients, Anolon cookware. The Grand Tasting on Saturday will include demonstrations from Rachel Ray, Emeril Laggesse, Martha Stewart and many more.
To be completely honest I'm as nervous as anything! I know when I'm nervous I stumble on words, talk too much, appear quite goofy looking in pics and act like a giddy little teenager.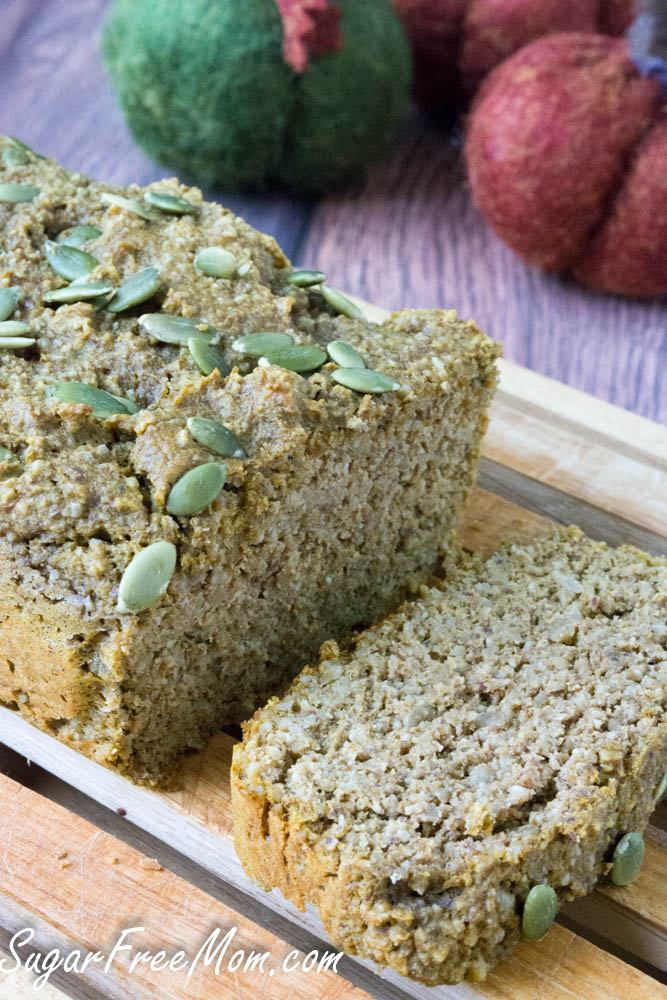 Oh how I wish I could be more composed and sophisticated!
But such is life and I'm going and I will meet Rachel Ray and many more chef's I'm in awe of.
And if that goofy girl strikes again, heck I'm just going to go with it. Hopefully I will be a little more poised and less giddy, but this is who I am and well.......guess I'm trying to accept this part of me, silly and all.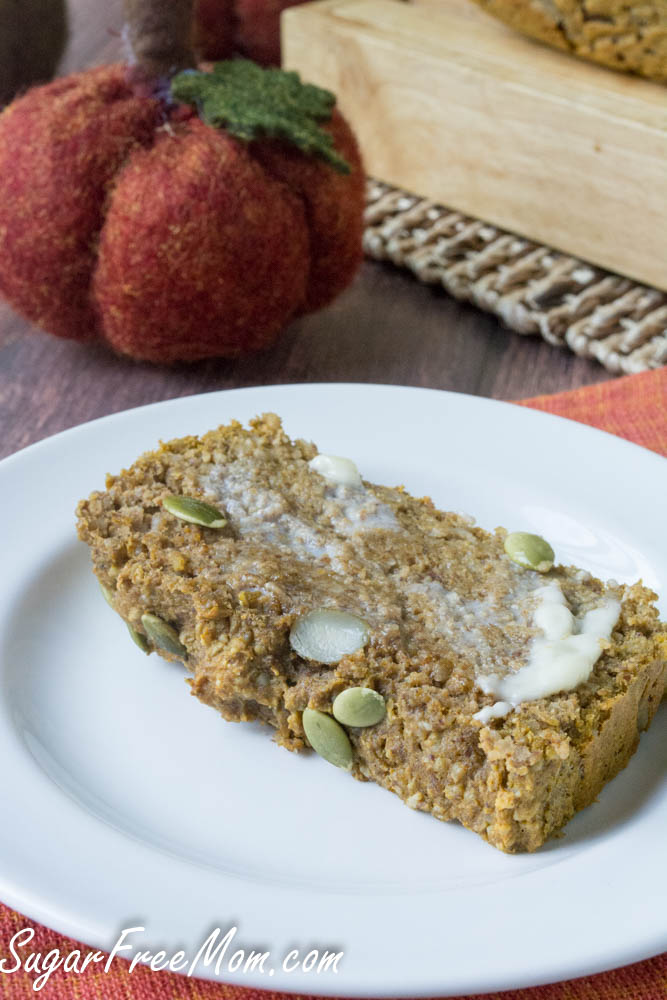 I've got great plans when I return after this weekend provided of course I have the courage to actually talk to Rachel Ray and she invites me on her show!!!
No actually I just hope to let her know I'm a little blogger who's trying to find a place among others in this crazy blogging world. I hope I have the confidence to share with her what I do and why I do it.
My goal here has always been, foremost to my family and then to all of you, providing a way for everyone to see sugar-free recipes aren't a jail sentence but rather a way to embrace a healthier way of life without refined sugars.
I hope I show you it's not only manageable but also enjoyable. 🙂
Recipe adapted from my Grain Free Nut Free Sunflower Bread recipe.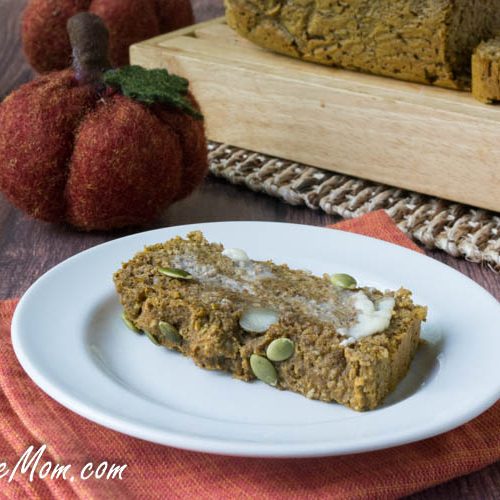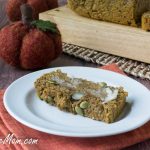 Print
Sugar-Free Low Carb Pumpkin Bread
Ingredients
½

cup

ground flaxseeds

2

teaspoons

baking powder

½

teaspoon

salt

3

teaspoons

pumpkin pie spice

½

teaspoon

cinnamon

2

cups

raw unsalted sunflower seeds

½

cup

pure pumpkin puree

4

eggs

¼

cup

Swerve

1

teaspoon

vanilla extract

1

teaspoon

liquid cinnamon stevia or vanilla
Instructions
Preheat oven to 325 degrees.

Whisk flaxseed, baking powder, salt and spices. Set aside.

Place sunflower seeds in the food processor and process until the texture resembles flour.

Add in the pumpkin, eggs and process for just a minute until combined. Add in all the rest of the ingredients and process until smooth.

Line a loaf pan with parchment paper and pour batter into pan.

Top with pumpkin seeds if desired.

Bake 40-45 minutes or until a skewer in center comes out clean.

Cool for 15 minutes before removing and slicing.
Notes
Weight Watchers PointsPlus: 5*
Nutrition
Serving:
1
g
|
Calories:
193
kcal
|
Carbohydrates:
7.4
g
|
Protein:
9.5
g
|
Fat:
15.3
g
|
Saturated Fat:
1.7
g
|
Cholesterol:
60
mg
|
Sodium:
117
mg
|
Fiber:
5.3
g
|
Sugar:
0.3
g