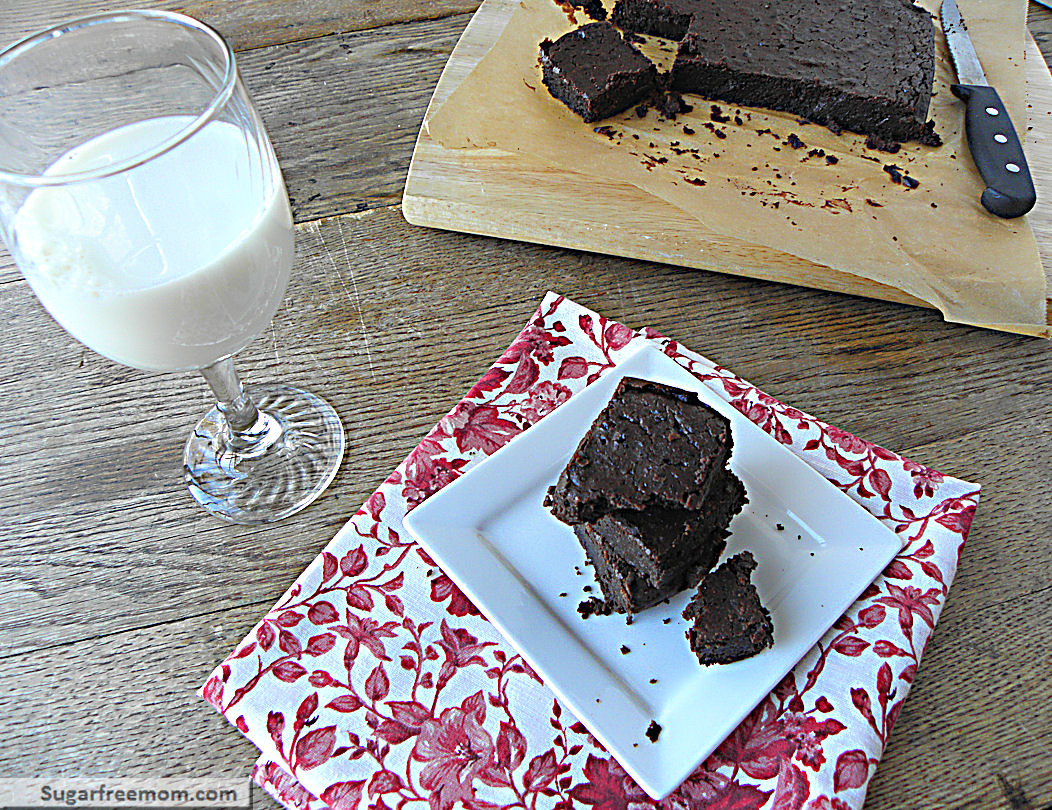 Here you have a fudgey, decadent chocolate brownie minus dairy, flour, gluten and sugar. Yes, it's true! Now before you rush off to examine the ingredient list and then shake your head in disbelief that these could be good bare with me a minute.
My husband is the pickiest they come and so is my oldest son. Hubby rarely likes any of my sugar free desserts and both will share how distasteful they think something is without care to hurting my feelings. I'm good with that, I really am. I want the truth, always.
They not only ate 1 but ate 2, never asking what's in these, never asking what's not in these, never giving a funny face and never saying these were "ok" (that's usually what I get when they don't really like a recipe).
They don't know what's in these and I will never tell and if you're smart you won't share it either. 🙂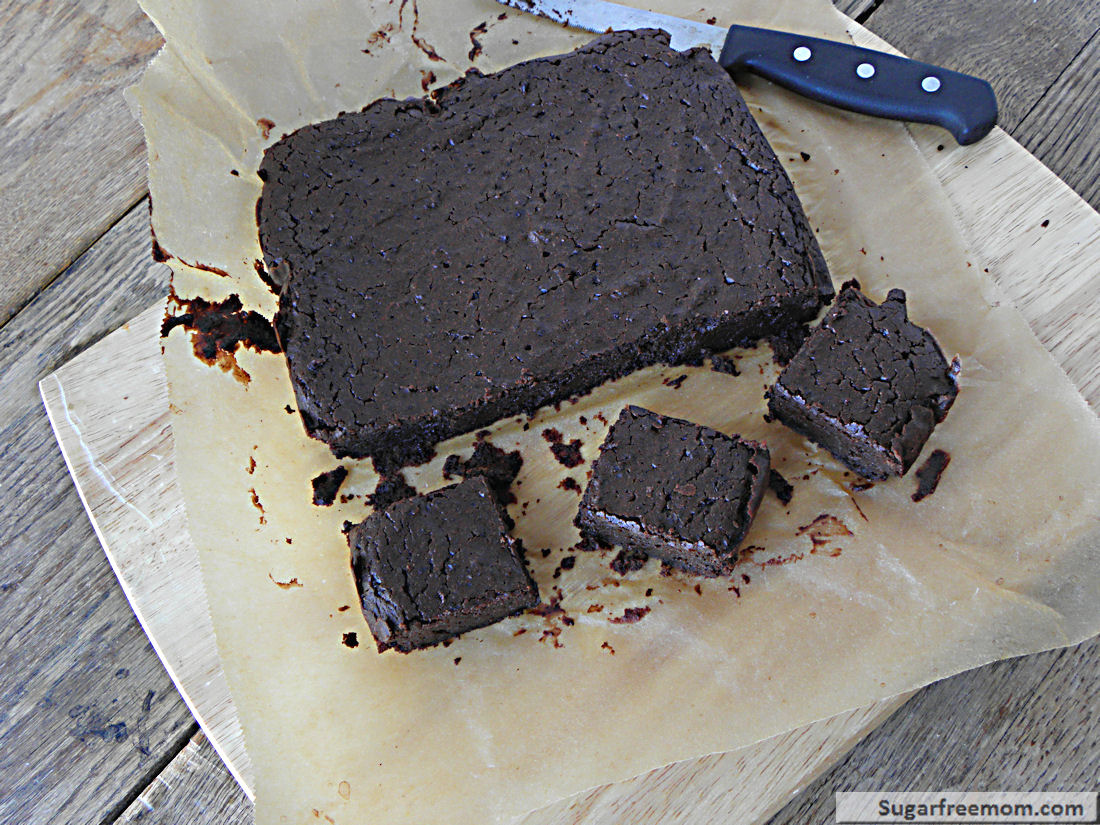 These brownies can stand up to any of the flour and sugar filled brownie recipes around. I'm serious. You can serve these to company without anyone even asking if these are healthy.
Because look at them.......
Do they look any less than amazing???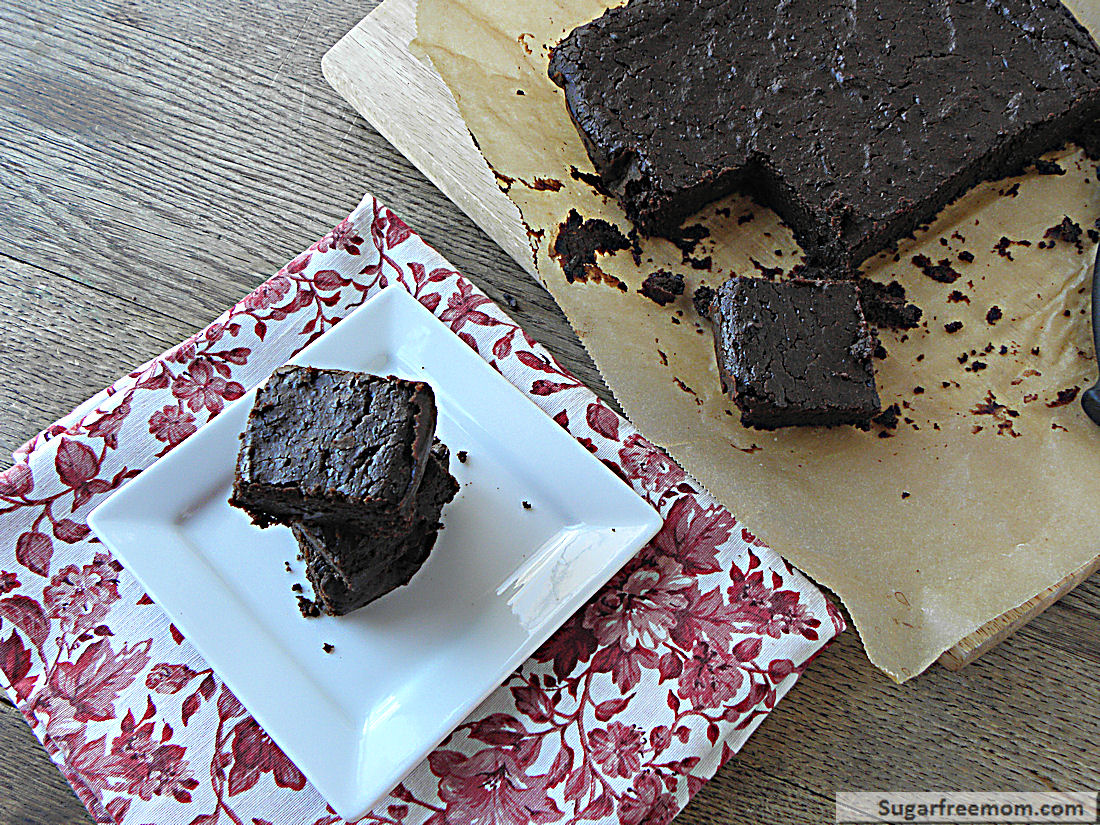 They are scrumptious and hefty and thick and perfect.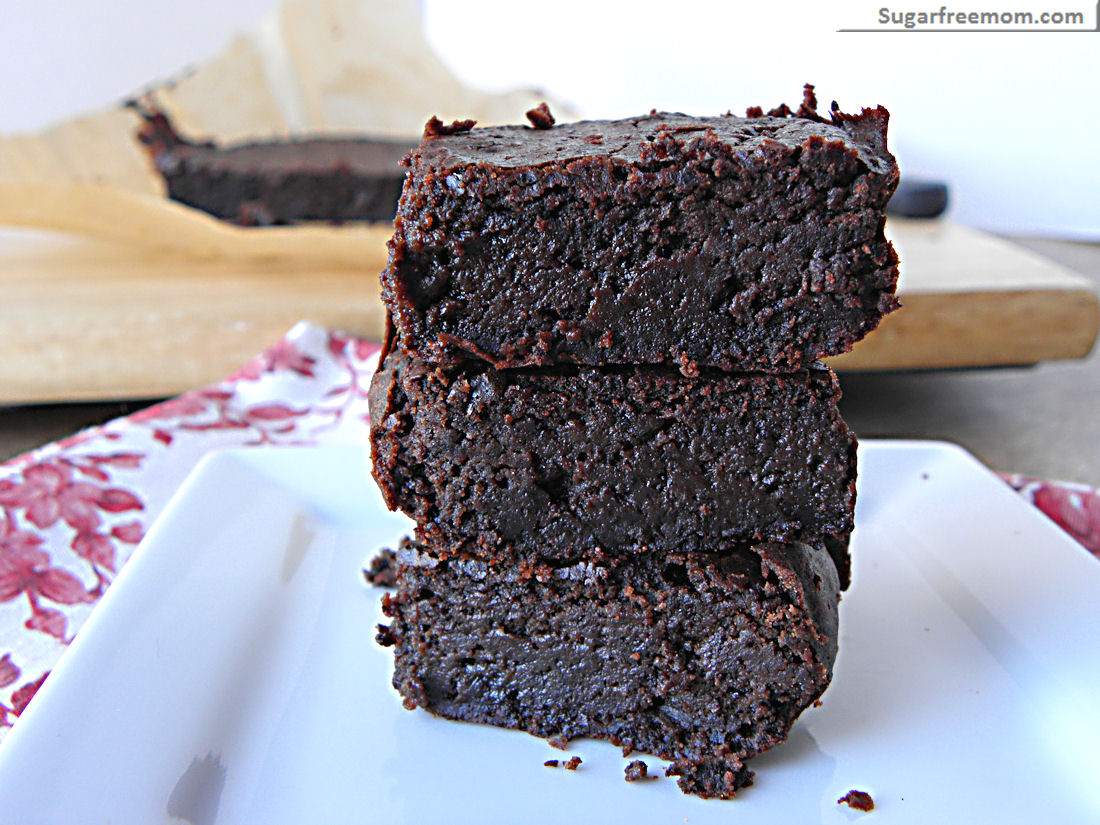 The first time I made them they were too wet and moist, I adapted again and this time absolutely perfect-o!
I was even skeptical ,myself since I never made these kind of brownies with this ingredient before. I'm finicky about moistness and finicky if it smells different too. No funny smell, no ......a..hem..... after-effects of eating 1 or even 2......if you know what I mean.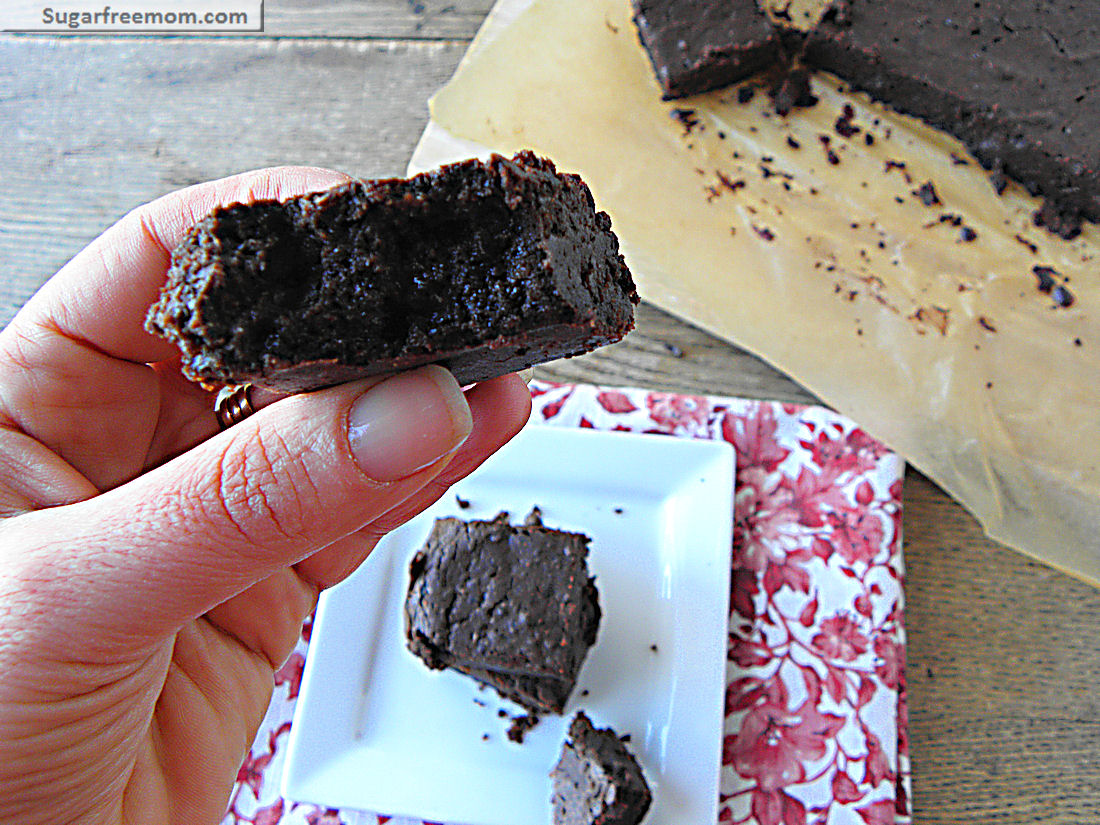 The mystery ingredient is all over the internet, BUT of course I would never put that ingredient in the title for goodness sake, who would even want to TRY them!!!
But looking at them now, then looking over the ingredients and then you will surely be looking back at the pictures in shock and will have a great desire to try these for yourself if only to prove me wrong. It's ok, I don't mind. 😉
You see, I've been on a quest to remove wheat/gluten from my diet since the new year and already have 2 fabulous brownie recipes on my blog here. This first one (sugar free chocolate brownies) has whole wheat flour in it and if you can have that then by all means try that recipe. The second is (gluten free & sugar free chocolate brownies) using gluten free flour and although delish and moist, more cake like, not fudgey. So it really depends on what you look for in a brownie. It you want fudgey this is the recipe to make!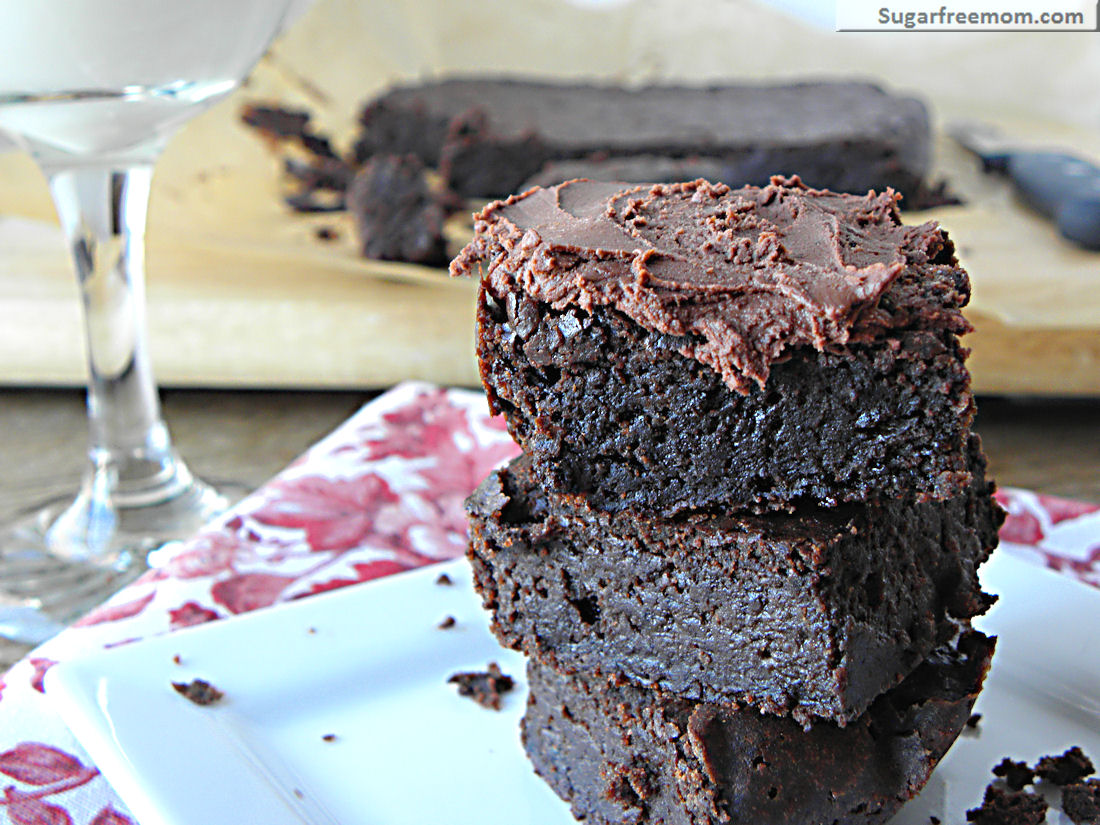 That chocolate frosting you see was an experimental dairy free chocolate dip that turned into a failed chocolate dairy free ice cream that turned into frosting. I'll be experimenting with it some more because it is a slammin' delicious dairy free frosting!
My nutrition info is from nutritiondata.com and using sweetened carob chips and oil in this recipe but substitutions are always an option.
Quick Note: I'm using carob chips sweetened with beet sugar because I haven't been able to find Sunspire grain sweetened chocolate chips made from barely malt at Whole Foods or online anymore, (If you happen to find them and use them, just as a FYI, they are not gluten free since they are made with barely malt). The beet sugar is a more natural sugar than using chocolate chips sweetened with regular sugar or even cane juice. You could always use unsweetened as well but will have to experiment with the sugar of your choice. Another note, I used canola oil in this recipe since I was out of coconut oil but I believe coconut oil will work just as well.
UPDATE: I've found a SUGAR-FREE CHOCOLATE CHIP at Whole Foods by the BRAND LILY'S and they are sweetened with STEVIA!! I love them!
*adapted from Whole Foods Market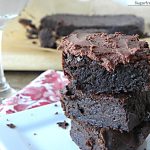 Print
Fudgey Flourless Chocolate Brownies [Gluten, Dairy & Sugar Free]
Ingredients
1 ¼

cups

sugar-free chocolate chips or

carob chips or grain sweetened chocolate chips

1

15.5 ounce can black beans, rinsed and drained

¼

cup

carob powder or cocoa powder

unsweetened

2

eggs

⅓

cup

olive oil or coconut oil

melted

¼

teaspoon

cinnamon

2

teaspoons

vanilla extract

¼

teaspoon

salt

½

teaspoon

baking powder

1

teaspoon

instant coffee

1

tablespoon

powdered stevia
Instructions
Preheat oven to 350 degrees.

Line an 8 by 8 baking dish with parchment paper.

Spray parchment paper with nonstick cooking spray.

Process all ingredients in a food processor until smooth.

Pour onto parchment paper in baking dish and smooth out batter to edges of dish.

Bake 30-35 minutes until a toothpick comes out perfectly clean.

Mine were perfect at 35 minutes.

Cool on wire wrack for 10 minutes then remove by holding edges of parchment paper and lifting out.

Transfer onto a wire rack to cool before slicing on a cutting board.
Notes
Weight Watchers PointsPlus: 4*
Total Carbs 16.3 minus 4.2 Fiber grams equals 12.3 NET CARBS
Nutrition
Serving:
1
g
|
Calories:
146
kcal
|
Carbohydrates:
16.3
g
|
Protein:
3.8
g
|
Fat:
10.4
g
|
Saturated Fat:
4.1
g
|
Cholesterol:
22
mg
|
Sodium:
79
mg
|
Fiber:
4.2
g
|
Sugar:
1.7
g