It's Share the Love Healthy Recipes Week! Today we have a fabulous guest post vegetarian recipe from the wonderful Amie of The Healthy Apple.
Just in time for a simple, 'clean' gluten-free Valentine's Day snack or meal, here's a healthy, gluten-free, vegan and dairy-free recipe that is perfect to keep your blood sugar stable whether it's enjoyed for lunch, dinner or an afternoon pick me up. So, go ahead, share the love this Valentine's Day- your sweetie will love this naturally sweet recipe and the addition of stevia will add the perfect touch that will keep your taste buds dancing until St. Patrick's Day.
Bon Appetite.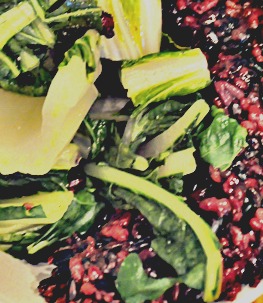 Green Tea Black Rice and Bok Choy

Ingredients
1 cup black rice
2 cups brewed green tea, cooled
1 bay leaf
¼ tsp. sea salt
1 head bok choy, sliced into ½ inch pieces
1 tsp. unsweetened coconut flakes
1 tsp. stevia
¼ tsp. chili powder
Directions
1. Soak the black rice overnight in cold water.
2. Drain rice and place in a large pot with green tea, bay leaf and sea salt; steam for 1 hour or until tender. Add bok choy, coconut flakes and stevia, steam for another 7-8 minutes; mix well. Add chili powder.
3. Transfer to serving bowls.
4. Enjoy.
Amie Valpone, HHP, AADP Culinary Nutritionist, Personal Chef, Editor-in-Chief of the gluten-free blog, www.TheHealthyApple.com and Publisher of Easy Eats, www.EasyEats.com online gluten-free magazine.