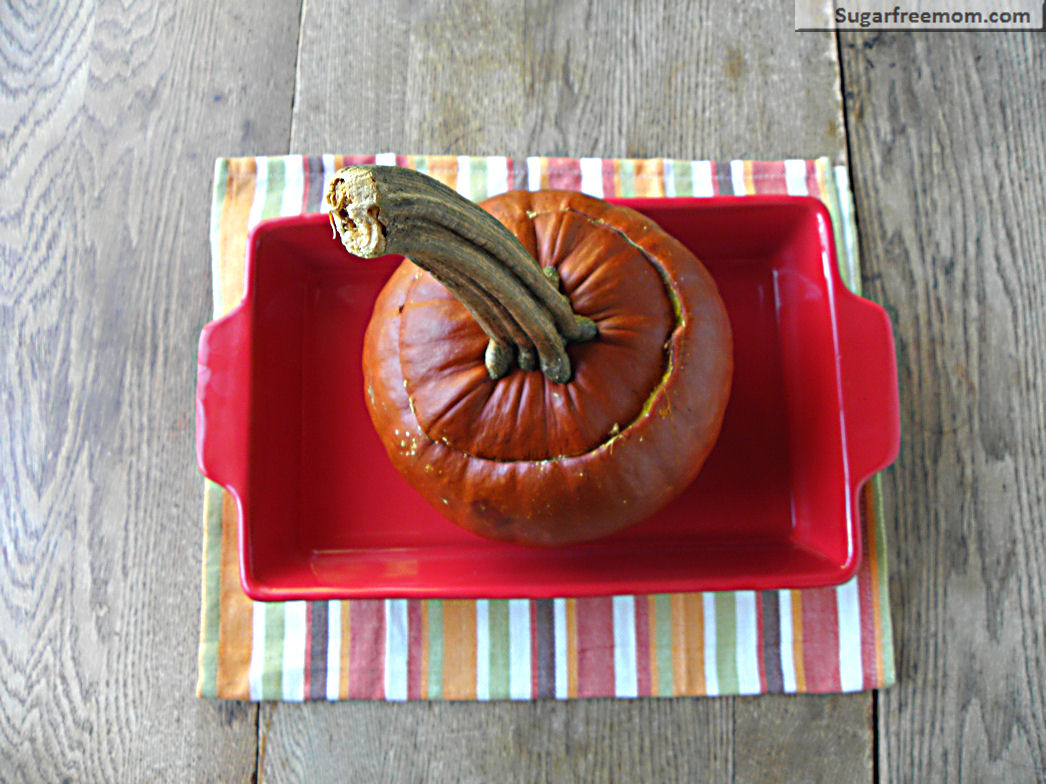 What would National Pumpkin Day be without a Stuffed Pumpkin recipe??!!
A STUFFED PUMPKIN???
Yes!! Oh yes!!!
Now some of you may have NEVER eaten real fresh baked pumpkin before, am I right? I mean I am sure you have had canned pumpkin and baked pumpkin pie but have you really had the sweet squash like vegetable on your dinner plate before?
Until I married my husband 15 years ago, I had not. I am Italian and Italians don't eat real pumpkin as a vegetable, at least not in my house. Pumpkin was only good for the seeds and of course as a pie for Thanksgiving. SO this hubby of mine is part French and grew up with his grandmother cooking up a stuffed pumpkin weekly as soon as the season hit. Of course his grandmothers version is not quite the recipe I am giving you today. Why?
It wasn't the healthiest and I aim to please and provide health-IER versions of the recipes we all love.
Since his grandmother is passed and there is no written recipe anywhere to be found just the memory from my hubby's taste buds..........
well.....I improvised!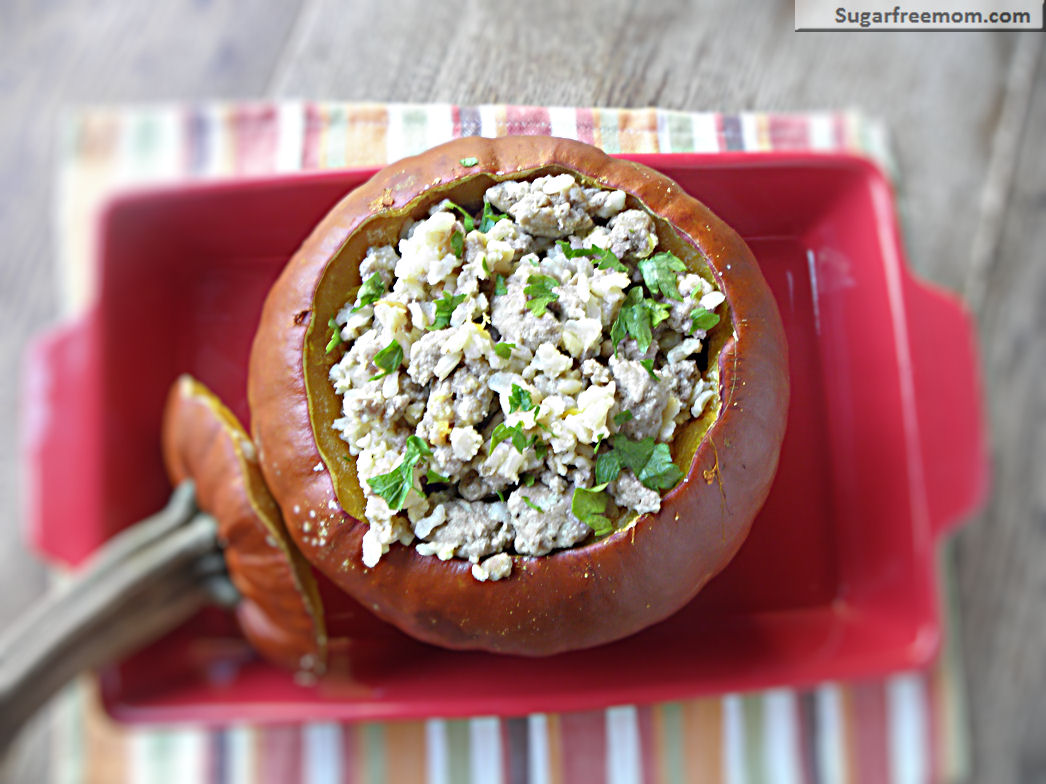 Do you think your kids will eat this?
I have to say I was quite skeptical and made something else for dinner just in case!
The stats:
Little man who is 6, ate the stuffing, not the pumpkin.
Dear daughter who is 9, same thing.
Picky 12 year old son, ATE IT UP AND ASKED FOR MORE! What??? Oh yes he did! Who knew folks? Who knew!
PICKY HUBBY who only remembers his delicious and fattening grandmothers version, "liked" it but commented it was totally different than his grandmothers. Hmm. 😉
ME: I loved it! The stuffing is scrumptious and will make you want more of that sweet, soft pumpkin flesh!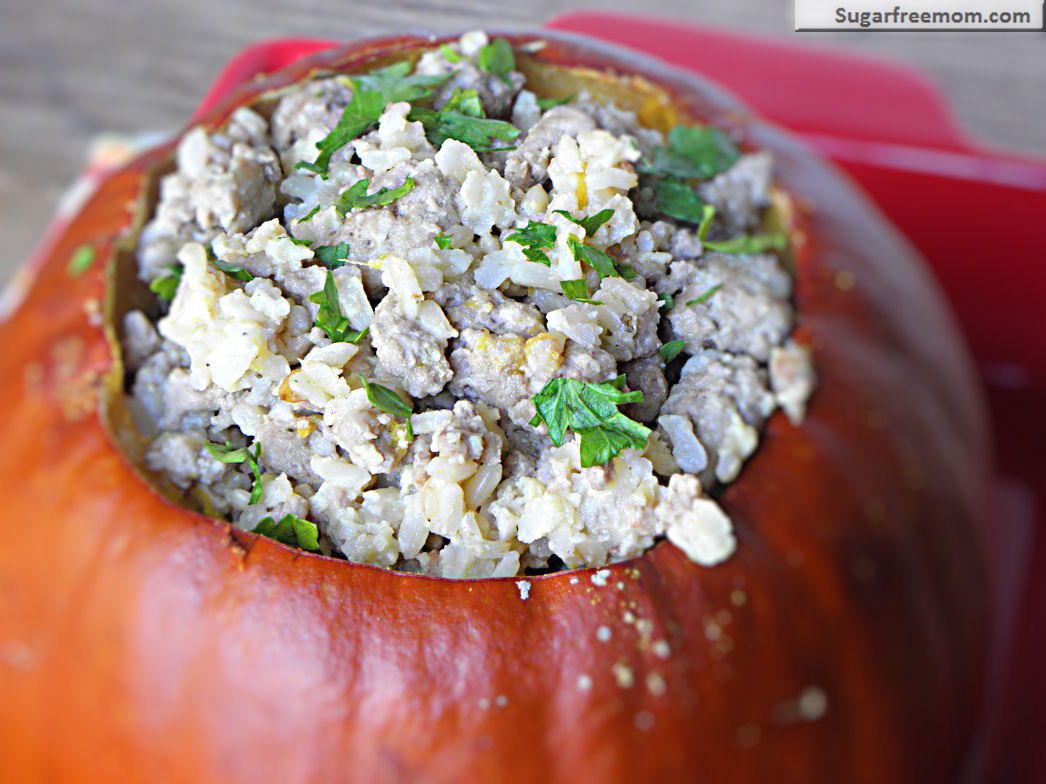 Adapted from eatcleandiet.com
Healthy Turkey Stuffed Pumpkin
[sc:Ziplist]
Ingredients
1 small (about 4 pounds) Sugar Pumpkin, seeds and strings cleaned out
2 teaspoons salt
1 teaspoon dry mustard
1 tablespoon canola oil
1 cup chopped onion
4 cloves minced garlic
1 ½ pounds ground turkey
½ teaspoon garlic powder
½ teaspoon pepper
1 ½ cups cooked brown rice
2 eggs, slightly beaten
Directions
Preheat your oven to 350 degrees. Using a fork prick the inside flesh of the pumpkin. In a small bowl mix the salt and mustard together. Rub the mixture all over the inside of the pumpkin. Set aside. In a large saute pan heat the oil. Add the onion, garlic and turkey. Saute until the meat is browned. In a large bowl combine rice, garlic powder, pepper and eggs. Mix turkey mixture into the rice mixture. Stuff this mixture into the pumpkin. Place your stuffed pumpkin into a baking dish and fill the dish with water half way. Bake for 1-½ hours until pumpkin is tender when pierced with a knife. Slice into 6 wedges and evenly distribute turkey mixture over each pumpkin wedge.
Nutrition Info
Servings: 6* Calories per serving: 356* Fat: 14g* Cholesterol: 160mg* Sodium: 912mg* Carbs: 33g* Fiber: 3g* Sugars: 5g* Protein: 26g* Points+: 7*
Other Turkey recipes you might like: