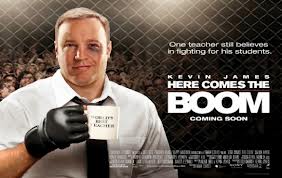 The new movie," Here Comes the Boom", just opened last night in movie theaters starring Kevin James, who is well known for his TV series role in "The King of Queens." My family and I including my children ages ranging from 6-12 were gifted the premiere tickets from Sony Pictures to review the movie for family friendliness.
If you are familiar with Kevin James than you know you won't be seeing a drama, that's just not his style. We completely laughed the entire movie! My youngest was entertained the whole time and thoroughly enjoyed himself as did my older two. It's a heart warming story with a great message that the whole family will enjoy.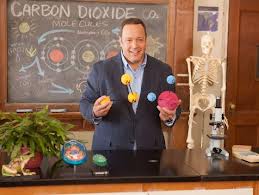 Kevin James plays a Biology teacher from Boston, MA who was once a teacher that truly cared and inspired his students. He even one the Teacher of the Year award.....10 years ago! At this point in his life he seems to have lost his passion and doesn't seem to care much about anything.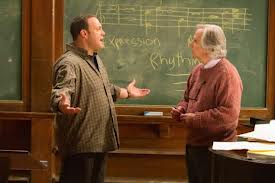 But when a budget cut threatens the very job of his music teacher colleague played by Henry Winkler (aka the Fonz) he goes into battle mode to do something about it. He decides to use his age- old -college -day wrestler skills to land some small gigs fighting in minor league rings, and even losing, wins him some profit for the cause. Until one day he is asked by Joe Rogan to play a UFC fight with a possible chance to raise all the money needed for the music program to not be cut.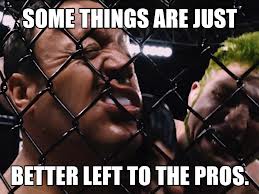 If you don't mind some minor fights, which is nothing too bloody or inappropriate for children, then this movie is sure to please. Seeing a movie with actors holding hands and praying before the big fight is one that melts my heart and you certainly don't see often in major movie flicks. 🙂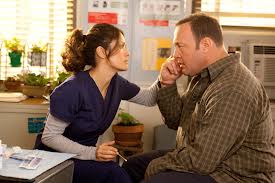 Luckily each time he fights he is able to receive special care form the school nurse played by Salma Hayek. Minor flirting throughout the movie with continually be turned down for a date makes this a sweet movie that is quite believable.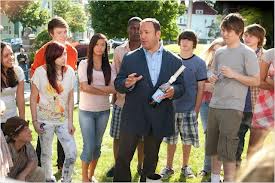 Bottom line: If you are looking for something to do this weekend with your family and want to LAUGH take them to see this hilarious movie! With a terrific message about taking action to make a difference, even with the risk of much embarrassment, this movie will not disappoint.