This Easy Keto Spicy Thai Noodle Bowl is a quick 15 minute Low Carb Keto meal!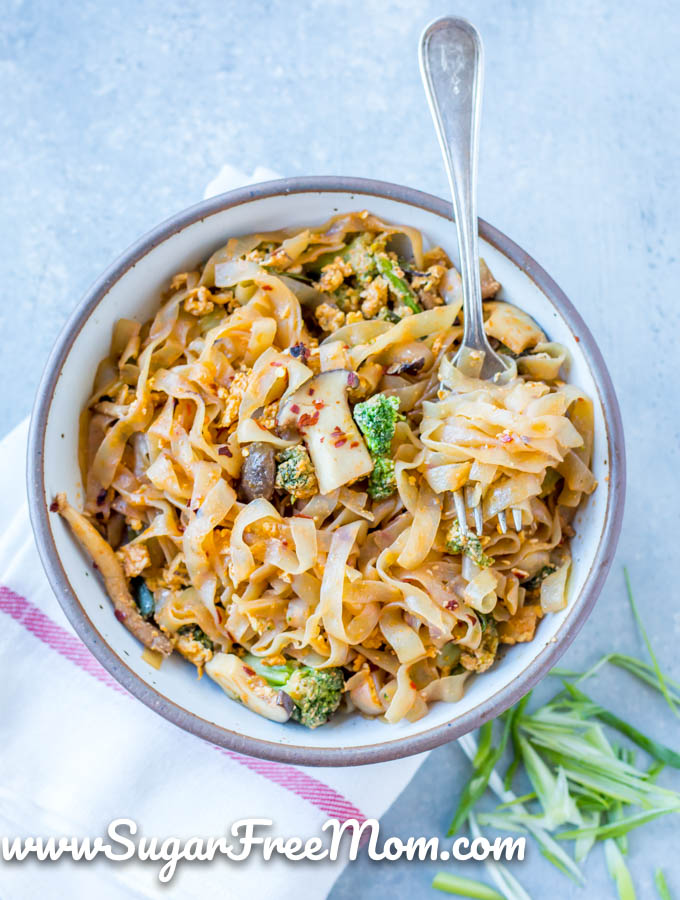 Noodle Bowls
When you think of noodle bowls what comes to mind? Ramen noodles or rice noodles from Chinese restaurants? Typically noodle bowl are any of those traditional style noodles from Asian recipes. Delicious noodle bowls require just a few things to make them memorable; a flavorful broth, comforting soft noodles, delicious veggies and some type of protein, though some without are just as tasty.
In order to make keto noodle bowl, we simply need to swap out the high carb noodles with something less carby. You could use spiralized veggies like zucchini, but that requires a bit more work than making this quick and easy Keto noodle bowl I'm going to share with you today.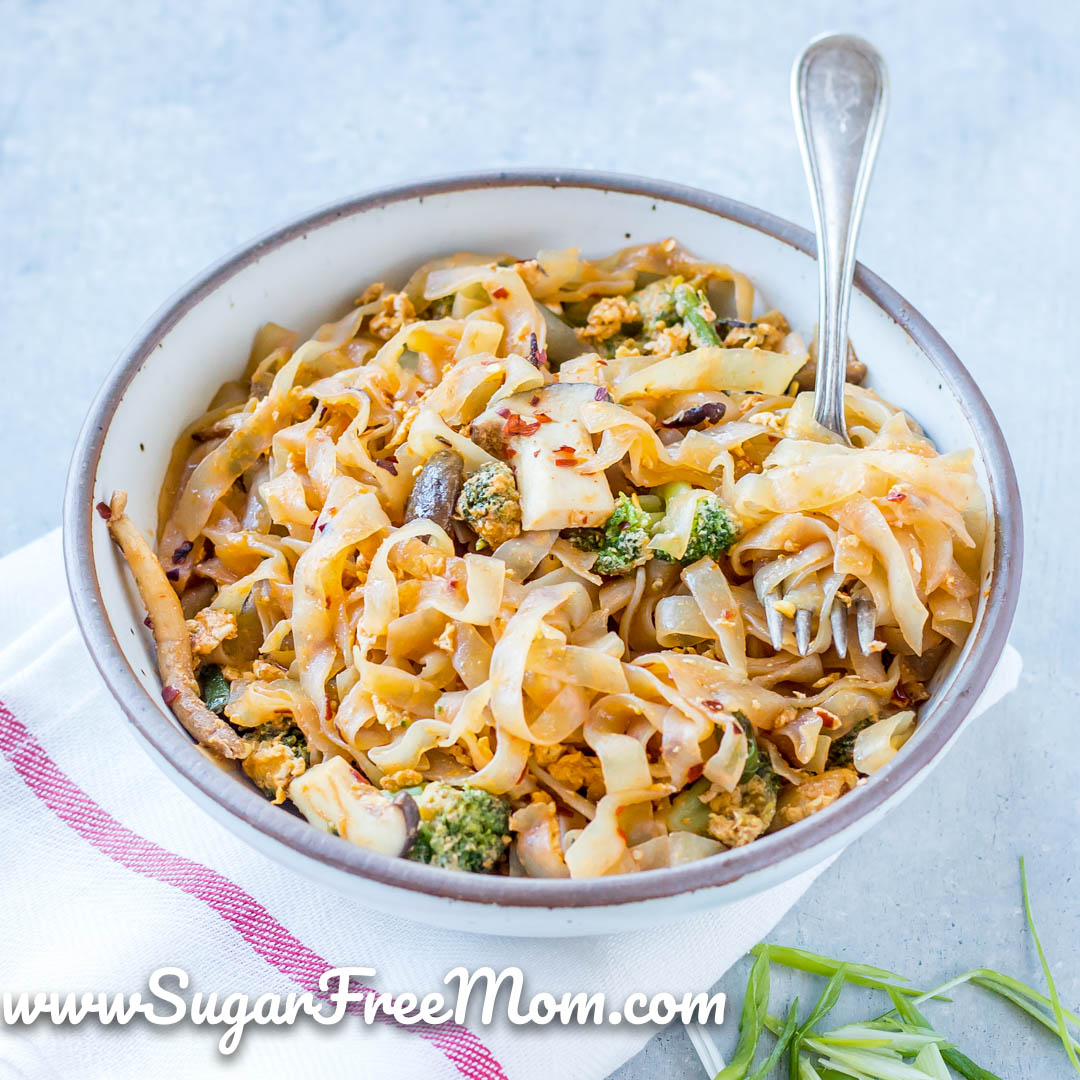 Shirataki Noodles
Shirataki noodles or Miracle noodles are the perfect keto swap for rice noodles in this dish. If you've never tried them before they are a zero calorie food that is derived from the Konjac yam. The fiber that comes from the root of this plant is called glucommanon. This is a starch that is an indigestible dietary fiber and therefore they have no calories or carbohydrates. They do not really have much of a taste of their own, but do have a smell when you first open the package. It's best to rinse and drain them well before using. Once in a recipe, the noodles will absorb the flavors, spices and sauce that the recipe includes so they are a fantastic option for swapping in many traditional Asian dishes that use noodles or pasta.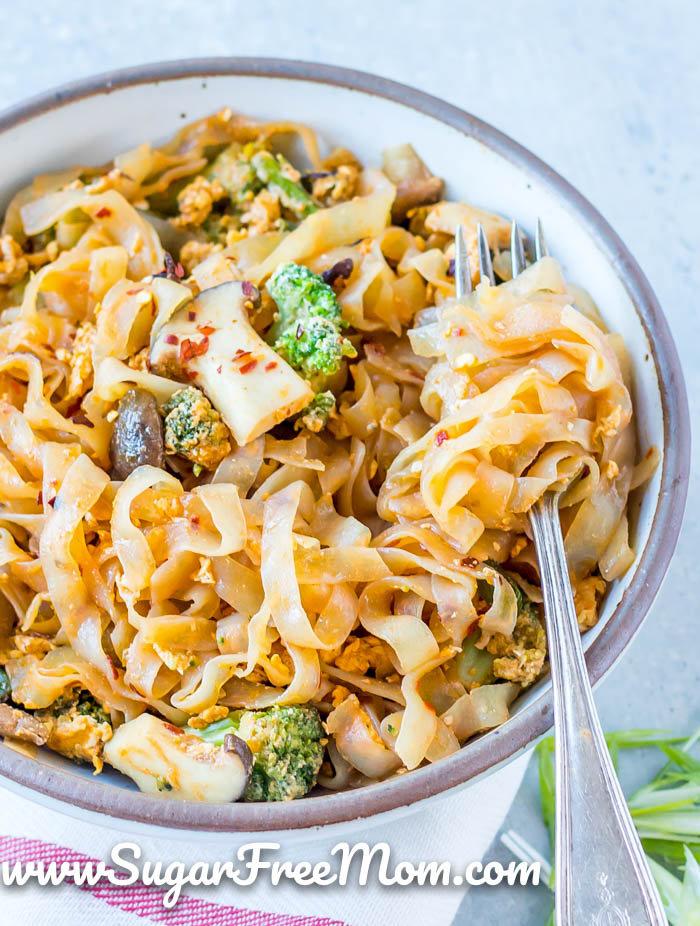 You can add more protein like cooked chopped chicken or steak, but to make this even easier, eggs are the protein of choice for this bowl. This easy recipe whips up in very little time for a quick lunch of dinner on a busy weekday. I honestly can't think of a more comforting meal than a noodle bowl like this. Like I said, if you've never tried these miracle noodles, if try them in this flavorful recipe, I doubt you'll be disappointed!
Other Recipes you might enjoy: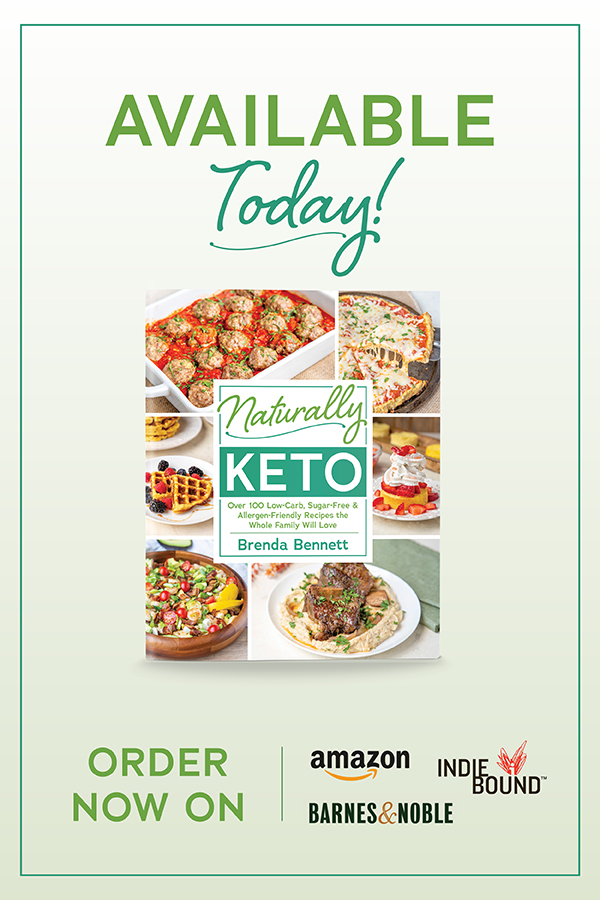 Right now my cookbook is 35% OFF on Amazon!
Keto Spicy Thai Noodle Bowl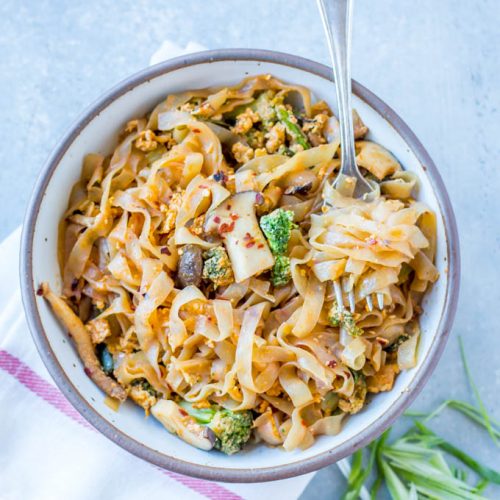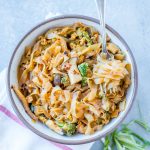 Print
Keto Spicy Thai Noodle Bowl
Instructions
Prepare shirataki noodles according to the directions on the package.

Heat the oil in a large skillet over medium heat. Add the broccoli, mushrooms, and green
onions to the skillet. Cook 3-4 minutes until softened.

Mix the sauce in a small bowl by adding the coconut aminos, Swerve and Sriracha, stir until combined.

Add in the eggs and scramble. Add in the prepared noodles and sauce. Bring to a simmer just
until the sauce is thickened, about 4-5 minutes. Stir in the cilantro and serve.
Nutrition
Serving:
1
serving
|
Calories:
387
kcal
|
Carbohydrates:
9
g
|
Protein:
9
g
|
Fat:
34
g
|
Saturated Fat:
6
g
|
Cholesterol:
211
mg
|
Sodium:
864
mg
|
Potassium:
298
mg
|
Fiber:
2
g
|
Sugar:
2
g
|
Vitamin A:
649
IU
|
Vitamin C:
50
mg
|
Calcium:
53
mg
|
Iron:
1
mg
"Lauren is the founder of the creative content agency Healthful Creative which helps food centered brands share their story through recipe development and food photography. She's also the founder of the gluten-free website Wicked Spatula and the co-founder of the keto website, Cast Iron Keto."