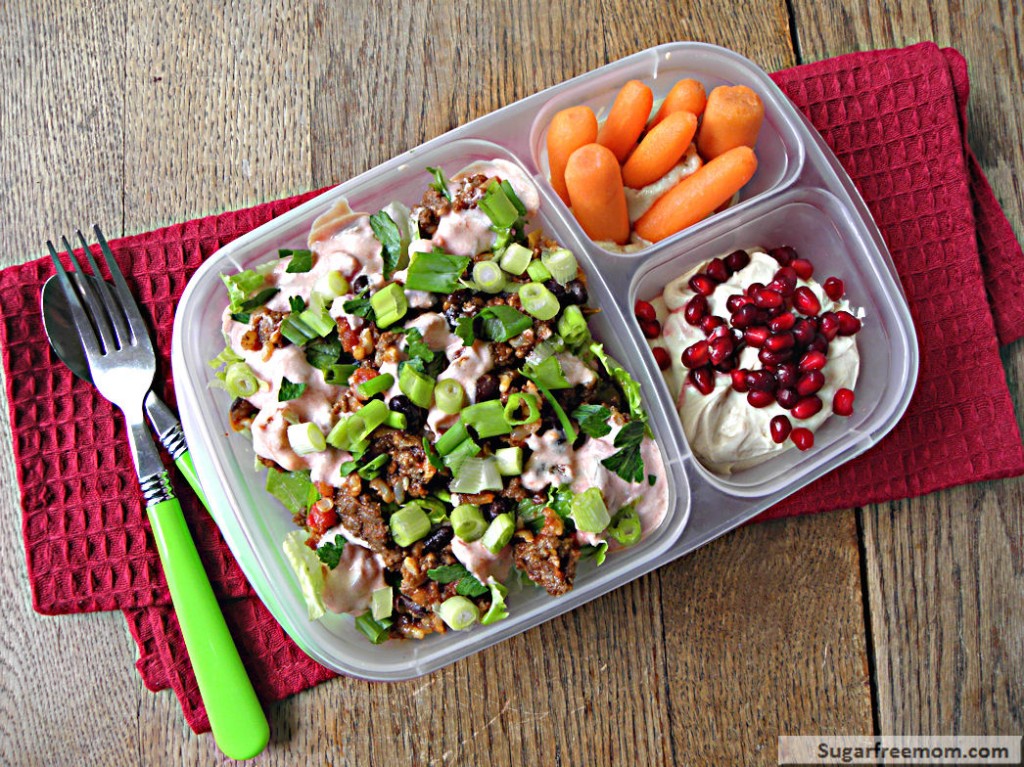 A healthy taco salad for lunch can be yours with just a little planning the night before! It cooks up quickly on the stove and serves 4 so you can share with the hubby or have it for yourself for a few days. Either way, it is a totally yummy lunch!
This one happened to be all mine last Friday for homeschool co-op and let me just say, many people asked what the fantastic smell was coming from my lunch. They were quite intrigued and wishing they had what I had. 🙂
Once, if not twice, a week I make sure to pack myself a pretty nice lunch for the days I'm out of the house. For one thing we eat with our eyes, and if something doesn't look appetizing, it's no fun to eat or enjoy. When you can open up a pretty and healthy lunch you remember that life is good! And for the short time you have a lunch break you can relax and remind yourself that you took care of you because YOU are so worth it!
So although I have to pack lunches for the family, I make sure mine is as equally delicious and this recipe is no exception. You can enjoy this taco salad right from the fridge, no heating required.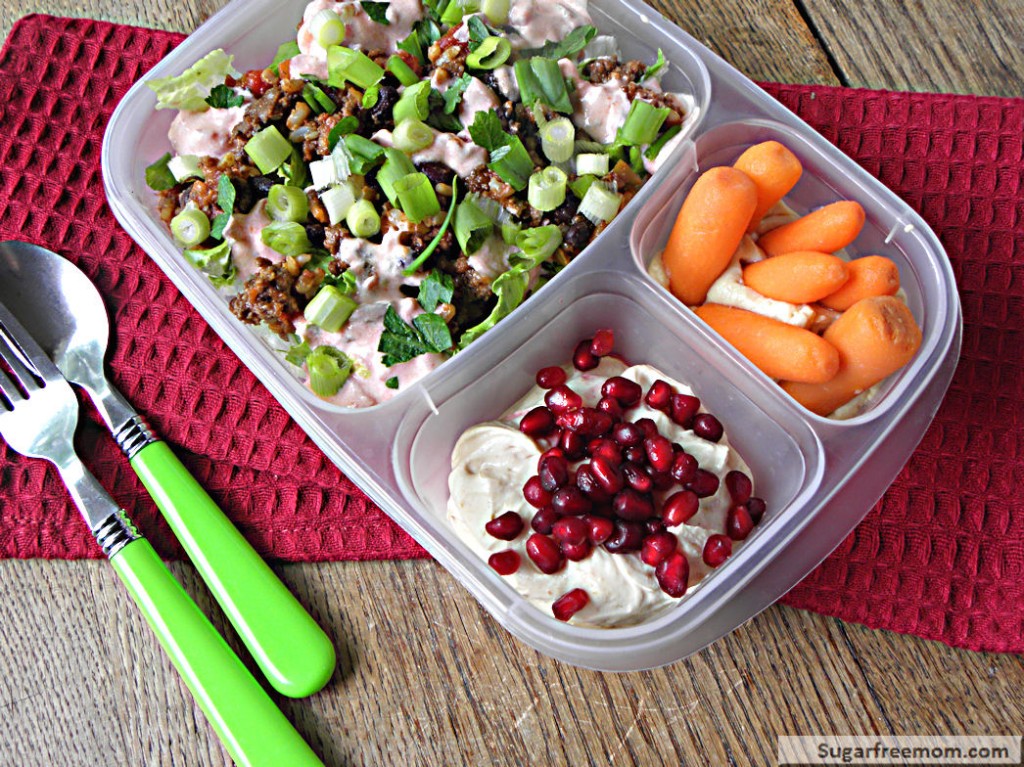 So let me tell you know about this Peanut Butter mousse creation!! One day as I was licking my second spoonful of peanut butter off the spoon then eating my Greek yogurt after lunch, I was wishing I could eat less peanut butter because it's so high in calories! I wanted that same peanut butter taste without using 2 tablespoons. So I thought that if I mixed it INTO my plain Greek yogurt it may work and ya know what? I was so right! It whipped up so light and fluffy, a mousse-y texture that was AH-MAZING!
I know some of you may use peanut flour for less calories or even that PB2 but that contains sugar so I won't use it. This option to use just a tablespoon and mix it really well into the yogurt works REALLY great for me and I'm using less peanut butter which makes me happy. 🙂
I wouldn't eliminate the stevia if you are using all natural peanut butter and plain nonfat Greek yogurt as you really do need it to take the bitterness away from the yogurt. But if you don't have the liquid kind just use about ½ of a packet and that should work for you. Pomegranate seeds on top are of course optional, but so delish mixed into that peanut butter mousse! I would NEVER have bought a fresh pomegranate because I really dislike the work it takes to remove the seeds. Finding them at Trader Joe's already packaged out of the fruit was such a gift!!
Healthy Taco Salad Meal -To-Go
[sc:Ziplist]
Peanut Butter Mousse
½ cup plain Greek yogurt
1 tablespoon all natural peanut butter, no sugar added
2 droppers full liquid vanilla stevia
Nutrition Info
Calories per entire Meal-To-Go: 523* Fat: 16* Cholesterol: 31mg* Sodium: 758mg* Carbs: 53g* Fiber: 15g* Sugars: 21g* Protein: 33g* Points+: 11*
Other Meal -To-Go recipes you might like: