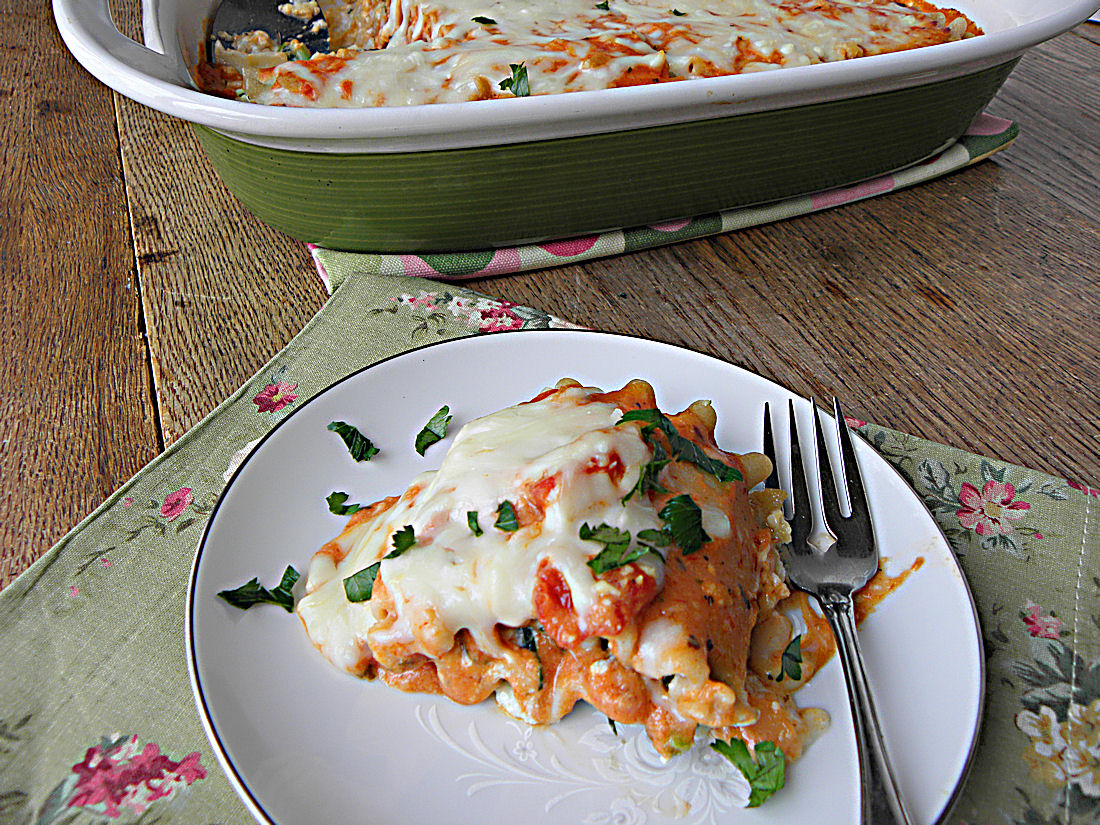 Here's a new twist on a classic recipe! Chopped kale and slice of prosciutto give these little lasagna roll ups a nice change. Not having to cook up ground beef or turkey makes this is quick lasagna to throw together for your family on a weeknight or for a special occasion with guests.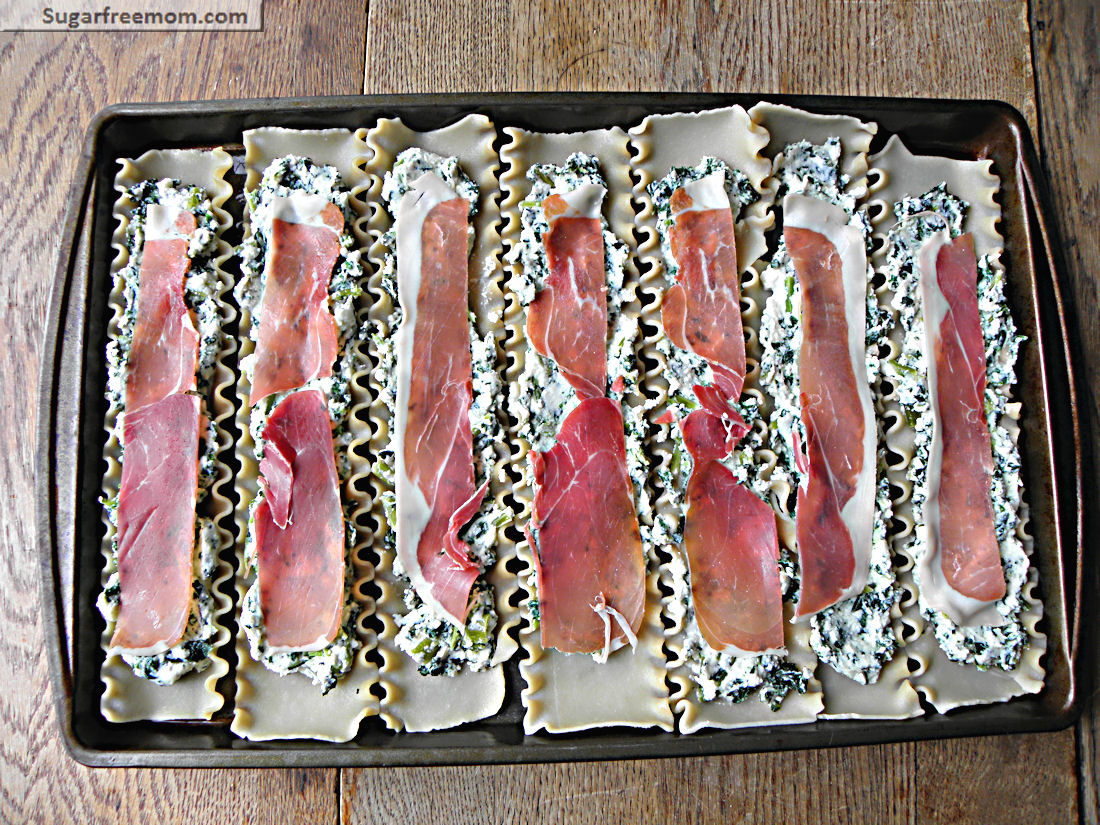 Use whatever lasagna noodles you like. I prefer to keep it gluten free and like the Tinkyada brand. The only lasagna noodle you can't use of course is the no boil or you'll not be able to roll these babies up with all the goodness inside.
A simple mix of cheese and kale is spread on the noodle first then a very thin slice of prosciutto. Only 3 ounces of prosciutto is used in the whole recipe. You could substitute the cottage cheese I used for ricotta cheese which I do love since I am Italian, but using a low fat cottage cheese saves you over 150 calories and a few grams of fat of well.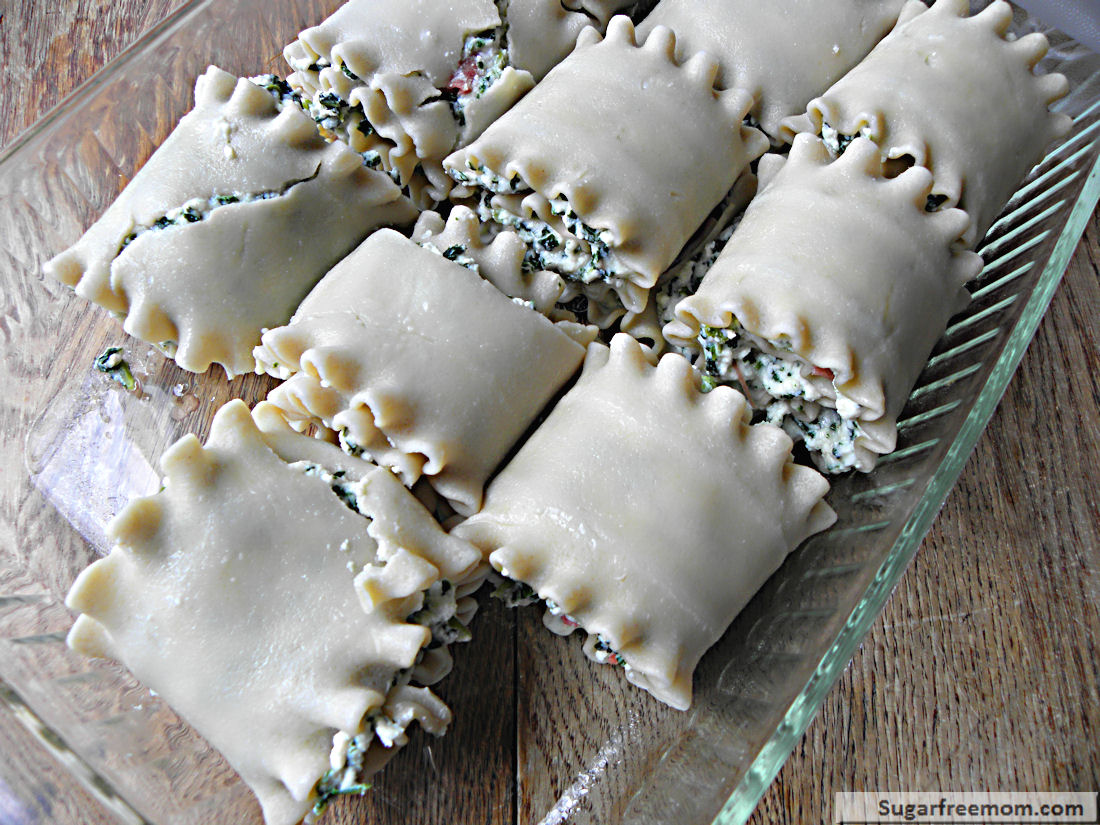 Even if the noodle breaks a bit, it won't matter, just keep rolling! Once you top with the sauce no one will even notice I promise!
I made these for Easter and my family loved it. You could also substitute the kale for spinach if you like and also keep this as a white bechamel sauce by eliminating the marinara. I wanted to have some color so I chose to mix the marinara into the bechamel to top the roll ups but it's not essential and will still be delicious without the red sauce.
Other Recipes you might like:
Nutrition Info
Servings: 10* Calories per serving: 432* Fat: 13g* Cholesterol: 33mg* Sodium: 802mg* Carbs: 60g* Fiber: 3g* Sugars: 4g* Protein: 24g* Points+: 12*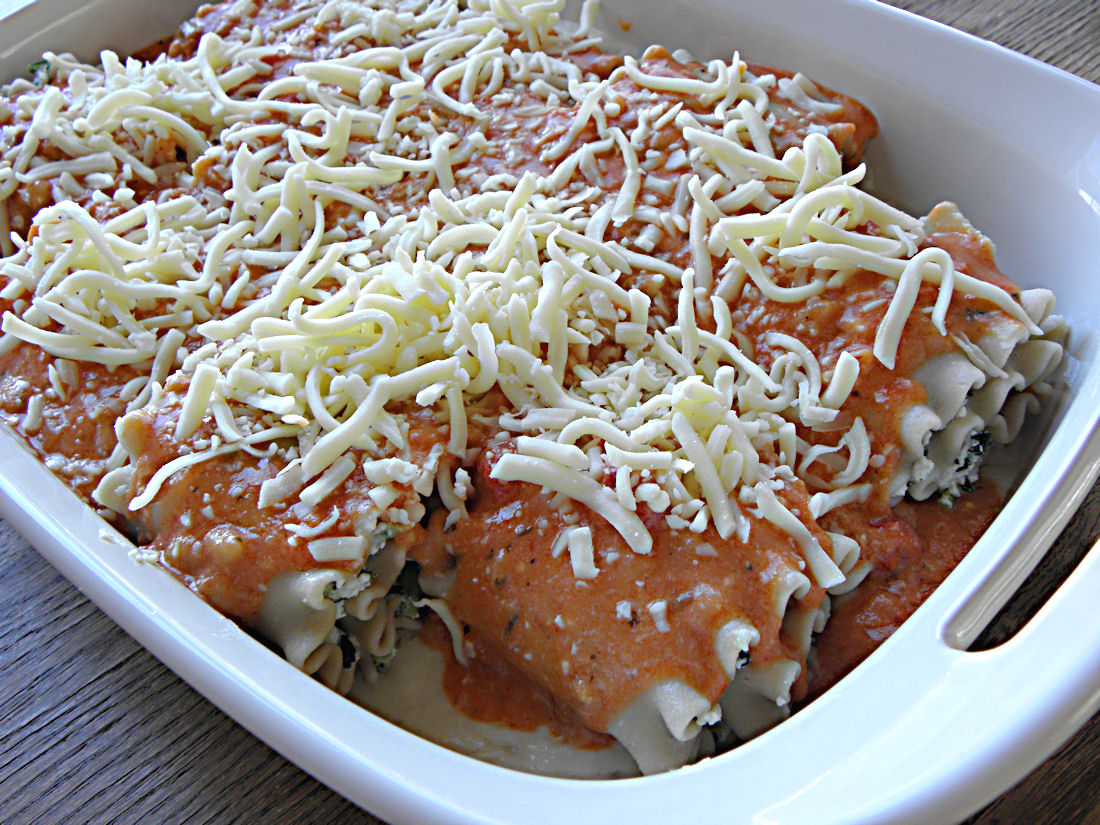 Kale Prosciutto Lasagna Roll Ups with Bechamel Sauce
[sc:Ziplist]
Ingredients
10 lasagna noodles ( I used gluten free)
2 cups low fat cottage cheese
½ cup grated Parmesan
½ cup egg whites or 2 eggs
½ teaspoon salt
8 ounces frozen, thawed, squeezed dried, chopped kale or spinach
3 ounces thinly sliced prosciutto
Optional: 1 cup marinara sauce
½ cup shredded mozzarella cheese
Bechamel Sauce
2 tablespoons butter
⅓ cup flour ( I used gluten free)
½ teaspoon salt
½ teaspoon pepper
½ teaspoon ground nutmeg
3 cups milk, 1%
Directions
Cook the noodles slightly less time than the package recommends. Drain and place on a baking sheet coated with cooking spray so they don't stick together. Preheat oven to 400 degrees. In a large bowl mix together ricotta, egg whites, Parmesan, salt and kale. Spread the mixture evenly over each lasagna noodle. Lay one slice of prosciutto over the mixture. Set aside. In a sauce pan over medium heat, melt butter for bechamel sauce. Whisk in all other ingredients and continue to stir until sauce thickens. Pour half the sauce in the bottom of a 9 by 13 baking dish. Set aside the rest of the sauce. Roll the lasagna noodles up and lay seam side down onto baking dish. Optional: Mix one cup of marinara sauce with the rest of the bechamel sauce and pour over the roll ups. Top with shredded mozzarella. Cover and bake 30 minutes. Uncover and bake an additional 10 minutes. To Make Ahead: prepare as follows, cover and refrigerate overnight. Bake 50-60 minutes until bubbling around edges and hot in center.