This Easy Low Carb Fat Head Bacon Cheeseburger Calzone is grain free and gluten free as well !!!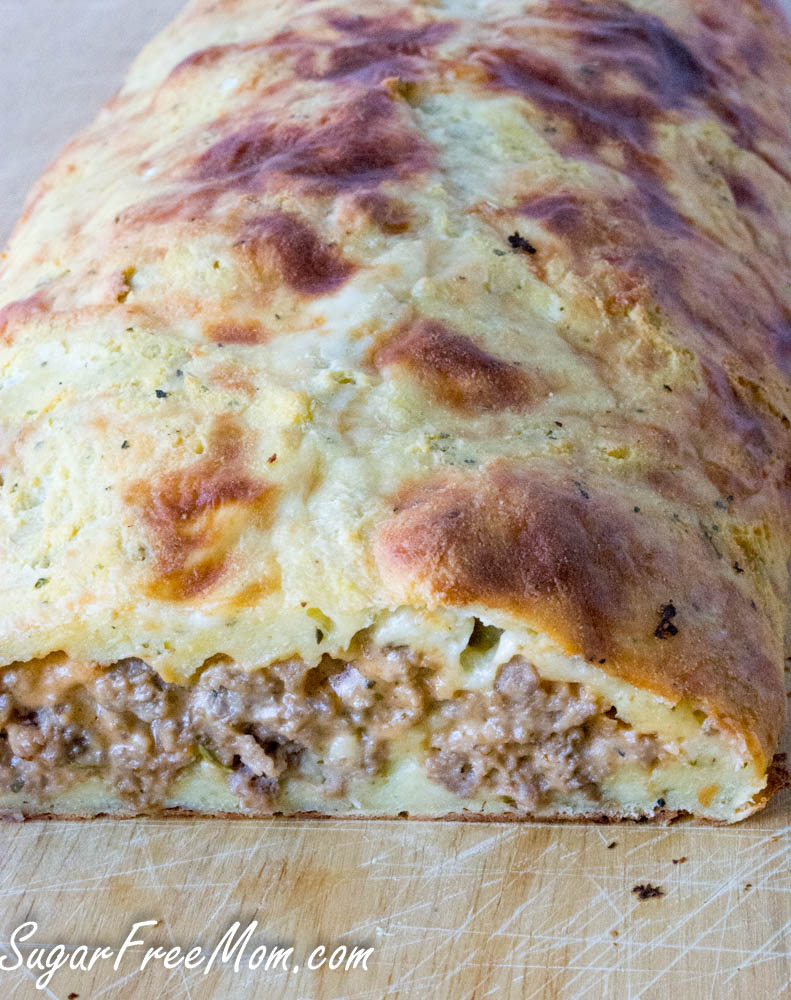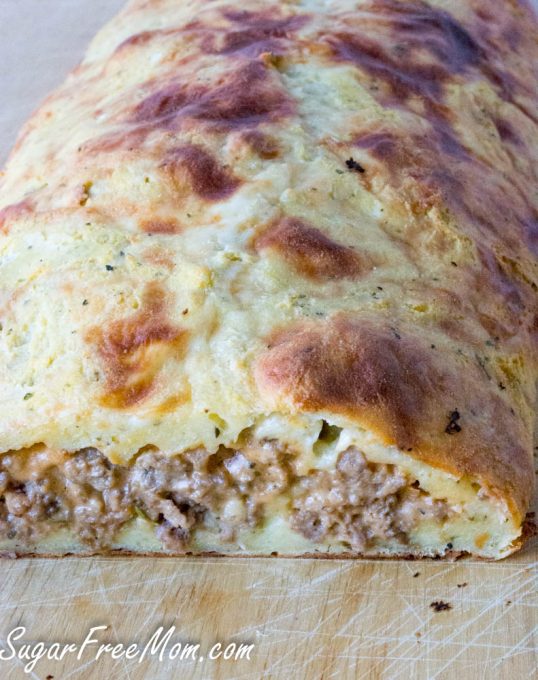 Cheesy, gooey, meaty, bread-y...is that a word?
Oh wait, doughy, that works right? You get where I'm going with this recipe don't you? It's all about that cheese and filling and biting into a sinfully tasting card laden burger stuffed into a calzone! NOT NOT AND NOT AGAIN!!
Ok it is Cheesy and meaty but it is NOT, I repeat NOT bread-y, not carb-y and certainly not sinful either!
NO.BREAD.AT.ALL.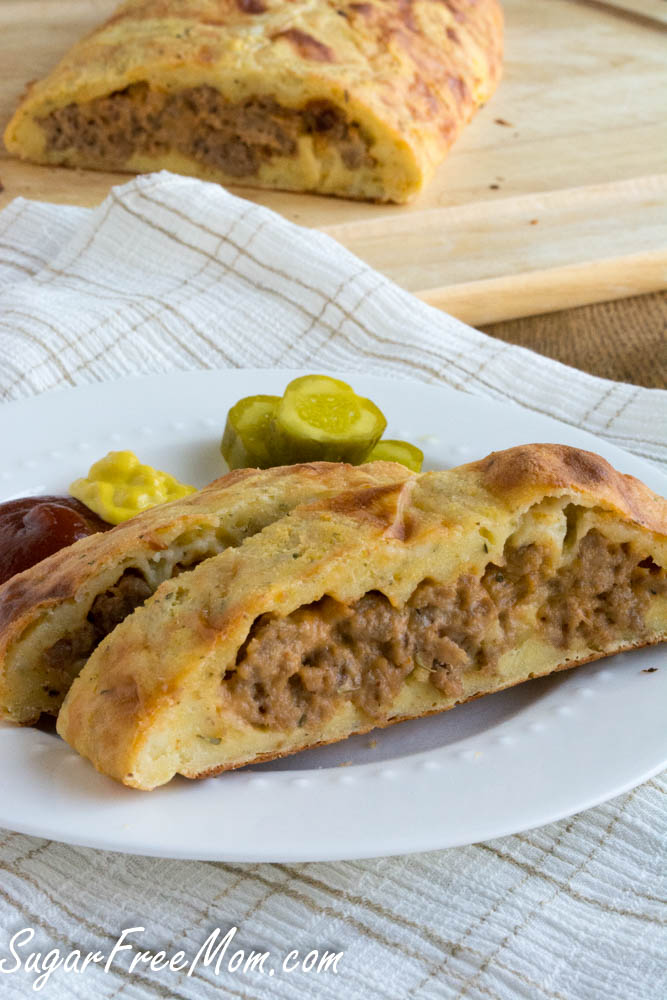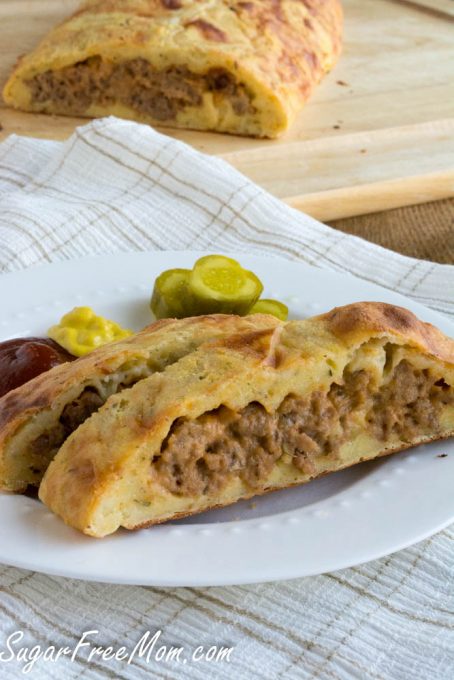 KETO NUT FREE FAT HEAD DOUGH
The calzone is made from....wait for it..............MOZZARELLA CHEESE! My own version of the famous fathead dough, but I use coconut flour since I can't use almond flour since my son has a tree nut allergy. I first published this recipe in April of 2015, but updated it with a video for you!
Since I made this dough I've used it for not only savory but sweet recipes like my Cheese Danish! I've made a Chicken Parm Calzone and Pizza Pockets too!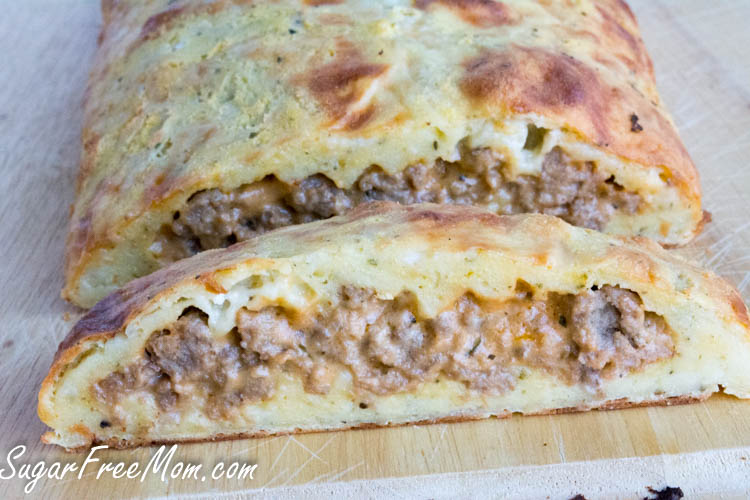 Have you fallen off your chair yet? How is it possible? Well when I made my Grain Free Low Carb Pizza Dough I knew this calzone had to happen. I have a very old, back at the start of my blog, Whole Wheat Cheeseburger Calzone (you can look and go laugh at the pics) that I knew could be adapted and remade into a low carb version with that pizza crust.
And we were not disappointed.
My family in fact was in awe!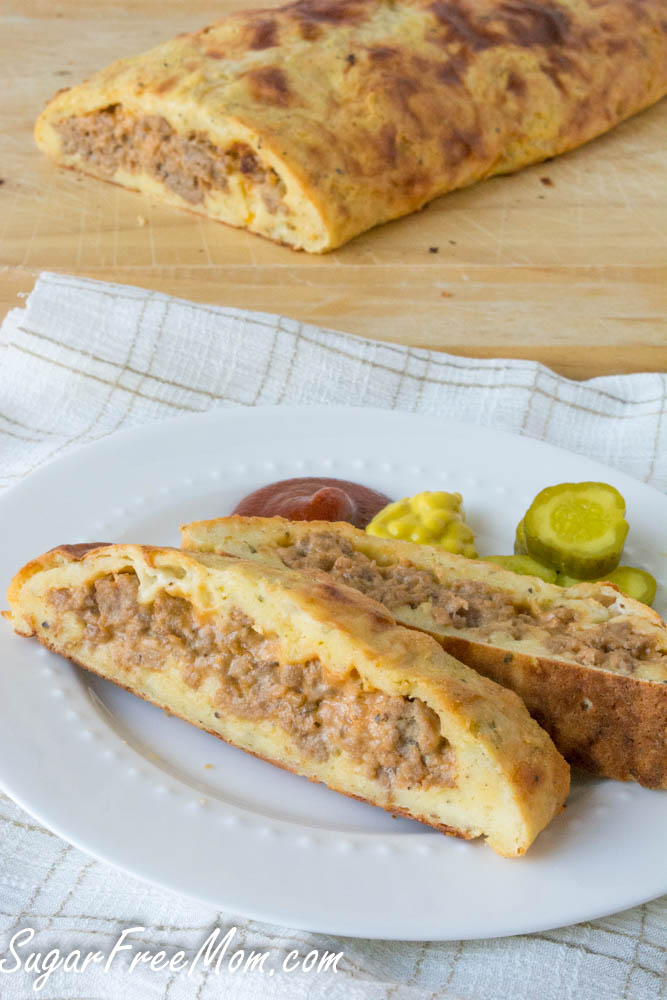 Placed on the side a little sugar free ketchup and mustard to dip and a few pickles and I call that a pretty easy dinner night!
No kneading dough, no yeast, no rising and waiting. Easy peasy and perfectly pick-up-able!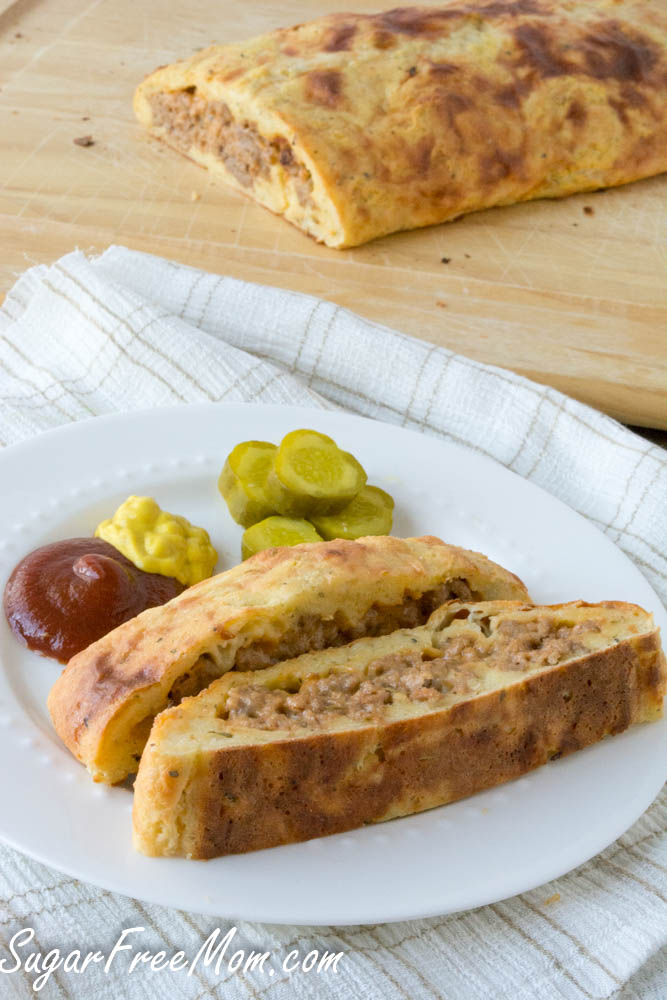 Obviously you must start with the pizza recipe in order to make the calzone, but that is a pretty quick recipe in itself and in less than an hour or dare I say even 30 minutes if you have kids who can help, you can have this calzone on the table.
I think you've probably noticed I forgot the bacon in the recipe. But I want it in there! And it should be in there! Because .....you know it......everything is better with bacon!
Here's my quick video to show you how easy this is!
Enjoy!
RECIPE UPDATE
I've updated this recipe in June 2021 to make it a bit quicker and easier. The orginial recipe cooked the pan in a skillet and then cooked the ground meat in the same pan. I've changed the recipe to bake the bacon instead and while that is cooking you can cook your ground meat. I've also changed the fat head dough to be made quicker in the food processor and then heat to melt it all together making it much easier to form the dough.
LOW CARB KETO BACON CHEESEBURGER CALZONE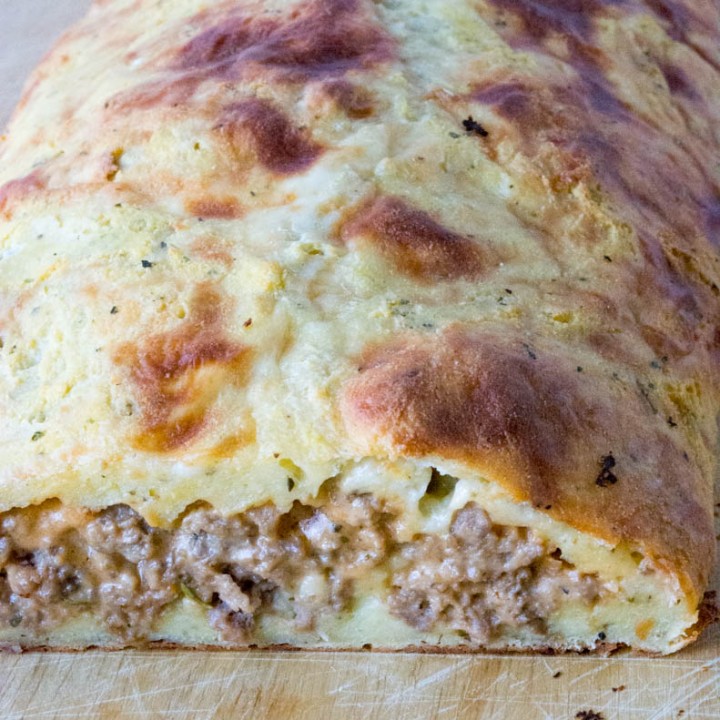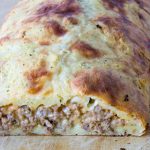 Print
Low Carb Keto Bacon Cheeseburger Calzone
Instructions
Prepare the pizza dough on a parchment lined 9 by 12 inch baking sheet but DO NOT precook it as you would for the pizza recipe. Spread the dough as far along the edges of the pan as you can.

Preheat oven to 400 degrees F.

Place the bacon on a baking sheet and cook for 20 minutes or until crisp. Once cooled, break into pieces.

Increase oven temperature to 425 degrees F. Place the ground beef in the large skillet on medium high heat and cook until browned and no longer pink.

Add all the rest of the ingredients and cook until cheese is melted and combined well. Add the bacon and stir to combine.

Spread the filling down the center of the pizza dough.

Hold the edge of the parchment to lift one side of the dough over on top of the filling as far as you can bring it.

Fold the other half over and seal closed simply by pressing the dough with wet fingers.

Bake for 20-25 minutes or until golden brown.

Let cool out of the oven 10-15 minutes before slicing.

Enjoy with condiments and pickles!
Nutrition
Serving:
1
piece
|
Calories:
349
kcal
|
Carbohydrates:
5
g
|
Protein:
21
g
|
Fat:
26
g
|
Saturated Fat:
13
g
|
Polyunsaturated Fat:
1
g
|
Monounsaturated Fat:
6
g
|
Trans Fat:
1
g
|
Cholesterol:
123
mg
|
Sodium:
625
mg
|
Potassium:
142
mg
|
Fiber:
3
g
|
Sugar:
2
g
|
Vitamin A:
239
IU
|
Vitamin C:
1
mg
|
Calcium:
90
mg
|
Iron:
1
mg