Salsa is the BEST invention ever.... hands down! This is the Best Homemade Restaurant-Style Salsa Recipe that's low in calories, made with healthy tomatoes and it can be mild or spicy to your preference. Just 4 g net carbs per serving of 4 ounces!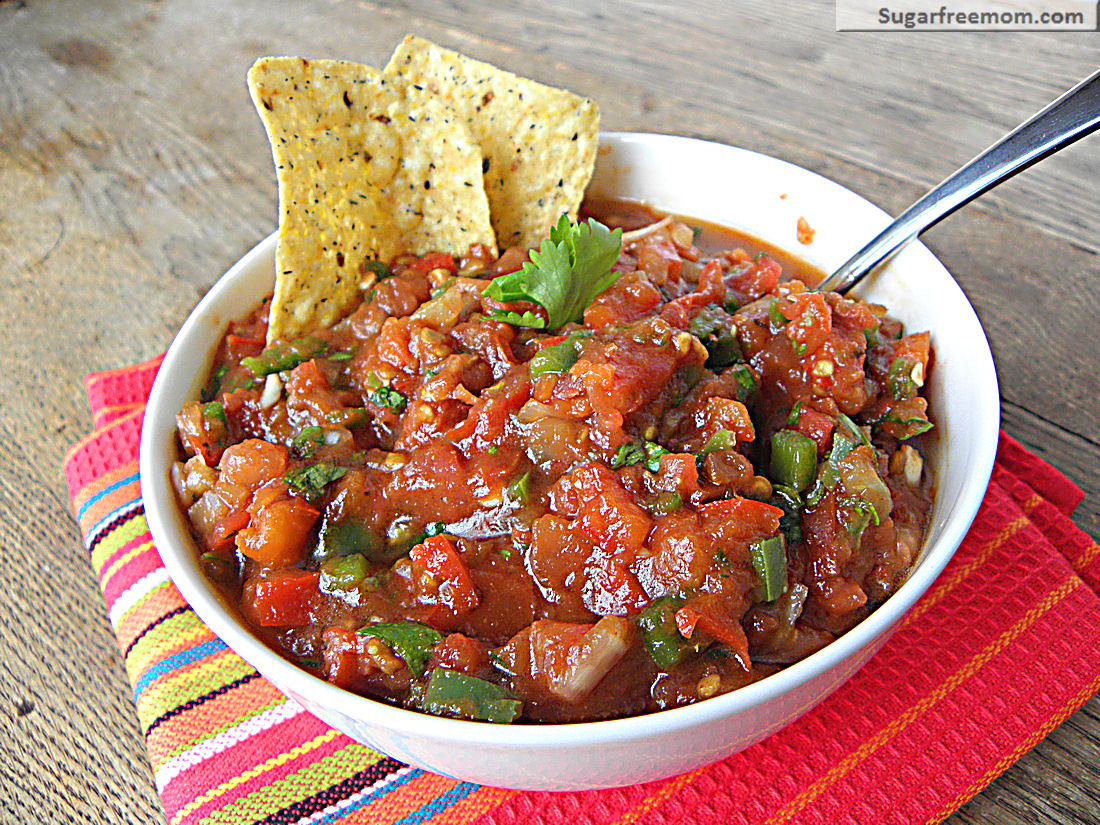 Homemade Salsa versus Store Bought
Buying store-bought salsas is so convenient I know, I've done it! I love the stuff and so does my family! BUT I was sick of buying a jar a week.
I always get inspired when we head to our favorite Mexican restaurant and they make the homemade guacamole right at the table for you and then give you that fresh salsa! Just simple ingredients but they pack a flavor punch! I finally decided to make my own great recipe for the best salsa.
I scoured the internet looking over fresh salsa recipes from Giada, Paula Dean and Ree Drummond. I mixed up what I liked and what I knew my family liked, then changed some of the fresh ingredients and added some other things to make it my own easy blender salsa recipe that pleased everyone.
My recipe gives you instructions to make it either a chunky salsa or a smooth salsa that is typical of what you would enjoy at a restaurant.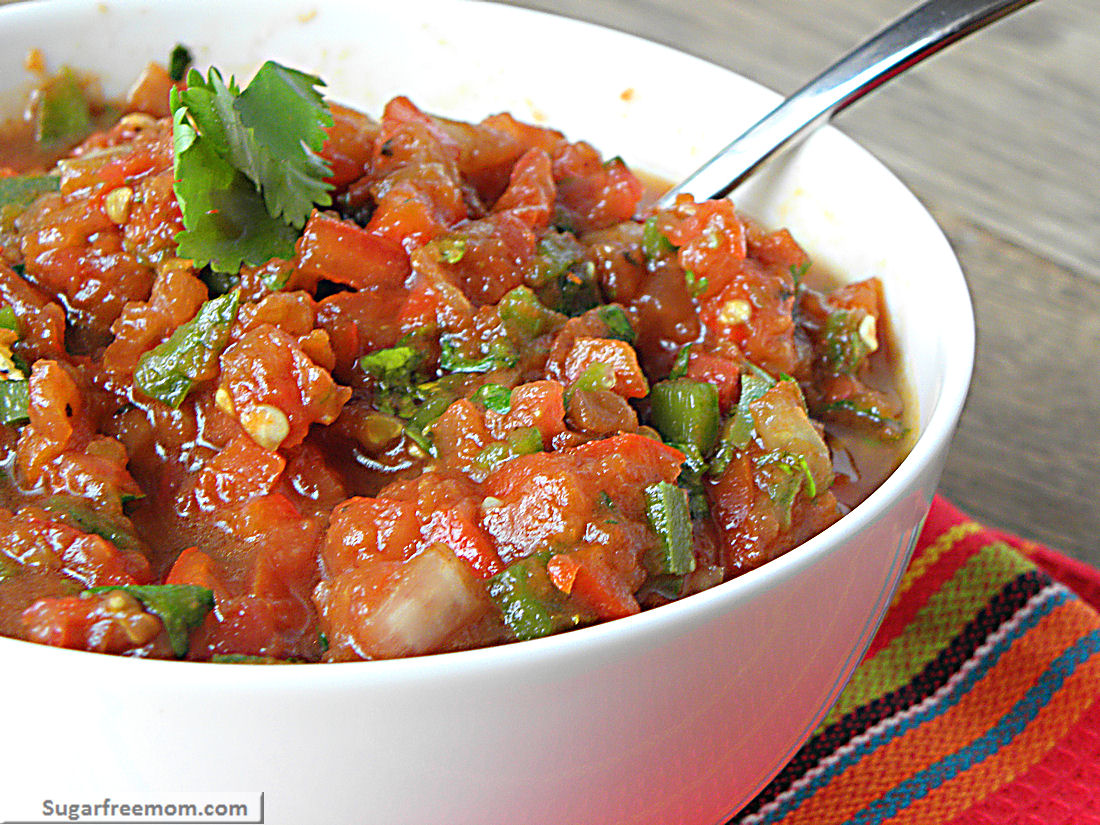 Homemade Chunky Salsa Recipe
These pictures are using some fresh plum tomatoes and it was super tasty. You could also use Roma tomatoes. In fact my husband prefers using only fresh tomatoes.
Whole tomatoes can be a hit or miss at the grocery store in the winter as far as ripeness and taste so I convinced him it would still be just as good using canned. He was skeptical, but actually loves it just as much, if not a little more!
I love it for the simple fact that canned tomatoes last forever in your pantry which means you can make this easy salsa any time. 😉 Perfect for Super Bowl Sunday or any night you decide to enjoy some Keto Mexican Recipes!!
To keep the texture chunky just process it only a few times.
Homemade Restaurant Style Salsa
This is our favorite salsa recipe but it is only mildly spicy because my family can't handle too much heat.
If you want spicy salsa, you can keep the seeds and membrane in the fresh jalapenos and then you get a lot more heat and spice from it. You could also add some chipotle pepper or green chiles as well.
I love me some chunks of tomato in my chunky fresh salsa, but the kids prefer smooth salsa, so the next time I made it I processed it about 10 times to get it to their liking. Restaurant salsa is more pureed not chunky.
Do what you like is what I say!
It makes a lot but we want a lot because we eat this easy recipe up pretty quickly in my house.
I top this flavorful salsa on many things, like our favorite tacos, breakfast burrito and sometimes even in a regular salad!
My kids of course eat it up with crunchy tortilla chips. I buy the Siete brand as they are made with Cassava flour and use avocado oil instead of canola or soybean oil.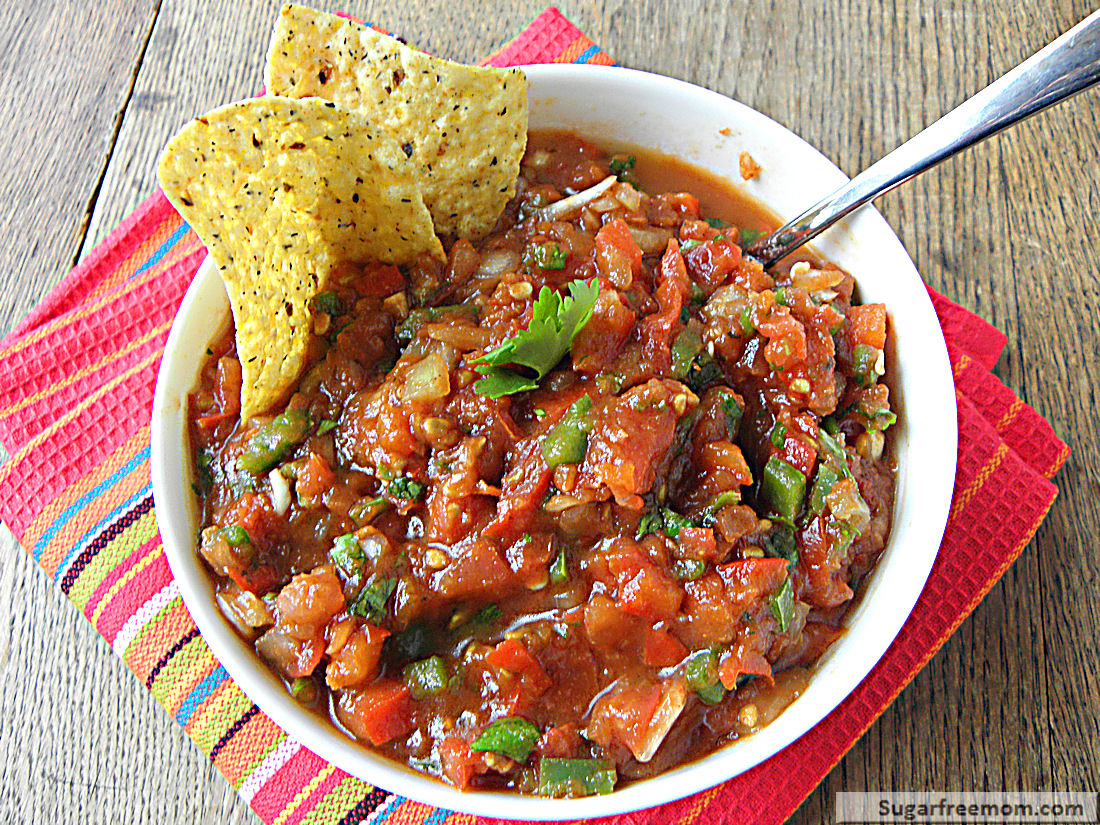 Zero Carb Tortilla Chips
If you want very low carb keto homemade tortilla chips, I recommend purchasing egg white wraps and simply toasting them.
Here's how to make zero carb tortilla chips:
I cut the egg white wraps into triangles, then spray with avocado oil cooking spray on both sides and add a sprinkle of Redmond Real Salt on both sides.
I air fry at 400 degrees F for 3-5 minutes and flip over once. Not exactly the same as corn chips but pretty darn good enough when you're following a keto diet and definitely delicious with the fresh flavors of my chunky homemade salsa recipe!
Can I make less of this Whole Recipe?
​My salsa recipe makes about 5 and half cup of salsa. You can certainly reduce this amount if it's too much for your household.
If you want to make a smaller batch of this amazingly good salsa, skip the whole peeled tomatoes and just stick with the diced tomatoes in the salsa ingredients for this recipe and reduce the remaining ingredients by half.
If using fresh tomatoes, you could also just use about 3 large ripe tomatoes instead of either of the cans of tomatoes.
Keto Mexican Food
​It's not too difficult to order keto friendly food at a Mexican restaurant. While tacos and burritos aren't a great option since they include a flour tortilla, asking for fajitas is easy to customize for keto since the tortillas come on the side.
Just skip the soft tortillas and enjoy the chicken, steak or shrimp with the peppers and onions and toppings like sour cream, cheese, guacamole. Skip the rice and refried beans and you'll be good to go! Skip the corn tortillas and bring your own pork rinds or ask for fresh bell peppers to dip into your salsa or guacamole!
Here's a picture of the salsa more pureed and typical of restaurant style salsa, YUM either way!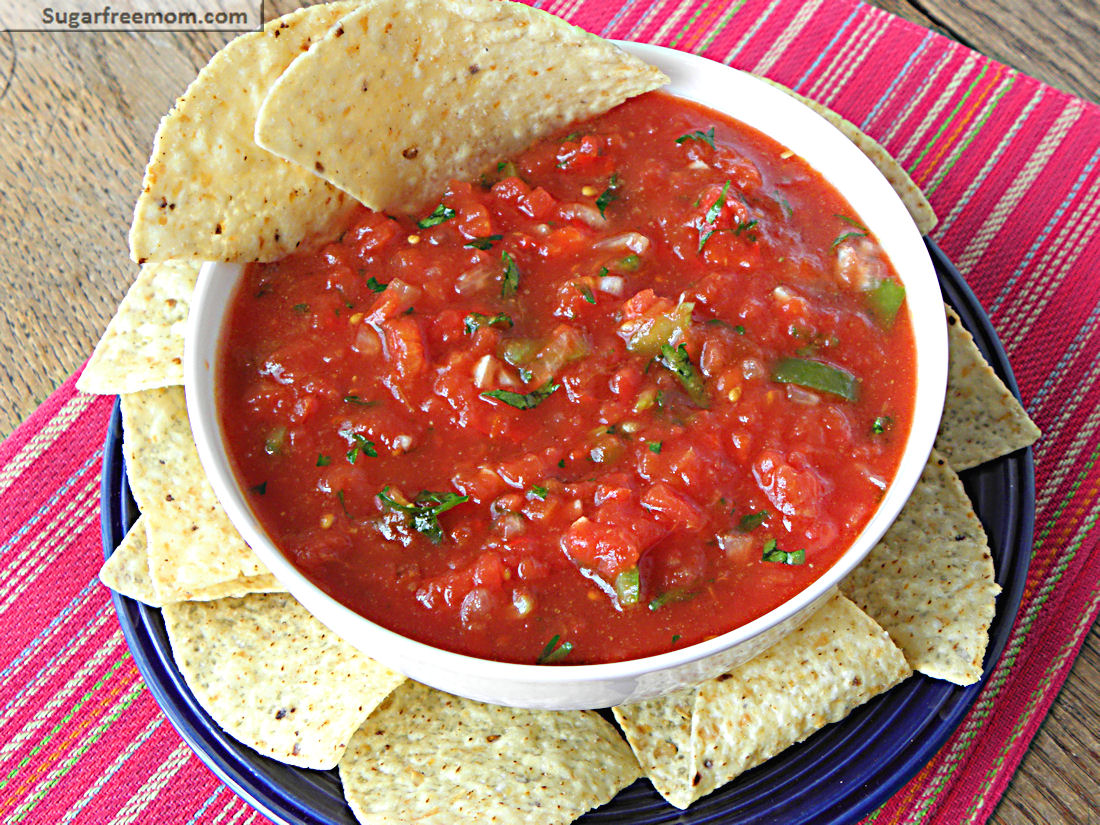 Football Games Day -Super Bowl- Keto Food & Snacks:
Stuffed Burgers with Cheese & Bacon
Can I freeze this salsa?
I haven't tried freezing my salsa recipe only because it's gone so fast in my house. But I do think it would be fine to freeze in an airtight container in the freezer for at least a month.
Best Homemade Salsa Recipe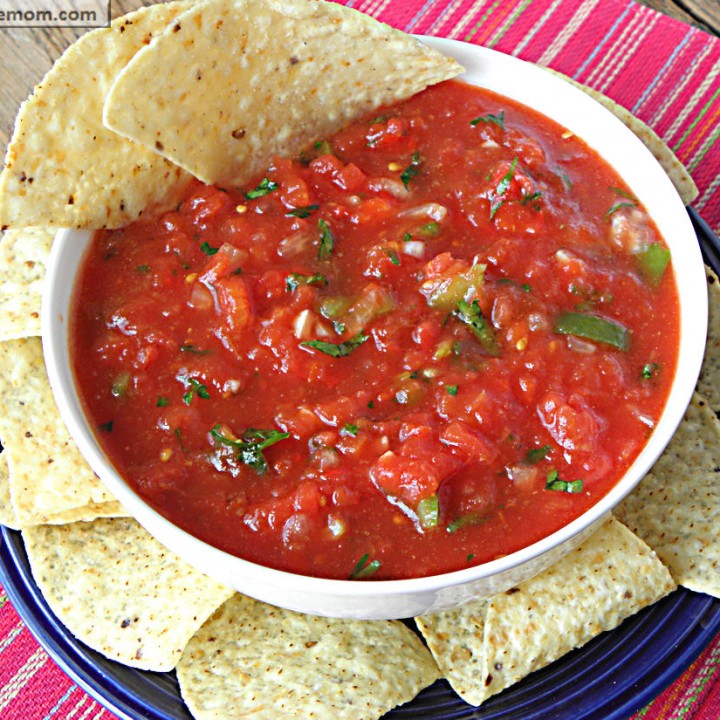 Print
Homemade Chunky or Restaurant Style Salsa
Ingredients
28

ounces

canned whole peeled tomatoes

drained

20

ounces

canned tomatoes

diced

1

cup

chopped red onion

or white sweet onion, Vidalia is the one prefer

1

cup

chopped red pepper

1

jalapeno

membrane and seeds removed, chopped or serrano peppers

2

cloves

chopped fresh garlic

½

cup

chopped fresh cilantro

1

tablespoon

fresh lime juice

½

teaspoon

salt

½

teaspoon

ground cumin

1

tablespoon

olive oil

optional: chili powder
Instructions
Place all ingredients in a food processor and pulse 5 times for chunkier salsa or up to 10 times for restaurant style salsa.

Makes about 5 ½ cups. I serve my salsa room temperature after blending it but refrigerate if you are making it ahead of time or ahead of game day.

Store leftover salsa in an airtight container in the fridge for up to 7 days.
Nutrition
Serving:
1
serving @ 4 ounces
|
Calories:
35
kcal
|
Carbohydrates:
6
g
|
Protein:
1
g
|
Fat:
1
g
|
Saturated Fat:
0.2
g
|
Polyunsaturated Fat:
0.2
g
|
Monounsaturated Fat:
1
g
|
Sodium:
192
mg
|
Potassium:
237
mg
|
Fiber:
2
g
|
Sugar:
4
g
|
Vitamin A:
470
IU
|
Vitamin C:
22
mg
|
Calcium:
31
mg
|
Iron:
1
mg