This gorgeous, creamy, keto coffee semifreddo is an Italian frozen dessert that is easy to make at home!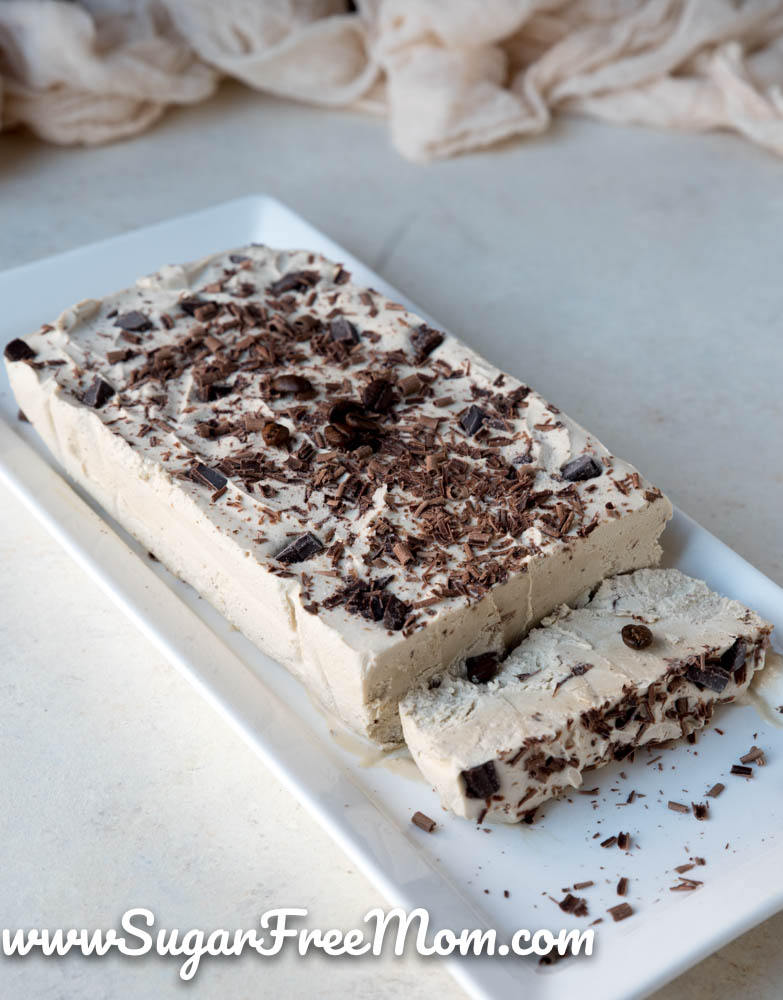 What is Semifreddo?
Semifreddo is a semi-frozen dessert. In Italian it means, "half cold" or "half frozen". It has a soft, smooth texture, though it is not churned, like typical ice cream would be to create that creaminess. The main ingredients in a semifreddo are egg yolks, sugar and cream. It's much more airy and light compared to traditional ice cream. You can make it with or without eggs, but the yolks make this dessert truly like a frozen mousse that is easy to fall in love with. The best part is, no ice cream machine needed!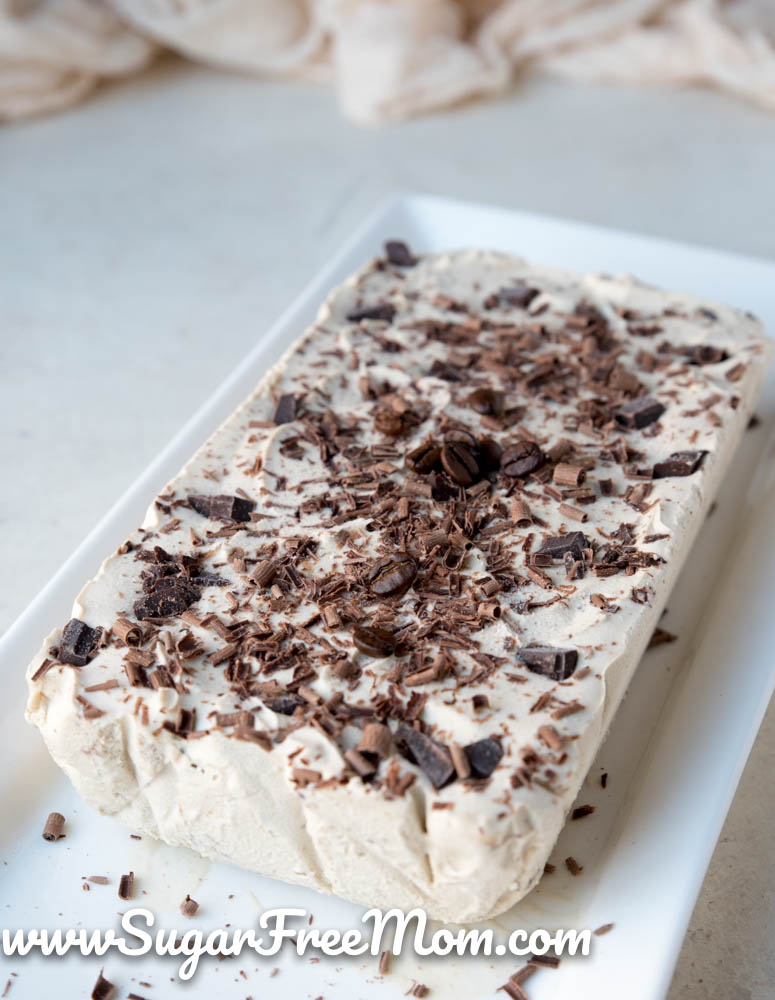 How to Make Keto Semifreddo
Because semifreddo isn't churned and doesn't need an ice cream machine, it's the perfect quick and easy frozen dessert to make at home. It's similar to my Vanilla Bean Gelato from my cookbook, Naturally Keto, but the gelato does require the churning process so an ice cream machine is needed. To replace the sugar used in a typical semifreddo, I usedSwerve confectioners as well as Allulose. You can use whatever sweetener you prefer, just note Swerve is less sweet than most keto sweeteners so you wouldn't want to replace it for the same amount of Swerve used. I'd suggest just half of what I used for Swerve with another keto sweetener. If you're unfamiliar with the fairly new keto sweetener, Allulose, I wrote about it in my Keto Bread Pudding recipe.
Other than the swapping of sugar for a keto sweetener, this recipe is made with egg yolks, espresso and heavy cream, all acceptable for a low carb and ketogenic diet.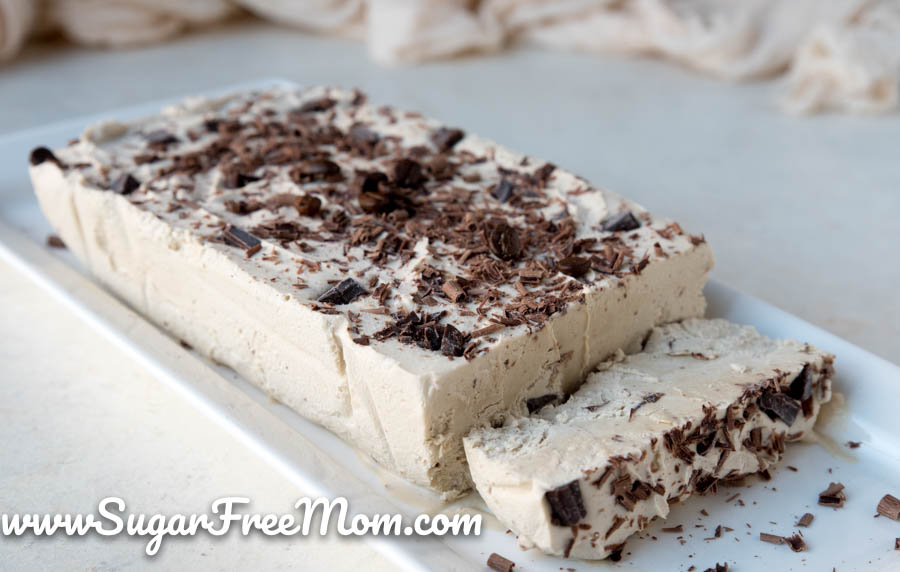 Tools to Make Semifreddo
9 by 5 Loaf Pan- I like this ceramic loaf pan because if you decide to cut the semifreddo right in the pan, it won't scratch it up like a nonstick loaf pan would. Helpful when you're slicing a meatloaf too!
Stand Mixer- Having a stand mixer has been one of the best purchases I've made in my kitchen. I leave it out on the counter and use it practically every day.
Double Boiler- While not completely necessary since you could set a bowl over a sauce pan, this does come in handy whenever you need to gently melt anything.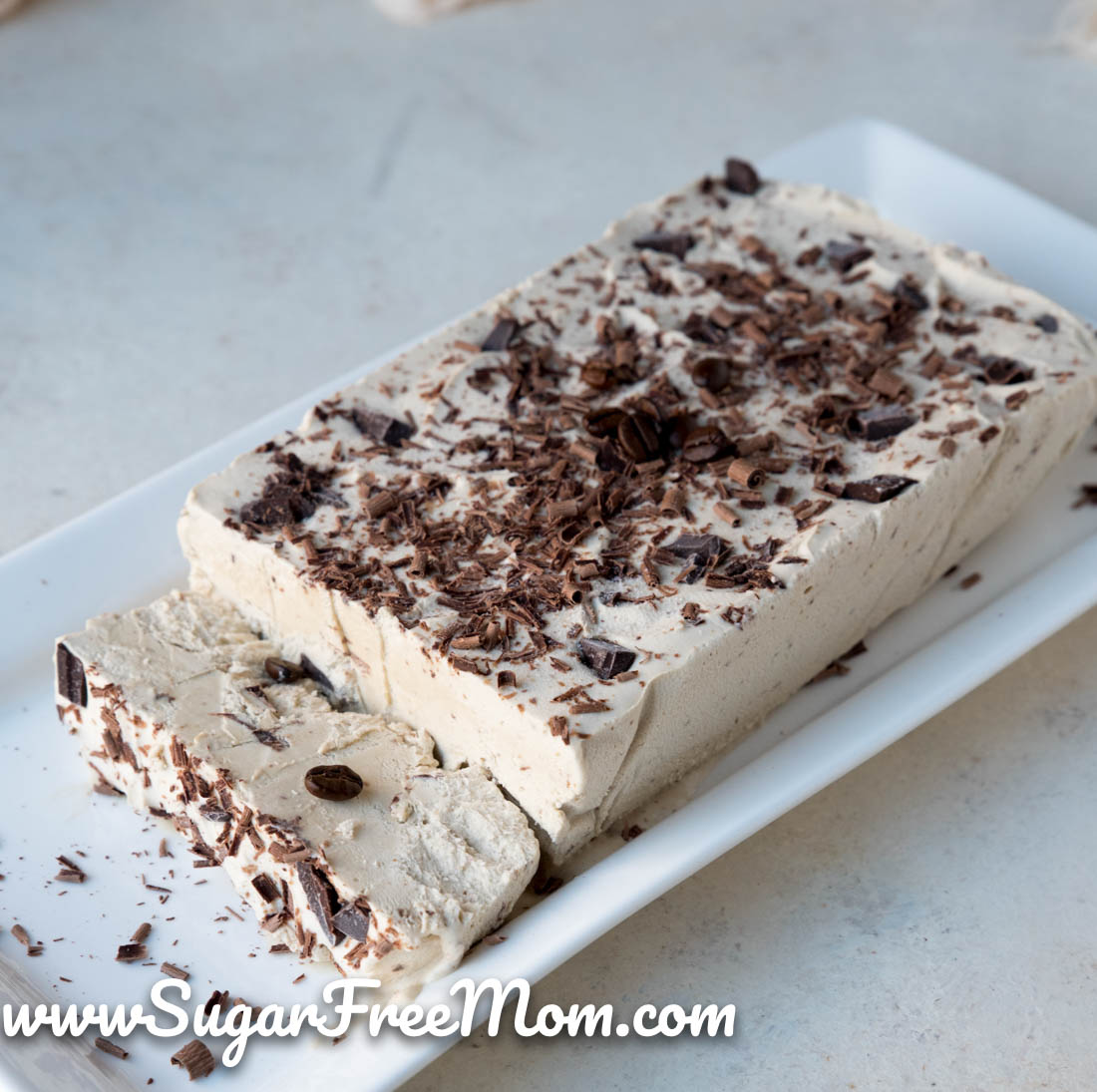 I made this lovely keto frozen dessert for my parents and family on Christmas Day. I realize it's not a traditional Christmas treat, I did however have some Biscotti and Pecan Snowballs to accompany our coffee with this semifreddo. My father, who was born in Sicily commented in his very thick accent, "This is very tasty. I'm surprised I like it so much because I usually don't like many desserts and this is not too sweet which is just the way I like it!"
Keto Coffee Semifreddo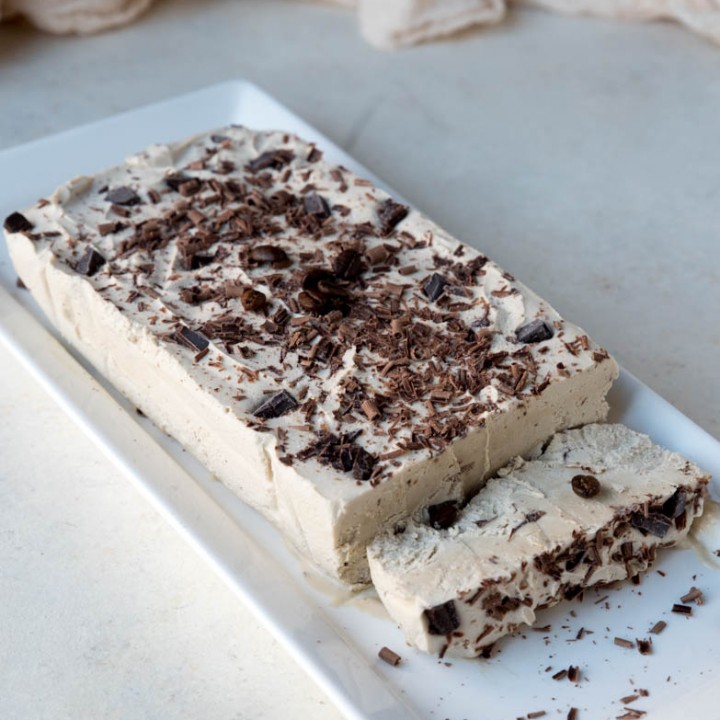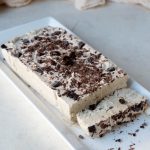 Print
Keto Coffee Semifreddo
Instructions
Line a 9 by 5 loaf pan with plastic wrap or parchment, leaving enough hanging over sides to cover. Set aside.

In a double boiler or a bowl set over a sauce pan of simmering water, add your espresso, extract, yolks and sweetener. Whisk until thickened, about 4-5 minutes. Stir continually to avoid scrambling yolks. Lower heat if necessary. Test thickness by scraping bottom of the bowl with a wooden spoon. If you can see the bottom of the bowl when scraping, it's thick enough. Remove from the heat. Set aside.

Using a stand mixer or handheld electric mixer, beat your cream, vanilla extract and sweetener until whipped and it holds its shape. Take a spoonful of the cream and stir it into the coffee egg mixture to temper it.

With the mixer on low speed, drizzle in the rest of the coffee mixture until all combined and smooth.

Stir in optional chocolate chunks if desired.

Pour this into the loaf pan then cover the top and place in the freezer for 4-6 hours or preferably overnight.

Remove from the freezer 10 minutes before you'd like to serve. Top with shaved chocolate if desired. Slice and enjoy!
Nutrition
Serving:
1
slice
|
Calories:
183
kcal
|
Carbohydrates:
2
g
|
Protein:
2
g
|
Fat:
19
g
|
Saturated Fat:
11
g
|
Cholesterol:
153
mg
|
Sodium:
21
mg
|
Potassium:
43
mg
|
Sugar:
1
g
|
Vitamin A:
779
IU
|
Vitamin C:
1
mg
|
Calcium:
40
mg
|
Iron:
1
mg